Editor's Note: We're all dreaming of travel ahead. Here's some inspiration for future adventures. We share places, products and activities we recommend. If you make a purchase using a link on our site, we may earn a commission.
Australia has many beaches including, Perth, Bondi and Port Douglas, but one of the most amazing is Byron Bay.
Known for its lush hinterland and world-class surfing, Byron Bay is the Australian coastal town on every beach lover's bucket list.
Beach Vacation at Byron Bay
This northern New South Wales town is founded on surf culture and alternative community and draws travelers from all over the world. Byron Bay's abundance of natural beauty ranges from rolling mountain ranges to flourishing rainforests, white beaches and gushing waterfalls.
People travel to Byron Bay to surf, snorkel and enjoy the amazing scenery. With so much natural beauty in Byron Bay and the surrounding region, the most difficult decision is choosing what to see first.
Here are our suggestions on what to see in Byron Bay:
Whites Beach
If you want to escape the chaos of inner Byron and avoid the more popular beaches, Whites Beach is a hidden gem that'll have you blissing out.
Whites Beach has made a name for itself being featured as the number one travel secret of Australia by the Australian Traveller.
The secluded white sands and rock pools of White's Beach are a short drive from the popular tourist destination Broken Head. The dirt road winds through the lush greenery of the surrounding rainforest. Sunrays occasionally break through the eucalypt walls and give a tantalizing taste of the coastline below.
White's Beach is about a 2 km drive along the dirt road; the spot is unmarked, so keep your eyes peeled. There's a scenic hike down to the beach once you're parked.
Wind your way down the cliffs and you'll soon enough make it onto the creamy sands of White's Beach, where you'll be greeted with countless rock pools, beach caves carved out of the surrounding limestone rock walls, pandanus palms and crystal-clear water.
Little Wategos
Watego's Beach is no secret among Byron Bay tourists but situated right at the end of the cape is its smaller and arguably more gorgeous sister Little Wategos.
Little Wategos is Australia's most easterly beach and as it can only be reached on foot, it is often less crowded than the adjoining Wategos Beach. This small strip of beach is highly protected with an amphitheater-like valley of palms and rock formations.
After lazing on the beach, it is only a short walk up the hill to the world-famous Byron Bay lighthouse.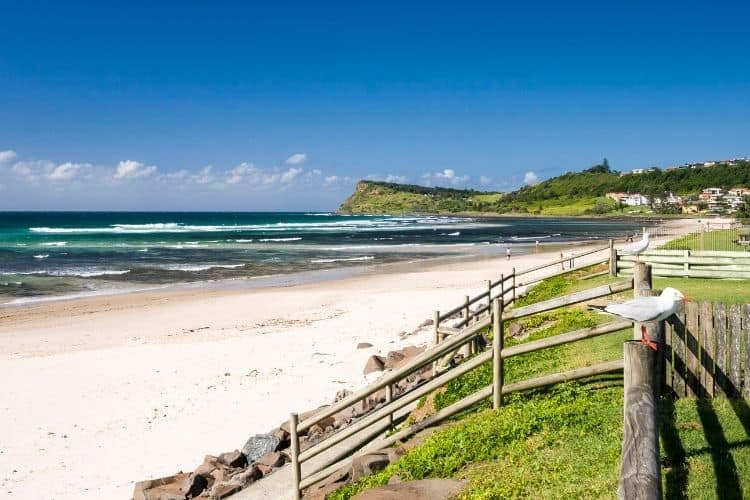 Lake Ainsworth (Lennox Head)
A 25-minute drive south of Byron to the small neighboring town of Lennox Head, you'll find Lake Ainsworth. Better known as Tea Tree Lake, this amazing freshwater lake is vividly colored by the surrounding tea tree plants that drip their oils into the water.
The dark amber water entertains many kids, they swing from the rope swings into the water or jump from the overhanging tree branches. Motorboats are not permitted in the lake, making it the perfect spot for swimmers, stand-up paddle boarders, canoers and kayakers.
If you're looking for more insider knowledge on specific areas or routes check out Greater Than a Tourist – Byron Bay New South Wales Australia: 50 Travel Tips from a Local. Available on Amazon here.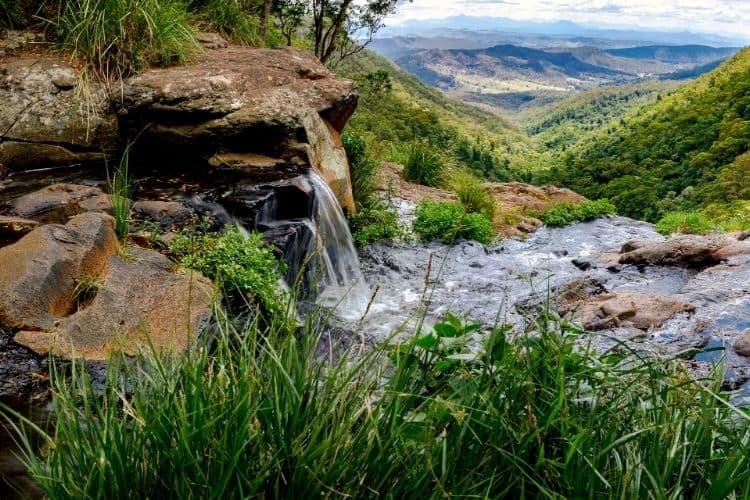 Hinterland Waterfalls
There's a plenitude of stunning waterfalls surrounding the Byron Bay hinterland, each one containing such a unique beauty and experience for visitors. Rounding out this list of the top natural and scenic attractions of the Byron Bay area are these three breathtaking waterfalls.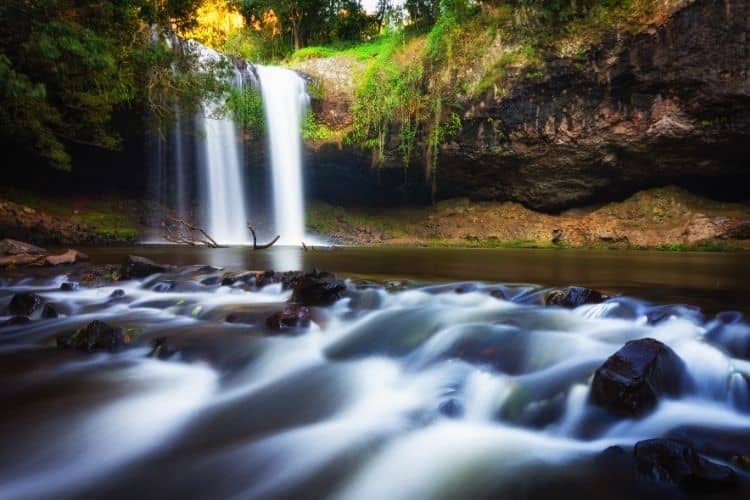 Killen Falls
Killen Falls is 30 minutes from Byron Bay in the small town of Tintenbar. Once you've parked, there's a fairly short walk down an unpaved trail to get to the base of the falls. This little rainforest escape will make you feel like you've stepped into a secret paradise away from the hustle and bustle of the town.
The falls are encircled by moss and green foliage that runs along the damp rock wall. There's a hollowed-out cave that you can scramble into and watch the water tumbling over the edge and into the water hole.
Make sure you have some top-notch hiking pants for this and any hiking excursion. The Kirkland Signature Ankle Length Travel Pant is a favorite for its comfort in outdoor activities as well as its stylish look. Get your pair here and find more options on Amazon here.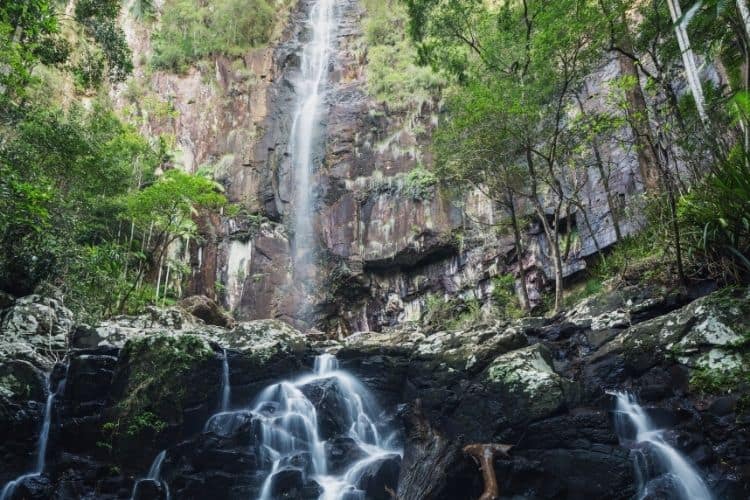 Protestors Falls
Nightcap National Park is a goldmine for wonderous hikes and viewing of the waterfalls. One such place is the World Heritage listed Protestors Falls.
To get to the falls, you'll follow a track through the lush and rugged rainforest which will greet you with the sweet sounds of running freshwater and a large variety of bird songs. This magnificent walking trail will lead you to the base of the waterfall.
The wispy waterfall is a spectacular sight to see. Please be aware that swimming is not permitted in the base of the pools as it is home to an endangered species of frog.
Minyon Falls
Also located in Nightcap National Park, Minyon Falls is a spectacular sight that shouldn't be missed during your trip to Byron Bay. The lookout at the top of the falls offers panoramic views of the surrounding rainforest, sometimes even offering a glimpse of the coastline.
Looking down, you have the best seat in the house to watch the water cascade over the gorge roughly 100m below. The waterhole at the bottom is reachable by a 4 km return walking trail. The track brings you through the dense rainforest and ferny creeks, before ending in a rock climb and arriving at the base of the falls.
The roaring water crashes down into a beautiful pool where travelers can enjoy the pool from the rocks or jump in for an exhilarating swim.
Now you can check these off your bucket list of places to see in Australia.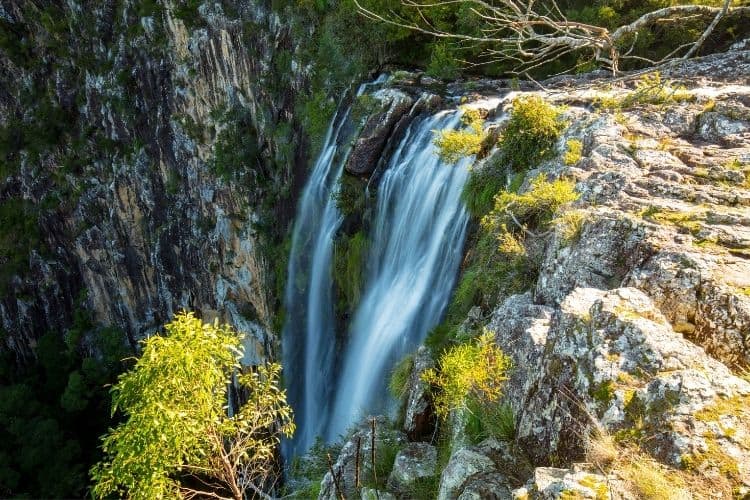 Book This Trip
Ready to explore the natural beauty of Byron Bay? Get the best deals on flights to Australia and small airports by checking out Kiwi. When you're ready to book, find the perfect hotel or VRBO options, local restaurant favorites, scenic hikes and more through Travelocity and TripAdvisor.
These are just a few of the top places to visit during your trip to Byron Bay in Australia, to add more excitement to your trip, plan a longer stay and check out the Top 7 Things to Do in Australia.
Want to make the trip even more exciting? Try booking tours like the Hinterland Magic and Glow-Worm Experience or the Byron Kayak With Dolphins Tour through GetYourGuide. Plan for your dates here and cancel anytime up to 24-hours in advance for a full refund.
Author Bio: Montana Mincher is an Australian girl with a passion for adventure and never staying still. She shares her love for travel and photography in hopes of inspiring a world of wanderlust and encouraging people to be conscious travelers.