Editor's Note: Travel is complicated right now, but we hope this will inspire your future travels. Please check local regulations and location openings before you go. 
Known as a "beautiful ancient town," Vietnam's one-time trading port of Hoi An is a UNESCO world heritage site on the country's central coast. I spent a day in the city and fell in love with its relaxed, cozy atmosphere, happily embracing the pace at which life goes on here.
It was hard at the beginning, though, for a person like me who has been in the rat race for quite some time.
Hoi An is always vibrant with tourists, pre-wedding photoshoots and infinite tailor shops. Despite being touristy, the city has been successful in maintaining its allure.
Although Hoi An is worth exploring for three to four days, I had to figure out the best way to explore it in a day. So, I rented a bike to do that.
Old Town
Old Town is what attracts tourists the most. Its vibe and appeal are impressive. The moment I entered Old Town I felt as if I have entered a different world altogether (even though I see the same sunset in India).
Check this article to explore the village: VILLAGE LIFE: VIETNAM'S HILL TRIBES
The old school charm and the unique architecture (mix of Chinese, Japanese and French style) were a combination I was longing to see. I bought the entrance tickets to the town and was exhilarated to see what was in store. The ticket gave me access to any five of 19 attractions. So, I had to choose wisely.
Here is what I saw:
Japanese Bridge in Hoi An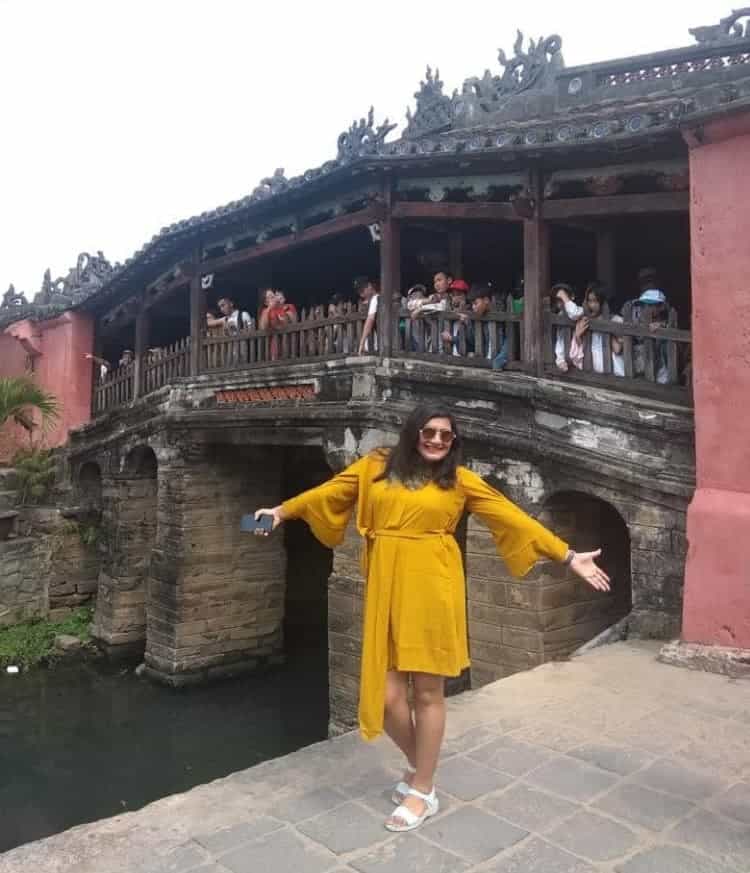 I started with the Japanese bridge, a site synonymous with Hoi An. The bridge, which was built in the 18th century, was a way to reach the Chinese quarter across the water. The bridge seemed a little ruined to me, but as they say, ruins have the most interesting stories behind them.
There are statues of a dog and monkey on both ends of the bridge, which are believed to guard the bridge. There is also a small temple on the bridge dedicated to Tran Vo Bac De (god of weather), where people pray to ward off any approaching disaster. On some parts of the bridge, it feels that it will collapse but the historical landmark stands intact.
Hainan Assembly Hall
It looked like just another courtyard to me. But, taking a cue from what I mentioned before about ruins having interesting stories behind them, this assembly hall has one, too.
The hall was built in 1851 by the overseas citizens of Hainan country. It primarily served the community and religious activities of the Hainan people. There is a separate section dedicated to 108 Chinese merchants who were killed because they were mistaken for pirates.
As I moved around, I came across a very interesting thing – spiral incense sticks (known as "Incense Spirals"). I asked the caretaker of the hall if there is any special reason behind them. I learned that these sticks burn much longer while taking up little space, making it ideal for temples.
Hoi An Duc An Old House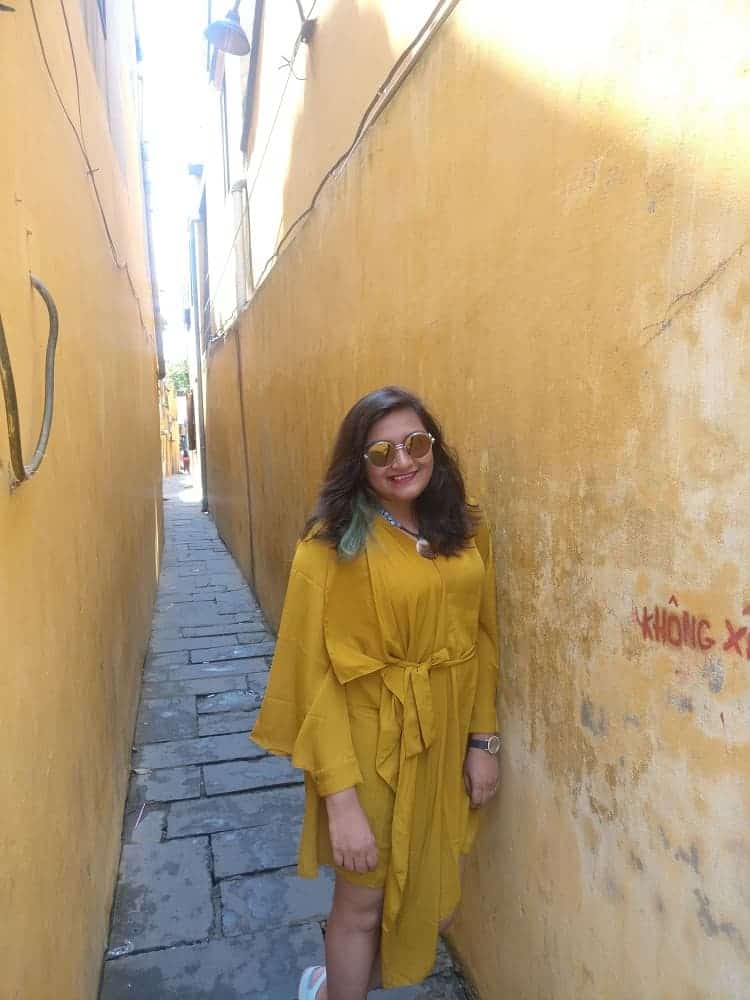 This was where I had the most meaningful exchange with a local. The house is 170 years old (the property is 400 years old, though) and has been inhabited by the same family. It currently belongs to Mr. Tram. Old and antique pieces of furniture, crockery and paintings are exhibited inside.
It was all set up in quite an interesting way to give a glimpse of how old houses were in Hoi An centuries ago. I then walked toward the section that sells clothes and souvenirs. My eyes moved toward the coins that had pictures (rather, signs) of horse, ox, goat, etc. inscribed.
As I was trying to figure out the significance of these coins, I heard a soft female voice from behind: "May I help you?" I turned and saw a middle-aged Vietnamese woman. I was happy to find a Vietnamese speaking in English, and immediately said: "Could you please explain to me about these coins?"
She asked me to first find my animal sign based on the Chinese birth chart, and then I could buy my coin as a souvenir. But I was more interested in talking to the woman, as it is rare to find a Vietnamese speak in English (apart from the people in the hospitality industry).
"I am Mrs. Tram," she said. She seemed to have sensed my desperation to know more. "You mean the owner of this house?" I could not contain my excitement any longer. I wanted to know so much about their life in that house and Hoi An.
I learned from Mrs. Tram that they are the sixth generation of the family living in the same house. Though their children are now settled in Danang (a city near Hoi An), they choose to stay there with their friends and family around. It was so insightful chatting with her.
By the time I left the house, it was already late evening and I could see the streets of the old town lit with colorful lanterns.
Night Market in Hoi An
As the sun set, Old Town was beautifully lit up with silk lanterns. It looked magical and dreamy. I couldn't wait to take a stroll around the glowing night market. I started right from the street where I was standing.
I first stopped by a café where great live music was playing. I decided to satiate my hunger at the café itself. I ordered coconut coffee and a pancake. Weirdly, I felt nostalgic, I don't know about what though.
I stepped out of the café and walked toward the riverside. I browsed through a few souvenir stalls on the way and reached the end of that street. And what I saw was astonishing. A few young boys were dancing to hip hop music (to collect money for their dance troupe).
I had goose bumps watching the dance moves. After a while, some locals also joined them and danced their hearts out.
Are you planning a trip to Vietnam? Then you must read this article: NEXT STOP IS VIETNAM
Night Cruise
It was now time to experience the night cruise. I negotiated the charge for a one-hour cruise and got into the small, narrow boat. As we sailed farther, I could feel the sound from the bustling Old Town streets fading away.
After a while, I found myself in the middle of the Thu Bin River. Despite noisy streets running along the river, I had a feeling of peace and love. It was marvelous to look at the lights (lanterns) around me from the water.
It was a perfect end to the hectic day of travel.
If You Go
https://www.lonelyplanet.com/vietnam/central-vietnam/hoi-an/attractions/hoi-an-old-town/a/poi-sig/1158047/357874
https://sailingstonetravel.com/hoi-an-ancient-town-attractions-the-ultimate-guide/
https://www.theblondtravels.com/one-day-in-hoi-an-ancient-town/
Author's Bio: Anukrati Dosi is a travel blogger and the author of the blog www.bulbulonthewing.com. A total hodophile, she spends her free time seeing as much of the world as she can. An avid reader and researcher, she also designs travel itineraries professionally.