Welcome to the Maldives, this place is a tropical beauty, with stunning white sand beaches and bright blue waters. It is an exotic travel destination for people all around the globe. The Maldives is a South Asian Island nation located in the Indian Ocean, situated southwest of Sri Lanka and India. It is composed of a chain of 26 atolls, which are made up of over 1,192 coral islands and have over 90 resort islands.
Male, the capital has an international airport and you can take a seaplane or a speedboat from the airport to reach one of the many islands. It is the smallest country in Asia and is known for its white sandy beaches, pristine turquoise waters, variety of marine life, and rich coral life.
Book some amazing Maldives adventures here.
Usually highlighted as a honeymoon destination, this is also a fantastic place to go on a vacation with your family or take a trip with your friends. The second I saw the magnificent view of tiny scattered islands in the middle of an open ocean from the rounded window of my plane – I knew, this is PARADISE!
But what can one do in Paradise? To be honest, at first, I was a little sceptical, I thought this was going to be one of those lazy relaxing vacations where you just lie on the bed and beach as time passes by. And as lovely as that sounds, I wanted to explore, I wanted to roam, I wanted an adventure and boy, did I get one!
I am going to tell you the Top 7 Things to Do in the Maldives that will make your vacation one of the most memorable ones!
Stay in an Overwater Villa
If you go to Maldives and don't stay in an overwater villa, did you really go to the Maldives? Staying in the Maldives is majorly categorized into two ways – on the beach and over the water.
Water villas are a premium property for most resorts and the best part about them is that they have direct access to the island lagoon. The second I entered my water villa at COMO Cocoa Island, I changed into a swimsuit and ran down the deck to embrace the warm turquoise water of the Indian Ocean. I saw a few fishes swim past me and almost screeched when I came across a baby shark who completely ignored my presence. Another highlight of staying in an overwater villa is the open shower and decks that look over the most enchanting ocean view.
Imagine sipping your morning coffee on that deck. What a serene experience!
Explore resorts and overwater villa options here.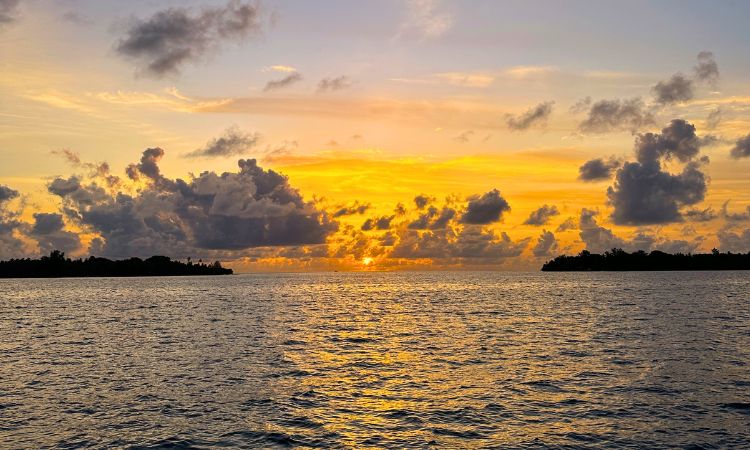 Experience a Maldives Sunset Cruise
I love watching sunsets, be it anywhere in the world. If there's one guaranteed beautiful sight you can always count on – it's the sunset. And sunsets in the Maldives are honestly the best I have ever seen.
This sunset cruise took me on a journey past the many beautiful islands of the Maldives. I could see the sky in front of me slowly changing its colour – from pale blue sky to vibrant shades of orange and pink.
And when it finally happened, it was hypnotic. Let me paint you a picture, imagine an orange sky with pastel hues, big fluffy white clouds, a never-ending blue ocean, two islands filled with lush greenery and in the middle of these islands – is the slowly setting yellow sun. It is way dreamier than it sounds, I promise. The number of pictures I clicked does not do justice to the real sight.
The Maldivian sunset will easily be one of the best sunsets you'll ever see.
Read More: Eloping in the Maldives: A Bucket List Wedding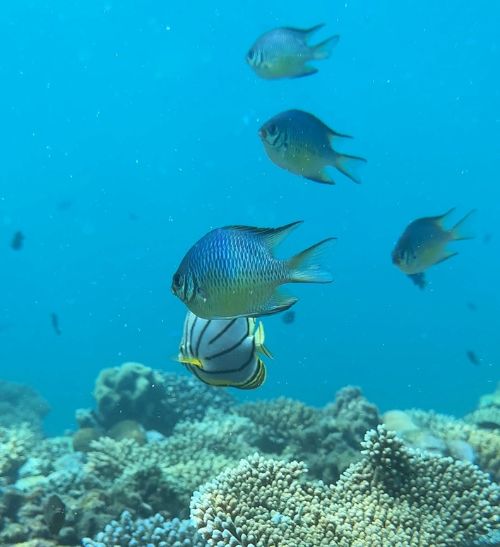 House Reef Snorkeling
Most resorts in the Maldives have house reef snorkelling, which is a complimentary activity, and they also rent snorkel gear for free during the duration of your stay. I used this to my advantage thoroughly. Right on the first day, I was in my swimsuit, wearing my fins, ready for an underwater adventure.
You can either go house reef snorkelling on your own – this is exploring the aquatic life closer to the island reef. Or see if there are guided reef snorkelling activities.
I enjoyed a guided session at COMO Cocoa Island, and what a thrill it was. Tons and tons of vibrant corals, and tiny fishes darting in and out of them. But the showstopper was the majestic sea turtle, this gentle giant continued to snack on algae, untethered by our presence. We spent almost 20 minutes, just looking at the captivating scene until the turtle had too much attention and swam away from us.
If you go to the Maldives, don't miss the chance to dive into this underwater paradise.
Snorkel with Sharks in the Maldives
COMO Cocoa Island gave us a chance to have an exhilarating and captivating snorkelling adventure with sharks. This was my first shark adventure and was I scared? Of course. Was I excited? A little too much.
Eddy, our diving instructor with years of experience was swimming effortlessly in the ocean like a fish while I was flailing around like a puppy and struggling to breathe out through a tube. But once I got the gist of it, it was the most exhilarating experience. Suddenly, I was surrounded by a school of fish and a variety of corals.
We glided further and further into the waters and I almost screamed when I first saw a blacktip reef shark. I was unable to talk through the tube in my mouth. But my mind is yelling 'Oh My God! That's a shark! A shark! And wow, it's huge!'
I watched him glide by to meet his friends, and soon we were surrounded by 4 sharks and my phone was shaking as I tried to take a video. That's a memory that I will frequently share and revisit.
A memory I urge you to create for yourself.
Read More: Dancing with Giants: Scuba Diving with Manta Rays in the Maldives
Dolphin Watching Tours in the Maldives
Who doesn't want to watch dolphins? I doubt there's anyone who'd scream, 'ME'.
I was pretty excited about this one. The marine biologist briefed us about the types of dolphins and then we sailed into the ocean to find these playful creatures. It took us a while to spot the pod, but once the first glimpse came, everyone started oohing and aahing. The sight of these curious water babies effortlessly weaving in and out of the waters, jumping and somersaulting playfully left me in complete awe.
Note that, when it comes to nature there's always a 50-50 chance. Sometimes the pod will put on a show for you and sometimes you might just see a few dorsal fins. Even then, it's a delightful experience that you shouldn't miss.
Book a Shipwreck and Nurse Shark Snorkeling Tour that includes Dolphin Watching.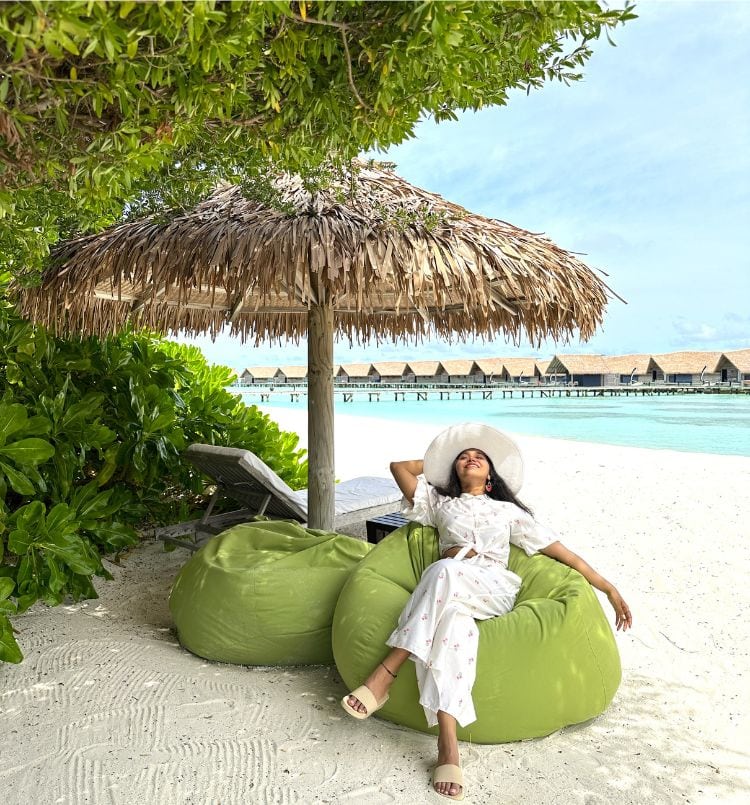 Have a Picnic on the Beach
This is your chance to enjoy a private escape from the world. Wear your best beach outfit and have a picnic by the Indian Ocean. Gaze into the horizon blending seamlessly with the sky and just forget all the worries of everyday life.
You can have the hotel prepare a special picnic, or arrange something yourself. We went to the island beach, a little farther from the crowd and had a lovely time. The chef served the most delicious food for us and we enjoyed it during the sunset.
It is your chance to be in the moment, eating, talking, playing in the white sand, walking into the ocean, listening to the sound of waves, admiring the scenic view, making happy memories, taking many pictures and just being grateful!
Explore the Maldives Islands
Now this might sound very cliché, and even trivial but let me tell you why exploring the island you'll live on is an experience in itself.
The Maldives consists of many islands grouped together each with its own unique characteristics, size, activities, marine life and experiences. I assure you, every island will have something different to offer you. My stay at SAii Lagoon Maldives was spent exploring the marvellous island on cycles, doing sunrise yoga, relaxing in the Spa, taking an evening dip in the infinity pool, trying out their complimentary water sports, exploring the conservation centre, enhancing my knowledge of the marine ecosystem, playing volleyball on the beach, and wishing that the trip would never end.
Here's to an amazing vacation in the Maldives!
Read More:
Author Bio: With a passport eager to be filled with stamps, Pooja Amritkar is on a mission to explore the globe, one adventure at a time. When she isn't working a full-time job, she is creating helpful travel itineraries, things to do guides, exploring offbeat places and urging people to embrace the wanderlust in them. She shares her travel stories on her blog – https://womanonrampage.wordpress.com/ and her Instagram -@womanonrampage