Sri Lanka is a melting pot of culture and its cuisine is well influenced by that. It has been under the rule of the Portuguese, Dutch and English. Plus, Sri Lanka has a strategic location as the nexus of important maritime trade routes between Europe, the Middle East and Asia.
All of this, along with its diverse and ethnic multicultural society, has contributed to its diverse and unique cuisine. 
Delicious Sri Lankan Foods
Kottu Roti
This is Sri Lanka's ultimate street food. You can find it on the roadside 'kadés' as well as in upscale hotels. It is a dish much loved by everyone and it is common to hear the rhythmic clank of the kottu chefs in the evenings along the streets.
Pieces of flaky flatbread or rotis' are used to make kottu. Each kottu is made individually to order. The process starts with spices and onions being fried on a hot griddle.
Then the spices are topped with carrots, leeks and scallions and the roti pieces are added on top with your choice of meat, gravy and eggs. After everything is added, long metal utensils are used to chop it up. 
Hotel De Plaza is the go-to Kottu spot for most Sri Lankans. Be sure to ask for less chili in your kottu if you can't handle too much spice.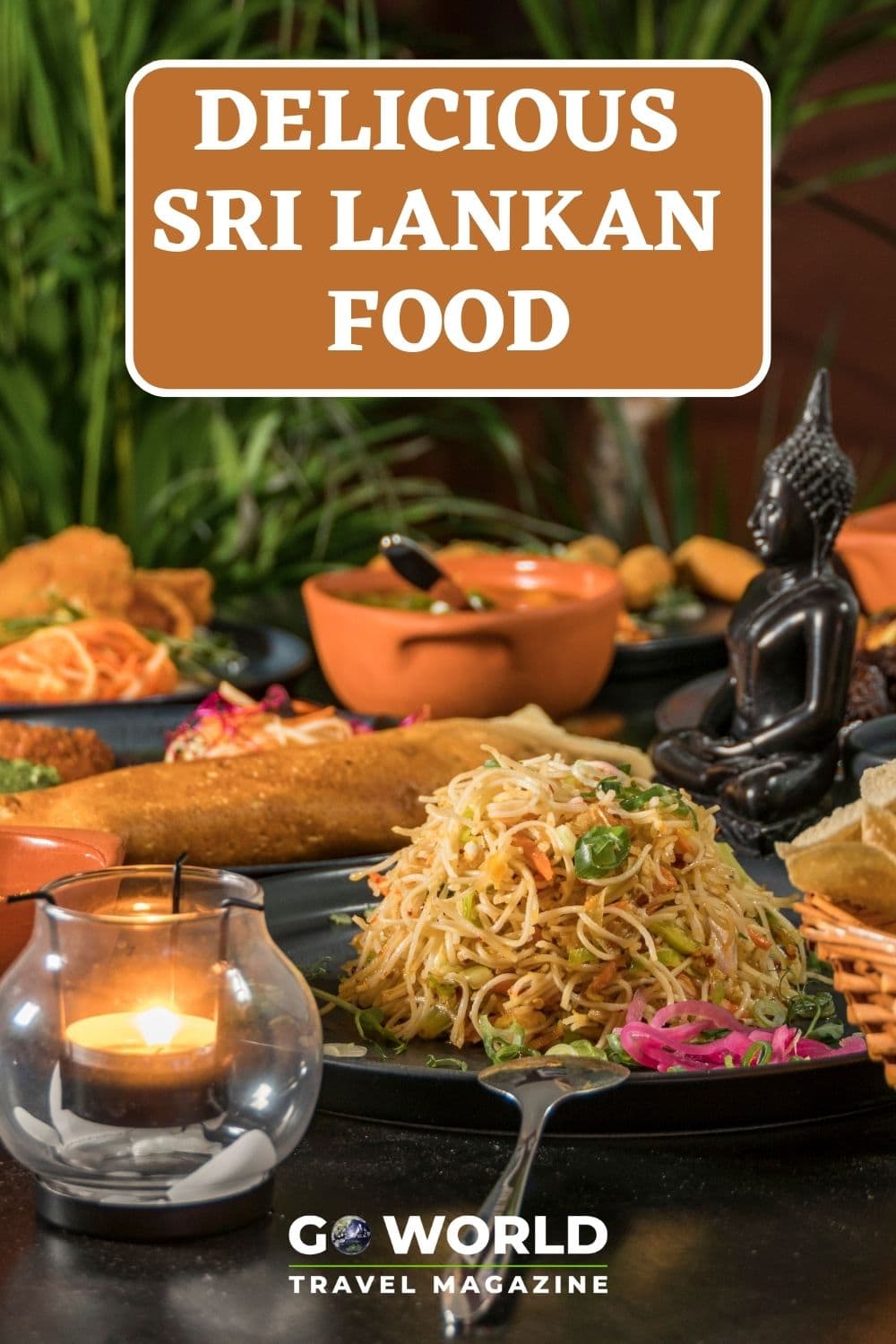 Lamprais
This much-loved rice dish originated from the Dutch Burgher community, who are descendants of the colonial Europeans. It consists of stock-cooked rice with eggplant, frikkadel, sambal, meat infused with spices and a boiled egg.
The rice and the condiments are then packed in a banana leaf and put into the oven at a low temperature for several hours. You can find the authentic Lamprais at the Dutch Burger Union in Colombo.
Kiribath
Eaten as a traditional breakfast dish, Kiribath is made with coconut cream-infused rice. It is usually eaten with a piece of Kitul Jaggery or spicy sambal called 'lunu miris' made with chili flakes, onions, dried fish, salt and lime. Kiribath is often prepared for special days.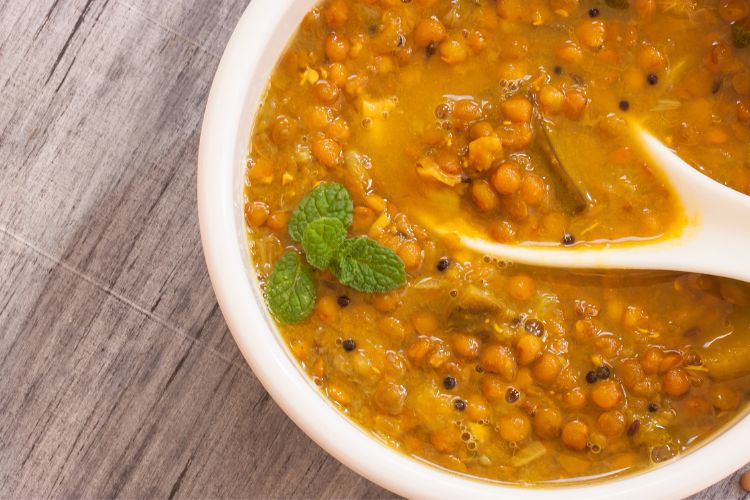 Dhal Curry
Also known as Parippu, Dhal curry is a staple in Sri Lankan cuisine. It is a simple dish but is packed with flavor. It is made with red lentils flavored with coconut milk, curry leaves and spices. This dish is vegan, gluten-free and high in protein and can be eaten with rice, naan, roti, or toast, my favorite.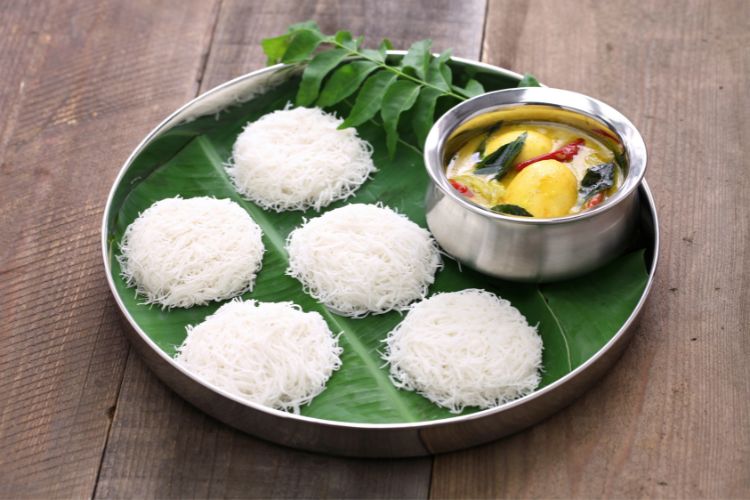 String Hoppers
Another breakfast food you come across in homestays is string hoppers. It's a stringy noodle made with rice flour.
The strings are formed when the dough made with rice flour and hot water is put into a string mold and pressed out in circles onto wicker mats and then steamed. It is often eaten with curry and Pol Sambol. 
Pol Sambol
This is the most famous Sri Lankan side dish made with fresh coconut flakes, chili flakes and Maldive fish. The dish is prepared by crushing all the ingredients using a mortar and pestle and then flavoring it all with lime juice and salt.
Hoppers
The best way to explain hoppers is as a crispy pancake made with fermented rice flour, coconut milk and coconut water.
If you want to try this dish while in Sri Lanka, Upali's in Colombo is one of the best places to experience your first hopper. Most commonly hoppers are accompanied by lunu miris, but it can be also eaten with curries. 
A sweeter version can be made by incorporating Kitul Jaggery into the hopper batter.
Rice and Curry
This is a staple of Sri Lankan food and you are guaranteed to come across it no matter where you stay, be it a homestay or a luxury hotel. Rice and curry is consumed by most Sri Lankans for lunch.
It is served with a portion of rice, a meat curry, some vegetable curries, mallum (chopped green leaves and coconut) and papadums. It can also be accompanied by chutneys or sambol.
Watalappan
A classic Sri Lankan dessert that represents the diversity of Sri Lanka. Watalappan is a cardamom-spiced coconut custard. It is believed to have originated with the Sri Lankan Malays during the Dutch rule.
It's like a crème caramel but instead of sugar, Jaggery is used. The star ingredient of the dish is Kitul Jaggery, a hardened block of cane sugar made from the sap of the Kitul tree. Cardamom is used for the spice and the aroma and coconut milk is added. Therefore, this dish is gluten-free and dairy free.
If You Go
When visiting Sri Lanka, one of the best places to try out all things related to Sri Lankan foods is Nuga Gama at the Cinnamon Grand Hotel. Here you will have a one-of-a-kind experience.
Other high-end restaurants to check out are, Ceylon Curry Club, Ministry of Crab and Upali's by Nawaloka.
Author's Bio: Mithuni Senadeera is a 24-year-old Sri Lankan research undergrad, who loves to travel, eat and experience new things. Mithuni loves sharing experiences with family and friends and is often the person that everybody contacts for restaurant recommendations or what to order.