Editor's Note: We're all dreaming of travel ahead. Here's some inspiration for future adventures. We share places, products and activities we recommend. If you make a purchase using a link on our site, we may earn a commission.
You are lying in an overwater villa in Bocas del Toro in Panama.
Take a deep breath and let the warm, slightly salty, sun-kissed air that just floated over the Caribbean ocean fill your lungs.
Overwater Villa on Bocas del Toro
You are now living under a palm-thatched roof surrounded by native knotty hardwood walls, accented with coral pink and ocean blue color splashes.
A gentle wind is drifting through the bamboo partition of the villa and tempting you to come outdoors. Your body is gently resting in a handmade king-size bed with views of dolphins jumping in the ocean horizon.
These are the accommodations of an overwater bungalow nesting on stilts right above the ocean. A wood dock leads from your personal villa to the dining and gathering area. This is where the coast meets the lush, fragrant jungle.
Here you will find a style of travel that boasts detoxing from modern living. An environment that promotes disconnecting from your devices to appreciate Mother Nature and all she has to offer.
Become one with nature through the sights of parakeets and parrotfish, the sounds of howler monkeys and birds singing and the smells of fruit trees and cacao in the air. This is an incredible experience.
For the tropical loving, boots on the earth, adventure-seeking person, this is a must-see and do vacation that you should not put off another moment. Life pulls you in various directions all year long, causing stress and anxiety.
The opportunity of a vacation in Bocas del Toro will pay off; you will be amazed at how refreshed you feel simply by disconnecting from the chaos of everyday life. You will find clarity, peace and rejuvenation in your body and soul.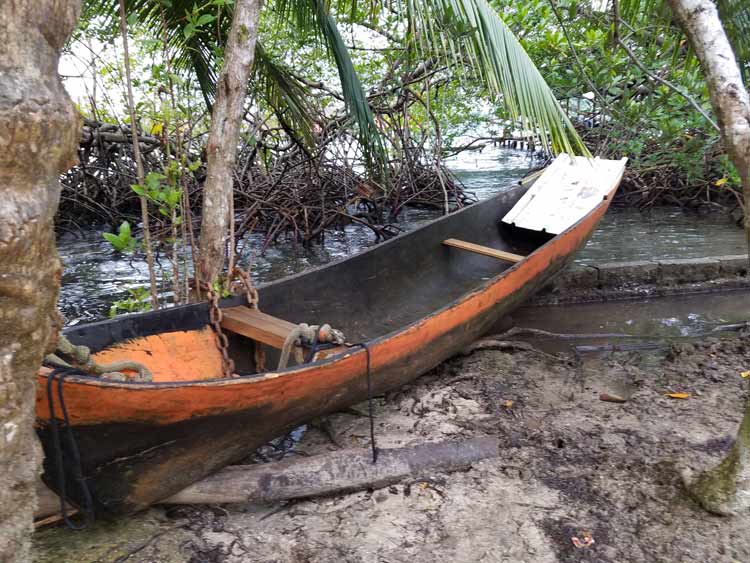 A Brief History of Bocas del Toro
Bocas del Toro is a province of Panama comprised of the mainland and nine islands, making up an archipelago that pulls at the heartstrings of any wanderlust seeker.
Christopher Columbus sailed the waters here, searching for passage to the Pacific Ocean in 1502 on his 4th and final voyage. During that voyage, they encountered hurricanes and rough seas, putting the ships and crew in despair.
When they sailed into Bocas del Toro, the calm paradise waters and lush land served as a refuge to the ships and crew, allowing them to make repairs, collect food and escape from undesirable weather.
There is such a thing as a hurricane-free zone and Bocas is in it, located at nine degrees latitude.
Visitors escape into a protected retreat, enjoying snorkeling, hiking, kayaking, fishing, making chocolate, surfing birdwatching and more.
How to Get to Bocas del Toro
Getting here is a hop to Panama City, a skip to Bocas del Toro and a jump to an island water retreat. Fly into Tucumán International Airport in Panama City (PTY), located on the Western Pacific Ocean side of Panama.
Upon arrival, I suggest taking an Uber to Albrook International Airport; it's 30 minutes and approximately $22. From there, take Air Panama to the Eastern Caribbean side of Panama to Bocas del Toro on Isla Colon, the most populated island in Panama; it's a 50-minute flight for about $230 per person.
You're almost to Bocas Town
Now that you're back on the ground take a short walk down the roughly paved streets and through the developing rural town to immerse yourself into the chill culture.
I love passing by Simon Bolivar Park, where you will find children singing and frolicking and street vendors selling goods. Your little ones can enjoy the playground equipment while you find a place to visit and connect under large banyan trees.
The final step is to jump on a boat taxi that will take you to the dock of your destination. Each island resort is approximately 10-30 minutes away by water taxi. However, do not miss out on what Bocas Town has to offer before you head off.
You can book a tour to see everything Bocas Del Toro has to offer through TourRadar. Book the 3-day Bocas Del Toro Circuit and have a guide tell you the best spots to see with the transportation, hotel and meals all included here. Or you can plan less and just book a snorkeling trip. See all of the options in Bocas Del Toro and Panama here.
Shops and Restaurants in Bocas Town
A variety of colorful shops and restaurants are nestled tightly together along the coast. Most are located right over the water and filled with locals and travelers having a sea-inspired meal or looking for a one-of-a-kind souvenir.
Be sure to eat at Be Nice Nomade. Not only do they offer a spread of delicious flavor-filled plates, but they also live up to their name. Enjoy a variety of island foods including Panamanian staples of plato tipico, a typical plate of white rice, beans, fried yellow plantain, and choice of fish, chicken, beef, or pork, and Ceviche de corvina, sea bass ceviche, infused with garlic, lime, onion and cilantro.
On a side note, I'm incredibly happy to report that when I left my purse behind in my rush to catch the boat taxi at the dock, a restaurant employee came to find me and returned the purse fully intact with all my belongings. This is just one example of why Bocas Town and the people are so wonderful.
As you disembark the boat taxi, over the water living is in full effect. The joys of staying here are endless.
Being greeted at the boat dock upon arrival, possibly by the resort's owner, with a warm hello and a hug followed by a personal tour is a perk you can expect to find at Bocas del Toro.
Additionally, the romantic accommodations encourage you and your loved one/s to reconnect and get close to one another.
EcoTourism in Bocas del Toro
Eco-living will have you showering in the freshest rainwater, eating healthy organic food, drinking wine under the stars and even swimming beneath the night's sky surrounded by the illuminating bioluminescence dancing in the water around you like fireflies.
It is exhilarating to jump into the azul water right from your front door and explore the vibrant colors of blue, purple, orange, green and red coral reef. Swim in bliss surrounded by thousands of tiny fry and have fun spotting a vast array of tropical fish and spotted eagle rays.
Be sure to pack a couple of swimsuits and protect your skin with some fun sun-shirts from Sierra Trading Post. Find a variety of active styles and layers for any tropical conditions, whether on the beach or in the jungle, here.
Enjoy a ride in a hand-carved canoe or kayak, the vast coastline of jungle, mangroves and beach. Take in the sights of birds, sloths, monkeys, starfish and sunshine.
I was elated to swing a machete on my exploration through the jungle. The activities you partake in under the sun create a strong sense of excitement.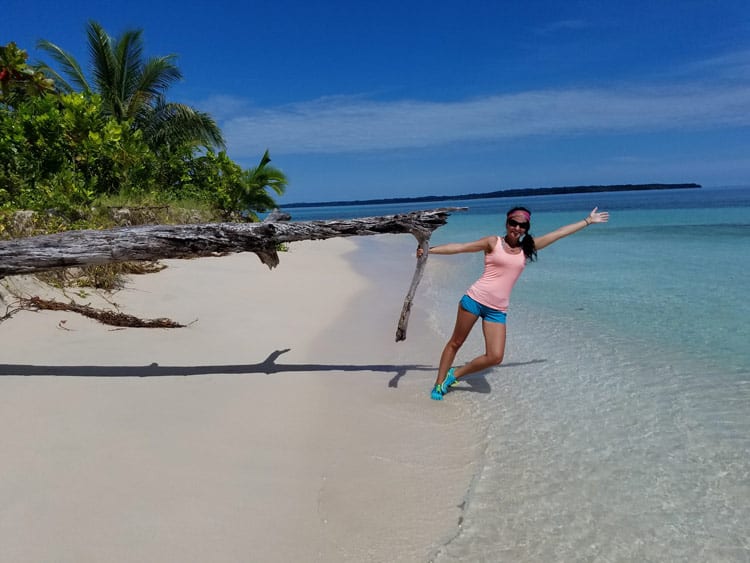 Off-The-Grid and Natural Living in Panama
In Panama, living off the grid fosters getting out and exploring all the amazing things nature has to offer.
Don't panic, living off the grid doesn't mean you have to completely abandon your devices, you can still charge a cell phone in the main house.
You can't blow dry your hair. Before I came to Bocas del Toro, it would have been an issue for me to go without drying my hair, but now I know that you are always wet in Panama due to the water and the heat of the Panama jungle.
Your internal clock starts ticking with the rise and set of the sun. You wake up when the sun rises and by the time night falls, the feeling of tranquility rolls in, and you feel ready for a peaceful slumber listening to the waves and feeling the gentle warm breeze as you drift off to sleep.
Many unique over-the-water bungalows are available to you, such as Azul Paradise, Sea Monkey, Eclipse De Mar, and De la Luna.
Get comfortable talking to the staff in Bocas del Toro Resorts. They can put you in contact with locals who can take you out on a fishing trip or to a gorgeous reef to snorkel.
Dining in Bocas del Toro
The resorts also offer plenty of excursions to keep you busy and will make arrangements for a boat taxi to whisk you off to a nearby restaurant.
You won't go hungry in Bocas del Toro. There are plenty of places over the water and in the jungle, serving up heavenly fresh from the sea entrées paired with an array of locally grown food harvested from the rich jungle soil.
The cuisine is infused with flavor from sweet mangos, pineapple, papaya, passion fruit, bananas and nuts.
There are many banana plantations in Central America, they are referred to as oro verde or green gold. Bananas grow very well in this region because of the temperature, rainfall and alluvial soil. The bananas are so fresh and rich that they taste sweet like dessert.
Lovers of spicy food are also in luck. You can enjoy the warmth that takes your taste buds to the next level and leaves you completely satisfied yet longing for more.
Finally, Panama produces its own rum so get ready for some amazing Panamanian cocktails.
Benefits of Traveling to Bocas del Toro
Although these locations are secluded from the town life, it is possible to incorporate time in the town with your stay in Bocas del Toros.
By the end of your stay the "blue mind effect" will have set in. Water has a powerful ability to relax your mind, inducing a healing power. All your worries, anxiety and stress melt away, turning all your thoughts positive.
Travelers who love adventure and are open to seeing the world from an organic perspective will thrive being immersed in this natural experience.
Most likely, you will leave the resort with an embrace similar to your greeting that lets you know they were glad you came. You may even exchange social media information to keep in touch.
Book This Trip
Find your stress-free oasis at Bocas Del Toro! First, you can find almost everything you need to plan your trip in one place through Agoda. Find it all with ease, from the best flight options and airport transportation to hotels, homes and other unique stays here.
For more insider knowledge on how to get around, local restaurant favorites and must-see island spots check out TripAdvisor and Travelocity.
Author Bio: Angie Falor is a freelance travel writer with a passion for igniting the desire to adventure in others. She is a mother and wife that loves mountain biking and yoga. Angie teaches piano and together with her husband runs a business promoting healthy lifestyle choice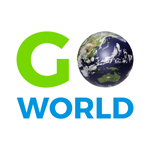 Latest posts by Go World Travel Magazine
(see all)