Ever since I took my first introductory scuba dive at the age of 17, I have been fascinated by the calmness and beauty of what lies beneath the water's surface. The diversity and greatness of marine life have always given me a unique escape from the stress and problems of my daily life.
With that in mind, I always try to include scuba diving in all of my travels. Logically, I also wanted to make an intelligent decision when choosing a suitable island for my trip to the Maldives during the winter of 2021.
Consider the Time of Year
I had already read a lot about giant manta rays and thought that this could finally be my chance to experience those stunning creatures in the wild. The giant manta ray is the world's largest ray with a wingspan of up to 29 feet. They are filter feeders and eat plankton. I couldn't wait to see them. The only problem: December was not really "Manta Season" yet, making it very unlikely to encounter them.
When talking to various dive shops, they all provided the same information: "If you are lucky, some manta rays can occasionally be spotted from the boat, but there is no way to know where to find them for sure during a dive."
This was good enough for me since I am an overall optimistic person. I thought that a slight chance may still be better than no chance at all and continued booking my flight.
Just about five weeks later, on the 10th of December 2021, to be exact, I found myself on Rasdhoo, a beautiful Maldivian island within the Alif Alif atoll.
Unfortunately, I did not arrive at the postcard-like sunny paradise I expected. Monsoon season was relatively late that year, so I enjoyed the first three days in the pouring rain. To be honest, these kinds of things usually don't bother me.
Tropical islands always have a certain charm, no matter the weather. I was okay with snorkeling in the rain or talking to local people while having some delicious traditional food.
The real problem was the bad underwater visibility that resulted from those stormy days. Not only was it unlikely to spot a manta ray in the wild, but I could have potentially overlooked them as they would swim past me in the mirky water.
After nine days without spotting a manta ray, I gave up with 13 dives down, only one left to go. No more hopes. Why should that last day be any different? Even my dive instructor felt very sorry for me, knowing that my only deep-hearted wish would not come true.
We Thought We Might Have More Luck Going Further Out
It was that ninth day when I was already halfway home and suddenly felt a gentle tapping on my right shoulder. It was my dive instructor. "Listen, there is one specific point further away from our daily dive spots that usually have giant manta rays later in the year.
"Maybe a few of them are early this time. It is only you and your dive buddy tomorrow. We should leave early in the morning and try!" he said. I appreciated how much he wanted to make me feel better but still had no hopes of seeing a giant manta ray.
After a good night's sleep, I headed over to the dive shop for the last time during this trip. Just the thought of having one more dive got me a little excited now.
Before I knew it, I found myself loading diving gear back onto the boat while orange light beams of a perfect sunrise warmed my face.
The mood was always optimistic when the boat's engine finally started making its typical humming sound at around 8.30 am. It usually took us only about 10-15 minutes to reach any of the dive sites we visited throughout the week before. This time, it almost took us an hour.
The further we traveled, the fewer people and boats we saw. Suddenly, the sound of the engine stopped. For one moment, there was complete silence. All we could hear was the small waves bursting against the wooden hull.
The dive instructor looked at me and told me to get ready. Less than five minutes later, we were floating in the water, signaling each other to begin our dive.
Three meters down, I got a little more excited. At 14 meters down, I noticed that the visibility was actually pretty good out there. Then, 22 meters down, we touched the ground.
Before getting in the water, we agreed that waiting in one spot was our best shot to observe the passing animals while saving oxygen at the same time. And so, we did. We waited. Five minutes, 15 minutes, 30 minutes.
At this point, I must have spaced out entirely. There was nothing to see and no physical exercise that kept up active. All we did was lay on the bottom of the ocean, staring at a rock.
"Was this it?" I asked myself. "Is this really my last dive in the Maldives?". I checked my barometer. There were still 100 bars left. I was thinking about all kinds of things. How much longer could I stay down here?
When would I have to pack for my flight later? Where would I go to have dinner with my wife at the end of the day?
I Noticed Something
And while I was still staring straight at that rock, I noticed that something was happening. I could see that my dive buddy was trying to get my attention in the corner of my left eye. I looked at her and she looked back.
But she did not look back at me. She looked through me while pointing my view in a specific direction, repeatedly tilting her head. I quickly turned my head around at the rock but still saw nothing. It took me a few more seconds until I actually saw it.
This time, the corner of my right eye detected movement. There it was! A huge giant manta ray with a wingspan of approximately 5-6 meters slowly floating over my head.
Once we completed our dive, my instructor told me that he had never gotten that close to a giant manta ray before. I just stared at it with endless joy and happiness inside of me.
It must have not taken more than 20 seconds until the gentle giant disappeared in the distance, but it felt like forever. I observed every single movement of the animal, imagined that it actually looked right back at me, and probably forgot to breathe for as long as it lasted.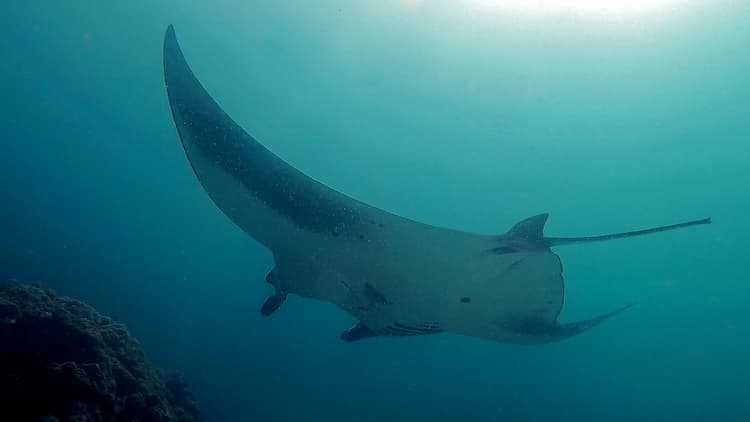 And suddenly, the giant manta ray was gone. I turned my head to the left and smiled at both my dive buddies, fully aware that they would not even recognize what I was doing with the breathing apparatus in my mouth.
After one more look at the barometer, the dive instructor signaled us to go up to 5 meters, do a 3-minute safety stop and then ascend to the surface.
"You must be the luckiest person I have gone diving with in a long time." my instructor said as he surfaced. All I could say at this moment was "thank you". Back on the boat, I immediately checked my GoPro to see if I had captured that beautiful moment.
Luckily, I did. The entire way back to Rasdhoo we would talk about how crazy it was that we actually saw a manta ray that close despite all the odds. 
For weeks after returning to Germany, I contacted my dive instructor. Based on our sighting that day, the diving school went back to that specific dive site multiple times after I left, always without a sighting of a giant manta ray.
My diving instructor wrote in one of his last messages: "That was your reward since you did not stop trying". I guess it was. This was one of the most memorable moments of my life. Since that experience, I have tried to always remind myself: Patience sometimes really does get rewarded.

Book This Trip to Rasdhoo, Maldives
Are you ready to plan adventurous dives around the Maldivian island of Rasdhoo? Your first step should definitely be booking a hotel. Rasdhoo is considered a "local island" with relatively few accommodations.
Although you will get a good overview by checking hotels.com or booking.com, I highly recommend considering a place called QuickSand Hotel. Beyond all measures, they have always gone above and beyond to accommodate us, giving us a perfect local experience.
As for the dive schools, I highly recommend going with Rasdhoo Dive & Watersports, also known as Jerry's Dive Club. Not only price but also with regards to the personality of the staff members, you can't really go wrong.
Other than that, you should keep the seasons in mind, especially if you want to see specific animals, such as giant manta rays or whale sharks.
For even more fun while you stay in the Maldives, check out some ocean activities, expert-led tours and skip-the-line tickets through GetYourGuide. Find more information on tours and book your dates in advance here.
Read more of our articles about exciting destinations here:
Author Bio: Thomas Später is an experienced backpacking traveler that specializes in adventurous trips around the globe. He has traveled to remote and exotic places, such as Namibia or Mongolia and focuses on landscape and wildlife photography to share the beauty of our planet with others. In 2021, Thomas published a (german) book about Overpopulation and overconsumption (Die Überbevölkerung). With his awareness of current global issues, he uses his travels to support particularly local hotels and restaurants to raise awareness for the nature and culture of his destinations.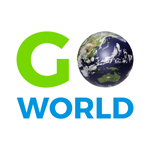 Latest posts by Go World Travel Magazine
(see all)