On the April 25, 2015, Nepal was hit with a devastating earthquake that killed nearly 9,000 people. Some 800,000 homes were destroyed, along with thousands of schools.
However, that is not the full story. Only certain areas of Nepal were damaged. Nepal continues to be a safe destination to visit, and it is still a wonderful holiday destination.
As an outfitter in Nepal, we're hoping and asking that travelers continue to visit us and to experience the beautiful country we call home.
After the earthquake, tourism dropped to nearly zero, leaving those who had survived the quake in an even bigger problem as tourism counts for over 8% of the country's national income. Without tourism, thousands of Nepalis are out of work. There has already been a mass exodus of young healthy men leaving for the middle east searching for work.
Here in Nepal, we need your visit to help us get Nepal back on its feet. Believe me, you won't disappointed when you come.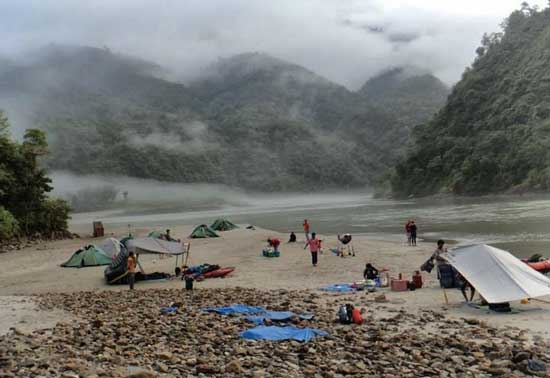 Tourism operators in Nepal are welcoming visitors back this autumn after their annual monsoon season. Contrary to the reports and rumors that have spread world wide, Kathmandu has not been flattened and is alive and kicking. This popular destinations is ready to show you how wonderful Nepal really is. Although we cannot deny many houses are down and several historical sites have been affected, the majority of popular tourist sites still stand.
Here are a few things you might not have known about the earthquake:
Out of 75 districts of Nepal, only 8 are affected.
Out of 10 National Parks, only 1 is affected.
All the highways and sub-ways are in operation with zero damage
Out of 8 UNESCO World Heritage Sites, only two of the sites have around 40% damage.
90% hotels in Kathmandu Valley are safe and in operational conditions. 100% of the hotels in popular destinations like Pokhara, Chitwan, Lumbini, Bardiya, Ilam, Annapurna Region, Everest Region are safe and in full operation.
Out of 35 popular trekking routes, only two are affected
All the International and National airports are in operation with zero damage
Communication (nets, phone calls, ATM's, swipe machines) are all working well.
Hospitals and clinics are safe and in operation. No viral diseases or influenza have occurred.
The best time to visit Nepal is September through until November. The temperatures are perfect then, and you will get spectacular Himalayan mountain views. There is much to see and do there, including trekking, biking, rafting, paragliding, yoga retreats, spas, lakeside towns, the list goes on and on.
For those of you who are into rafting and kayaking, Nepal boasts more than 6,000 rivers and some of the best whitewater in the world. Only one commercially-run river has been affected; the rest are up and ready to go.
Our friends at GRG's Adventure Kayaking highly recommend an expedition down the Tamur or Sun Kosi this autumn. There is nothing better than spending eight days rafting down a remote river in Nepal, camping on white sandy beaches, exploring local Nepali villages and playing football with children who curiously venture down to the campsites to come and introduce themselves.
Or for mountain bikers, Himalayan Single Track are still running their tours to Jomson in the Annapurna Region, for some world class biking.
And let's not forget the trekking. Mount Everest is, after all, what Nepal is famous for! Treks to Everest Base Camp and Annapurna Base Camp, to name just a few of the incredible treks you can do in Nepal, are open and ready for you to come and visit.
Those who have been to Nepal always speak of the incredible scenery, the spectacular Himalayan Mountains, and of course the unparalleled hospitality of the Nepali people. More than 1 million foreigners travel to Nepal every year and without their valuable income, Nepal will find it hard to get back on its feet.
Want to help Nepal get back on their feet? Please come visit us on your next vacation.
About the author: Originally from England, Chrissy has lived and worked in Nepal for 7 years. In that time, she has gained an in-depth knowledge of the customs and culture of Nepal. She has set up several businesses which employ over 30 Nepalis and is dedicated to helping Nepal get back on its feet after the earthquake of 2015.