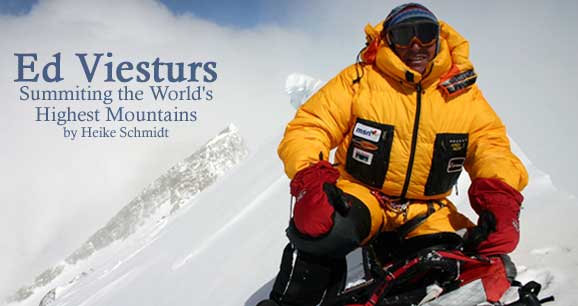 Blame it on the name. Ed Viesturs had no choice but to become a mountain climber. Ed is short for Edmund. Just as in Sir Hillary, who was the first Westerner to reach Earth's highest point, Mount Everest, in 1953. Edmund Viesturs made history on May 12, 2005, when he reached the summit of Annapurna I and became the first American to ascend all 14 of the world's 8000-meter (26,246-foot) peaks without the use of supplemental oxygen.
Nepal's Kangchenjunga (8,586 m / 28,169 feet) was the first monumental mountain he summited, in 1989, via the North Face. It took him 16 years to complete his conquest. "That's right, but don't write 'conquest,'" Viesturs corrects me when I meet him before a slide show during a national tour. "You don't conquer a mountain," he adds with a smile. "You need to be respectful and they may allow you to climb them."
Viesturs prefers to call his endeavor a quest. This is also the title of a book he wrote about his high-altitude adventures, Himalayan Quest. He didn't set out to subdue mountain giants or to break a record, he explains. It had been done before.
Italian Reinhold Messner was the first atop all 8000-meter mountains, in 1986. There are no medals, no trophies for the sixth person or the first American to accomplish this daunting task. "I did it simply for me," Viesturs says. "I like everything that is difficult. So climbing the world's highest mountains was the perfect project."
As a boy in the flat Midwest, Ed Viesturs came across the book of French climber Maurice Herzog. Herzog led the first successful expedition to fabled Annapurna. Reading about this adventure made a lasting impression and inspired Viesturs to get into rock-climbing and mountaineering himself.
The dream grew with him. Viesturs eventually decided to move away from a countryside where "corn silos were the highest elevation." While he was looking for a place to study veterinary science, the mountaineering hub of Seattle, just over the majestic Cascade Range, seemed like an ideal spot.
So Viesturs started his climbing apprenticeship in the mountains of the Pacific Northwest, where he quickly became a guide on Mount Rainier in 1982. "That was the perfect job to learn how to get to great heights very safely, because you don't just climb for yourself, but have responsibility for the entire group."
Ed Viesturs began his climbing adventures on Mount Rainier, which he has since climbed nearly 200 times.
Over the years he has scaled Mount Rainier, at 4,395 meters (14,410 feet) the highest point in the range, about 195 times. Is it true that his friends have billed him "the climbing machine?" Much worse, laughs Viesturs, they compare him to a Chevy truck: "I ain't pretty, but I can go and go and go." Then he becomes serious again: "Luckily, I have chosen the right sport for me."
His climbing peers would put it differently. Viesturs' physique makes him extraordinary gifted. Tests have shown that his lung capacity is up to 40 percent greater, and his blood is able to pick up oxygen from his lungs faster than the average person.
His unusual capabilities and talent were quickly recognized, and he started to work more internationally. Viesturs was invited to climb mountains in Russia and the Himalayas. He made the personal decision that he would try to reach the top without using oxygen regulators — just as his inspiration, Maurice Herzog, had done. Wearing a mask over his face, Viesturs felt, would isolate him from the experience and distract from the sense of purity. "I didn't care if I couldn't go to the summit, but I cared how I would get there."
And how to get back. "I always thought of mountain climbing as a round trip: To summit is optional — to get back, mandatory." This became especially important after he met his greatest supporter, his wife Paula. Drawing from his guiding experience in the Cascades, the father of two young children now made "very sure" to climb extra safely and not to take unnecessary risks.
Sometimes this meant making a decision based on logic, rather than based on heart. In 1987, for example, when he was only about 300 vertical feet (90 m) from the top of Mount Everest, Viesturs decided to walk away from his first attempt to ascend the highest peak on Earth (8,850 m/29,035 feet). He was exhausted. "You take one step and you breathe 15 to 20 times. You take one step and breathe 15 to 20 times. You think about taking another step and breathe 15 to 20 times," he recalls.
It would have taken hours to finally reach the summit — and the weather had worsened. So he made the heart-wrenching decision to back down off the mountain. Three years later he finally reached the summit. He did so again five more times between 1991 and 2004.
All in all, Viesturs has been to Everest ten times, including a trip that was featured in the IMAX movie of the same name. Is Everest his favorite mountain? "I love them all," is his answer. Even K2 (8,611 m / 28,250 feet) on the Pakistani/Chinese border, which he considers to be the most difficult of the Big 14 due to dangerous weather patterns and the challenging technicality of the route. "If you climbed K2 once, you don't ever bother to go back again." Except for Mount Everest, which he would like to return to with the right climbing partner, there is nothing that draws Viesturs back to any of the other peaks, he says.
Annapurna however, will forever have a special significance. He had tried to climb the famous mountain twice before, but avalanches made the ascent too dangerous both times. So Viesturs chose to turn around. At his third attempt this year, he was finally "given opportunity by the mountain." Conditions were much more favorable, not only regarding the weather. A couple of weeks before he arrived, a team of Italian mountain climbers had set up camp a little higher than Viesturs and longtime climbing partner Veikka Gustafson eventually did.
"They safeguarded our climb," explains Viesturs. The Italians had established a route and welcomed the newcomers to use their fixed ropes. "They were just fabulous." Whenever Viesturs and Gustafson passed their tents, their new friends invited them in for a cup of espresso, a piece of Parmigiano cheese, a glass of wine. It was a welcome addition to the energy gels Viesturs had packed. He generally travels as lightly as possible on expeditions. The only luxury item he allows himself is good French coffee.
Even though Viesturs and Gustafson felt much more comfortable this time around on Annapurna, the mountain still challenged them. There were high winds, new snow covering up tracks and sleepless nights, bad visibility, looming crevasses and a missing rope. But they succeeded. On May 12, 2005, around 2 p.m. Nepal time, Edmund Viesturs stepped through the clouds and stood on the summit of Annapurna — the first mountain he had dreamed of and the last in a series to complete his dream.
For More Information
Ed Viesturs: High Altitude Adventurer
www.edviesturs.com