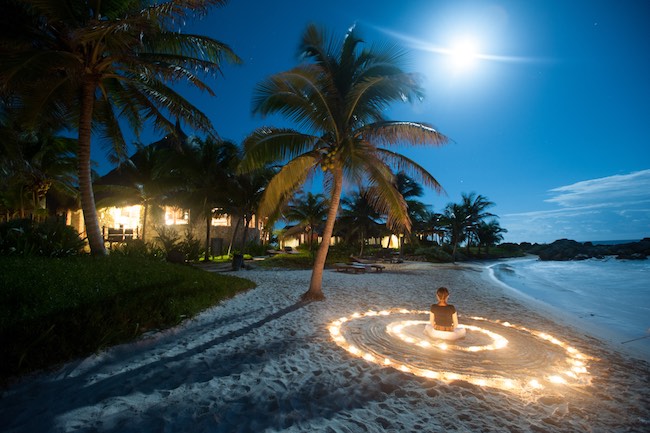 Barefoot. It's the vibe, the lifestyle, and the preferred way to stroll on the sandy paths around Maya Tulum Resort in Tulum, Mexico. Most people were barefoot the night we arrived in time for dinner. They had just come from yoga or massage or meditation. So the mood was calm, and all were in their happy place.
Ancient Healing Arts
Maya Tulum Resort is no ordinary destination on Riviera Maya. An American couple started it in 1981 as a wellness retreat for people wanting to reconnect mind, body and spirit. It was the first of its kind in the Yucatan Peninsula where ancient Mayans established the healing arts still practiced today. The owners' vision is very present at this secluded jungle gem. "We are here to help people heal themselves," said Spa Manager Valerio Hernandez.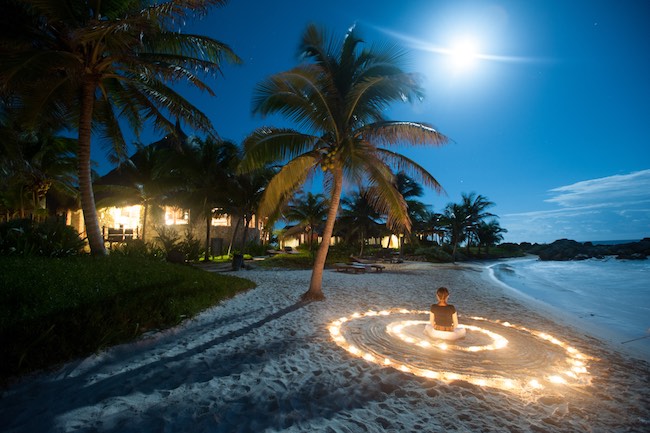 Cabanas at Maya Tulum
Forty-six thatched-roof cabanas dot the 27-acre property fronting the Caribbean Sea, the largest resort beachfront in the area. Each cabana is different. We had Suite A, the premier oceanfront villa that once was a house, hence the large living room, separate dining room, Mexican artwork and fridge. The king-size bed sits like a throne surrounded by windows. Sunrise on our first morning was a stunner! Like all other cabanas, there's a safe, large drinking water cooler, ceiling fan and netting over the bed. No TV, phone or clocks distract your mind from serenity. The brightly tiled bathroom has two sinks, a large soaking tub with rain shower, and a separate WC. Little bottles of organic shampoo, conditioner and body wash sit on a ceramic tray; no hair dryer. Like everywhere in Mexico, they ask you not to flush toilet paper, so there's a bin for discards.
The best parts about this cabana are the three private patios overlooking the water. Two with deck chairs, the other with two outdoor "beds." The ocean is mesmerizing and peaceful, setting the mood for the mind, body, soul connections one can have here. First of all, begin by just breathing the air and feeling the sea breezes.
Yoga at Maya Tulum
Yoga is the main activity. Yoga teachers from around the globe bring classes down for retreats. Two thatched-roof yoga halls can hold groups as large as 75 and as small as 10. There's also a small outdoor palapa for guests like us not in a group and for public drop-ins. These all-level classes are taught by local yogis twice a day from 8 to 9:15 a.m. and 4 to 5:15 p.m. The two resident classes are included in the package price. The public pays $15USD ($309 MXN)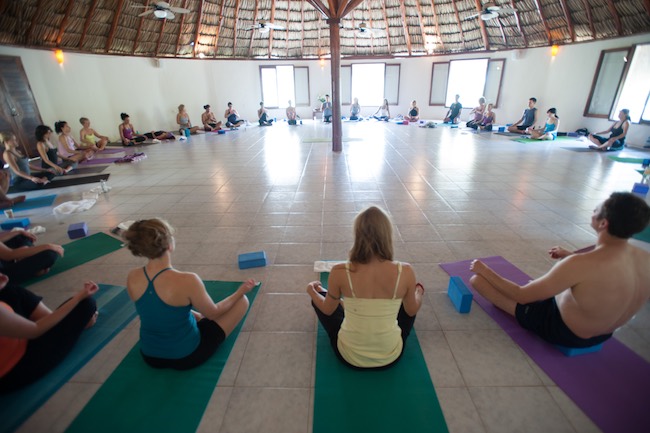 Spa at Maya Tulum
The spa offers a variety of treatments, many of them Mayan specialties. My therapist was Emilia, a lovely Yucatan-born Mayan woman. Each therapist has a signature therapy; hers is "Wayuak ix Xiu"—balancing the body and mind through healing powers of herbal medicines, aromatherapy and spices. I chose Mayan Honey Xuunan Kaab, an ancient tradition unique to the area using a locally produced medicinal honey. Emilia rubbed this honey/sea salt exfoliant all over my skin. After showering, my skin was silky soft. She then dripped warm oil and honey onto my back that prepared me for a full body massage that included my face. It was heavenly! Spa prices range from $100-$150USD ($2,058-$2,087 MXN) and last from 50 to 80 minutes.
Twice a week they offer a Temazcal ceremony, a traditional ritual performed in a clay steam dome. It was an incredible relaxing, detoxifying and spiritual experience when I did it a few years ago in Tulum. As steam heat permeates your body, chanting and guided meditations bring you to a spiritual awakening like no other. It costs $70USD ($1,441MXN) for 120 minutes.
Dining at Maya Tulum
As you might expect, meals in the large dining hall are nutritious and delicious. You can order from a menu or choose from a sumptuous buffet, featuring vegetarian dishes like Chickpea Tagine, Squash Soup, Avocado Salad, Cauliflower Polenta and fabulous fruit plates. No meat; just chicken and seafood. Special dietary needs are addressed with advance notice. General Manager Jorge Gutiérrez said he is working on creating a small farm to source produce and eggs for the kitchen. "My goal is to get guests involved in the garden."  Three meals a day are included with multi-night packages.
Eco-excursions at Maya Tulum
Packages include two guided tours in the area: visiting Mayan ruins at Tulum or Coba, snorkeling in a lagoon, or exploring Aktun Chen caverns and swimming in Xunaan-Ha Cenote (underground fresh water pool).
If You Go
Fly into Cancun. Maya Tulum is about one and a half hours south on Highway 307. If you plan to explore the area, rent a car. If you intend to stay at the resort, you can arrange for a resort shuttle pickup. Besides normal beach gear, make sure you have a flashlight. It gets quite dark at night. The resort provides beach towels and yoga props. And do pack a sweater or light jacket and pants during the winter season (November-March). You will also need cash for tips, rentals, bar drinks, etc.
For more information and rates, visit https://mayatulum.com/gwt/
Claudia Carbone is an award-winning travel writer based in Denver, Colorado. Read about other resorts and hotels she's visited in Sleepin' Around.
Latest posts by Claudia Carbone
(see all)