What is the best place to visit in Germany? That depends on what you like. Each part of Germany is different, and there are thousands of memorable places to visit. Are you interested in breathtaking natural attractions, fairytale castles, interesting museums or amazing architecture?
In addition to well-known sights and attractions, some parts of Germany are not as crowded with tourists. Nonetheless, that doesn't mean these attractions aren't worth a visit. (Use our Germany Travel Guide to plan your trip.)
Here's our list of top things to do and see in Germany.
1. Visit Christmas Markets in Germany
Christmas Markets originated in Germany, and the tradition dates to the Late Middle Ages. These festive street markets are usually held during the four weeks of Advent. You can enjoy the blaze of glittering lights, tall Christmas trees and festive music at Christmas markets in Germany. The Christmas market in Dresden (Striezelmarkt) is considered the oldest one, but other favorite Christkindl markets can be found in Cologne, near the Cologne Cathedral, in Nuremberg, Munich, in old towns along the Rhine and Danube and more.
Christmas markets usually feature various stalls and stands with mulled wine, local delicacies and gifts from all over the world. Expect a variety of musical performances, artists, jugglers and even carousels. It really is a magical experience that will awaken your Christmas spirit.
2. Attend Oktoberfest in Munich, Germany
Oktoberfest dates to 1810. It originated as a celebration of a royal wedding when Crown Prince Ludwig 1 of Bavaria married Princess Therese of Saxe-Hildburghausen. Besides the wedding activities, the festival also included horse races, concerts and other performances.
Today, Oktoberfest attracts more than 5 million visitors to Munich every year. And, although it is called Oktoberfest, it always begins in September. This two-week event starts with a parade, and it's really an over-sized state fair.
Carnival rides are a big part of Oktoberfest. When it comes to the beverage, beer is king at places like the Hofbräuhaus, but there is also something for wine lovers. Snack on pretzels, bratwurst, and apple strudel along with lots of German beer.
3. Explore the Islands in Germany
Did you know there are many beautiful islands in Germany? Most are located off the northern coast, and they are mostly undiscovered by tourists. However, bigger islands Rügen in the Baltic and Sylt in the North Sea are popular island destinations in Germany.
These islands feature lovely beaches, butterfly sanctuaries and even Germany's smallest National Park, Jasmund. You can admire its chalk cliffs, or enjoy sailing and salty breezes on other islands.
4. Visit Berlin and See the Remains of the Berlin Wall
Germany was divided between East and West at the end of World War II, and then the Berlin Wall was constructed in 1961. Its purpose was to stop people from fleeing communist East Germany for capitalist West Germany. It was protected with barbed wire, watchtowers and guards. The Brandenburg gate was also a part of the wall.
The wall, almost 27 miles long, was torn down in 1989, marking the beginning of the end of the Cold War in Eastern Europe. But, you can still see its remains if you know where to look. East Side Gallery is the largest remaining part of the wall, and it's covered with paintings created by artists from 21 countries back in 1990.
Read More: My Friend, the Enemy: Germany After Reunification
5. Go Hiking at Garmisch-Partenkirchen in Bavaria
Garmisch-Partenkirchen is a small town in Bavaria, near Germany's highest mountain Zugspitze, which rises to 9,718 feet (2,962 meters). It's one of the country's top alpine destinations, extremely popular during the winter. However, there are plenty of things to do during other seasons, too.
In spring, take a road trip through Bavaria and enjoy the view of the dark green Alps and the first alpine wildflowers. You can go cycling and explore this stunning region on two wheels. And if this isn't enough, there are more than 300 kilometers (186 miles) of hiking trails as well as more than 100 trail running routes.
6. Attend a Performance at the National Theater in Munich, Germany
The National Theater is home to the Bavarian State Opera, founded more than 360 years ago. This opera house has an impressive exterior and magnificent interior. If you haven't attended a live performance, this is a perfect place to experience one. Read more: Tips on Attending the Opera in Germany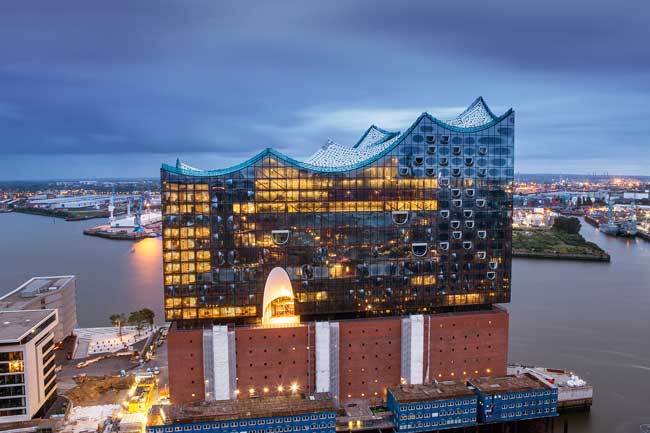 7. Enjoy a Concert in Hamburg at the Elbphilharmonie
Hamburg hopes that Elbphilharmonie will become an iconic symbol of the city. It remains to be seen whether it's a success. This project was criticized for its cost and schedule overruns. However, the building nicknamed Elphi is said to be the largest and acoustically most advanced concert hall in the world. The grand structure stands on the Elbe River, and it can be seen from miles around.
8. Visit the Fairytale Neuschwanstein Castle in Bavaria
During your road trip in Bavaria, stop by Neuschwanstein Castle, which was the inspiration for Disney's iconic Cinderella Castle. It was the home of King Ludwig II. He grew up in the medieval knights' castle but had always dreamed of building a castle on the rugged hill above the village.
This 19th-century palace is located at the southwest border of the German state of Bavaria. Although it can be visited only within guided tours for security reasons, this idyllic setting is well worth the visit.

9. Visit a German Beer Garden
Summers in German can be rainy. But as soon as the calendar hits late August, beer gardens wipe dry their benches and tables. Long tables, delicious beer and gorgeous settings make beer gardens destination-worthy.
Beer gardens date to the 19th century. Initially, they were extensions of German breweries. Today, there are many beer gardens across the country where you can enjoy a cold brew.
10. Visit Top Museums Like the Documentation Center Nazi Party Rally Grounds in Nuremberg
In Germany, there truly is a museum for everyone covering everything from computer games and a collection of creepy marionettes to preserved segments of the Berlin wall.
In Berlin, the five museums on the famous Museum Island present a panorama of art and history. Besides the museums, which are above ground, there is also one underground. Berlin Underworlds Museum offers a unique tour of abandoned underground structures. And to learn about Germany's WWII Nazi history and reconciliation with the past, don't miss the Documentation Center Nazi Party Rally Grounds in Nuremberg.
In case completing the list of things to do in Germany leaves you wanting more and you start considering permanently relocating to the country, you can start working on your moving checklist as soon as possible.