Cologne, Germany is known for its Gothic cathedral, which took over six centuries to build. It's home to more than 100 art galleries, buzzing nightlife, and a museum with a giant ice-cream sculpture balancing on the side.
This city has a little of everything, making it ideal for first-time travelers, regular city-hoppers, and long-distance tourists alike.
Within this guide, we'll talk about the best places to eat, drink, and explore to make the most out of three days in Cologne, Germany.
Read More: Exploring Franconian Wine Country: Germany's Best Kept Secret
Where to Eat and Drink in Cologne, Germany
The Germans are known for their carb-heavy, meaty dishes such as potato pancakes, potato dumplings, and roast beef stew. However, eating in Cologne is a pleasure regardless of your diet.
Here are some of our favorite places to eat in Cologne:
Bier Esel
If you're looking for somewhere which offers bottomless beer, tall plates of garlicky mussels, and a lively atmosphere which rivals that of a warm German household, then Bier Esel is the place for you. Another bonus? They let you bring your dogs.
Best Tips & Tools to Plan Your Trip
Funk Haus
For utterly delicious breakfast food, Funk Haus has to be among the best. Their pancakes are soft and fluffy and their mint teas make your cheeks tingle from the freshness. The layout makes you feel as though you're in a high-class boarding school cafeteria. It's a really nice place to start your morning.
Papa Joe's Biersalon
Quite possibly my favorite place in the whole of Cologne, this bar is styled like an old-timey saloon. There's antique photos of naked women adorning the walls, an old-fashioned piano where locals can jam together, and dim, Tiffany lamp-lit rooms.
They serve utterly gorgeous beer and tea – but in a country where beer is cheaper than water, why not go for the former?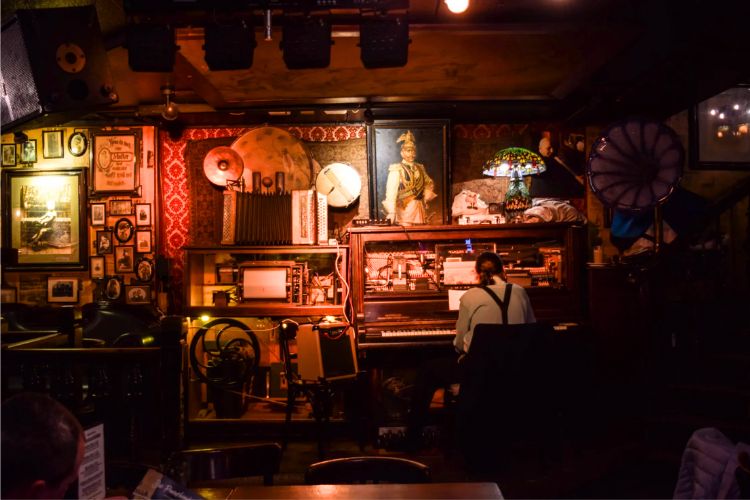 Papa Joe's Jazz Lokal
If you've never been to a German jazz bar, then let me tell you, you're certainly missing out. Papa Joe's Jazz Lokal can get really busy as people crowd around the performers and swing their drinks to the music.
If you don't have to peel yourself off at least one sweaty person, then you're probably doing it wrong. It has an interesting underfoot mural and the overall effect is that of a rowdy, welcoming, German haven where you can just be yourself and have a good time.
What to See and Do in Cologne, Germany
For such a relatively small city, there are plenty of things to do. You will find yourself experiencing something new every single day in Cologne.
Büchermarkt Modernes Antiquariat
This small store is completely jam-packed with floor-to-ceiling-high stacks of novels in German, English, Spanish – you name it. Filled with books that have outlived most of our bloodlines, everything about Büchermarkt Modernes Antiquariat hints to a land long forgotten. Time seems to slow down to a stop the second you walk in.
Schokoladenmuseum
This museum is dedicated entirely to – yep, you guessed it – chocolate. At Schokoladenmuseum, you will learn about the process which chocolate undergoes to become the final product. One of the highlights of the museum is the chocolate factory.
This is where you can wander about as the workers produce Lindt bars and you can try as much free chocolate as you like. On your way out, be sure to try some gorgeous liquid coco from the chocolate fountain!
Ludwig Museum
If you're familiar with the feeling of losing yourself in an art museum and subsequently spending the whole day there, then you will not be disappointed with the Ludwig Museum . Easily one of the largest galleries you will ever visit, they showcase both small artists and large artists alike (does Picasso ring a bell?).
Read More: Island-Hopping in Germany (Yes, Germany!)
Great St. Martin Cathedral
This cathedral is built on what used to be an island floating on the Rhine, which is just as cool as it is almost inconceivable. Initially built as a Roman chapel, this building has had many renovations, from becoming a Benedictine monastery to being used by a branch of the Monastic Fraternities of Jerusalem.
It's an interesting place with an odd and jarring history.
Church of St. Úrsula
Saint Ursula was a Roman-British princess from 300 AD who travelled across Europe with 11,000 of her favorite virgins. When they arrived in Cologne, they were captured by the Huns and all were beheaded and shot, and ended up being buried in a mass grave in the city.
The virginal bones of these thousands of martyrs are now on display in the church – although some argue that the skulls, shins, and collarbones actually belong to some mastiffs. Go find out for yourself.
Cologne Cathedral
Regarded by UNESCO as a place of "Outstanding Universal Value," the Cologne Cathedral is one of those places that you simply have to see at least once whilst in the city. The flooring is beautiful, the glass windows are stunningly intricate, and the tombs are imposing and solemn.
Construction begun in 1248, where this cathedral became the Gothic masterpiece that it is known for being today – with features from the 13th century still evident.
Author Bio: Amy Aed is a freelance adventurer that loves to write raw, off-the-beaten-track guides to gorgeous places.