When I envision Oktoberfest, images of people sprawled out on the streets, stain-splattered sidewalks, and inebriated attendees slurring their words come to mind. Generally speaking, I'm not the first person to be thrilled about a rowdy festival celebrating drinking, but to my surprise, Stuttgart's version of Oktoberfest, Cannstatter Volksfest, was nothing like I expected (although there of course is a fair share of drunken mayhem).
Oktoberfest originated in Munich, Germany as a celebration of the wedding of Crown Prince Ludwig of Bavaria and Princess Therese of Saxony-Hildburghausen in 1810. The festivities became so popular that they became an annual tradition that spread throughout the country and the world.
While I couldn't attend Munich's Oktoberfest, I tried out Cannstatter Volksfest in the city of Stuttgart, located in southwest Germany. It is essentially the same concept as Oktoberfest, but it's smaller, cheaper, and less crowded. So why go to Oktoberfest when you can go to Cannstatter Volksfest instead?
The Scene at Cannstatter Volksfest
Cannstatter Volksfest, also known as the Stuttgart Beer Festival, is the world's second-biggest beer festival after Oktoberfest with over 4 million people visiting each year. It is locally referred to as Wasen because that's the name of the fairgrounds where it takes place.
Like Oktoberfest, it covers a lot of territory and has a massive carnival with dozens of rides, arcade games, and food stands. Arcade games are not as common in Germany, so it's a real treat for the kids during the festival. Events last all day and end at 11:30 p.m.
Kids can enjoy the carnival while adults can head to the beer tents. There is a whole "street" dedicated to them. Each tent has a different energy and a different entrance fee. We got discount tickets but that didn't take away from the experience at all.
Best Tips & Tools to Plan Your Trip
I was lucky enough to have my German friends by my side. They prepared me for the experience, taught me some of the traditions and explained how everything would go down. If you want to sound like a true local be sure to joyously shout "Hoi Hoi Hoi!" every time the band yells "Zicke Zacke Zicke Zacke." This happens periodically and is a crucial part of the experience. I asked my friends what that meant and they said it doesn't mean anything. It's just a way to rouse the crowd and get people to drink more beer.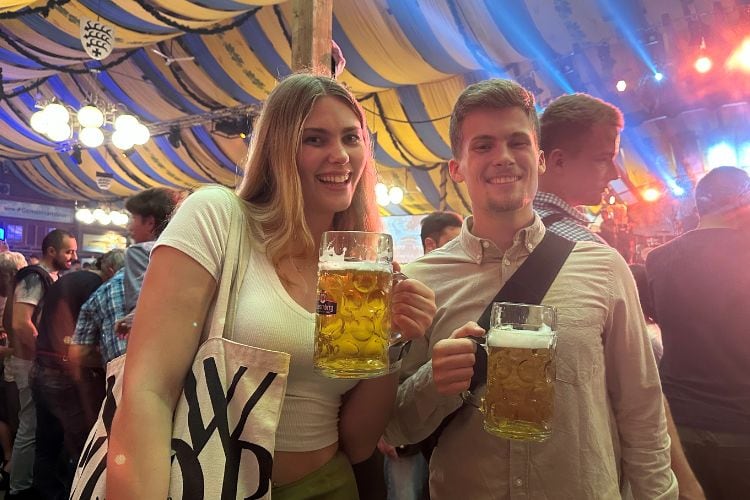 The Thrilling Beer Tent Experience
We entered the beer tent at about 8 p.m. Our 30-euro tickets included 2 liters of beer which is equivalent to about five "normal" 12-ounce beers. Germans don't mess around. Mostly everyone was wearing traditional outfits: lederhosen for the men and dirndls for the women. I found it very amusing how committed everyone was to the traditions of this celebration.
Once we got inside the tent, we got beers bigger than our heads, so heavy my wrist could barely support it. There were picnic tables everywhere filled to the brim with people dining and drinking their beers. Usually, tables cost extra to reserve, so we happily propped ourselves on a ledge in one of the walkways, right in front of the stage.
There was a lot of excitement and traffic where we were which only added to the experience. You could tell that this was something Germans had been looking forward to for a while. I had never seen so many giddy faces.
The party really got going when the band started. Brass instruments, drums, piano, and singers erupted into song, all cheesy beats that you could still sing and dance to even if you're three beers deep. "Sweet Caroline," "I Will Survive," and some classic German songs (an entire genre called schlager) were some of the featured ones. Everyone clinked mugs with everyone, and cheerfully shouted cheers in German, which is "Prost." No one is a stranger at Cannstatter Volksfest.
Read More: Discover the Dream Town of Annecy, France
Singing, Dancing, and Cheering the Evening Away
People danced without a care in the world, grabbing each other's arms and spinning around. Those without beer mugs generously gave high-fives and cheered along the way. My friends struck up conversations with anyone who scampered by and made instant friendships.
We stayed for a few hours, consuming an unreal amount of beer and singing and dancing until we couldn't anymore. Never did I think Cannstatter Volksfest was going to be such a jolly event filled with laughter and unapologetic delight. Smiles were contagious and it was impossible to not dance and sing. This was a party I would return to every chance I got.
And the good news is you don't have to wait another year to go. Cannstatter Volksfest happens in March, too.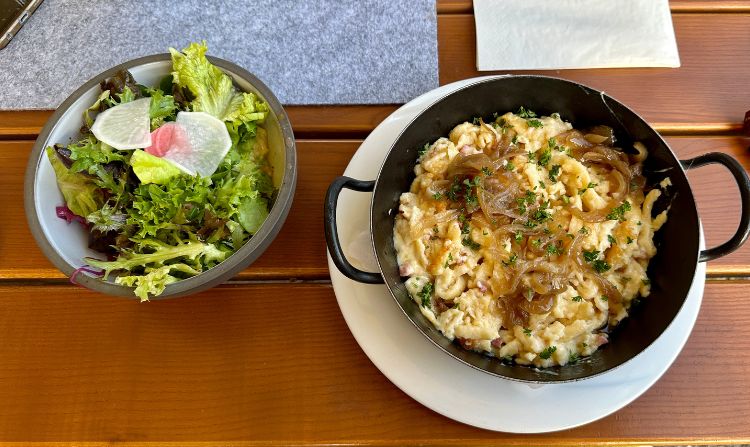 Pro-Tips
Eat a big meal beforehand. We ate at Kielmeyers Besen, a traditional German restaurant in the nearby town of Esslingen. I had cheesy späztle with the perfect amount of grease and carbs to prep my stomach lining for the beer I would consume later. They also have plenty of other traditional German meals including schnitzel, etc.
Don't wear open-toed shoes. This one may be obvious to some, but I was out walking all day beforehand in 80-degree weather and my Birkenstocks are my first choice for a day like that. At Cannstatter Volksfest, the floor gets sticky, beers get spilled, and glass shatters. One man commented on my "flippers" and asked why I was wearing them. Kinda awkward…
You don't have to drink all the beer that is provided with the tickets. Germans are hardcore and have trained for years to consume large amounts of beer. Some foreigners may not be as prepared. I had about one and a half which I was moderately proud of.
How to Get to Stuttgart
I took a train from Rotterdam, The Netherlands to get there. Depending on where you're coming from, I recommend the train, but nearby airports work too.
I got a Eurail pass which allowed me to explore all over Europe with such flexibility. If you are planning to visit a lot of places and enjoy train travel, I highly recommend this.
Where to Stay in Stuttgart
I got to stay at my friend's house but there are plenty of great hotels and hostels in the area:
Book a hotel in Stuttgart here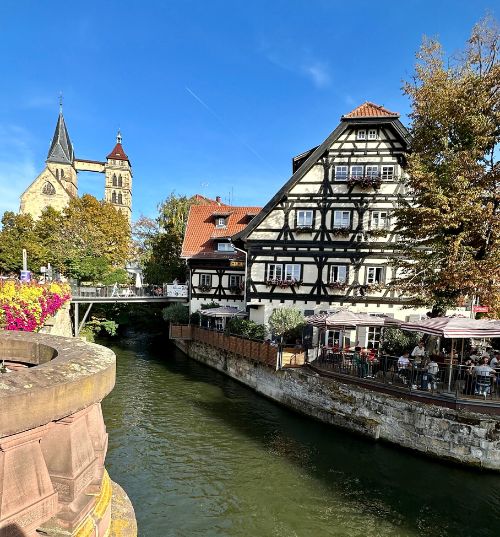 Nearby Places to Explore / Things to Do
Stuttgart is the birthplace of Mercedes and is therefore an industry-heavy city. However, there are some magical little villages around that are delightful to explore. My friend goes to college in Esslingen which is a delightful historic village with winding canals and classic German-styled buildings. Just moseying around is a fun way to spend the day.
Esslinger am Neckar Castle is worth checking out while you're there. It is perched above the town surrounded by vineyards and gardens with stunning views of the village. There are many stairs leading up to the top, but it's worth it.
Read More: