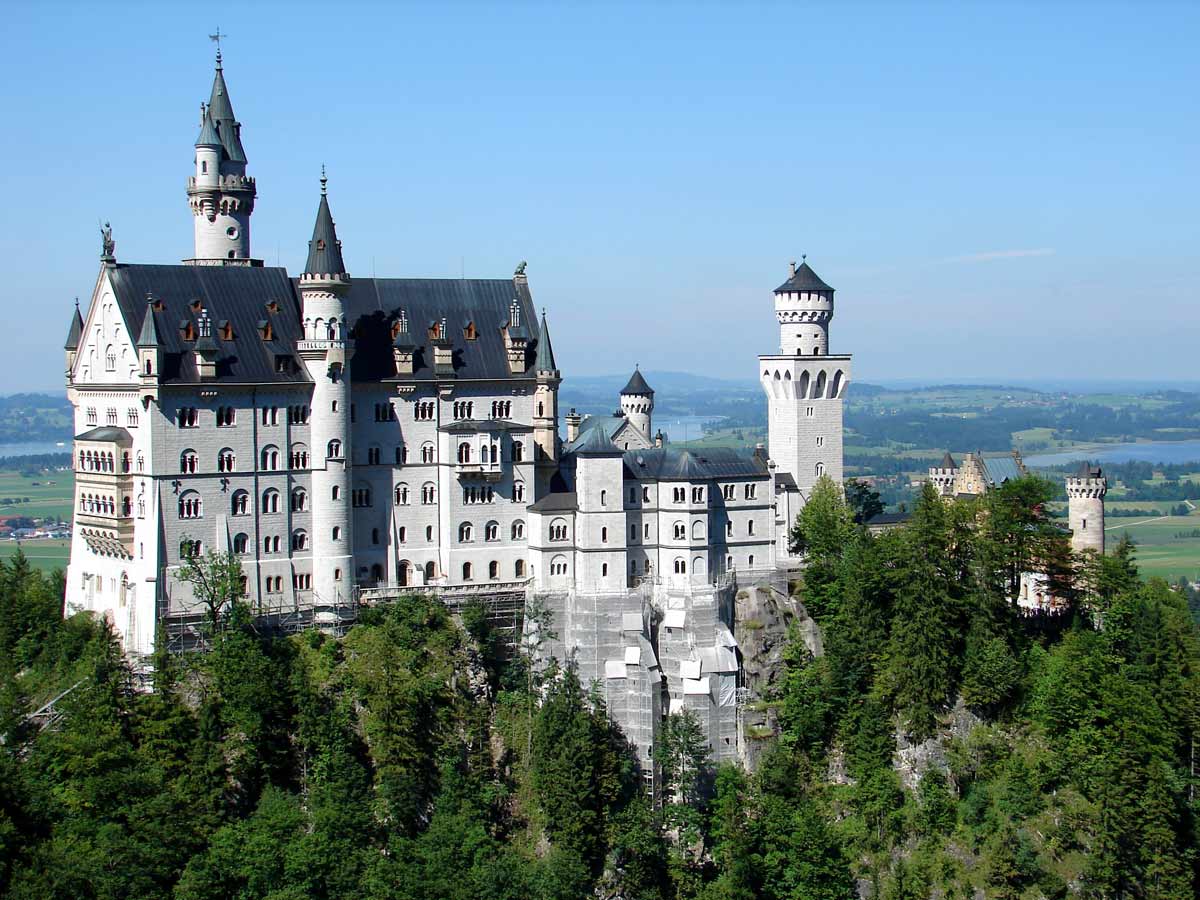 Germany's so-called 'Romantic Road' is a popular tourist magnet in the southern provinces of Baden-Wurttemberg and Bavaria.
It's loosely based on an old Roman route, and it includes visits to several enchanting walled towns, historic cities, and awesome castles.
The popular route begins in Wurzburg, located right in the centre of a major wine-growing area, and ends in Fussen with the majestic Alps rising behind the historic town.
By Train, Bus, Car, Bicycle, or on Foot:
The Romantic Road can be walked (yes, there are maps and tours available – either to do a section – or the entire 250 mile route), biked (using a number of connecting cycling paths), and traversed by bus or car.
A hop-on, hop-off bus service even allows you to do the route at your own pace, so you can decide to hop off and stay at a particular destination along the route – and then hop on another bus and continue the journey when you're ready to do so, but I decided to do the route by train.
After all, I was in possession of a Eurail pass, so it seemed to be the best for me, and although the train does not go directly to every little town along the route, it certainly does give convenient access to the main destinations. 
Best Tips & Tools to Plan Your Trip
The Gateway to the Romantic Road:
I began my journey through Germany on train in Wurzburg, often said to be "the gateway to the Romantic Road", and I checked out its Residenz Palace and Marienberg Fortess, formerly the two main homes of the town's Prince Bishops.
The fortress sits high up on a hill, with vineyards in front of it, so it's a great photo op. However, I was particularly 'blown away' by the Residenz (a castle built between 1720 and 1744), as it showcases beautiful court gardens on its grounds (that are very popular for wedding photos) and an awesome entrance staircase in its interior – along with the largest ceiling fresco in the world.
I also discovered a hospital in Wurzburg, founded by Prince Bishop Julius in 1576, that was a wine estate too – with a gigantic wine cellar underneath the health care facility containing about 4 million liters of wine.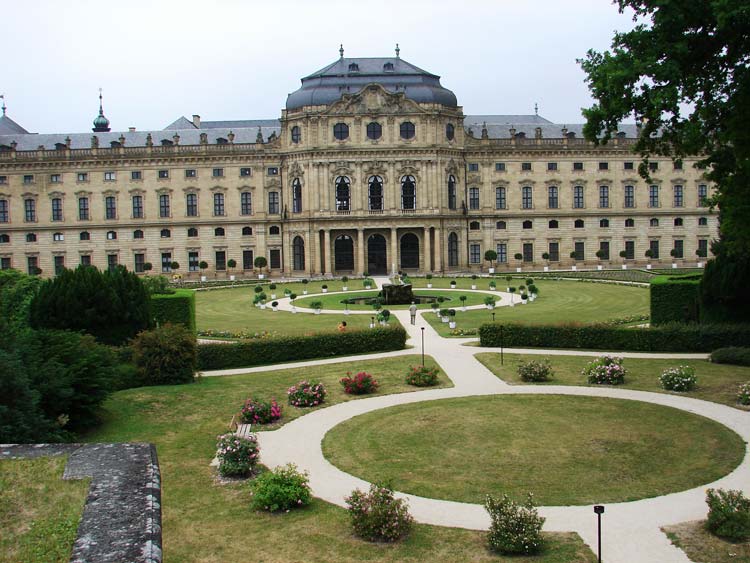 By Train to Rothenburg, Germany By Train:
Next, I travelled by train to Rothenburg ob der Tauber (Red Fort on the River Tauber), and it's one of Europe's most beautiful walled medieval towns.
I was able to walk around much of the town on the massive stone walls, and I enjoyed the views of the town's red-roofed buildings and towering church spires.
I also visited Rothenburg's famous St. Jakob's Church (Lutheran), with its beautiful Twelve Apostles Altar and its stained glass windows (from about 1400) – and I descended beneath the Town Hall, to view its old dungeons where even a town mayor once died!. 
While in Rothenburg, I also participated in a fascinating "Night Watchman's Tour," and the watchman explained much about the town's history as we were led through the streets of the fortified city. 
This tour was both informative and entertaining, and as we neared the end of the walking tour, we passed a medieval tavern named Hoell (Hell). 
The Night Watchman jokingly confided that he "had once been told to 'go to Hell,' and it wasn't so bad."  In fact, he admitted, "I rather liked it."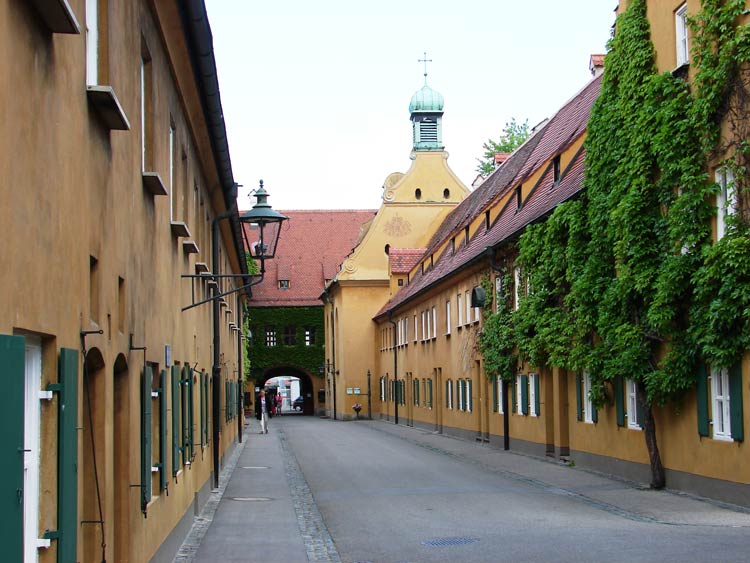 On to Augsburg, Germany By Train:
After exploring Rothenburg, it was back on the train – to Augsburg – which is an even older settlement founded more than 2,000 years ago.
Here I checked out its Town Hall (with its Golden Hall), the Maximilian Museum (where an enclosed courtyard protects its three renowned Renaissance fountains), St. Anna Church, which is a Protestant church with a Roman Catholic crypt, and the Fuggerei, which is said to be "the oldest social settlement in the world."
There's a lot of history to be studied here, and several of the museums are located in old churches, including the Roman Museum.
There's also a small but informative historical overview on display right in the Town Hall – with ancient objects that can actually be touched.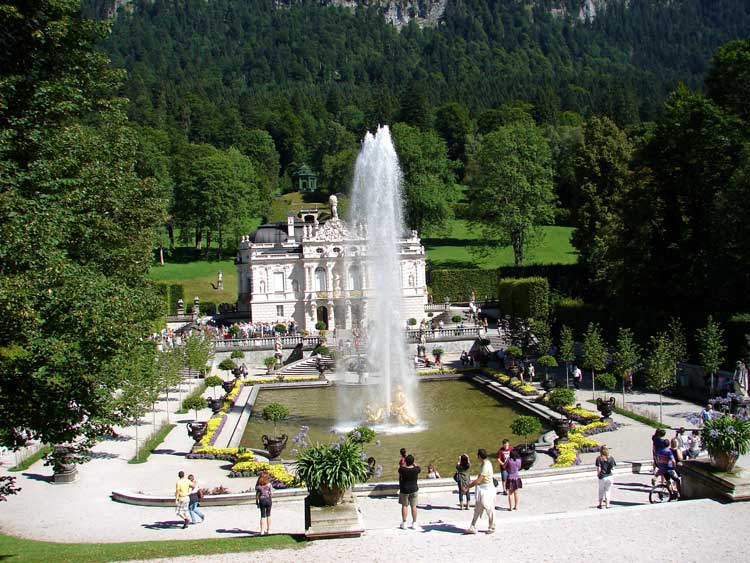 Ending my Journey in Fussen:
I ended my train trip in Fussen, and it's difficult to imagine a more spectacular setting than this for the finale of the Romantic Road.
This little village is home to the oldest fresco in all of Germany – in the crypt of St. Mang's Basilica (dating back to 980) – and nearby are some of the country's most popular and picturesque castles, including Ludwig II's childhood home, Hohenschwangau and Ludwig II's own renowned creation, Neuschwanstein, which became Walt Disney's inspiration for Sleeping Beauty's Castle.
I, of course, just had to see these magnificent castles for myself, and I was particularly impressed by the eye-popping beauty of Neuschwanstein. It did, indeed, seem like something out of a fairytale! It's perched high atop a rugged cliff, against a backdrop of the snow-capped mountain scenery from the Alps.
As I was approaching this castle, I decided to take a shuttle bus to a spot high above Neuschwanstein itself – and then I walked on a relatively short hiking trail to Marien Bridge – which offered the very best view of the castle – and down into the gorge far below – with its spectacular waterfall.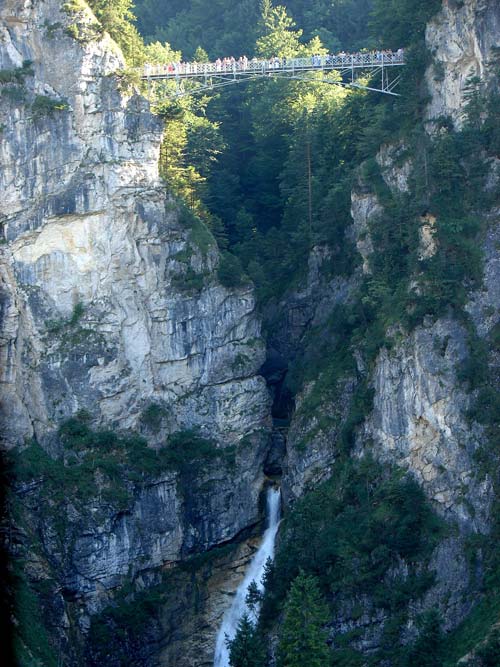 Exploring the Germany Route by Train:
The Romantic Road can, of course, be traversed in either direction, but I'd suggest beginning in Wurzburg and ending near Fussen. You'll find the route historically intriguing- and the scenery unforgettable.
To explore the best of Germany by train, purchase your Eurail pass here before departing You'll find significant savings – and several options. The best deal for you, if only travelling in Germany, will be a German Rail Pass.
For More Information:
Latest posts by Go World Travel Magazine
(see all)