I'm glued to the window as our train journeys across the Hindenburgdamm, a narrow rail causeway between mainland Germany and the tiny island of Sylt. Reachable by air and ferry from Denmark, this train is the only other lifeline to the island. Each day, it carries passengers, cars and cargo across miles of marshland to Sylt.
German Islands
Out my window is a side of Germany that few foreign visitors see. At first glance, the island of Sylt doesn't look like typical Germany at all. Located in the North Sea, Sylt's wind-swept beaches and wild dunes remind me more of the English coastline.
There's a salty tang in the ever-present breeze, and as my sister, Debbie, and I drive our rental car along Sylt's quiet roads, we pass grazing sheep, thatched roof houses and miles and miles of coastal dunes.
Hiking the dunes and walking the beach are popular pastimes on Sylt. Others come for golf, horseback riding and biking. The island's North Sea location makes it the perfect destination for kite surfing and sailing.
Just 38 square miles, Sylt is sometimes called the "Hamptons" of Germany. German celebrities are often seen here, and the island's luxury resorts and spas draw the wealthy Hamburg crowd.
The island is home to 21,000 people, many who have lived here for generations. Some still speak Söl'ring, the island's unique German dialect, which has elements of Danish, Dutch and English.
Sylt: The North Sea
My sister and I drop our suitcases at Hotel Rungholt, a lovely family-owned spa hotel in the village of Kampen, and then we set out to explore. We hike up Uwe Dune, the highest point on the island, for a panoramic view of Sylt's 26-miles of beaches.
Then we walk down to the beach, which is lined with stunning red cliffs. It's chilly today, but that doesn't stop beachgoers. Some relax in tidy strandkörbe, hooded wicker chairs that serve as good windbreaks, while others walk along the shore.
Sylt's shoreline is under constant threat from erosion, and coastal management is an ongoing task. Later that afternoon, we meet Greg Baber, an American who came to Sylt in 1972 and never left. Today, he manages the beaches for Kampen, an ongoing task that includes beach replenishing to fight the erosion.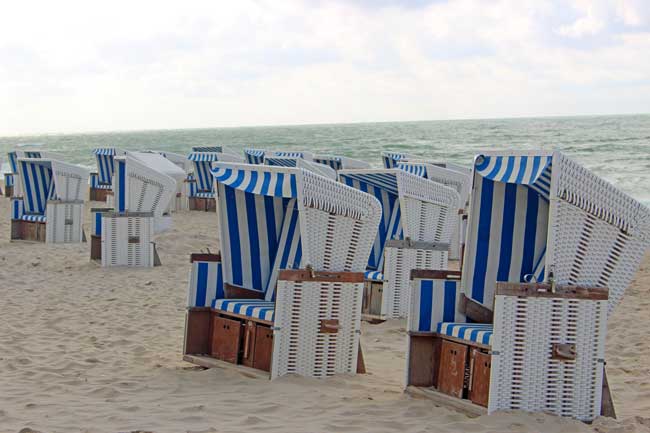 That effort must be paying off, because Sylt's beaches are wide and beautiful. We stop by Buhne 16, a beach bar with a California vibe that draws the surfer crowd. Later that evening, we head to La Gran Plage, a beach restaurant with amazing views of the North Sea. As the wind pick up, we watch the waves grow tall and wild.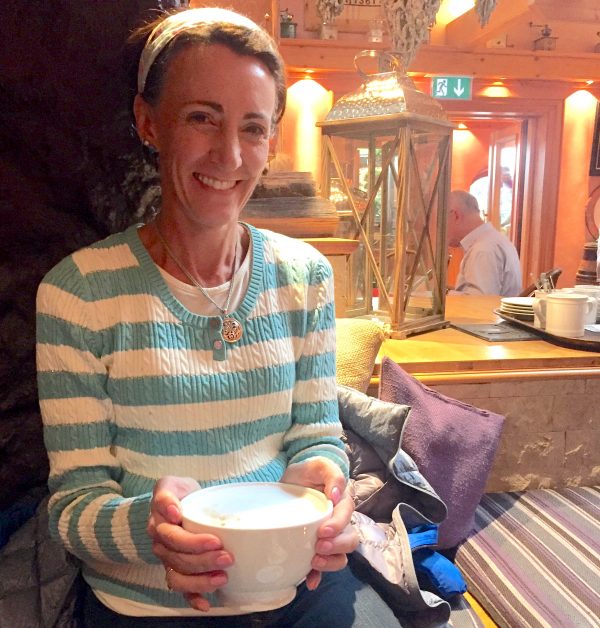 Dining on Sylt
Dining on Sylt is a highlight. There are more than 200 restaurants, many with Michelin stars, and local products like Sylt oysters and goat cheese are often on the menu. Our favorite stop, though, is the Kupferkanne. This unique coffee shop was once a war bunker, then became an artist's studio and finally a popular bar in the 1950s.
Today, the Kupferkanne, which is surrounded by pine trees, has more unique rooms than you can explore. It's known for huge slices of cake and large cups of coffee. My sister's cup looks like a soup bowl!
Welcoming Visitors
With Sylt's reputation for high-end resorts and world-class dining, you might be tempted to think of it as "highbrow" – but that's not the case at all. Everyone we meet is laid back and welcoming. Later, our island guide, Sylke Marie Nielsen, tells us a story that confirms that even more.
When the 9/11 terrorist attacks in New York City took place, it touched many around the world. Though tiny Sylt was far removed from the tragedy in New York, they wanted to do something to help. In 2002, a Sylt community group invited 36 New York City firefighters and their families to come to the island to relax and heal.
The firefighters and their families didn't have to pay a thing. Most of them had never been to Germany before, but the 14 days they spent on Sylt were a time they would always remember. Even now, all these years later, many of them still keep in touch.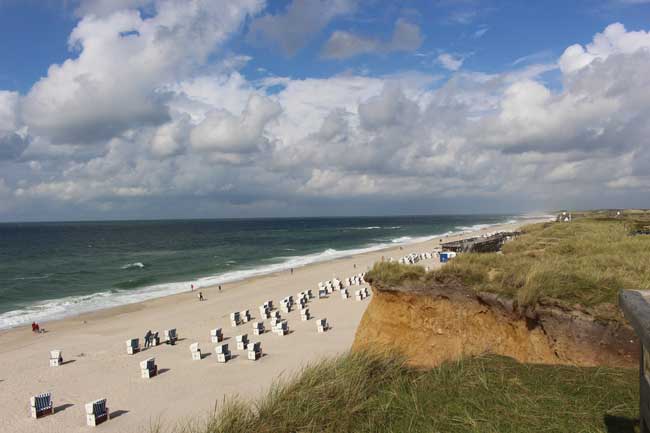 Walking on the beach on our last day in Sylt, I can understand why this island was so healing to those hurting New York firemen. There's a salty tinge to the fresh air, and I hear birds cry overhead as we walk the deep sand along the red cliffs.
The horizon holds nothing but the sea, as far as the eye can see. Mother Nature has a way of healing and revitalizing. Perhaps that's why so many find their way to Sylt.
Continued on next page