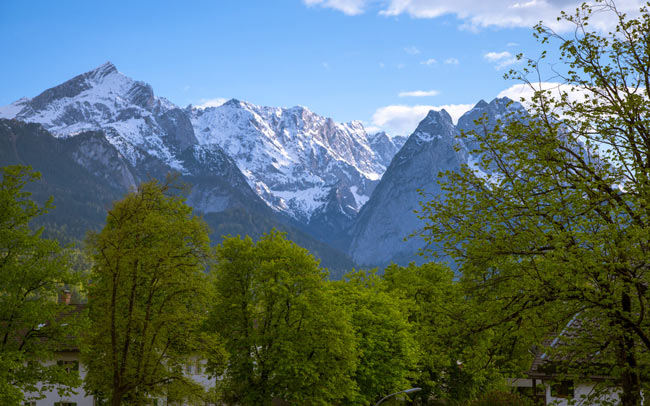 My family took a lot of road trips when I was little. Mom would hold the map, directing dad when he got lost, while my siblings and I played games in the back seat. The family car allowed us to explore the mountains and countryside, visiting locales well off the beaten path.
As an adult, I've always loved small towns and rural landscapes — places you need a car to reach. But when it came to traveling in Europe, I usually stuck to places I could reach by public transportation. To be honest, the thought of driving in a foreign country intimidated me.
Thanks to GPS technology, all that has changed. When my fiancé, Benjamin, and I headed to Germany this time, we rented a car with GPS, set its language to English and off we went.
The German road system is excellent, with clearly marked signs and well-maintained streets, and with the GPS as our guide, navigating was easy. Within an hour, we'd left the Munich Airport behind and were in the heart of the German Alps near Garmisch-Partenkirchen.
Garmisch-Partenkirchen: Alpine Delight
With an envious location at the foot of the Zugspitze, Germany's tallest mountain, Garmisch-Partenkirchen is one of the country's top alpine destinations. As you can imagine, this small town of 28,000 is a busy place during the winter, when skiing, snow shoeing and other winter sports bring in travelers.
I'm happy, though, to be here in the summer months. Colorful flowers bloom in window boxes along the cobblestone streets, and the outside patios of local restaurants are filled with diners. The Alps, now a dark green, provide a dramatic backdrop against a bright blue sky, creating a tempting atmosphere for exploring.
We make our base at the Hotel Aschenbrenner, a mansion built by the Princes of Reuss that has been lovingly restored as a 23-room hotel. Then we head to the hills – literally.
We choose the Eckbauerbahn as our mode of transportation. The nostalgic two-seater gondola carries guests to the top of Eckbauer Mountain. The twist is that you can have breakfast on your way up. As soon as we board, the lift attendant places a wooden tray between us filled with white sausages, thick pretzels and tasty mustard. To drink, Benjamin chooses a beer (for breakfast?!) and I have juice. But the best part of our experience is the amazing view of the Alps as we ride to the top.
At the peak, we follow a series of well-marked trails through alpine meadows, passing a herd of goats with bells around their necks ringing merrily. From there, we hike down to Partnach-Gorge. In the past, hiking the gorge was dangerous, but today, a well-developed path takes you along the gorge and even through tunnels that have been blasted through the rock.
Water drips on us as we follow others through tunnels along the river. We pass a small statue of the Virgin Mary tucked in a careful niche, a reminder of Bavaria's Catholic heritage.
We're famished after our half-day hike, and spend the afternoon at the historic Ludwigstrasse, a cobblestone street lined with traditional German restaurants and small shops. A sweet smell leads me to Chocolaterie Amélie, where I find some unusual items made of chocolate. I choose a realistic-looking hammer and wrench (all chocolate, of course) for my son, and we head to our hotel for the evening.
It's early when we wake the next morning, and the first thing I see out my open window are the snow-covered peaks of the German Alps painted broadly against a summer sky. The sound of the nearby rushing river mixes with a cacophony of birds, celebrating the coming of day. I lay in my bed, soaking it all in. Soon though, I get up, eager to see what the day will bring.
Continued on next page