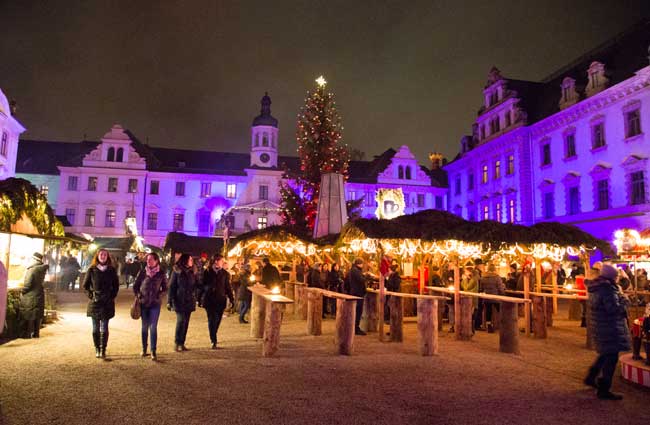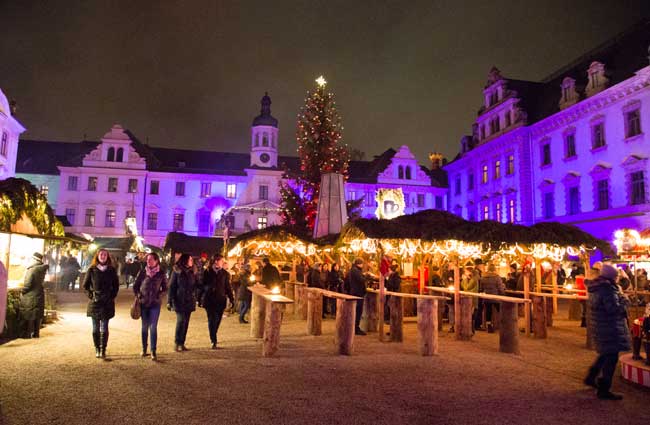 It's dark when we make our way toward Thurn und Taxis Palace. It may be cold here in Regensburg, but we're bundled up properly, eager for our night at the Christmas market.
Up ahead, I can barely make out the outline of the massive palace structure. Then we turn a corner and suddenly it looms before us.
I have to pinch myself as we walk into the palace courtyard, where I'm surrounded by tiny wooden stalls lit up with twinkling Christmas lights. The scent of cinnamon and hot spiced wine mingles in the cool night air.
Soft purple lights illuminate the palace, creating a fairytale-like feeling. Christmas music plays in the background.
Christmas Markets in Germany
Christmas markets in Germany are a huge part of the holiday season. For Germans, Christmas markets are a treasured social tradition, a place to meet friends and family for a festive night out.
To me, Christmas is not quite complete without a visit to a Christmas market. So this season, my fiancé, Benjamin, and I decided to visit six German destinations along the Danube.
After flying into Stuttgart, we rented a car and off we went. The roads are excellent in Germany, and a car would allow us to visit places that many visitors miss.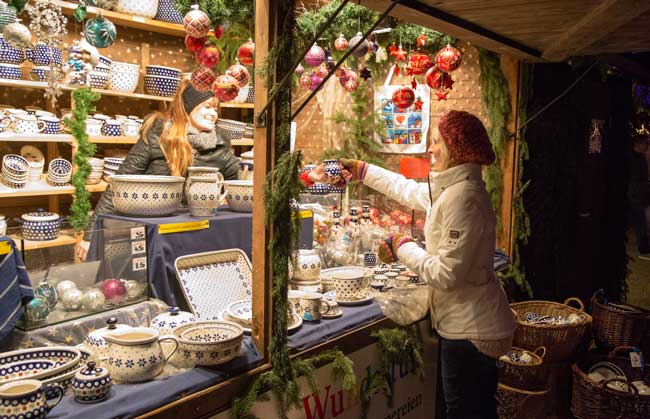 Nativity Museum in Oberstadion
It seemed only fitting to start our holiday trip with a visit to the Nativity Museum in the tiny town of Oberstadion.
The museum is a labor of love for this community of 850. Oberstadion has converted an historic barn built in 1492 into a small, but impressive museum.
The museum houses a diverse collection of more than 160 nativity scenes. Crèches, as they are also known, came to Europe in the 4th century, and have been found in the catacombs of Rome.
The oldest crèche at the Nativity Museum is from 1850. One of my favorites was a Christmas scene by Italian artist Claudio Mattie where you can watch the "daylight" move through the scene from sunrise to sunset.
Ehingen: Beer Culture City
We came for the Christmas markets but wanted to explore each destination too. And in our next stop at Ehingen, it was all about beer. This town along the Danube has only 26,000 people, but is home to four independent breweries.
The Berg Brewery (BrauereiWirtschaft Berg) has been in existence since 1466. The Zimmermann family has owned it since 1757, and owner Ulrich Zimmermann is the 9th generation to run the brewery.
With these kind of deep roots, they obviously know a lot about beer making.
Berg Brewery offers tours of their facility, and we eagerly joined our guide, Franz Nothelfer, for an inside look at the process. Mr. Nothelfer was a walking Wikipedia of beer.
He explained Germany's Beer Purity Law (the Reinheitsgebot), which Germany has followed for almost 500 years. In 1516, it stated that only barley, water, hops and yeast could be used to make beer.
A more modern variation allows malted grains, hops, water and yeast. While this may seem restrictive, the amount of variations you can create are almost endless, Mr. Nothelfer explained.
The Berg Brewery produces mainly for the local market, and buys grains from 36 local farms. It was fascinating to watch how the product was created, from beginning to bottling. But the best part was when our guide pulled out glasses and let us sample beer straight from one of the taps.
We then sampled a flight of different beers at the Berg Brewery Restaurant. The beer was a good accompaniment to our tasty schnitzel and spätzle.
My favorite drink, though, came when we walked outside to the Christmas stand on the patio. There we tried glühbier, a hot combination of beer, wine, apple juice and cinnamon.
Our hotel also had a long tradition with beer. The Beer Culture Hotel Schwanen (Best Western BierKulturHotel Schwanen) is owned by the Miller family, who also own the Schwanen Brewery and Restaurant across the street.
The hotel focuses on beer culture, with rooms designed as "beer crates" that give it a unique touch.
Schwanen has been a brewery since 1697. Michael Miller, who is the brew master and a beer sommelier, is the 5th generation to run it. Along with 40 different types of beer, Schwanen also makes beer liquors and beer snaps.
And although we didn't get to tour the brewery, we did eat ice cream with their beer liquor, which was the perfect way to end the day.
Christmas Market in Ulm
Our next stops along the Danube were the twin cities of Ulm and New Ulm. Ulm is located in the state of Baden-Württemberg, while across the river, New Ulm is in Bavaria.
The two cities look quite different, since Ulm is known for its historic buildings, while New Ulm is more modern.
Ulm is famous for its stately minster, which is one of the tallest churches in the world. It's also home to one of the largest pipe organs in the world.
We stopped in for a midday Christmas concert, and I was awed by the sound of Christmas music played on an organ with more than 9,000 pipes.
I've always found that the best way to learn about a new destination is through a local's eye, so we took a guided walking tour through the city. Gabriela, our knowledgeable guide, told us stories that better explained what we were seeing.
We heard about the Fishermen's and Tanners' quarter, a historic area that has been beautifully restored with restaurants, shops and homes, as well as the Most Crooked Hotel in the World.
(Tip: Contact Ulm Tourism to find a guided tour or to purchase the Ulm Card, which provides entrance to dozens of attractions.)
In the Ulm Minster, Gabriela pointed out a unique stained glass window. After WWII, Ulm was in the American sector, and many American soldiers were stationed there.
In the 1950s, the 47th infantry regiment donated the stained glass to the city of Ulm in fellowship. The title reads, "Freedom in belief.'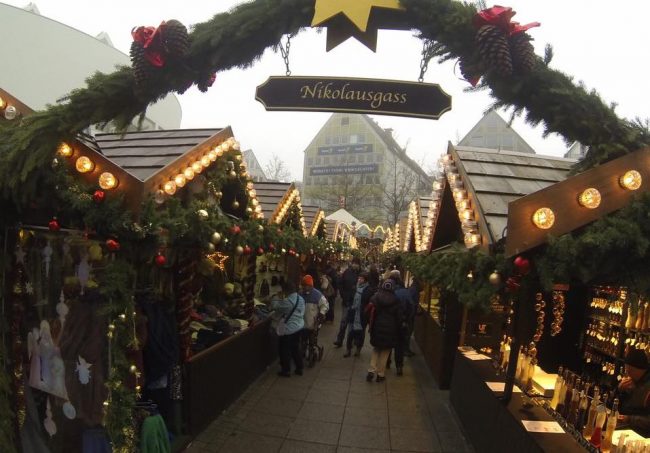 That evening, we followed the crowds to the Ulm Christmas Market, which has over 1 million visitors a season. The Ulm Christmas market is large, with row after row of narrow cobblestones lanes lined with lit stalls.
I spent more than an hour happily perusing its rows before we stopped for glühwein (hot mulled wine), first made with red wine, and then with white.
Then Ben tried his first Feuerzangenbowle. This drink is quite an experience. Rum is poured over a sugar cube that is set above a glass of mulled wine, then the sugar cube is set on fire.
As the fire burns, the sugar drips slowly into the glass, creating a sweet drink that packs a powerful punch.
My favorite, though, was the Christmas market food – crepes filled with Nutella, roasted candied almonds, and würst (sausages) served with bread and sweet mustard. I was so enchanted by the Christmas market that I didn't even notice the cold.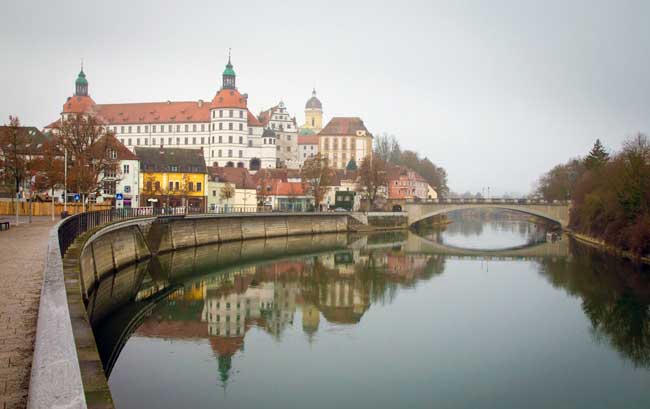 Christmas in Neuburg on the Danube

Neuburg on the Danube (Neuburg an der Donau) has a completely different feel. With only 30,000 residents, its winding cobble stone streets are narrow, with tidy homes painted in muted pastels.
Our hotel, Hotel Aussicht was aptly named "beautiful view." It sits on a hill overlooking the Danube, which even shrouded in fog, was a fantastic sight.
Built in 1530-45, Neuburg Castle is the town's best-known landmark. It's also the site of the first Protestant church in the world. In 1543, Duke Ottheinrich decided to follow Martin Luther.
He ordered everyone in his little kingdom to become Protestant, and he built the Neuburg Chapel.
Due to its size, Neuburg on the Danube is a more affordable place to live and do business, so the town has a wealth of independent local shops and stores.
As we wandered down Schmidtstrasse and Färberstrasse, we passed many boutique clothing stores, tea shops and more. I wished I had more room in my suitcase.
One of my favorite stops in Neuburg on the Danube was the provincial library. My first thought upon seeing the incredible room filled with 15th and 16th century books was that it looked like the library in the movie, "Beauty and the Beast."
Indeed, with its gilded ceiling and beautiful woodwork, it is a library fit for a king.
The library owes its beginnings to Napoleon, who came through here during his march across Europe. He had this former church building turned into a library to house many of the books his troops had taken.
I must admit, standing in the middle of the library surrounded by books written by hands so long ago was a humbling experience. (Tip: You can only visit the library with a guide. Ask at Neuburg Tourism.)
After exploring Neuburg's past, we got to experience some of the best of Neuburg today. After a dinner of typical Bavarian food at Zur Blauen Traube, we attended a concert at the Birdland Jazz Club.
Housed in a converted cellar, Birdland Jazz features some of the best jazz musicians in Germany, as well as greats from around the world.
Neuburg has several Christmas markets. Perhaps the most charming is the Neuburger Christkindlmarkt.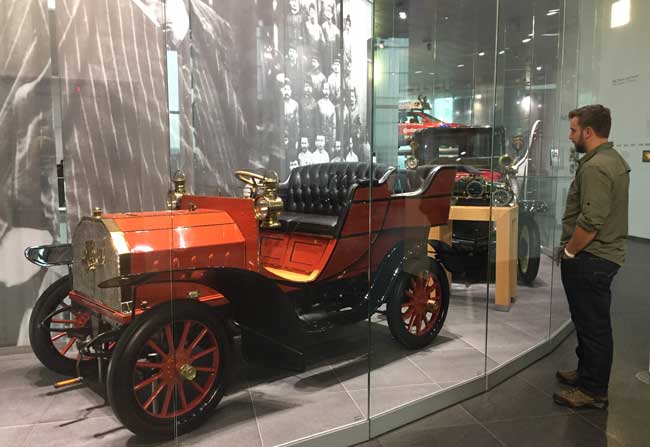 Ingolstadt: Home of Audi
We only had time for a short visit to Ingolstadt, but it was well worth the stop. While Ingolstadt is rich in culture and history, most visitors come here for Audi.
The German car maker employs more than 40,000 people in this Bavarian town of 127,000 people. Each day, Audi produces 2,700 cars.
Audi offers production tours as well as tours of Audi Museum Mobile. After eating lunch at the Audi Museum Mobile restaurant, we headed into the museum galleries.
Ben's eyes lit up when he saw the incredible collection of vintage cars and motorcycles on hand.
The tour told the story of Audi (how four companies came together to create one company) and followed its evolution of car design and development. English tours are offered daily at both the museum and production facilities.
Regensburg: UNESCO World Heritage Site
Although I had never been to Regensburg before, I was glad we took time to visit. Walking through the city is like time traveling to the past. Regensburg has been named a UNESCO World Heritage Site due to its incredible number of medieval buildings.
Most of the city has never been damaged by war, and much of its rich medieval core has been preserved.
In the Old Town, we passed Gothic and Romanesque buildings from the 11th – 13th century. As an American, such age and rich history is hard to grasp, and standing in structures that have spanned two millennia is a moving experience.
For me, the highlight of our visit is the Romantic Christmas Market at the Thurn and Taxis Palace. It is here at the Christmas market that I feel like I've stepped into a fairytale.
It is the kind of festive atmosphere that draws me to Germany at Christmas time.
Tonight, here at the Regengburg Christmas Market, I hear the laughter of friends as they gather around a fire to warm their hands. I watch two small children run through the wooden stalls, gingerbread cookies in their hands.
And me? I'm just happy to be here with Ben, celebrating the holidays in this unique destination. Christmas is a good time to be in Germany.
If You Go to Germany
Getting To/From Germany
We flew into Frankfurt and then took the train to Stuttgart, where we picked up our rental car at the train station. We flew out from Munich Airport which has a worthy Christmas market all its own, complete with an ice skating rink.
Hilton Munich Airport
If you have an early-morning flight from Munich, I'd recommend staying at the Hilton Munich Airport, which is a gorgeous property right next to Terminal 2 (and just a few minutes' walk to Terminal 1).
The hotel currently has 393 rooms and is adding 162 more in early 2017. You can have a big buffet breakfast at the Hilton restaurant before leisurely walking over to your flight.
For more information on travel in Germany, see Germany.Travel
Author Bio: Janna Graber has covered travel in more than 45 countries. She is the editor of three travel anthologies, including "A Pink Suitcase: 22 Tales of Women's Travel," and is the managing editor of Go World Travel Magazine (www.goworldtravel.com).
Latest posts by Janna Graber
(see all)