This super cool Royal Gorge Cabin was our home base for exploring the action-packed Royal Gorge Region in south-central Colorado. With our main activity being whitewater rafting, it was the most convenient lodging since the rafting company, Echo Canyon River Expeditions, was just across the road. This is not a coincidence. . .Andy Neinas, owner of the rafting company, built the nine modern cabins as an added amenity for his rafting customers or anyone vacationing in the area any time of year.
"The luxurious new Royal Gorge Cabins enhance the entire experience, because they allow travelers to spend the night in comfort while enjoying expansive views of the Sangre de Cristo mountain range," he said.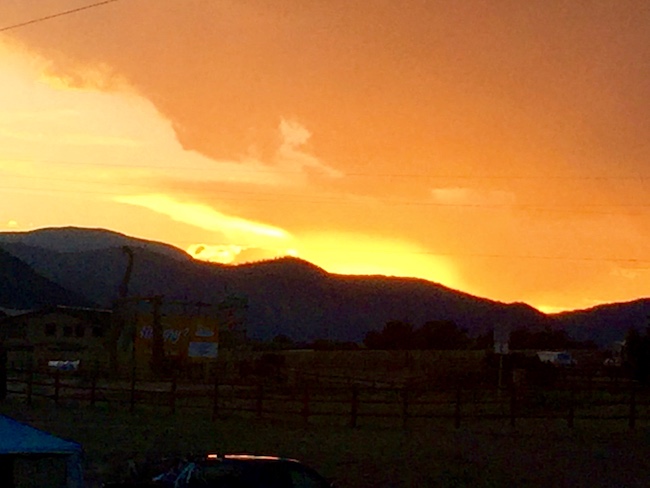 Royal Gorge Cabin Details
Comfort is an understatement! Our 600 square-foot one-bedroom cabin named Tin Cup is like an oasis in the mountains with every luxury to pamper us after strenuous outdoor activities (Two-bedroom cabins also are available.). The living room features a leather pull-out couch and chair, TV, free Wifi, overhead fan, a wall of windows and sliding glass door, and a two-sided fireplace for fireside ambiance on the patio.
The private patio rivals any in suburbia with its barbecue grill and fireplace. But the views at sunset are unique to these mountains, and the wrap-around patio lets us soak them in on the lounge chairs provided.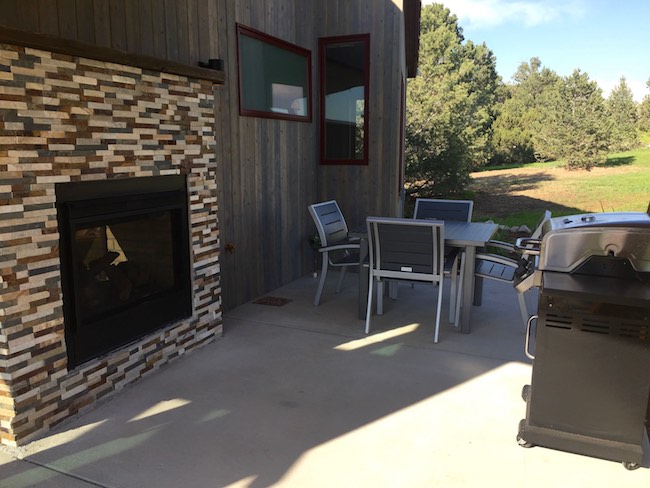 The compact kitchen has a small cooktop and oven for preparing meals, dishes for serving, and a sink and dishwasher for cleaning up. A large fridge holds all the beer you can drink!
The bathroom is complete indulgence. With a rain shower head, fluffy towels, hair dryer and ample storage, it's as nice as any I've seen at luxury hotels and resorts. Large-bottle shower amenities are from C.O. Bigelow.
A good night's sleep is essential on an active mountain vacation. It didn't take long to fall asleep in this cozy bedroom on a king pillowtop mattress with deafening quiet all around. We didn't even click on the TV on the dresser across from the bed.
Dining at Royal Gorge Cabins
Directly across the road from the cabins is 8 Mile Bar & Grill, also part of Andy Neinas' tourism empire. His customers want food and drink after an exhilarating day on the water or at the Gorge, and he provides it in spades. You'll find 16 Colorado craft beers on tap and good food choices for adults and kids on the menu featuring American classics like burgers, salads, steaks and seafood. Chef John Baker sources his ingredients locally when he can. I was in the mood for a fresh Cobb Salad. It was fresh, crisp and delicious.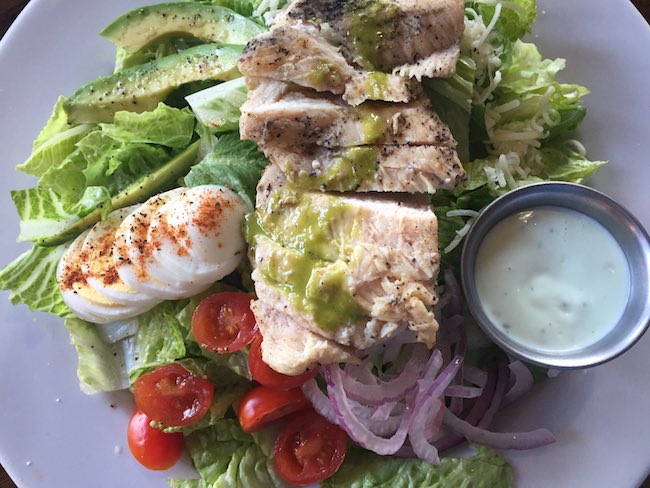 Neinas has furnished the restaurant with some of his antique finds, like collections of hubcaps, license plates, and vintage signs. A TV above the bar runs videos of river trips gone bad that are meant to be funny. I'm glad I saw them after my trip! Umbrella tables provide seating on the patio, and there's sand volleyball, bean bag toss and a nice big fire pit to warm you on a chilly night. The restaurant is open only for lunch and dinner, so be sure to bring breakfast food and coffee for the cabin.
Rafting at Royal Gorge Cabins
Would you let this guy be your raft guide? With a move-star smile and arms that could wrestle an alligator, long-time guide McIver is a favorite with customers. As the Arkansas River was running high, he deftly handled the whitewater we encountered on our float trip. I was totally comfortable with him at the helm. Besides gentle family float excursions, Echo Canyon offers all the way up to class V wet and wild adventures. Check the website for full- and half-day trips.
A company photographer takes keepsake photos like this from shore, and there's a GoPro camera mounted on the front of the raft. All for customers to purchase. Of course, you want one!
Other activities in Royal Gorge region
Steeped in western history and home to the wondrous Gorge cut by the mighty Arkansas River, this "banana belt" region is a year-round outdoor playground with fishing, rock climbing, golf, jeep touring, biking and hiking.
Attractions
Royal Gorge Bridge spans 938 feet (286 meters) across the gorge 955 feet (291 meters) above the Arkansas River. Built in 1929, it was the world's highest until China opened a higher one in 2001.
Walk across the bridge; "fly" over the gorge on the Skycoaster, Zip Line or gondola; and watch a video on the construction of the bridge. There's also dining, summer entertainment, and a children's playground.
Riding the train through the gorge along the river is a way to see the magnificent scenery up close. You can view it from an open-air car or seated at a dining table or both. Board in Canon City.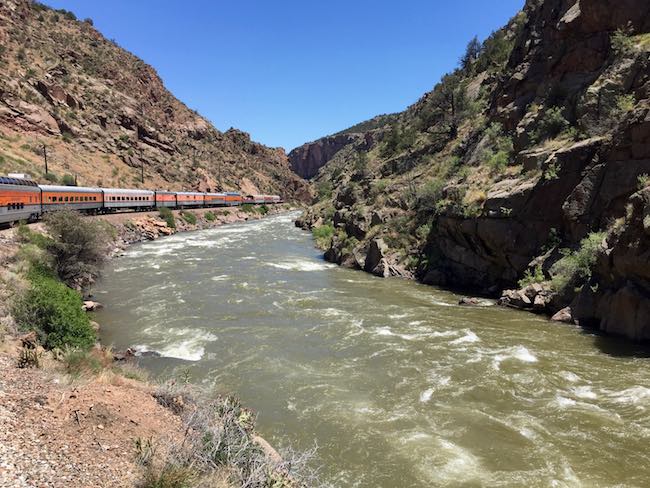 Sample wines from the Winery at Holy Cross Abbey; visit the Dinosaur Experience, an indoor/outdoor fun educational adventure into Colorado's paleontological history; or shop for antiques in nearby town of Florence where you can stop for a cold one at Florence Brewing Company.
Royal Gorge Cabins are about two hours from Denver and one hour from Colorado Springs at 45000 West U.S. Highway 50, Canon City, CO 81212; 800-755-3246; www.raftecho.com.
Claudia Carbone is an award-winning travel writer based in Denver. Read about other hotels she's visited in Sleepin' Around.