Antelope Canyon in Arizona is the most-visited and most-photographed slot canyon in the Southwest. This natural masterpiece, which got its name from local Navajo stories regarding the herds of pronghorns that used to wander in the area, is located near Page, Arizona.
Antelope Canyon is a sacred monument of the Navajo people and a Navajo Tribal Park. This means you can only see it with an authorized Navajo tour guide.
Antelope Canyon in Arizona is Famous Worldwide
The canyon had been on my bucket list for a while. I finally got the opportunity to visit it during a road trip through northern AZ.
The countless photos and Instagram pics of this gem, as well as the Windows 7 screensaver that rocketed it into the fame stratosphere, are alluring.
However, I can attest that they don't have the same mesmerizing effect as seeing them in person.
"The Crack and the Corkscrew"
Antelope Canyon is known by the Navajo as "The place where water runs through the rocks." It is divided into two canyons: Upper and Lower. You can tour one or the other or both, as I did.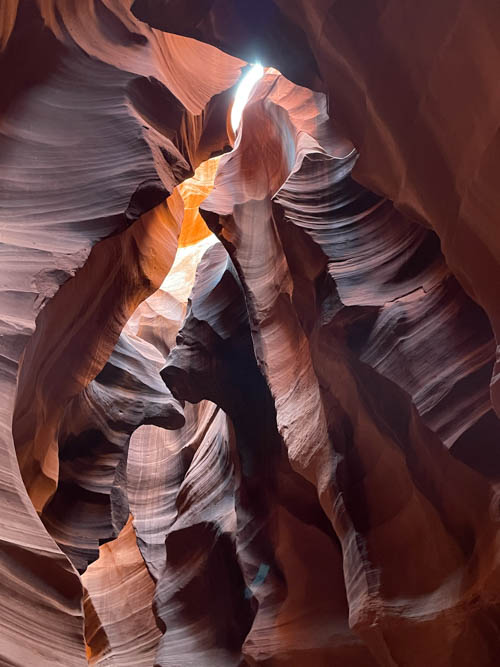 Upper Antelope Canyon
Upper Antelope is known as "The Crack" because it's shaped like an A. It is narrow at the top and wider at the bottom. This design is what creates the striking light beams that occur when the sun is projected onto the canyon floor.
It's an occurrence that is best viewed in the summer months around midday. It's these iconic light beams that have made Upper Antelope legendary worldwide.
Lower Antelope Canyon
Lower Antelope, known as "The Corkscrew," is the opposite. It has a V shape, wide at the top and narrow at the bottom. Though it doesn't have the eerie light beam effect, in my opinion, it's equally as breathtaking as its sibling.
Best Tips & Tools to Plan Your Trip
A Creation of Epic Magnificence
This stunning, colorful sandstone formation was created by layers of rain, wind and erosion. The process took millions of years. Its walls stand up to 120 feet above the streambed.
The canyon itself is situated about 3,700 feet above sea level. It gets its varying shades of vivid orange and red hues from the iron oxide deposits that were mixed in with the windblown sands.
The First On the Scene
Sue Tsosie discovered the canyon while herding sheep as a young Diné girl back in 1931. I can only imagine her surprise and amazement upon stumbling across it. Also, how she proceeded to describe it to her family. Words simply don't do it justice. Fittingly, today, Sue's daughter Caroline operates tours of the canyon.
Tours in Antelope Upper Canyon
Most people visit Upper Canyon if they only have time to see one of the canyons. You'll start at the tour company's office, where you'll board a vehicle for the ride to the entrance of the canyon.
Then your driver/guide escorts you through the canyon for a quarter-mile walk. Along the way, he explains its geology and gives tips on taking the best photos. He or she will also gladly take pictures of you and your group amid this wondrous environment.
The canyon bottom is wide and sandy and easy to navigate. You'll spend less than an hour in the canyon and at the end, you'll exit and walk down a series of stairs and ramps to return to the vehicle.
A few things to keep in mind about the Upper Canyon: because it is more popular, it is more expensive and, predictably, more crowded. Tours can get backed up and you might feel like you're being herded around with little time to enjoy the sights fully. Another point to consider is that if you're not visiting during peak times, you probably won't get to see the light beams.
I was in the canyon in late October and didn't get to experience this phenomenon. But the dramatic colors and textures still wowed me, and I couldn't stop taking pictures of this strange and beautiful formation. I couldn't get over how the walls seemed to undulate as I walked through the labyrinth of corridors.
Tours in Antelope Lower Canyon
If you're looking for an adventure with more rugged terrain, head to Lower Canyon. Due to its V-shape, you'll have to squeeze through narrow passages, climb over rocks and go up and down several ladders.
The experience is more of a hike with some fun obstacles. You might just feel like you're in a scene from an Indiana Jones film. Additionally, the canyon is brighter. When the sun hits the walls, it creates its own special light effects on the wave-like sandstone forms.
Tours last about 1.5 hours, the same as those of Upper Canyon. However, you'll get to spend more time in the canyon since the tour starts just steps away from the office.
The pace is also slower due to fewer people. So you'll be able to take your time as you explore this otherworldly milieu. And to top it off, tours cost about half of those of Upper Canyon, so lighter on the wallet.
I'm glad I did both Upper and Lower, as they each offer different experiences. Both, however, guarantee incredible rock formations in a rainbow of colors.
If You Go
Reserve your tour in advance, especially if you're doing Upper Canyon, as they get booked up quickly.
Upper Canyon Antelope Canyon Navajo Tours:
Adventurous Antelope Canyon Tours: www.adventurousantelopecanyon.com
Antelope Slot Canyon Tours: www.antelopeslotcanyon.com
Antelope Canyon Tours: www.antelopecanyon.com
Antelope Canyon Navajo Tours: www.navajotours.com
Lower Canyon Antelope Canyon Navajo Tours:
Dixie's Lower Antelope Canyon Tours: www.antelopelowercanyon.com
Ken's Tours: www.lowerantelope.com
Author Bio: Debbie Stone is an established travel writer and columnist, who crosses the globe in search of unique destinations and experiences to share with her readers and listeners. She's an avid explorer who welcomes new opportunities to increase awareness and enthusiasm for places, culture, food, history, nature, outdoor adventure, wellness and more. Her travels have taken her to nearly 100 countries spanning all seven continents, and her stories appear in numerous print and digital publications.