A canyon wren greets the dawn, its call a descending scale of flute-haunting notes. Sleepy eyes open to see distant palisades blushing in the morning sun. Here in the Inner Gorge, nearly a mile below the rim, shadows linger.
Raft Trips in the Grand Canyon
One by one, campers crawl from sleeping bags and head toward the aroma of coffee and pancakes. Beside the kitchen flows the Colorado River, a football-field-wide channel of muddy-brown liquid. The nearby current merely laps the bank, but a quarter-mile downstream, the roar of rapids reverberates from riverside cliffs.
Stunning confines, scrumptious cuisine and the promise of challenging cataracts – another day begins in the depths of Arizona's Grand Canyon.
Every year, over four million tourists stand at the canyon's edge and gape at its majesty. A meager 25,000 annually gaze back from the river. Instead of expansive grandeur, folks at the bottom experience an intimate corridor rife with colors, textures, sights, sounds and smells.
Motor Rafts in Grand Canyon
The majority of river trippers hurdle through the canyon's cataracts on piston-powered pontoon rafts. The 35-foot rigs can hold 15 or more people plus guides. Gear, food, fuel, spare engine and generally enough adult beverages to open a streamside speakeasy get strapped on top.
These floating motor coaches travel around eight mph, giving gas-powered trips the advantage of speed. Passengers can traverse the entire canyon in six days, with optional seven- and eight-day journeys available to those wanting time for side-canyon exploration.
Motor rigs plow through whitewater, treating passengers to an amusement park-like, drenching ride. Because of their power and size, motor rafts seldom flip.
Motorized trips, however, have their disadvantages. There's the constant din of engine noise and the smell the exhaust. Guide interaction is limited. Scenery passes quickly. The shortness of the trips and size of the groups make it difficult to get to know fellow passengers.
"People go back to their cliques and families," observes Ryan Zimmer of Wilderness River Adventures. "You have a few people who mingle, but not many."
Then there's speed itself. Some believe that even eight days in the bottom of the canyon is not enough time. For those with more time, commercial outfitters offer muscle-powered alternatives.
Oar Rafts in the Grand Canyon
The most common go-slow options employ oar-powered, inflatable rafts. Floating at half the speed of piston-powered rigs, a full-canyon oar journey takes a dozen days or more. The unhurried pace allows more time to absorb the setting. Vacations become experiences.
"You get people who come down here for 16-18 days and it's a completely different experience," says O.A.R.S. guide Bill Bruchak. "They become part of the place and end up taking it with them. That's what boatmen call 'getting it.'"
If motor rigs are the river's busses, these are its minivans. The rafts carry four to six passengers each plus an oarsman. Chummy seating and a lack of mechanical noise gives guides the opportunity to share natural history, human history and a few tall tales from their own canyon history.
Their smaller size and lower-slung seating make oar-powered rafts feel more exciting in heavy whitewater, and they can flip more easily than their motorized brethren. Fortunately, they are far easier to turn back, sunny-side up.
Paddle Rafts in the Grand Canyon
For those who think that watching a guide do the work is too sedentary, a number of companies offer paddle rafts. Passengers wielding plastic paddles provide the locomotion. Success in the whitewater depends on strength and teamwork.
Of course, paddle rafting is not for the unfit. With 226 river-miles to cover, upper body muscles get a Bengay-worthy workout.
Dories in the Grand Canyon
While rafting a rapid can be exciting, when it comes to whitewater, few rides compare to those provided by dories. Developed in the 1960s, these wood and fiberglass vessels carry four passengers and an oarsman. They are broad on the bottom and feature upturned ends with pointed bows and sterns. Costly, colorful and classic, dories are the sports cars of commercial river running.
The most maneuverable commercial craft on the river, a dory's hard sides, sharp bow and rocker-shaped hull allow it to carve its way through a rapid like a Ferrari twisting down a race track. Guides carefully plot routes. Unlike inflatables that bounce off boulders, when a dory smacks a rock, holes can result. Fortunately, most are easily patched with fiberglass and epoxy.
Dories are also the most prone to tipping, and the easiest to right. To help keep the boats from going bottoms-up, passengers learn to lean into waves. After a rapid, they bail out the boat. Some measure a run's fun factor by the inches of liquid sloshing in the foot wells.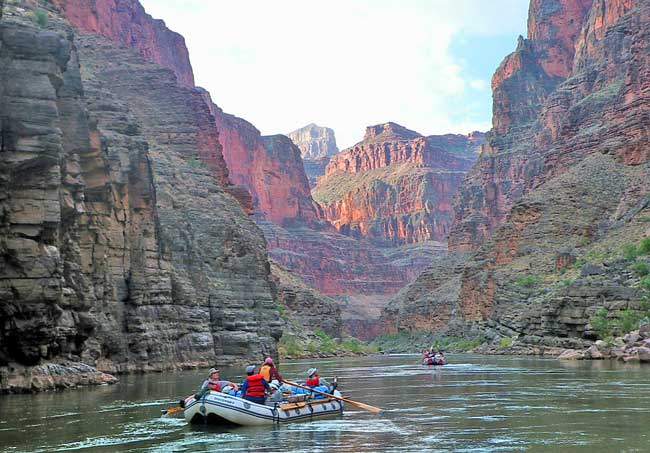 Float Trips in the Grand Canyon
Grand Canyon float trips are not for everyone. Nights are spent camping on sandy benches. Shelter comes in two-person tents, which participants erect themselves. Mattresses are foam pads. Bedding is a sleeping bag. The bathroom is an ammo can topped with a toilet seat, and the only bathtub is the 45-degree river. There are bugs, bats, snakes, spiders, scorpions, ravens, rodents, ringtails and the occasional skunk to contend with along with ample blasts of wind, rain and heat.
On the other hand, most commercial trips provide guide-cooked menus featuring fresh foods through trip's end. Experienced river runners share knowledge, stories and song. Hikes lead to waterfalls and pools nearly impossible to reach by any other means. Sunsets paint the sky pink, and starlit nights appear simply stellar. Best of all, the river provides an ideal venue for testing limits, challenging fear or just contemplating the meaning of life.
"The greatest thing for me being down here is just seeing how it affects different people," says Wilderness River Adventures guide Paul "Okie" Jones.
Whether motor or muscle-powered, floating the Grand Canyon becomes an experience not soon forgotten.
* * *
A list of Grand Canyon river outfitters may be obtained from Grand Canyon National Park (www.nps.gov/grca/planyourvisit/river-concessioners.htm) or the Grand Canyon River Outfitters Association (www.gcroa.org).
About the Author: Dan Leeth is a freelance writer/photographer who has visited, photographed and written about adventures on all seven continents. To read more of his work, visit www.LookingForTheWorld.com.