Flying over West Virginia on my first trip to the home of the nation's newest national park—the New River Gorge—I was struck by how much of the land was covered with trees.
Mountain after mountain heaved with dense forests in varying shades of green, many cut through with meandering blue rivers large and small. Along some of the rivers, I spotted villages like we saw on our river trip down the Rhine in Germany. I later learned 70 percent of West Virginia is forest land.
With so many hills and valleys, rivers and lakes, charming small towns and country roads (as reminisced by songwriter John Denver), southern West Virginia offers countless opportunities for outdoor recreation and historic exploration. 
The perfect basecamp for all of that is Adventures on the Gorge near Fayetteville. 
New River Gorge National Park and Preserve, America's Newest National Park
This adventure resort sits in the heart of the Appalachian Mountains on the rim of the New River Gorge, established as a national river in 1978.
Though its name says "new," this river is actually millions of years old—scientists date it back to 320 million years ago.
When explorers scouting the region came across a river they had never seen before, they wrote "new river" on their map. The name stayed all these years. In late 2020, 70,000 acres of land and 53 miles of the New River were designated a National Park—the country's 63rd and West Virginia's first.
Whitewater Rafting at Adventures on the Gorge
Today, rafting on the New River is the most popular activity at Adventures on the Gorge. In addition, there's the Gauley River, 24 miles long, that intersects the New and is ranked among the best whitewater rivers in the world.
AOTG offers guided trips on both rivers for a huge variety of water adventures, from mild floating and kayaking for families to Class V whitewater rapids for hard-core enthusiasts in half-day, full-day and multi-day trips.
Multi-day trips can include lodging and meals at the resort with transportation to the river and overnight camping alongside the river. The guided camping trips also include all rafting equipment (helmet, life jacket, paddle and boat) but you must bring your own sleeping bag, tent, flashlight, etc. 
On the website, there's a checklist of items you need and what AOTG provides. Splash jackets and wetsuits are available for rent.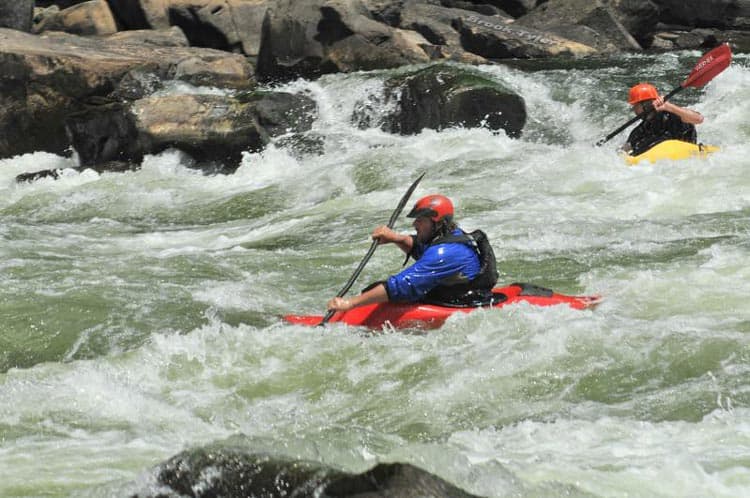 Aerial Adventures at Adventures on the Gorge
If whitewater makes you queasy, get up into the trees!
Timber Trek Adventure Park is a series of nets, bridges, ziplines, suspended tunnels, ladders, platforms and other Tarzan-inspired swinging things in the trees that challenge the balance and strength of clipped-in daredevils.
It takes about three hours to maneuver through the obstacles, and even a four-year-old can do it at the easy yellow level. Skill levels go all the way up to double black, like ski area ratings. Guides are ever-present for safety; helmets, gloves and harnesses are provided. For a really scary treetop adventure, do the Moon Trek, which is the same courses lit up at night. 
Ziplines have grown in popularity, and AOTG has 10 of them on the Tree Tops Canopy Tour. Sail high above the tops of oak, maple and birch trees before landing in a forest of hemlock trees along Mill Creek.
The final step of the three-hour tour that includes five swinging sky bridges is a 35-foot rappel out of the canopy and onto the ground. Don't worry—guides are with you the whole time.
Gravity Ziplines are the mother of all ziplines. This extreme ziplining reaches speeds of nearly 65 mph and will zoom you high above the mountain ridges and bowls of the forest. The Adrena line is one of the longest ziplines in the country.
The New River Gorge Bridge is the spectacular setting for the Bridge Walk, a high-altitude stroll on a two-foot wide steel catwalk built underneath the road.
The iconic bridge stretches 3,030 feet across the New River, the longest steel arch bridge in North America and the third highest in the country. You will be 850 feet above the river on this dizzying hike, but the good news is that you will be harnessed onto safety cables.
There's also mountain biking, hiking, horseback riding, rock climbing, fishing, yoga, paintball, disc golf and laser tag. Nearby lakes are great for stand-up paddle boarding and flatwater kayaking.
Lodging at Adventures on the Gorge
When the founders—four friends owning rafting companies—joined forces in the late 70s, they grew their operations by adding campgrounds, cabins, and two villages, making up the resort today. 
Cabins range from four-bedroom cabins with a kitchen and private hot tubs to single-room cabins with bathrooms and basic amenities. There's also a bunk house and several vacation homes for longer stays.
Campgrounds for RVs and tents have fire rings and picnic tables, and three bathhouses are available for campers and rafters.
Dining at Adventures on the Gorge
My cabin in the Kaymoor grouping (named after a WV coal mine) was a long walk away from Canyon Rim Village, the heart of the resort. Still, it was worth it for the great food—from the "best BBQ in West Virginia" and hearty buffet breakfasts at Smokey's to pub fare at Chetty's Pub with live music during the summer season. 
Rendezvous bar rocks every Friday and Saturday to live music, and Java Falls Cafe serves coffees and take-out breakfast and lunch. Canyon Falls Snack Shack is where you'll indulge cravings for ice cream, snacks and spirits while lounging poolside.
The summer season is from mid-May to mid-October. Weddings on a special "wedding deck" are popular. 
Around the Area
People who tick national parks off their bucket lists will surely want to visit the whole region.
This will be a boon to the declining small towns in Southern West Virginia, like Hinton, the county seat in Summers County and the southern gateway to the Park. Like so many towns here, Hinton prospered from logging, coal mining and the railroad in the early 1900s. 
Indeed, the Chesapeake & Ohio Railway Co. built the town that grew to more than 8,000 residents by 1925. Hinton had a luxury hotel, beautiful homes and municipal buildings, a theatre, many shops, several newspapers and a Carnegie Library.
Alas, when the diesel engines requiring less maintenance arrived in the 1950s and the C&O merged with Seaboard Coast Line in 1980, the roundhouse was eventually torn down. The population declined, and today only about 2700 people call Hinton home. Now, it is relying on tourism for a sustainable future.
The historic district on the National Register of Historic Places has more than 200 architecturally significant buildings, many having been restored with the financial help of a dedicated wealthy hometown man. 
Visitors can take a walk back in time with a self-guided walking tour map available at the tourist office. The Guest House, a lovely non-hosted inn, is available for lodging, and the renovated Ritz Theatre now shows movies.
There is nothing about Hinton that a few more restaurants and re-opening of the McCreery Hotel wouldn't cure. Oh, yes, and an easy way to get onto the river that lies across the railroad tracks below a steep forested cliff!
Everything you ever wanted to know about WV coal mining, you can learn on an underground tour of Exhibition Coal Mine in Beckley. Our guide was a real-life miner who entertained us with first-hand accounts of the miners' day-to-day struggles with life deep inside the mountain. 
More than 20 mining towns grew along the railroad tracks at the bottom of the gorge. The last mine closed in 1962.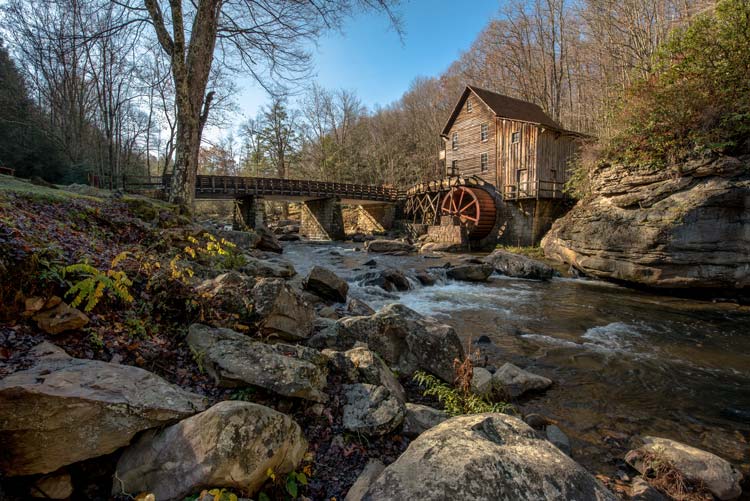 Fayetteville is another charming former coal town on the rim of the New River Gorge making a comeback. A slew of good restaurants keep tourists happy. We loved Wanderlust's creative Indian-inspired cuisine. 
Other attractions include beautiful Sandstone Falls with a well-designed viewing boardwalk and Sandstone Visitors Center; Summersville Lake and Dam, the largest lake in WV. 
Also, the Pipestem State Park, which offers a bunch of outdoor activities, great restaurants, and unusual places to stay, like the Thorny Mountain Fire Tower and vintage company houses from the 1900s. 
With healthy forests and a new national park, southern West Virginia is looking at a bright future as an outdoor recreation destination. Can it handle the onslaught of new visitors? Only time will tell.
"Not an hour goes by that there's not a phone call asking about visiting the national park," said Adventures on the Gorge CEO Roger Wilson. "There are opportunities for local people to create businesses like B&Bs," he said. "They will come and we will build it."
Author's Bio: Claudia Carbone is an award-winning travel writer and member of the Society of American Travel Writers, North American Travel Journalists Assoc. and Denver Woman's Press Club. Currently, her work is published in The Denver Post, Colorado Expression Magazine, London Sunday Telegraph's Hotelegraph, GoWorldTravel.com, RealFoodTraveler.com, MtnTown Magazine and The Villager Newspaper. Her travel blog Sleepin' Around covers any place you can sleep on vacation.