Everyone remembers their summer road trips as a child. A time when facing backward in the family station wagon was a summertime ritual. A road trip complete with memories that comprised of the natural wonders, historic sites, outdoor adventures and stops for milkshakes.
Road Trip in Wyoming
The times may be far different than they were back then, but the Great American Road Trip lives on – and Wyoming is the perfect place to make it happen.
From hiking the nation's most famous mountain ranges, recreation areas, exploring the most magnificent national parks in the United States to the most scenic drives make this trip to the Wild West memorable!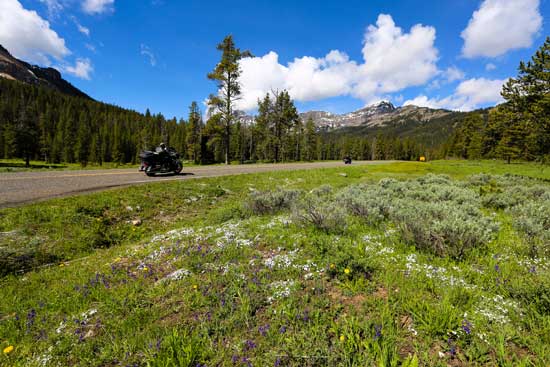 Road tripping in Wyoming is nothing new. Families have been exploring the Cowboy State by car for decades. The Wyoming Office of Tourism has made planning for it even easier with their creation of four different (scenic drive) routes through the state. Each route features some of Wyoming's main attractions, as well as lesser-known stops that are intended to get visitors off the beaten path.
Be sure to stop by welcome centers along each of the routes for distinctive keepsakes. These nostalgic, retro-style stickers depicting classic Wyoming attractions and towns will help commemorate the trip.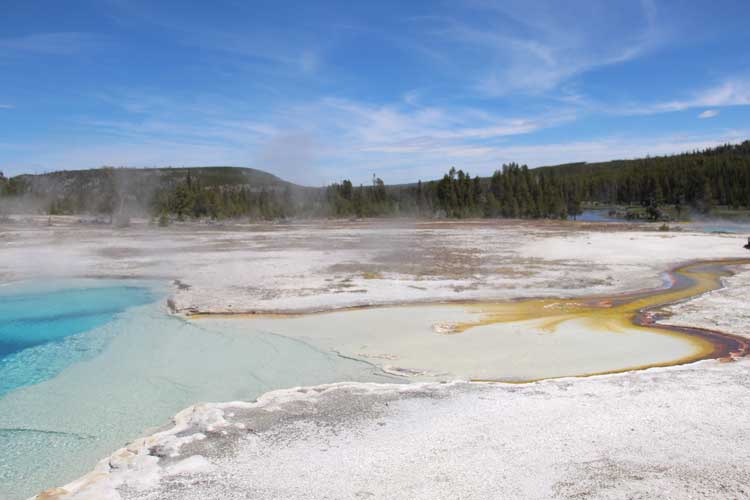 Yellowstone National Park
The Park to Park route begins in Southeast Wyoming, then travels through the state capital of Cheyenne and ends in America's most well-known national park, Yellowstone National Park, home to the most famous of all geysers, Old Faithful. This scenic drive route has its fair share of history, culture and million-dollar views. Also, if the timing is right, visitors can catch the world's largest outdoor rodeo and western celebration, Cheyenne Frontier Day. (Editor's Note: Cheyenne Frontier Days has been cancelled in 2020.)
For outdoor adventurists, the mountain ranges of the rocky mountains to the Grand Teton National Park route offer plenty of rock climbing, horseback riding, hot springs and biking opportunities. Originating in Cheyenne, this route boasts beautiful campgrounds and biking/hiking trails that can be found in both Curt Gowdy State Park and the Snowy Range Mountains.
Wyoming Scenic Byways
The option of ending this route in Yellowstone National Park, the town of Jackson, and the Grand Teton National Park miles and miles of "loops" for a memorable road trip that takes you through Jenny Lake and Snake River.
Scenic Drives in Wyoming
Visitors who are looking to start their trip from Salt Lake City should consider the Salt to Stone route. From Bear River State Park in Evanston and Fossil Butte National Monument near Kemmerer to the fishing opportunities in Pinedale, this route is nothing short of the classic Western experience.
Along this route, there is ample opportunity for visitors to watch wildlife, like elk, bighorn sheep, moose and bison. Visitors might even consider checking in for a couple of nights at a guest ranch with friends or family.
For those visitors traveling from South Dakota, the Black to Yellow route is the ideal choice. Featuring an archaeological site detailing the late-prehistoric Plains, as well as the Historic Occidental Hotel and the Jim Gatchell Memorial Museum, this route is chock-full of one-of-a-kind historical attractions.
Devil's Tower
Don't miss America's first national monument, Devils Tower located in the Black Hills National Forest while rolling through the northeast corner of the state. Devils Tower National Monument is hard to miss and not-to-be-missed! The northern plains of Wyoming are a mecca for horseback riding, fishing, camping and other outdoor recreation activities.
Exploring Cody
Speaking of other outdoor activities you will want to plan another road trip to see Jackson Hole, the wild horses of Butte, Laramie, Bighorn Canyon Recreation Area (via the scenic byway), Beartooth Highway (near the Wyoming and Montana border), Buffalo Bill's famous hotel in Cody and Wind River at Boysen State Park.
No matter which route you choose, "Wyoming's Great American Road Trip" will make planning a trip to the Cowboy State easier than ever before and bring out the explorer in everyone. So, pack those bags, roll down the windows, find the perfect playlist and buckle up. The open road and the Wild West are calling!