For some, the American West is a thing of the past, a culture relegated to old movies and history books. But in Cheyenne, Wyoming, America's western roots still shine bright.
Ranches cover the wide, open plains of Wyoming, a state with less than 600,000 residents. Cowboys and ranch hands are a vibrant part of the community. Even the state's senators and governor know how to ride horseback – and do so in local parades.
Cheyenne Frontier Days

Cheyenne Frontier Days celebrates the best of America's western heritage. Every July, this town of 60,000 puts on a western festival that celebrates the region's cowboy culture and ranching roots.
It's a treasured tradition here in Wyoming's capital city. In fact, 2019 marks the 123rd Cheyenne Frontier Days.
The 10-day event is filled with rodeos, parades, concerts, pancake breakfasts and more. The whole town gets involved; in fact, some 2,500 volunteers help out, from children on up.
The community plans and works on the event all year round, so Cheyenne Frontier Days runs like a top. Travelers come from all over the country, and even Europe, Asia and beyond. All want to experience a piece of authentic western culture and hospitality – and this is the perfect place to do that.
Except for the rodeo, many of the events and attractions are free. Cheyenne Frontier Days is a popular event, so be sure to book your hotel room early. Here are some of top things to do at Cheyenne Frontier Days:
Cheyenne Frontier Day Grand Parades
Horse-drawn carriages, local high school bands, horseback riding groups, state politicians and more strut their stuff during the Grand Parades at Cheyenne Frontier Days.
Starting off under the gleam of Cheyenne's golden-domed capitol, the parades celebrate the local community and the region's western past. Rodeo queens and cowboys make their way down Cheyenne's wide streets, and young foals walk alongside their mothers pulling vintage horse-drawn carriages.
Cheyenne has quite a collection of restored carriages, wagons and western wear that are brought out each summer for parades. There are four Grand Parades during Cheyenne Frontier Days. Check CFDRODEO.com for details and dates.
Pancake Breakfasts
How do you feed more than 30,000 hungry guests? The idea may seem staggering, but that's exactly what Cheyenne does during three free pancake breakfasts each year. Kids as young as 10 have been seen expertly dishing up flapjacks, while their parents serve coffee and orange juice to the masses.
This year, Cheyenne Frontier Day, the Kiwanis Club and the City of Cheyenne will cook more than 100,000 pancakes and 3,000 pounds of ham and serve more than 9,200 cartons of milk and more than 520 gallons of coffee.
Rodeo queens are on hand to say hello during the breakfasts. Check the event website for details on this year's breakfasts.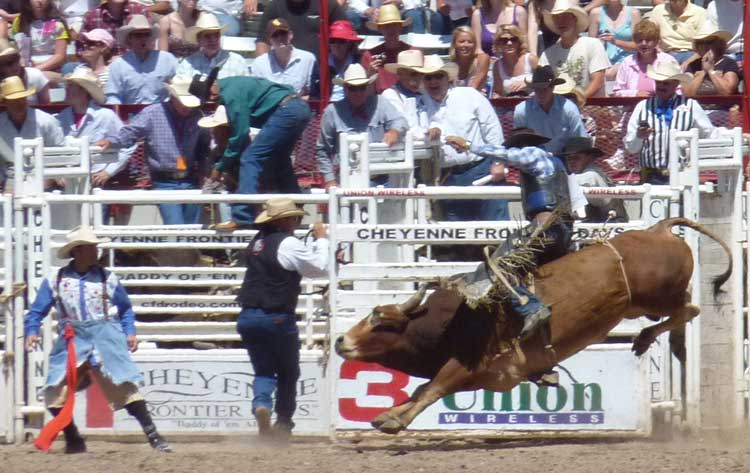 PRCA Rodeo: The Daddy of 'Em All
Cheyenne's professional rodeo has been called the "Daddy of 'em all," and it truly lives up to the hype. The competition is fierce at this fast-paced rodeo, and contestants come from across North America to participate in everything from bull riding to calf roping to saddle and bareback bronc riding.
Other events include trick riding, steer wrestling and even a fun event where young foals race to join their mothers. The animals are professional athletes too, with care provided by experienced stock contractors and onsite veterinarians.
Dillon Tyner, Bull Rider
For competitors like Dillon Tyner, rodeos are a way of life. The young bull rider has been riding bulls since he was 10 years old and has been competing professionally for nine years.
Why does he do it?
"I just love the cowboy and rodeo lifestyle," Tyner says. "My dad rode bulls, and I grew up around it. I followed the family trait.
Wade Sundell, Champion Saddle Bronc Rider
Wade Sundell, a saddle bronc rider from Boxholm, Iowa also grew up in a rodeo family.
"I've been riding since I was a kid and old enough to walk," Sundell says. "My dad rodeoed his whole life, and I followed in his footsteps."
While Sundell says he loves the adrenaline rush that comes with competing, he also likes the rodeo community.
"We compete against the same guys, but we're also all traveling together," he says. "We're all buddies and we help each other out. You don't see that very often in any other sport. It's amazing. We're all family."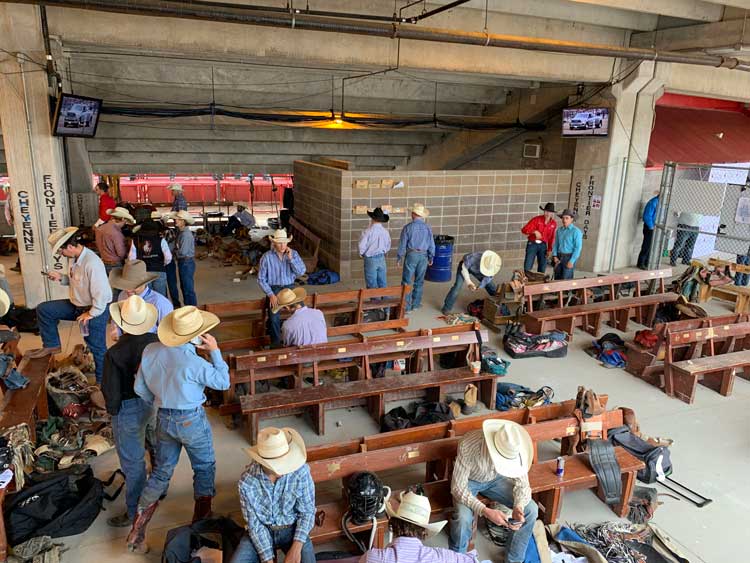 Sundell's commitment and hard work have evidently paid off. He is the 2018 World Champion Saddle Bronc Rider and has earned more than $1.7 million so far as a competitor.
With strong competitors like Sundell, Cheyenne Frontier Days rodeo is exciting and entertaining. Rodeos take place every afternoon during Cheyenne Frontier Days.
Cheyenne Frontier Days Concerts
When the rodeo is finished, a huge movable stage moves into the arena for top concerts from musicians like Lady Antebellum, Keith Urban, Rascal Flats and more.

The Behind the Chutes tour takes you back by the stock pens. Photo by Janna Graber
Behind the Chutes Tours

If you're interested in getting a behind the scenes look at how the rodeo is run, consider joining one of the free daily "Behind the Chutes" tours. Guided tours take visitors past the stock pens and along the path of the bulls and broncs as they make their way from the chutes into the arena. The tours begin at the Cheyenne Frontier Days Old West Museum. Just look for the chute tour sign at the "No Looking Back" statue.
Indian Village
The local Native American community has been part of Cheyenne Frontier Days since 1898, when the CFD committee invited American Indian performers to participate in the celebration. At Indian Village, you can experience American Indian dance performances, music and storytelling.
"We come to share our stories and educate," says Sandra Iron Cloud, a teacher and dancer. "Many of our dancers have been performing as a family troupe for years. Most of them have been in a dance circle since the time they could walk."
Everyone is welcome at the pow wows in Indian Village, says Iron Cloud. Shops and food stalls showcase Native American products, art and cuisine. Indian Village is open from 10 am to 7:30 pm during Cheyenne Frontier Days, with three dance shows at 11:15 am, 3 pm and 6 pm.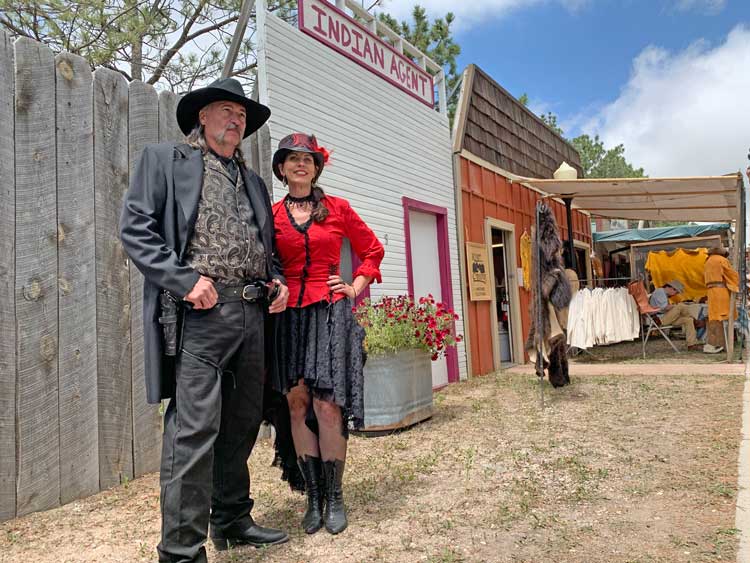 Old Frontier Town
Right next door to Indian Village is Old Frontier Town, a western village with merchants, artisans and special guest characters like Wyatt Earp and Buffalo Bill.
There's a petting zoo for the kids, and free concerts at the Sidewinder Saloon.
Carriage Rides and Gunslingers
During Cheyenne Frontier Days, other special events take place throughout town. Free carriage rides are available from the corner of Capitol & Lincolnway. You'll hear a narrated historic tour as you wind along the streets of downtown. Rides are free, but tips are happily accepted.
The Cheyenne Gunslingers offer free shows every summer night, six days a week, at 6 pm at Gunslinger Square at 15th & Pioneer in downtown Cheyenne. The show is fun for the whole family, and includes western skits, gunfights and other Wild West activities.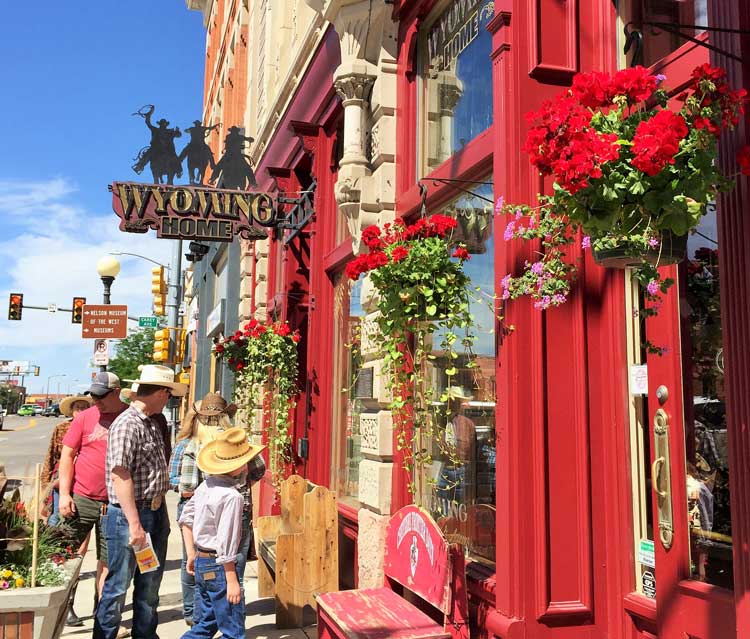 Where to Stay in Cheyenne
Cheyenne has several hotels and inns to choose from, as well as the beautiful Nagle Warren Mansion B&B, a luxury inn in a historic Victorian home.
Many choose to stay at The Little America Hotel in Cheyenne, which has 188 guest rooms, as well as an excellent restaurant called Hathaway's and a nine-hole golf course. For more information, see https://cheyenne.littleamerica.com/
If You Go
For more information on visiting Cheyenne, see VisitCheyenne.com
Information on Cheyenne Frontier Days at https://www.cfdrodeo.com/
Latest posts by Janna Graber
(see all)