Editor's Note: Travel is complicated right now. Please check local regulations and location openings before you go. We share places, products and activities we recommend. If you make a purchase using a link on our site, we may earn a commission.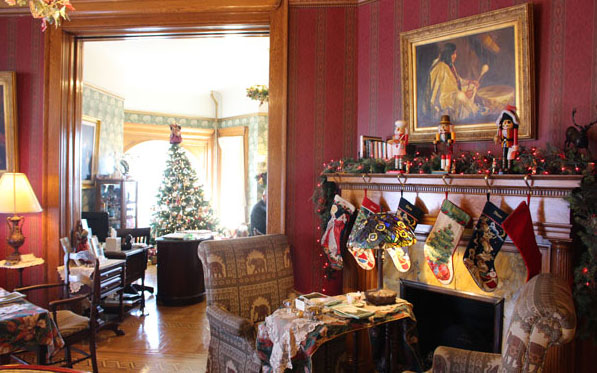 For many of us, the holidays mean time with family and building treasured family memories. That was certainly the case with my family. With eight kids in our household, the Christmas holidays were busy, fun-filled events.
Now that I'm older, I look for new ways to enjoy the holidays with my family. This year, it meant a road trip with my mom and one of my sisters. We wanted to experience the magic of the holidays in a small town, where unhurried streets filled with twinkling lights were the norm.
Family Christmas in Cheyenne
We chose Cheyenne, Wyoming as our destination this year. Wyoming's capital city is home to some 60,000, and the town's laid back character still has traces of its Wild West beginnings. By the 1880s, the cattle industry had put Cheyenne on the map, and it was home to some of the country's richest cattle barons. Their grand homes still line the city streets.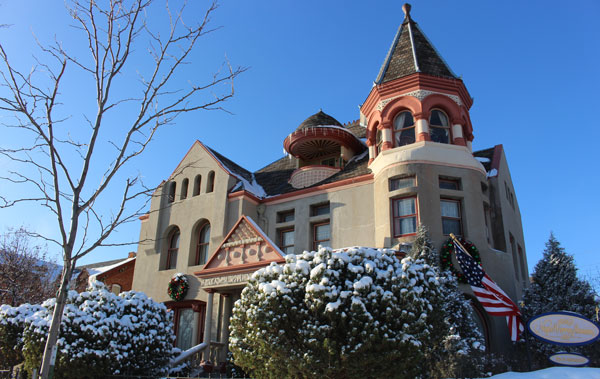 Stay at a Cheyenne Bed and Breakfast
One of those grand Victorian homes is now the Nagle Warren Mansion Bed & Breakfast, and we decided to make it our home for the weekend. Many travelers reach Cheyenne via Denver International Airport, just 1.5 hours to the south. Happily, we live in Denver, so it was just a short drive for us.
Built in 1888 by Erasmus Nagle, the Nagle Warren Mansion and Carriage House has been lovingly restored in intricate detail. Features include an original Moroccan chandelier in the entry hall, carved leather ceilings, original stained glass and crystal windows, cherry paneling in the foyer, parquet floors throughout the first floor, and two cast brass fireplaces with mirrors to the ceilings.
The mansion has 12 guest rooms. Each room is unique and individually decorated with period antiques. The rooms include many modern appointments, yet retain their old-world charm. Our rooms had luxury bedding, gas fireplaces, plush robes, wireless internet and more.
But perhaps the best part of any visit to Nagle Warren Mansion is the innkeeper himself. Jim Osterfoss purchased the home in 1997.
He had run hotels in Colorado and Utah before retiring but quickly found that retirement didn't suit him. So he turned his sights on creating a unique B&B where he could be more "hands on." The result is an establishment that is part of the very core of Cheyenne.
His hotel management skills mean that the Nagle Warren is run like a top hotel, but with a very personal touch. Jim can often be seen talking with guests, many of whom come back year after year.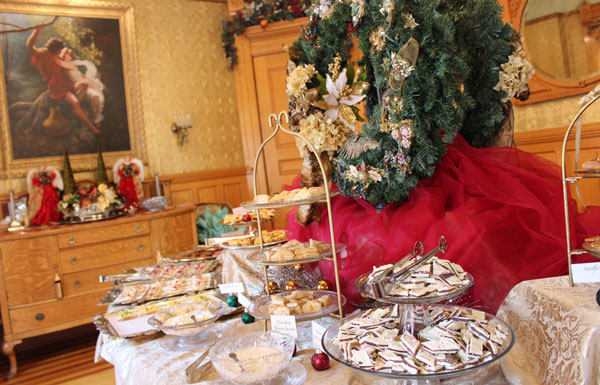 We had timed our visit just right, for the Nagle Warren serves an "Afternoon Tea" on the weekends. During the Christmas holidays, the B&B is decked out in traditional Victorian fashion for a special Holiday Afternoon Tea. The tables are filled with sweet treats, scones, cookies and more, while pianist Jake Martin provides holiday music on the antique concert grand piano.
The Holiday Tea was fun; my sister and I entertained my mom with family stories while we enjoyed the good food and music, adding the experience to our bank of good holiday memories.
The cost for the Holiday Tea is $22.95 and the tea is open to non-guests as well. Reservations are required.
From there we decided to do some exploring. Cheyenne is home to several unique Western clothing and home décor shops. Two of our favorites are The Wrangler and Wyoming Home, which are located just a few blocks from the Nagle Warren Mansion. We spent some time at both shops. I came home with several handmade western, which will be fun reminders of our girls' getaway.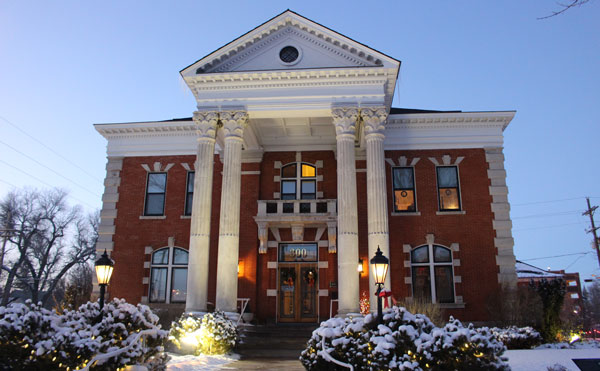 After we had our fill of shopping, we headed over to the stately Historic Wyoming Governor's Mansion. No longer used as the Wyoming governor's residence, the grand building is now used for events and special exhibits. Each year, the Historic Mansion features a holiday exhibit. This year, it was "Tinsel Through Time: A Family Holiday."
Each room was decorated in a different time period, from Christmas trees with candles from the 1880s to the glitzy pinks of the 1960s. As an added bonus, our visit gave me the chance to learn more about the people who helped to make Wyoming into the state it is today.
In 1869, the Wyoming Territory was the first to give women the right to vote. In 1890, Congress threatened to withhold statehood from Wyoming because of woman suffrage. Wyoming struck back by threatening to remain a territory rather than give up women's votes. Congress eventually backed down.
One of the leaders in the Wyoming suffrage movement was Esther Hobart Morris, who eventually became the country's first female Justice of the Peace. Morris' home in Cheyenne has been beautifully restored and is now the Morris House Bistro, one of the city's finest restaurants.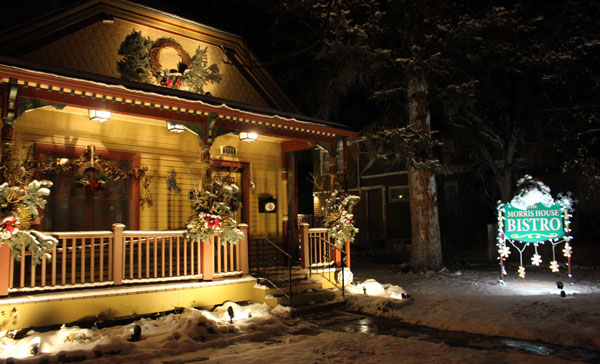 Morris House Bistro
The Morris House Bistro specializes in Low Country Cuisine traditionally associated with the South Carolina Low Country. The restaurant serves pre-fixe six-course meals. On the night we visited, our dinner included scrumptious dishes like Baked Stiles Point Oysters, Anjou Pear and Gorgonzola Soup, Grilled Atlantic Sea Scallops with Cranberry Risotto, Persimmon & Rosemary Sorbet, Deconstructed Beef Wellington with Kobe Wagyu Beef and Eggnog Custard Cream Puffs.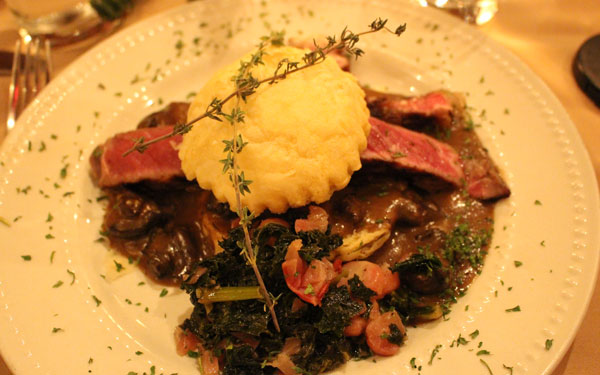 All dishes are created by Master Chef and proprietor Dameione Cameron, whose talent and passion for fine cuisine is obvious. You'll often find him mingling with the guests, and he is one of the highlights of any visit.
Cheyenne has numerous events during the holiday season. One evening, we watched a night holiday parade, which seemed to include half the town. Everyone got into the holiday spirit.
For us, Christmas in Cheyenne was peaceful, charming and filled with delightful people and experiences. It made for a memorable girls' getaway — which is exactly what we had been hoping for.
If You Go
Visit Cheyenne – www.cheyenne.org
Nagle Warren Mansion Bed & Breakfast – www.naglewarrenmansion.com
Morris House Bistro – morrishousebistro.com
Historic Governor's Mansion – https://wyoparks.state.wy.us/Site/SiteInfo.aspx?siteID=2
If your looking for a more secluded place to call home for your holiday trip to Cheyenne check out the VRBO listings here.