Croatia has a special place in my heart, and since my moving here five years ago, I've explored this beautiful country thoroughly. The Croatian Coast, Adriatic Sea, turbulent history and incredible people are just some of the reasons to visit Croatia.
There is so much that a regular tourist doesn't get to see. But this guide will tell you what the hidden gems are and why you should visit this gorgeous country in the heart of Europe, which is still unspoiled by mass tourism.
1. National Parks
Most travelers associate Croatia only with the Adriatic coast, but Croatia has so much more to offer, starting with national parks. Visiting Croatian national parks allows you to relax in the most gorgeous natural surroundings.
Plitvice Lakes National Park
World-famous Plitvice Lakes attracts millions of tourists every year. However, you can still find quiet spots to take photos and admire the beauty of the cascading waterfalls. These lakes are magnificent in spring and summer, but in autumn the colors of the turning leaves are a spectacle before everything turns white and the waterfalls freeze in winter. This means that Plitvice is wonderful to visit year-round.
There are two main hiking trails in the park; a short one and a longer one. It took us 8 hours to complete the longer hike but it was worth it because you get to see lower and upper lakes and every viewpoint along the way. Also, when you take a longer hike there are times when you may have the trail all to yourself.
Planning a last-minute trip to Croatia?
Top Experiences and Tours in Croatia:
Where to stay in Croatia:
Find accommodation with Booking.com
Get a rail pass through Rail Europe
Find Bus, Train, and Flight tickets with one search through Omio
Krka National Park
Over thousands of years, the water of the Krka River carved a deep canyon through the Sibenik hinterland highlands. The obstacles that were constructed along the path have turned the river into a fantasy of waterfalls.
Many people come here instead of Plitvice because you can swim in the river and still see magnificent waterfalls. However, be warned that the water is pretty cold. I suggest you come to Krka in summer if you want to swim, and in other months if you wish to hike along the river.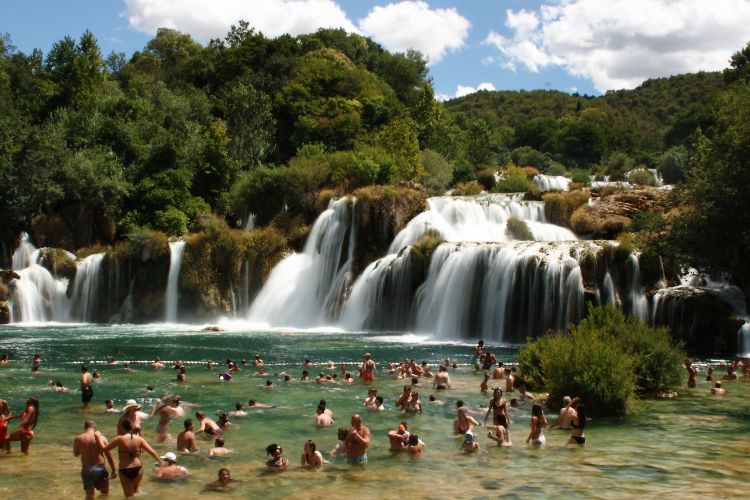 Mljet National Park
The Dubrovnik archipelago's Mljet island is home to the lovely Mljet National Park. The most virgin forests, two extraordinary saltwater lakes plus a plethora of cliffs, coves and tiny islands can all be found in the park.
This is a place of untouched beauty where you can enjoy nature's smells and sounds, pine forests, sea waves and singing birds. The island is also ideal for those who want to unwind, swim, sunbathe, or engage in physical activity like hiking, cycling, or kayaking.
Kornati National Park
In northern Dalmatia, the Kornati archipelago is made up of around 150 uninhabited and pristine islands and islets. Daily boat trips to Kornati are organized from the mainland, and the best site to start a trip is from the town of Murter. If you are not a diver, sailing is the best way to experience this park.
Brijuni National Park
Brijuni National Park is a collection of 14 islands situated close to Pula along the Istrian coast. The only island that can be visited is its largest, Veli Brijuni. The island contains numerous Roman ruins in addition to more than 200 actual dinosaur tracks. You can visit the park from Pula on a day trip.
2. Mediterranean Islands
Croatian islands are the hidden gems of the Mediterranean and are top reasons to visit Croatia. The Dalmatian Coast is home to a large number of stunning, undeveloped islands that are easy to access. They are perfect for island hopping or using as a base for a vacation.
Hvar
One of Croatia's most popular islands, Hvar, is well known for being the primary party island. However, most of the island's nightlife is concentrated in Hvar Town, leaving the other side of the island ideal for a family vacation. My recommendation for Hvar is that you stay somewhere secluded but visit Hvar Town in the evening or for lunch.
Brač
Large and quite accessible from Split, Brač is another popular island to visit in Croatia. The island is distinguished by its fig trees and undulating hills. You can find plenty of places to stay in Bol and Supetar as well as a good selection of restaurants. It is one of the islands where locals stay year-round and it is ideal for longer holidays.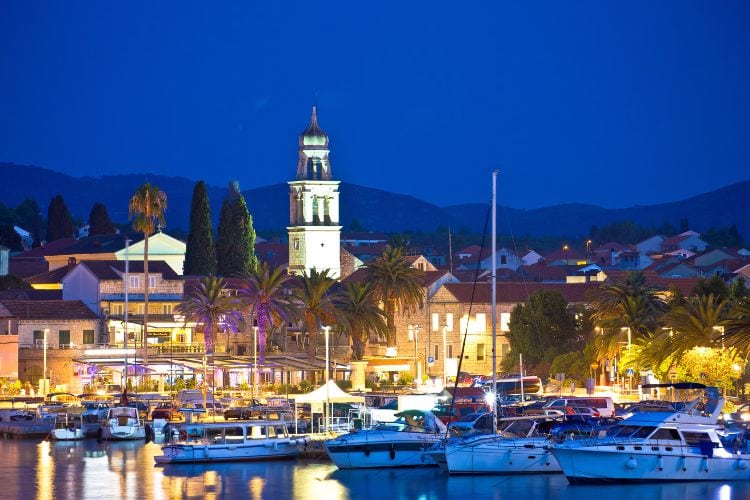 Korčula
One of the nicest islands close to Dubrovnik is Korčula Island, often known as the Emerald Isle. The island of Korčula, which is rich in culture, history, beauty and charm, provides a variety of activities and distinctive customs, all complemented by the gorgeous Adriatic Sea.
To me, Korčula is the most authentic of all the Croatian islands. It is not too crowded which allows you to truly experience Adriatic life. This is the place where you can eat fresh food, drink wine and talk to locals with ease.
Vis
The greatest beach in Europe for 2016 was Stiniva Beach on the island of Vis. Stiniva, one of Croatia's best beaches, is not the simplest to get to and is also well hidden. However, it is worth the journey to reach it and is easiest done by renting a car. Vis Island is perfect for a relaxing vacation away from the crowds.
3. Historic Sites
Your Croatia travel bucket list must include the incredible historic sites that this nation has. From the Hungarian border to the Venetian Gulf, there is so much to see and explore. And if you are a history buff, this is one of the top reasons to visit Croatia.
Dubrovnik Old Town
Dubrovnik's city walls are probably the most well-known historic site in Croatia. Even if you haven't heard of this city before, you must have watched Game of Thrones and seen King's Landing, which was filmed here. You can walk on the walls, which I highly recommend because you will get to experience history firsthand and also see amazing views of the sea and the city below the walls.
Diocletian's Palace
One of Croatia's most vibrant and beautiful historical landmarks is Diocletian's Palace, found right in the center of old town Split. It has been a UNESCO World Heritage Site for over 40 years, attracting travelers from all around the world. In the summer Split has become a popular party town but it is also enjoyable for families.
Arena of Pula
This ancient structure was built in the first century AD. It is currently one of the six largest Roman amphitheaters still standing in the entire world. Nowadays, you can visit this famous structure and listen to live music events that occasionally happen here.
It is an amazing experience listening to your favorite performers in this ambiance. To get a sense of what it is like to go to a concert here, watch this live performance of 2 cellos from 2013.
4. Beautiful Beaches
Croatia has some of the best beaches in Europe, ranging from pebbles and rocks to sandy beaches. Its crystal-clear waters are ideal for snorkeling, diving and swimming. Because of the calm waters and secluded areas, families love staying in Croatia in the summer months.
If you are staying on the islands, you can find hidden coves and small empty beaches even during the summer months. One of my favorite places to go for a swim is Krk Island because you can always find a perfect scenic beach away from everyone. The town of Njivice is especially peaceful with a long coast protected by scented pine trees.
Sakarun Beach
The beach of Sakarun, which is on the island of Dugi Otok, has joined the exclusive group of Europe's most beautiful beaches. It boasts crystal-clear seas and fine white sand, which is rather uncommon in Croatia. Wildlife and fragrant pines surround this stunning beach.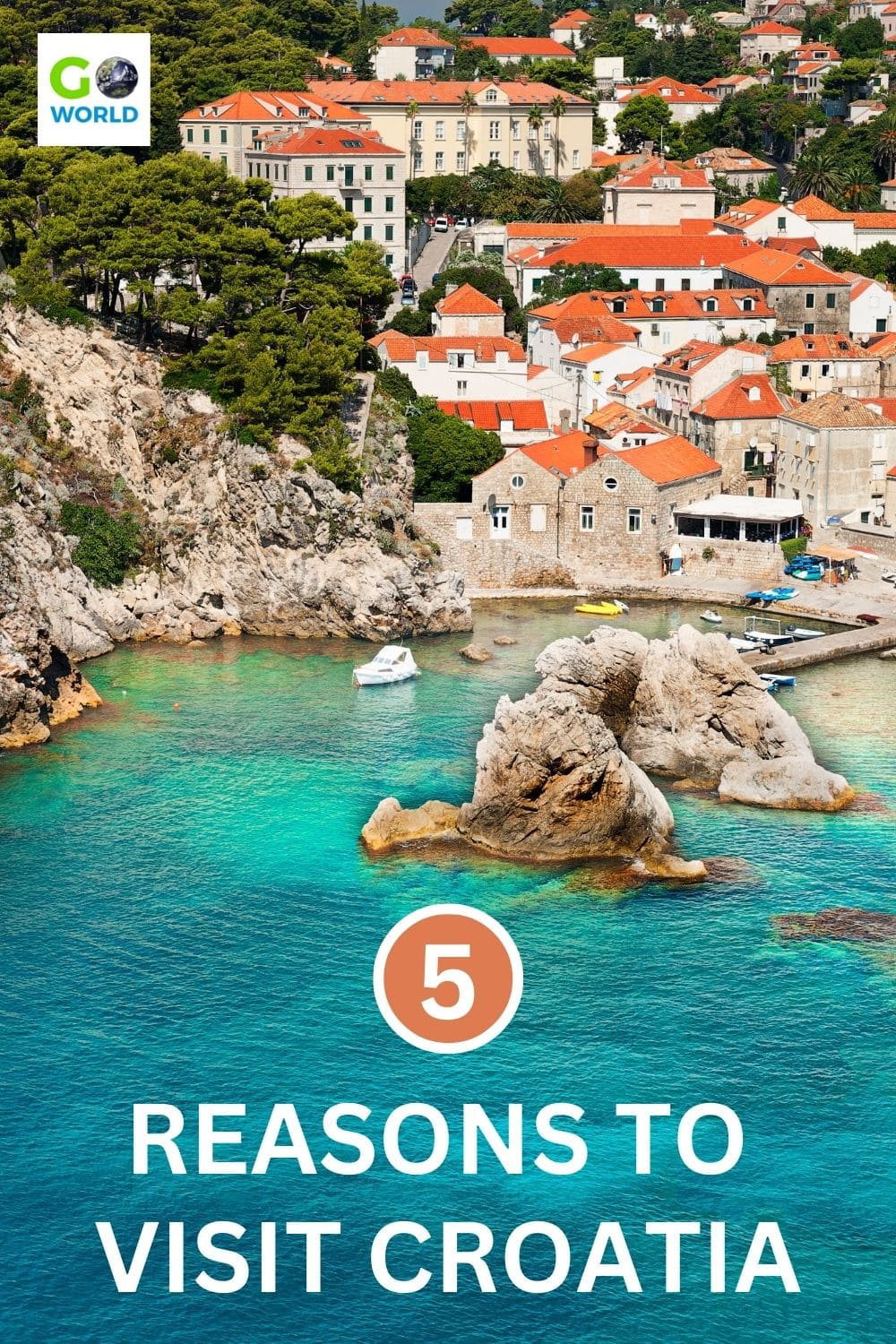 Banje Beach
Banje is a popular beach in Dubrovnik where you can sunbathe, swim, rent jet skis and kayaks and enjoy amazing views of Dubrovnik's city walls. The beach is pebbled and has sun beds you can rent. Many restaurants and cafes are right on the beach so you can stay here the entire day.
Zlatni Rat Beach
This beach is so picturesque and unique that it has become a favorite European beach in recent years. You will likely have seen it on many postcards from Croatia. It is located on the island of Brač and you can stay in a resort on the beach or drive here from other parts of the island as a day trip.
5. Fantastic Cities
Croatian cities are less explored than beaches and islands, but many of them offer incredible attractions. You can immerse yourself in history and culture, but they are also the perfect starting point for fabulous food and wine tour in the country.
Zagreb
The capital city of Croatia is an ideal starting point for the exploration of continental Croatia. From here, you can go on day trips to the Zagorje or Slavonia regions and you can visit Slovenia, Istria, or the coast. Zagreb is a business hub and foodie paradise where you can visit some of the best restaurants in the country.
What I love most about Zagreb is that you can walk anywhere or you can rent bikes and go to city parks like Maksimir or Lake Jarun. My favorite activity when showing someone the city is to go to the Upper Town for the best panoramic views and to take them to see the Meštrović atelier and Klovićevi Dvori museum, before going for a walk at Zrinjevac Park and having coffee at Quahwa roastery.
Zadar
Zadar is often overlooked because of its more famous neighboring towns like Split and Dubrovnik, but this city is incredible to see. The entire old town looks like an open-air museum where you can walk through narrow streets that were built millennia ago.
It is also home to one of the most unique art installations in the world; the Sea Organ. I have sat by the Sea Organ and listened to the music that the sea makes for over an hour. You likely will too if you visit Zadar because it is a magnetic and wonderful experience.
Rovinj
This Istrian town stands out from the entire peninsula for its beauty and Italian architecture. This city is one of the closest to Italy which is why it is influenced by Italian culture, best seen in food and wine options.
Istria is famous for its truffles, risotto and olive oil, along with some of the best wines in Croatia. It is also one of the most expensive cities in Croatia, along with Dubrovnik and Split, so it might shock you to see some of the prices compared to Zagreb. However, the experience of extraordinary cuisine is worth it.
Dubrovnik
Not only is it a world-famous city for historical sites, but it is also a very compelling destination for foodies. If you visit Pelješac you can immerse yourself in the best wines from Pelješac wineries, fresh oysters and island hopping.
This is a place that receives the most tourists in Croatia, including cruise ship passengers, which makes it very crowded in summer. If you can, try visiting Dubrovnik during winter when there are no tourists, so you truly experience the city and its surroundings. They have a distinctive cuisine, wine and the best boat tours in the country.
Author Bio: Danijela Horvat is a travel writer with a passion for discovering new destinations. With a background in journalism and photography, she is trying to translate her own experience into articles.