Split, Croatia represents a perfect mix of ancient history and modern life. This beautiful Mediterranean city is home to ancient Roman buildings and the impressive UNESCO-protected Diocletian's Palace. Because of its ancient architecture, Split was a filming location for Game of Thrones.
Set in Dalmatia, a region on the Adriatic coastline, Split is the second-largest city in Croatia, after the capital Zagreb. Dramatic coastal mountains together with the turquoise waters of the Adriatic Sea create a charming setting. Marjan Forest Park and Marjan Hill further contribute to that impression.
Overlooking Split, Marjan Hill is a recreational zone with walking paths and stunning lookouts. Nearby Split, you can explore the most beautiful Adriatic islands, such as Hvar and Brac. Split also has several sandy and pebble beaches, like Bacvice and Trstenik.
Stroll along with the city's promenade close to the sea, known as Riva. Sit with friends in one of the many cafes and enjoy a glass of wine at sunset.
Split is easily accessible from larger European cities such as Frankfurt, Rome, and Amsterdam and can be your base for touring other attractions in Croatia like Dubrovnik or Plitvice Lakes National Park.
Here are 10 things to do in Split, Croatia that will make your trip memorable.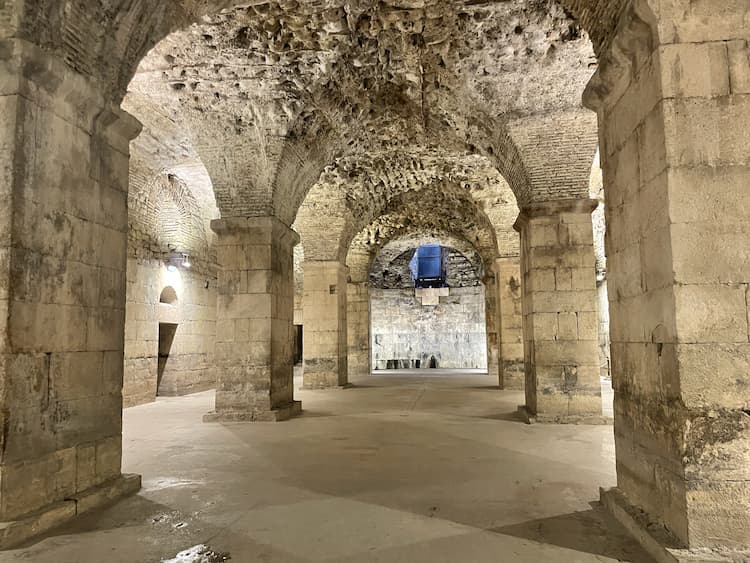 1. Visit Diocletian's Palace
Diocletian's Palace is the most prominent landmark of Split. The Palace was built by the Roman Emperor Diocletian in the 4th century as his residence, in a lovely place on the coast. With 3 meters wide walls and 16 towers, the Palace was a fortification that provided security to the emperor.
The Palace has two main streets, Cardo and Decumanus, and a beautiful Peristyle square. Palace also has four gates – Iron, Bronze, Silver, and Golden Gate, which is the biggest and the most well-known because there is now a statue of Grgur Ninski, made by famous sculptor Ivan Mestrovic.
The most significant buildings in the Palace's complex are the Cathedral of Saint Domnius and the Temple of Jupiter.
Diocletian's Palace was also used as scenography for filming movies and series, including the Game of Thrones and scenes with Daenerys and the city of Meereen.
The old town of Split with Diocletian's Palace was declared a UNESCO World Heritage Site in 1979, thanks to its significant historical importance.
2. Explore Split's Best Beaches
Bacvice beach is the most crowded and the main city beach. That sandy beach features clean, shallow waters almost 100 meters from the coast. There you can also find many cafes and clubs.
The beach Kastelet is 20 minutes from the city center, situated near the Mestrovic Gallery. It is formed from pebbles, with many cafes, and is mainly visited by youth. Loud music is, therefore, a typical whole day long.
Kasjuni and Bene are the beaches located below Marjan Hill. These are great spots to take a rest after a walking tour on the hill. Bene Beach has a lot of facilities such as a children's playground, tennis courts, toilets, showers, and rescue services.
Overlooked by pine trees, there is also a lot of shade and fresh air, so this beach is an excellent choice for those looking for a quiet place to relax.
3. Stay at the Heritage Hotel Santa Lucia in the Heart of Old Town Split
Heritage Hotel Santa Lucia is located on the most beautiful Split Square Pjaca, in the old town. It's distinctive because it's located in a historic 250-year-old building. During the hotel's renovation, professionals preserved authentic architectural details and ambiance, so today, the hotel Santa Lucia has 35 lovely rooms.
It also features delicious food, so you can enjoy top Pag cheese, Dalmatian specialties, and seafood at the hotel restaurant. You can drink morning coffee on the sunny La Luce terrace, overlooking the streets of the Old Town.
If you want to visit local cultural and historical sights or nearby islands, the hotel staff can organize a day tour for you and your family or friends. The hotel is just a short walk from Green Market, Peristyle Square, and Croatian National Theater.
4. Visit the Cathedral of Saint Domnius
The Cathedral of St. Domnius (Katedrala Svetog Duje) is situated in the former mausoleum of the Roman Emperor Diocletian. It was built in the 4th Century, so the Cathedral of Saint Domnius is considered to be the oldest in the world.
Cathedral treasury contains relics of St. Domnius, sacral artworks, and books from medieval times like the Book of Gospels and Historia Salonitana.
The bell tower of the Cathedral was built in the 13th Century, and it's 57 meters tall. You can climb the top of the bell tower to have a stunning view of Split Old town.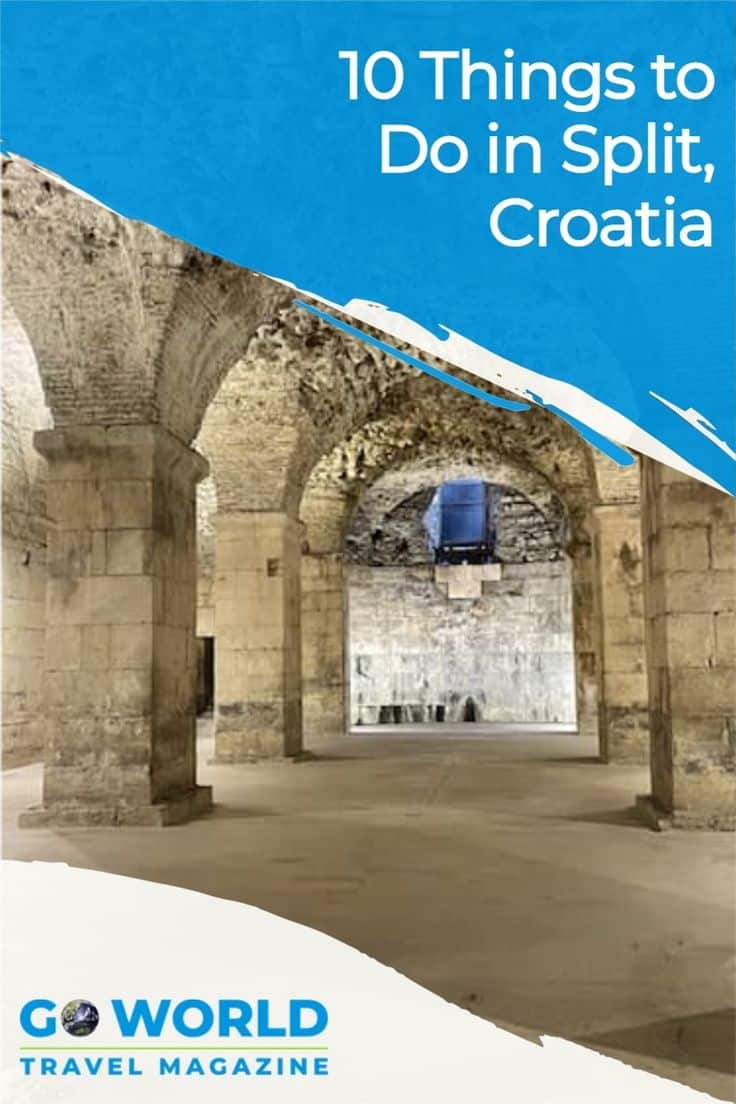 5. Visit the Ancient Salona Ruins
Did you know that Roman emperor Diocletian was born in Salona? That ancient city is located just 20 minutes from Split and is known as the capital of the Roman province Dalmatia.
Salona was a large city with 60,000 inhabitants in the Roman era, so it may take several hours to explore the ruins inside the city walls and other roman objects.
You can see the remains of an old amphitheater, which once received from 15,000 to 18,000 visitors. There are also ruins of an ancient thermal bath, forum, and aqueduct. While you are there, we recommend visiting Manastirine Necropolis as well as Tusculum Museum, which has a lovely garden.
6. Enjoy the Most Beautiful View of Dalmatia's Beauties
Klis Fortress is situated 12 km north of Split, on the hill above Klis village. During the past 2,000 years, that stronghold was ruled by Illyrians, Romans, Croatian dukes, Turks, Venetians, and Austrians. The fortress mostly served to defend Dalmatia from the Ottoman Empire.
Despite the great significance for Dalmatians, the Klis Fortress is not such a popular attraction, so you can explore it slowly, without expecting to run into big crowds. Klis fortress has lookouts with the best views of Split, the Adriatic Sea, and islands.
Like other attractive locations in Dalmatia, the Klis Fortress was part of the scenery for the TV show Game of Thrones.
7. Hike Marjan Hill for Outstanding Viewpoints of Split, Croatia
Marjan Park Forest is the green oasis of Split. That hill is covered by pine forests and surrounded by the Adriatic Sea. It is well known recreational area with several phenomenal lookouts, known as "vidilica". It will mesmerize you with a panoramic view of Split, surrounding islands, and mountains.
At the foot of Marjan Hill, you can find two beautiful beaches. The city Zoo, tennis courts, and walking trails are also situated there.
We recommend visiting Mestrovic Gallery, dedicated to the famous sculptor Ivan Mestrovic. The remarkable gallery is located on the south side of Marjan Hill.
8. Explore the Medieval Town of Trogir near Split, Croatia
Trogir is an island connected to the mainland by bridges. It is located just 30 km away from Split and 5 km from Split airport.
Thanks to its medieval Venetian architecture, Trogir was a filming location for one of the most popular TV shows. You can go on a Game of Thrones Tour to see places where the scenes of the city of Qarth were filming.
In Trogir, you can see many stone buildings from the 15th century, like the stunning Cathedral of Saint Lawrence. For incredible panoramic views of the city, you can climb to the viewing gallery at the top of the bell tower and enjoy the view.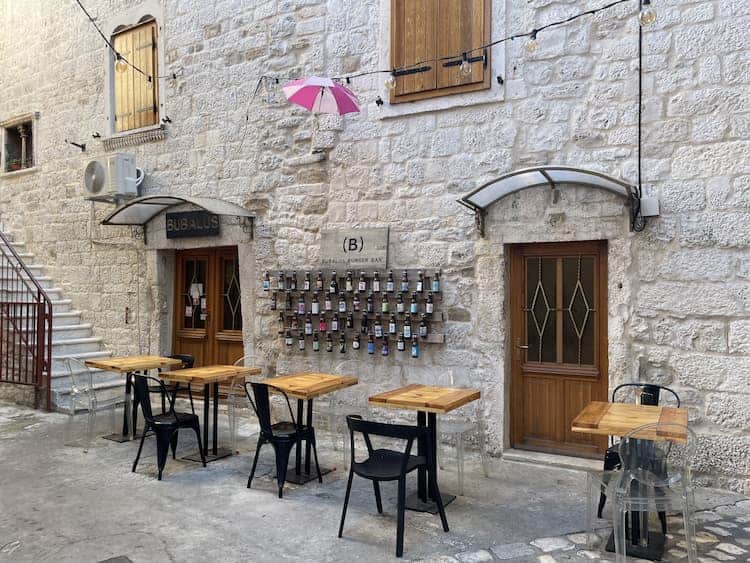 9. Enjoy Sightseeing at Krka Waterfalls
A perfect getaway just one hour from Split, Croatia awaits you. During an awesome day trip from Split to the Krka National Park, you can see 16 lovely waterfalls.
Skradinski Buk waterfall is the best known of them. It is a great Instagram hotspot and a place where visitors are permitted to swim in the crystal clear waters of the Krka river and refresh on a hot summer day.
For a complete experience, you can go on a panoramic boat cruise or educational walking tour through the Krka National Park. You can also try some wine tasting in the pretty town of Primosten or stroll the medieval fortresses in Sibenik.
10. Discover Adriatic Sea Pearls by Boat
The Dalmatian Coast is impressive, with beautiful small towns and many nearby islands. The best way to discover that natural beauty is to rent a yacht or boat and visit breathtaking islands Brac, Hvar, Vis, and the amazing Blue Cave on Bisevo Island. That can be a full-day adventure.
If you love watersports, you can take sailing and sea kayaking tours and explore the most incredible areas on Dalmatian Coast. Guides will bring all the necessary gear for sea kayaking and snorkeling.
If you want an adventure for a group of 10 people, you can also find comfortable catamarans for rent in Split with a professional skipper.
If You Go to Croatia
When is the best time to visit Split?

Split is beautiful year-round, but the best time to visit is in the spring or fall. Many travelers visit Split in the summer, but the crowds thin in spring and fall. The weather is lovely in the spring and fall.
Where to Eat in Split, Croatia

Split has many excellent restaurants and cafes. The region is known for its fresh seafood, excellent local wines and Mediterranean cuisine. Two of our favorites are Bokeria Kitchen & Wine Bar, which offers outstanding Mediterranean and Dalmatian cuisines along with an impressive wine selection, and ZOI, which offers a fantastic view and ambiance alongside the 1700-year-old walls of Diocletian's Palace.
SplitCard

Look for the city's SplitCard for visitors at one of the Split Tourism information centers, TIC Peristil, TIC Riva and TIC Stobreč. The SplitCard offers free museum admissions to discounts at some of the city's best restaurants, shops and service providers.
You can receive a free SplitCard from April to the end of September. If you are staying in Split for at least five nights, and in the winter from October to the end of March if you are staying in Split for two nights or more.
Explore more of our content about Croatia and the Adriatic Coast:
Book This Trip to Split, Croatia
Ready to plan your Croatian adventure to Split? Start preparing with insider tips on how to get around, hotel and VRBO accommodations, local restaurant recommendations and more through TripAdvisor and Travelocity.
Book more unique activities in Croatia, skip-the-line tickets and expert-led tours through GetYourGuide. Find more information and book your dates in advance here.
Author Bio: Based in Serbia in Europe, Marija Stojanovic Petkovski worked as a journalist but realized writing about the most beautiful places in the world is something that inspires her. She is sure that a pint of good craft beer perfectly accompanies a tasty home-made lasagne. In her spare time, she enjoys playing with her children and spending time outdoors with her family.