For idyllic deep blue water, exquisite seafood and a thriving Old Town encased by Roman Walls, Zadar is a perfect destination on your European tour. It provides an opportunity to explore an underrated region of an often-overlooked country – Croatia.
Zadar is the fifth-largest city by size with a population of just over 75,000. It has a troubled history spanning from World War II to the 1991 war for independence. The city is keen to shift any negative perception from its past and celebrate its beautiful region and people.
Furthermore, the city is often ignored for more popular destinations in the south such as Split, Hvar and Dubrovnik. However, these are cities overrun by tourists yearly during the high season of May to August.
So, why not escape the crowds and stop by Croatia's oldest inhabited settlement and grab a slice of this authentic, unspoiled city instead?
Wander Zadar's narrow cobblestone streets before mingling with the locals on the boardwalk as you watch one of Europe's most beautiful sunsets.
Where is Zadar?
Zadar is on the Adriatic Sea north of Split, Croatia's capital. Its primary district is its Old Town which is virtually surrounded by water, connected to the mainland of Croatia to the south and a bridge to the east (Gradski most).
Zadar's history can be traced to the 9th century BC. Due to its geography, the city was once an important trading port in Old Europe, connecting east and west Europe.
Remnants of the Yugoslav civil war are evident throughout Zadar such as bullet holes in building walls. These act as stark reminders of the area's suffering.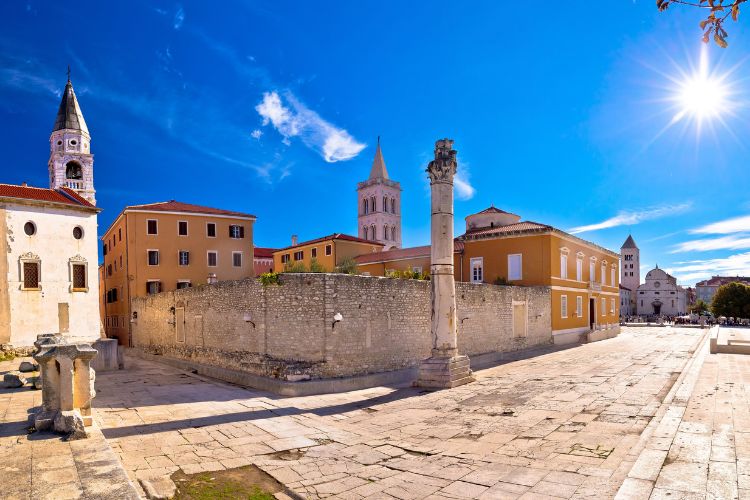 Where to Stay in Zadar
For the best experience, stay within the walls of the Old Town where all sights and attractions will be on your doorstep.
There are plenty of hotels and apartments on offer, but a top choice is Hotel Bastion – a chic 4-star hotel just a short walk to Zadar's beautiful boardwalk.
Traveling to Zadar
Car: There's plenty of parking directly outside of the walls on Liburnska Obala, as well as by Kopnena Vrata (the main entrance to the city). Your accommodation will be able to help with private parking too.
Plane: Zadar Airport (ZAD) is small and serves European routes only. However, if you're flying in or out of Croatia, ZAD could be useful. Airport buses and taxis are your only means into the city and take 15-20 minutes.
Coach: Coaches and buses arrive (and depart) across Europe into the main bus station east of Old Town.
Cruise: Cruise liners regularly dock directly into the Old Town port.
Boat: An alternative is to arrive by boat from Ancona in Italy, dropping you directly into the Old Town.
Getting Around in Zadar
Zadar's Old Town is completely walkable due to its small size. Plus, little-to-no automobiles driving around make it extremely pedestrian-friendly.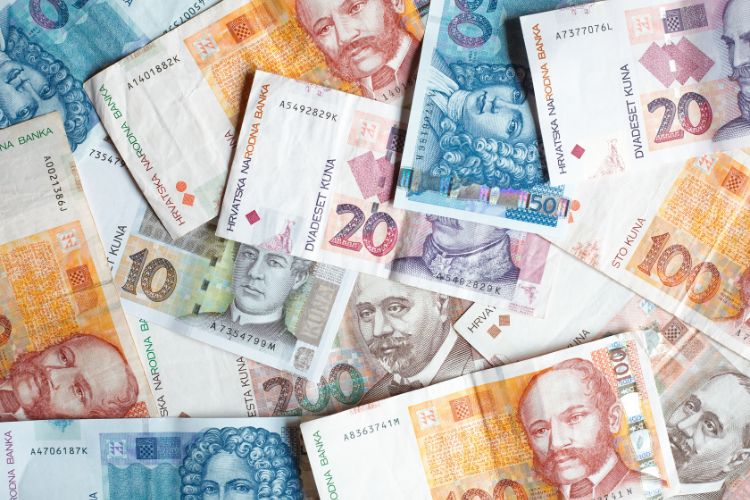 Currency in Croatia
Currently, Zadar uses the Croatian Krona (HRK). Approximately, 10 HRK converts to £1.11 / $1.42 / €1.32. However, in 2023 they will be changing to the Euro.
Top Things to Do in Zadar
Stroll the Boardwalk at Sunset
Zadar's boardwalk is a magical stroll, especially prior to sunset. As you walk towards the tip of the boardwalk to the west, you'll notice the deep, low, natural hum of the Sea Organ. The sound is created by the water pushing air through carefully designed whistles on the floor.
Next, enjoy the spectacle of one of Europe's most magical sunsets alongside the locals. The sun slowly disappears over the Dalmatian Islands and the sky turns into spectacular hues of purple and orange.
As day transforms to night the "Greeting to the Sun", a 22m wide solar panel, lights up majestically after soaking the day's Croatian sunshine and becomes an exceptional, interactive dance floor.
Climb the Bell Tower
After navigating Zadar's cobblestone streets, climb the 13th-century cathedral Bell Tower for unrivaled views over the city and Dalmatian Islands beyond. The climb will take only 5-10 minutes with multiple opportunities to rest.
Visit Fort Saint Michel
Catch the 20-minute ferry to Uglijan Island and walk the small tracks of sleepy Preko before ascending to Fort Saint Michael. This 6th-century fort is perched precariously on the highest point of the island.
The views over the Adriatic Sea are scintillating. Its blue water sparkles in the sunshine and the lush green islands take your breath away.
Safety Tips: Firstly, avoid this walk in the harsh heat as the hike lasts 1.5-2.5 hours at a medium-level difficulty. It is possible to rent a car on the island so you may wish to do that and drive to the top.
Secondly, take precautions walking around the fort. Beyond the narrow walls (which you can walk on) are sharp cliff drops and there are no rails.
Where to Eat in Zadar
Compared to more popular cities in Croatia, Zadar is extremely affordable. Its cuisine is heavily influenced by its neighboring Italy and therefore has a strong coffee and pastry culture. It's a beautiful city to relax in the morning and soak in the early morning sun.
Breakfast
Pjaceta Bar: Wonderful coffee overlooking Zadar's colourful local market.
Kavana Sv. Lovre: Delicious pastries and coffee set among 11th-century churches in Zadar's main plaza of Narodni Trg.
Lunch
Krostula Bakery: Offers a selection of homemade sandwiches and pastries.
Zadar Market: An authentic local market with a dazzling display of colourful fruit and vegetables. A perfect place to buy items for a picnic on the boardwalk.
Dinner
Tri Bunara: A pizzeria with a cute terrace on a cobblestone street. The pizzas are high-quality and freshly made.
Kaštel: The most popular fine-dining restaurant in Zadar offering contemporary takes on classic Croatian dishes. Book in advance.
4 Cantuna: A chic restaurant on a pretty side street serving excellent Italian and Croatian food.
Drinks and Dessert
Zlatni Kutić: Often voted as the best bar in Zadar with a wide range of cocktails and beer for excellent value for money.
Tequila Sunrise: Set by Punta Bajlo south of Old Town has sweeping views of the crystal blue Adriatic Sea.
Slasticarna: The number one ice cream parlour in the city.
If You Go
www.zadar.travel | www.twopassports.co.uk/zadar
Author Bio: Joshua is a freelance travel writer based in London who focuses on European cities as well as UK destinations. He is one-half of Two Passports, a travel blog he runs with his partner Sasha, aiming to show travelers and wanderlusters how they can make the most of their annual leave without breaking the bank, whilst equally not feeling the pressure of the budget.