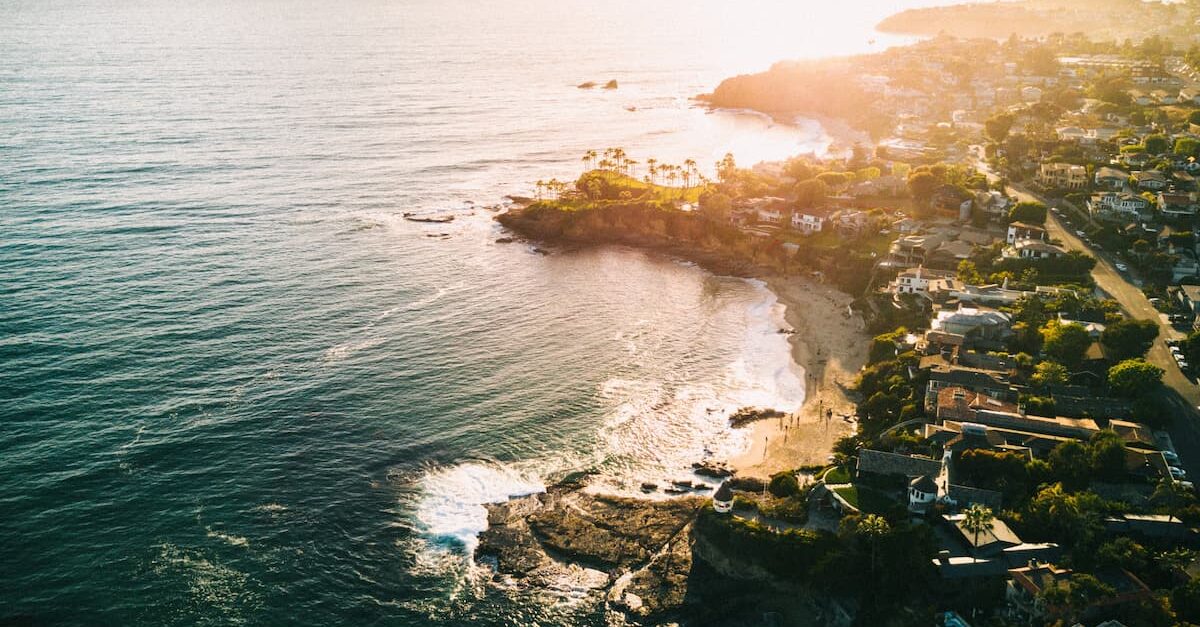 So what do you do when the temperature drops and you can't bare the thought of another day in your apartment, cooped up with blankets, hot beverages and Netflix? You run away from the cold by packing your bags and heading South to sunny California!
If you love running as much as we do and are looking for an escape from this crazy winter, we've got great news for you. Southern California is home to some of the most beautiful places where you can go jogging, walk or run outdoors without fearing a snowstorm or freezing temperatures.
In fact, these destinations are also perfect if you want to take some time off from work stress and live a more relaxed life during these stressful times.
Go Jogging and Enjoy the Sun at Santa Monica Beach
If you want to get away from the cold and relax in a beautiful sunny environment while also getting some exercise, you should visit Santa Monica Beach. This is a very popular place in Los Angeles, CA, where you can go jogging, walking, running, or biking along the beautiful beach.
The views here are absolutely stunning—you'll have a wide-open view of the ocean with beautiful blue skies and a wide sandy beach to walk or run on. This is one of the most famous beaches in Southern California and you'll find lots of locals here enjoying the stunning sunset views.
There are also plenty of restaurants and cafes located close to the beach, where you can grab a bite to eat after you finish your run.
Best Tips & Tools to Plan Your Trip
Hike in the Natural Beauty of Temescal Canyon
Temescal Canyon is a beautiful hiking trail located near Santa Monica, CA. This trail is the perfect place to escape the winter and enjoy the great outdoors while getting some good exercise at the same time. This is a great trail for runners, walkers, or hikers of all skill levels and you'll find lots of locals coming here on the weekends.
The trail up to the summit is about 1.5 miles one way, so make sure you wear your sneakers and hydrate before you head out. You'll get a great view of the surrounding natural landscape, so it's definitely worth the walk.
The trail is mostly shaded, but you can also find a few open spots. So make sure you wear sunscreen and bring a hat for sun protection. After your hike, you can grab a bite to eat at one of the many restaurants that are located near the trail or stay at a nearby hotel.
Find Your Zen Along Hermosa Beach
If you love the beach, then Hermosa Beach is worth visiting in Los Angeles, CA. This beach is a popular destination for locals, especially joggers. You can run along the beach and then walk through the pier to get a great view of the ocean.
When you visit Hermosa Beach, make sure you wear proper running shoes and bring water with you. The beach trail is quite sandy, so you'll need proper shoes for better traction. The beach can get quite busy during the weekends, so you might want to visit during the week when it's a bit quieter.
Run, Walk or Jog in the Weed-Free Path of Venice Beach
If you love running along the beach, then you'll love running at Venice Beach in Los Angeles, CA. This beach is one of the most popular destinations in Southern California, especially for fitness enthusiasts.
You can go running, jogging or walking along the wide path that's free of weeds. The path is very wide, so you won't have to worry about getting in other people's way while running. You'll find lots of runners and walkers here and you can enjoy a beautiful view of the beach while you jog or walk.
There are plenty of places to grab a bite to eat or grab drinks after your run, so you can enjoy the beach without the hassle of carrying anything with you.
Escape to Long Beach and Explore Its Beautiful Shoreline
If you're looking for a place to run away from the cold and experience beautiful Southern California, then Long Beach is a great destination for you. This city is located about 45 minutes from Los Angeles.
Long Beach is one of the best places in Southern California to escape the cold because it is not as touristy as other destinations. The temperatures are usually a few degrees colder than Los Angeles, so you can expect to wear a jacket while running here. You can either start your run from the beach or from the hotels along the shoreline.
Long Beach offers stunning views with the pier, ocean, boats, and sunny skies.
See Marine Life at Orange County's Crystal Cove Sanctuary
You can visit Orange County's Crystal Cove Sanctuary for a different and unique experience. This is a great scenic natural environment with a wide variety of marine life. Be sure to wear sun protection. The terrain can be a bit rocky so be sure to wear comfortable, sturdy shoes.
Explore Offshore Islands by Boat from Marina Del Rey
If you're visiting Southern California during the winter and want to go to an island, but feel too cold to visit Hawaii, you can explore one of the offshore islands by boat from Marina Del Rey.
There are a few islands you can visit from Marina Del Rey. You can either take a boat directly to the island or visit nearby places like Hermosa Beach or Malibu Beach. These islands offer stunning views and a great escape from the winter.
You can visit these islands any time of the year, but you should check the tide schedule to avoid getting stuck on the island when it's too high.
Take a breather at Griffith Park with stunning views
If you want to take a break from running and enjoy stunning views at the same time, you should visit Griffith Park in Los Angeles, CA.
The hiking trails at Griffith Park offer stunning views of the city. This park is very popular with joggers and walkers, so you'll probably see lots of people on the trail during the weekdays.
At the heart of it is Griffith Observatory. It is available to be toured by the public. This is a great option if you are in the company of aspiring scientists.
Inspire your next adventure with our articles below:
Author Bio: Sandy Page is a life-long adventurer. In her free time, she reads and consumes copious amounts of hot beverages.
Latest posts by Go World Travel Magazine
(see all)