If I had to pick the best of the U.S.A.'s national parks to visit, I'd choose Yellowstone National Park, for the variety of terrain and abundance of wildlife. However, if I was asked to select the most beautiful national park in the USA I'd give that prize to Utah's Bryce Canyon National Park.
The awesome horseshoe-shaped amphitheater, the majestic red rock spires, pillars and domes, plus the plethora of eye-popping hoodoos make this a park like no other.
The Mesmerizing Effect of Bryce Canyon
I remember visiting this stunning park many years ago, when my children were young, and being "blown away" by its beauty. We spent a lot of our time just gazing in awe from the various lookouts and enjoying walks on some of the shorter footpaths.
Recently, I was given the opportunity to return and spend one day in Bryce Canyon National Park, Utah. I found that it still has that spellbinding effect on me. It's a mesmerizing, beautiful destination and I'd certainly recommend that you experience it for yourself.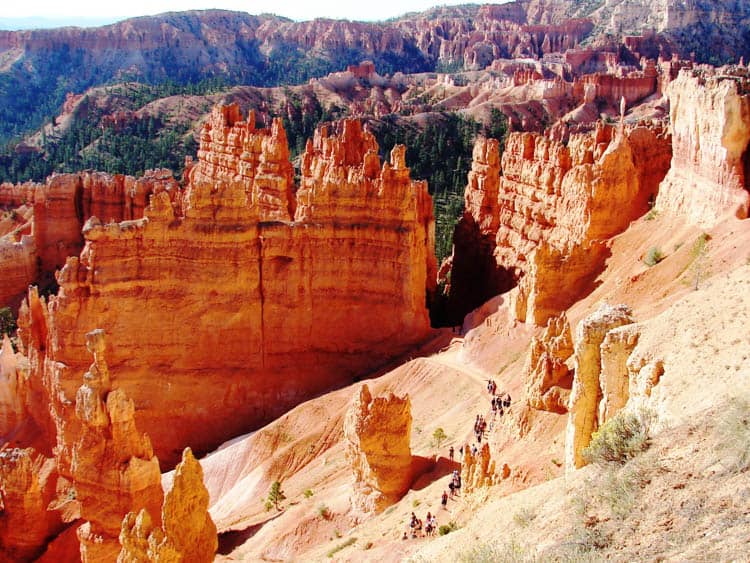 The Grand Staircase
Bryce Canyon is part of what's known as "The Grand Staircase", the world's most complete sequence of sedimentary rocks that have been formed over millions of years.
From Grand Canyon at the bottom of the staircase, through Zion National Park in the middle and up to Bryce Canyon National Park as the top step.  It's part of quite a history and geology lesson.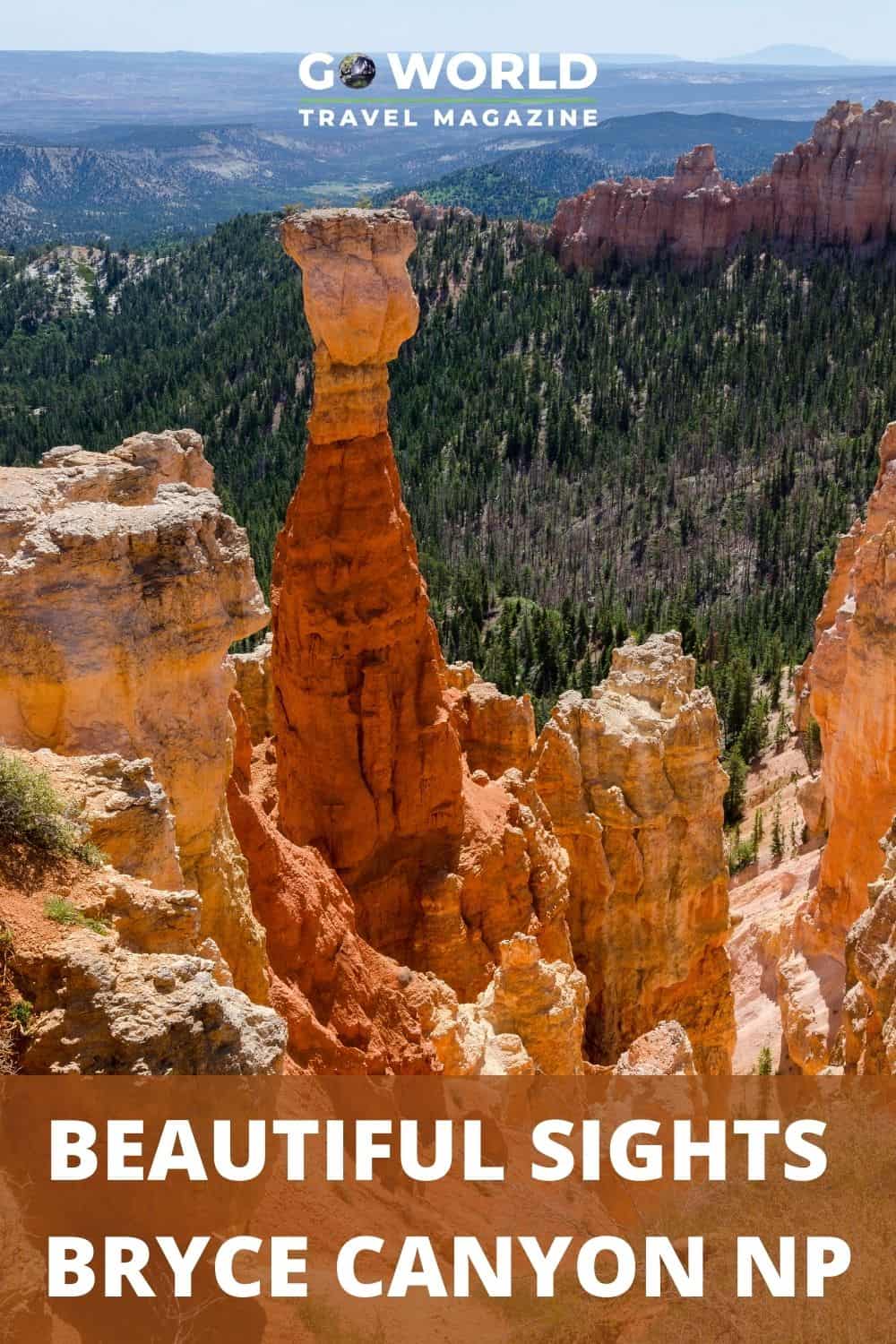 Bryce Canyon Visitor Center
As you arrive at the park, be sure to stop at the Visitor Center. Here you'll find information, maps and any needed backcountry permits. Bryce Canyon National Park offers over 65 miles of hiking trails for your very own "up close and personal" views of the hoodoos.
Plus, the park's high elevation and relative remoteness make it a great place for stargazing at night. There is even a "Night Sky Program". It's also a wonderful location for avid photographers to record a spectacular sunrise or sunset!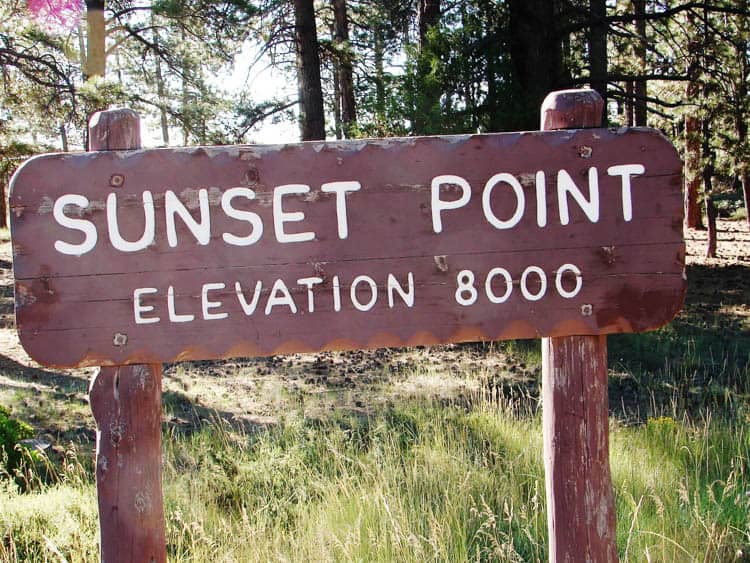 Bryce Canyon National Park Lookouts and Hiking Trails
Many of the best lookout points are located near the park entrance. Be sure to check out Sunrise Point, Sunset Point and Inspiration Point even if you don't have time to drive the entire park road.
If you only have one day in Bryce Canyon and you're only going to hike one trail, I'd suggest doing Sunset Point's Navajo Loop Trail. This 1.4-mile trail will take you from the rim to the floor and back.
Expect some steep sections, without guardrails, and several switchbacks. Also, be wary of falling rocks and loose pebbles along the footpath. 
This trail will probably take you about 1.5 hours to complete. Remember that once you arrive on the floor of the canyon you then have to make the steep ascent back up. And it can get very hot so it's important to carry enough water.
The Navajo Loop Trail took me past some incredible hoodoo formations, including Wall Street, Twin Bridges and Thor's Window.  If time permits, I'd recommend adding the Queen's Garden Trail to this hike. These combined hiking trails will give you one of the best 3-mile hikes found anywhere.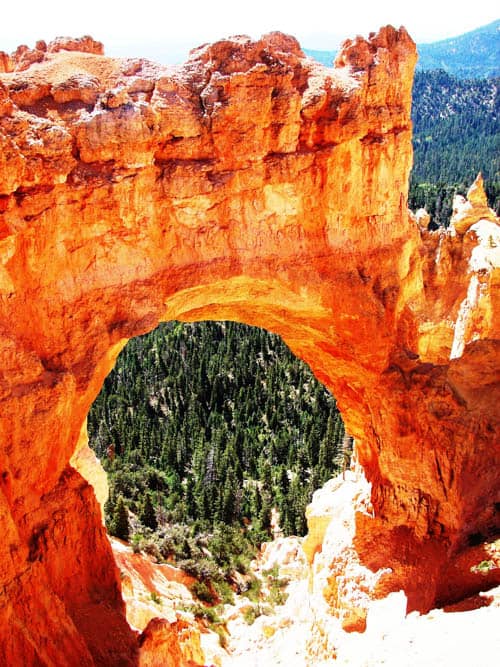 Driving Through Bryce Canyon National Park
I then drove further into the park on its 18-mile-long paved road. On the drive through Bryce Canyon, I was able to enjoy some other spectacular viewpoints including Farview Point, Agua Canyon, Ponderosa Canyon, Rainbow Point, and Yovimpa Point.
Along the way is a Natural Bridge which I found fascinating. I had to take several photos of this sandstone structure. If I had more than one day in Bryce Canyon I would have departed from this main road to check out Fairyland Point, Paria View and Bryce Point.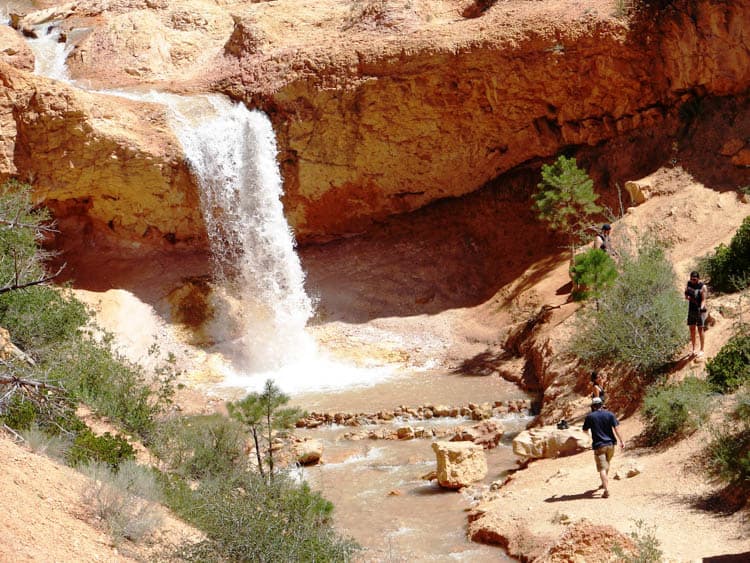 Don't Miss Mossy Cave
Before leaving this area to drive to my next destination, I discovered another worthwhile stop located just outside the park entrance (on route #12).
The stop was the Mossy Cave Trail. The trail itself is within Bryce Canyon National Park but limited parking is outside the entrance.
I took the left fork of this trail up to a shelter cave that's filled with moss. Mossy Cave is a grotto that has been created by an underground spring. Apparently, in the winter, this grotto would be adorned with gigantic icicles.
After Mossy Cave I proceeded up the right fork of the trail and arrived at a beautiful little waterfall. Indeed, this short trail is a worthwhile addition to the park visit.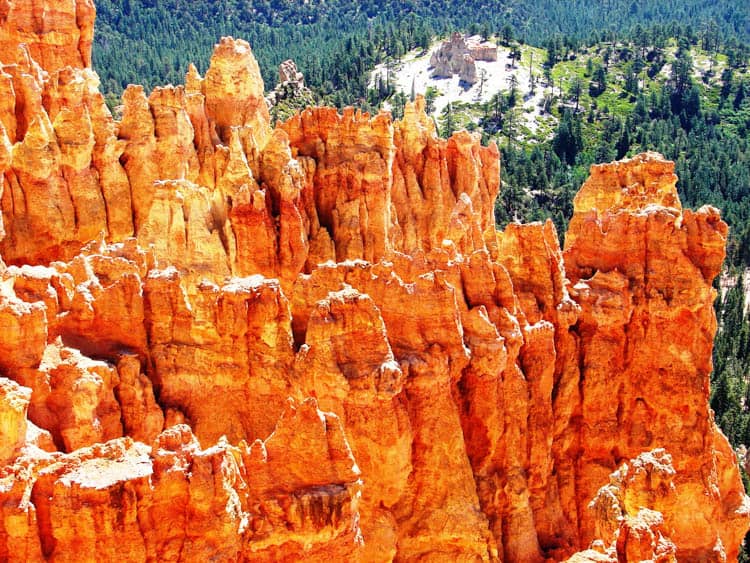 Overnight at Bryce Canyon Resort
That night I stayed just outside the park at the Bryce Canyon Resort where I also enjoyed an outdoor dinner and concert.  It was at this event that I realized this national park attracts visitors from all over the world.
On this particular night, there were not only Americans, but also Canadians, Israelis, Germans, Dutch, and Japanese. The language of nature's beauty is universal.
Book This Trip:
Plan your adventure through the colorful canyons of Bryce Canyon National Park today. Find the best seasonal flight promotions through CheapOair and a reliable car rental for a fair price through SIXT. For accommodations near the park, you can find the best deals available here.
Be sure to book some fun activities in Bryce Canyon with GetYourGuide. Check out their expert-led tours, horse-back riding adventures, ATV rides and more here.
For More Information:
Author's Bio: John is a freelance travel writer and photographer who enjoys travelling the world and writing about his adventures. He has written weekly travel features for a group of community newspapers, presented several travelogues, and is the author of two major cycling books: "Cycling Canada" and "Cycling the USA"