One of the best ways to enjoy Scotland's unbeatable scenery is off the beaten track. There are lots of reasons why you should consider Scotland for some of your mountain bike trips. 
Mountain biking in Scotland is world-class and includes a network of paths and trails, fantastic purpose-built trail centers, an outstanding natural environment, and some of the most progressive access rights in the world.
You might think mountain biking is just for experts, but it's an outdoor experience anyone can try.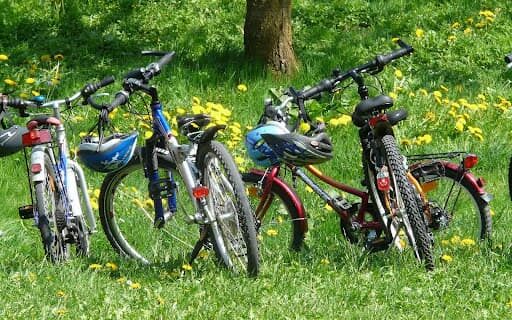 Why Mountain Bike in Scotland?
There are plenty of reasons why you should head to Scotland for a mountain biking adventure.
It's great fun: You'll get a chance to relive your childhood, mucking about in the woods, getting covered in mud, and soaking wet.
It's good for your well-being: Mountain biking is a great way to keep fit for all the family. The uphills get your heart pumping and the speedy downhills leave you grinning from ear to ear with the endorphin rush.
You get to explore off the beaten track: Whether you explore one of Scotland's trail centers or head further afield, you'll get to immerse yourself in Scotland's scenery.
Scottish Outdoor Access Code
The Land Reform (Scotland) Act 2003 has established a right of access to most land and inland water in Scotland. Access rights derived from the Act extend to a wide range of activities, including mountain biking. However, the Act is very clear in that a person only has access rights if they are exercised responsibly.
The three key principles of the Code are:
Take responsibility for your own actions
Respect the interests of other people
Care for the environment
Getting Started
Let's walk you through what you need to do to get started.
Step 1: Get a Bike
If you're not sure what bike to buy, there's the option of hiring one. Hire bikes are well-maintained, sanitized after every use, and top quality. They allow you to get the most from your ride. If you think you might struggle on some of the hills, some outlets offer e-bike hire as well.
You can head out on a standard bike, but mountain bikes are built for purpose. They tend to be made using strong, light aluminum, have robust wheels, and wider tyres. In addition, the gears help with the uphills, front and rear suspension smooth out the bumps, and disc brakes provide extra control and stopping power.
Step 2: Use the Right Kit
There are some essential bits of kit you shouldn't eave home without:
Helmet: A good, well-fitting helmet is essential. If you're hiring a bike, you should be able to hire a helmet with it.
Gloves: Gloves are a smart investment as they will keep your hands warm, provide a better grip, and protect your palms when you fall.
Glasses: Cycling glasses, goggles, or sunglasses will protect your eyes from any trail debris.
Rucksack: Some essentials you'll need to carry in a rucksack include a bike pump, spare inner tire tubes, snacks, and a water bottle.
Clothing: Choose loose synthetic clothing as it dries much quicker if it gets wet. Don't forget to pack a waterproof jacket.
Step 3: Hone Your Skills
Start your mountain biking journey by joining some more experienced friends on a short ride. However, if you want to get the most out of your first few rides, sign up for a mountain biking skills course. An expert coach will offer advice on refining techniques and help build your confidence.
Step 4: Ride Responsibly and be Nice
When you're out on the trails, stay safe, be sensible, and be courteous to others. There is a mountain biking community, and it expects all riders to be nice to other users, give way, and respect the environment.
Where to Ride
The weather in Scotland can be a bit hit and miss, but the best trail centers in the following list can be enjoyed all year round, and in all conditions.
Kirroughtree: It's hard to pronounce and reach, but once you get there you'll experience rocky and rooty singletracks hidden between the pine trees. It is also home to one of the longest black-graded loops in Scotland called Black Craig.
Glenlivet: It might be better known for its whisky, but there are some hidden gems for mountain bikers. There are two fantastic trail loops that provide stunning views of the surrounding area.
Laggan Wolftrax: Located in Inverness-shire, this location is billed as offering "mountain bike trails with bite." It is most famous for its intense and rocky black trail which includes a formidable slab called Ayres Rock.
Comrie Croft: This Perthshire location has won many awards for its trails and unique on-site accommodations. The network of trails is small at only 12 miles long, but they range from technical, rocky, and rooty to some of the best flowing, berm-filled trails in Scotland.
Glentress – The Tweed Valley: This is the busiest trail centers in the UK, and has more than 300,000 visitors per year. The center offers an extensive network of bike trails, covering every grade, with over 55 miles of sign-posted singletrack loops alone.
Whatever you plan, try not to cram it all into one trip. See less and explore more. Take the time to stop and enjoy the scenery. Scotland's not going anywhere, so you can always come back again another time.
Book This Trip
Ready to plan your biking adventure through Scotland? Start preparing with insider tips on the best bike stops, hotel and VRBO accommodations, local restaurant reviews and more through TripAdvisor and Travelocity.
Book even more fun along your route by booking some side activities, expert-led tours and skip-the-line tickets for the best attractions in Scotland. Find more information and book your dates in advance here.
Your new favorite walking and biking shoes are a pair of all-weather sneakers from Allbirds. Check out their selection of best-selling sneakers here.
For the best flight deals, train tickets and other ground transportation options to get you to where you want to bike, visit OMIO Travel Partner.
Read more adventure travel articles here:
Author Bio: Dawn Cowles