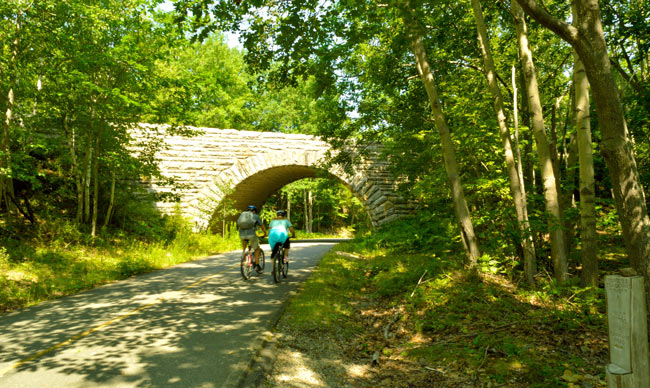 Maine's rugged Atlantic coast, experienced on a bicycle, is a sensory joy like no other. During our July weeklong cycling journey, we breathed in the fragrances of wild roses, ripe berries, salt air and freshly cut hay. We heard the cawing of seagulls, waves crashing, melodious songbirds, and breezes rustling the leafy trees and tall grasses.
We saw maritime landscapes calling Andrew Wyeth's watercolors to mind, endless stands of tiger lilies, wild blueberry bushes, twinkling fireflies in grassy pastures, friendly alpacas and heirloom cattle, and tasted seafood so fresh and succulent it was almost a shame to wash them it down with the superb craft beers we sampled everywhere.
This state has been honored as the second most Bike-Friendly by the League of American Bicyclists – and the state website gives plenty of free information and maps on how to navigate and plan. Bike touring in Maine is a fantastic way to see coastal Maine.
Biking Tour in Maine
Starting our adventure in Portland, we were traveling with Beer and Bike Tours, a Fort Collins, Colorado-based tour operator. The director and owner, Bob Williams, escorted us and planned our itinerary. He likes to say, "Beer and bikes are two of the greatest things mankind has ever invented." His itineraries reflect that passion for good beer. Designed for like-minded enthusiasts, his tours include craft brewery stops along the way, and each day's cycling ends with a celebratory beer.
After checking in at the B&B, we cycled off to taste some craft beers at Rising Tide Brewery downtown, where we were charmed by a friendly Australian Shepherd sidling up to the bar next to his owner.
Sniffing the refreshing salt air drifting in from the harbor, we biked a few blocks away for the full tour at Shipyard Brewing Company, founded in 1994. Here we first heard the New England accent we'd come to regard fondly along the journey. "Come along in heah, deah," the tour guide beckoned.
The Morrill Mansion is well-situated near Portland's downtown section, walking distance from Congress Street. This B&B features sophisticated interiors, blissfully free of the fussy doilies and cutesy touches that plague so many others. The varied and delicious breakfast buffet is a blessing to cyclists and others who crave a full, hearty meal.
The Maine 8-day, 200 or so mile tour ended in Bar Harbor, with evenings spent in cozy B&Bs and small inns. Beer and Bike Tours provides directions, information on local brewpubs, arranges nightly accommodations and transports guests to and from airports.  Williams marked turns on the route, writing "BEER" and arrows in white chalk on the road (probably prompting some to look for non-existent parties!)
"We don't like to plan too much on our tours," says Williams. "We like to let things evolve, so our tours are not totally structured, more freeform. The base tour is the idea, but they all become semi-custom." Williams accompanied our small group, transporting our luggage each morning to the next accommodation, meeting up with us later at a brewpub, ice creamery, or just for a portion of the ride.
On our first full day, we left Portland on the Back Cove Trail, a beautiful loop around Portland's Back Cove with great views of the Portland skyline, and rode about 29 miles to the small city of Brunswick, home to Bowdoin College and considered the "gateway" to Maine's midcoastal region, which was settled in the mid 1600's and 1700's.
Continued on next page