My pockets were filled with over 1,500 calories worth of candy and energy bars, and I prayed that my four water bottles would last the day. The desert sun warmed my black cycling shorts, but my legs were burning for a different reason.
It was the second of three days spent cycling 250 miles (402 km) through the mountains and national parks surrounding Moab. The winding route up the snow-capped La Sal Mountains climbed over 4,000 feet (1,219 m). On the climb we passed other cyclists pedaling so slowly it's surprising they hadn't toppled over, their shoes still clipped to the pedals.
With its slick rock, unbeatable scenery and immense variety of nearby trails, Moab has long been hailed as a fat-tire Mecca. On this trip, though, there would be no trails or slippery sandstone.
I, along with nine teammates from one of my local cycling teams, would keep our skinny tires on the road and our jersey pockets crammed with as much extra food and clothes as they could hold. In this high-desert landscape of natural arches and wide, water-carved canyons, we wouldn't find many corner stores or re-stocking points.
Because of this, we chose to set up base camp in the 7,320-acre (29.6 square km) Sand Flats Recreation Area, just southeast of downtown Moab. With water so difficult to find, even in the region's major campgrounds (such as Sand Flats) and national parks, it pays to be close to the gas stations and bike shops that offer free drinking water. From this high-desert plateau, we'd head out on a different route each day and return to our temporary home at the recreation area.
I unfolded my aluminum tent poles in the shadow of huge horizontal slabs of Navajo Sandstone. Piled like a sloppy stack of pancakes, the formations would provide some shelter from the sweeping northwest winds. But that wouldn't stop the red desert sand from invading my tent and camouflaging everything in it.
As we pitched tents and unpacked the kitchen, the faint whir of faraway engines slowly grew to a roar. Our campground neighbors arrived in enormous, dual-rear-wheel trucks, towing trailers loaded with all-terrain vehicles.
Unlike some neighboring states, Utah doesn't strongly regulate the use of off-highway vehicles, and Sand Flats is a popular stomping ground for off-roaders. Utah's standard of mixed-use public lands has brewed an ongoing storm among environmentalists, ATV users, mountain bikers, archeologists, ranchers and camping enthusiasts. But over the next few days, we'd be far too tired to lose sleep over growling dirt bikes and drunken neighbors.
Morning arrived, and we were off. Heading from Moab north on state Highway 191 toward Canyonlands National Park, we pedaled along the bike path, which looked beautiful from the highway. Once it wove away from the main road, however, the smooth cement path turned to cracked and crumbing asphalt.
The obstacle course of large potholes, loose gravel and stretches of sand turned 8 miles (13 km) into a 45-minute affair, and caused an astonishing tally of four flats. (Except for the first few miles from Moab, the path does not suit skinny tires.)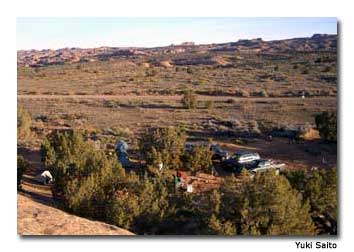 Flats repaired and leaving the bike path behind, we climbed gently toward Canyonlands National Park. The faster riders began to take off, and the group strung out as the road steepened. We regrouped with a late lunch break at the end of the main climb, about five miles (8 k) from the Island in the Sky entrance.
Sitting in the shade of our support van (one of the guys who wasn't riding that day had agreed to meet us with lunch), we munched on sandwiches, cookies and fruit, all washed down with sports drinks.
Wind swept across the wide-open plateau and the sun shone hot from a cloudless sky. Back on our bikes, the much-needed food and water added quickness to my pedal stroke. Finally, we passed the sign that marked the boundary of Canyonlands National Park, 527 square miles (1,365 km) of rugged canyons carved by the Green and Colorado rivers.
Only a few piñon pines hung on to the dry soil, shaggy bark drooping from their stout trunks. We rolled along the park roads through wide-open grasslands. The few cars that passed us moved slowly; I felt happy that so many tourists ignore Canyonlands in favor of the big-name parks nearby: Arches, Zion, Bryce, Capitol Reef and Grand Canyon.
At our turnaround, Grandview Point, a vast web of canyons spread before us. The depth of field was immense, and striped canyon walls, evidence of many layers of sedimentary rock, towered in nearly every direction. Far below, mountain bikers navigated the White Rim Trail. Millions of years of wind and water had cut this landscape, and erosion and deposition continue to change it today.
We were exactly 50 miles from our Sand Flats campsite, and I couldn't have dreamt of a better century ride.
With the sun beginning to sink, I realized just how much time we'd lost during the morning's slow-downs. All but three of us — Antonio, Robert and I — had turned around earlier, afraid to return in the dark, but I didn't intend to miss Canyonlands.
The downhill cruise back to Moab turned into a race against daylight. We cranked hard on the park's rollers and mashed the pedals down on each short uphill section. For the remaining 32 miles (51 k) from the visitor's center to downtown Moab, I put my front tire inches from Robert's rear wheel. His draft pulled me down the hills, and we were happy to take it easy.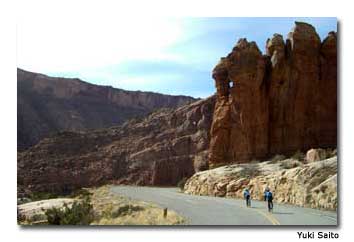 Back on 191, traffic became heavy, and I was thankful that at least one of us had blinking lights. I hugged the edge of the road with each thunderous approach of an 18-wheeler. The headwind would stop, we'd ride for a brief moment in each semi's draft, and by barely extending an arm, I could pat the trucks farewell. The last few miles of our 100-mile (161 km) day was a steep uphill, followed by a dark dirt road.
We trained our eyes and followed the dark spots — oil drippings from cars — along the center of the unpaved road. For the most part, it kept us out of the loose sand. The smell of campfire smoke told me we were close. The cheers of a few friends who'd seen the flashing red taillight of my bike told me we were there.
Dismounting my bike and waddling around the campsite with soreness, I struggled with priorities. Cookies? Or dry clothes? Remembering the stash of fig bars in my bag, I ducked into my tent and did a little multitasking, munching appetizers as I took a backpacker's bath with wet wipes, then cozied up in fleece pants and a down vest.
Since I'd done dish duty that morning and the previous night I had no duties, and sat next to the campfire, downing a big bowl of chili. The black sky soon filled with a dizzying pattern of stars, and not once did I wish for fat tires.
If You Go
Late fall and early spring, when the temperature is less intense, are great times to visit Moab.
Sand Flats Recreation Area
www.discovermoab.com
While Moab is recognized for mountain biking, the town doesn't shun road biking. The annual Moab Century Tour, October 5-7, 2007, hails roadies with a variety of road rides, live music and a vendor expo. Both it and the spring Skinny Tire Festival (March 1–March 4, 2008) benefit the Lance Armstrong Foundation.
Moab Century Tour/Skinny Tire Festival
www.skinnytirefestival.com
Moab Area Travel Council
www.discovermoab.com