On our Denver-to-Albuquerque road trip, we discover historic Los Poblanos, a charming retreat-like setting on 25 acres of lavender fields, organic farms, old-growth Cottonwood trees and formal gardens in the North Valley. This rural gem is quiet, beautiful and magical.
History of Los Poblanos
Originally inhabited by Ancestral Puebloans in the 14th century, the land was developed by philanthropists Albert and Ruth Simms in the 1930s. They bred Holstein cattle and cultivated various experimental crops. They hired famous Santa Fe architect John Gaw Meem to remodel the ranch house and to design La Quinta, a cultural center on the ranch that became the Simms' venue for cultural and political activity.
After their deaths, new owners Armin and Penny Rembe and family bought the property in 1997 and converted the ranch house into a boutique inn. The Rembes are committed to perpetuating its agricultural history through sustainable practices; preserving the art and architecture; and using the cultural center to host meetings, parties and cultural events. The land is bountiful with organic produce and lavender. 
Pomegranates and Peacocks at Los Poblanos
As we stroll the property lush with foliage, we spy a bright blue bird hiding under a bush. It's a peacock! We later discover this little note on our bedside table. I never knew that about peacocks. 
We also find red pomegranates as big as grapefruits hanging from trees like Christmas ornaments. And a cute little cat hangs out on the patio of our suite—just like grandma's farm. 
Rooms at Los Poblanos
The Inn at Los Poblanos features 50 guest rooms and suites in classic Santa Fe farmhouse style. Our Farm suite has clean lines, wood floor, original artwork and a wood-burning fireplace.
The four-poster king bed is super comfy, and there's a little patio outside the door. 
The roomy bathroom sparkles with white tile. There's a large soaking tub and separate shower. Lavender bathroom toiletries are handcrafted on the farm and also sold in a lovely gift shop with other farm-produced products.
A small pantry bridges the living room and bedroom. We find coffee and fixings and a fridge for our beer and wine.
Other amenities include free Wifi, free parking, New York Times, cruiser bikes, fitness center and salt-water pool.
Dining at Los Poblanos
The restaurant, Campo (it's Spanish for field), is what you'd expect at an organic farm—simplicity with elegance. As I look out onto the fields from our table, I know I am getting the freshest field-to-fork food possible. Not only does it come directly from this farm, but other local organic farms and ranches as well. They call it Rio Grande Valley Cuisine. Campo serves dinner Wednesday through Sunday by reservation and breakfast every day. Bar Campo is open 4-9 daily.
We arrive for dinner at sunset. With all the lavender fields, I have to try Lavender Chicken Breast with winter squash and greens. So full of flavor!
For breakfast, homemade granola, fruit, yogurt or milk and coffee/tea is included in the room rate. Or you can order off an extensive menu. I choose Blue Corn Pancakes, a New Mexican tradition. Honey for my tea is made from honeybees on the farm. You can get any fresher than that!
La Quinta at Los Poblanos
For any kind of meeting or event, large or small, historic La Quinta—built in Meem's Territorial Revival style—is the perfect venue. While staff scurries around preparing for a wedding, we pop in, reverently, to check out the art and rooms that make up La Quinta.
The foyer is an example of the Old World New Mexican style that carries throughout the building.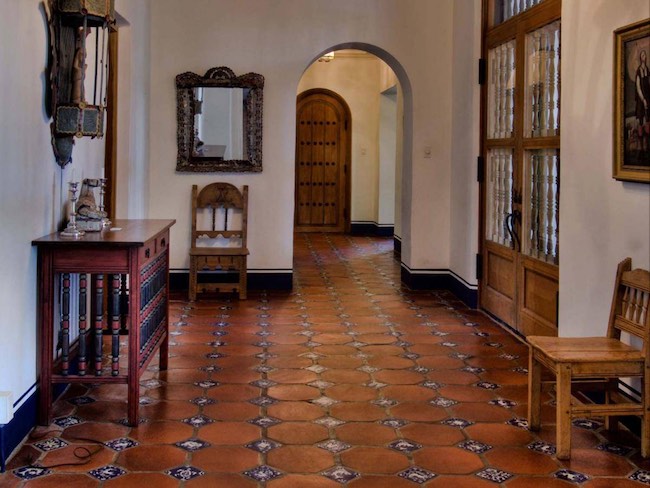 This photo shows the pool in the courtyard that was the first swimming pool in Albuquerque back in the day. This is not the salt-water pool for guests.
Los Poblanos Historic Inn and Organic Farm, 4803 Rio Grande Blvd NW, Los Ranchos De Albuquerque, NM 87107; 505-344-9297; lospoblanos.com
What To Do in Albuquerque
Albuquerque has been named the Hot-Air Ballooning Capital of the World due to its International Balloon Fiesta held every October. There's even a Balloon Museum and lots of hot-air-balloon companies to give you rides. I did a it in 2012, floating high spectacularly above the Rio Grande River on a cloudless morning.
Another way to see the landscape is by aerial tram up to the 10,378-foot peak of the Sandia Mountains. You can see 11,000 square miles. It's truly a stunning sight, especially at night.
To get a flavor of Old New Mexico, you must visit historic Old Town, an authentic village dating back to 1706. Yes, it's touristy but nonetheless a must-see. Visit any of the museums on Hispanic and Native American cultures; also go deeper an visit a pueblo; many are in Northern New Mexico.
Back on the Road
At the end of our visit, we hop into our loaned Chevy Traverse SUV bound for a few days in Santa Fe before the long drive back to Denver. After all the goodies we collect along the way, I am so glad to have the huge amount of cargo space in the car to put it all in! And the smooth ride and comfort features like leather bucket seats with lumbar supports makes the trip much less exhausting than it might have been. We rely a lot on the GPS screen to navigate the back roads of New Mexico.
Claudia Carbone is an award-winning travel writer based in Denver. Read about other hotels she's visited in Sleepin' Around.