Have you ever embarked on a museum tour, visiting several prominent museums that are near each other? Discovering so many hidden gems and treasures can be fascinating.
Don't Miss These Top Museum Tours in Europe
When European museums are mentioned, most people immediately think about the Spanish Prado Museum in Madrid, the French Louvre, the British Museums in London, or the phenomenal museums in Rome and Florence.
Although all these museums are outstanding, they are quite large, so it wouldn't be fair if you would just rush through them, hurrying to get to your next location. They should be left for a separate adventure.  
However, in Central Europe, there are several countries at relatively short distances, with good transport connections. That significantly helps if you are on a museum hunt or exploring other cultural and historical sites in the area.
We want to show you extraordinary national galleries, and unique exhibitions that you will not see anywhere else.
Get ready for a journey where you can see famous art pieces, top cars, an underground museum, and proof that childhood dreams come true if you endure in your desire to create the largest museum of miniatures in the world.
Well, let's go.
1. Learn More About Slovak History by Visiting the Museum of History (Bratislava, Slovakia)
The Slovak National Museum has 18 museums, of which the Museum of History stands out with its grand location and excellent collections dating from the Middle Ages to the present.
This history museum is in the baroque castle of Bratislava, on a hill above the city and it consists of several units, including The Witness of the Past, The Castle Gallery, Music Hall, and others. You can see a huge collection of numismatics, medieval furniture, paintings, drawings, and ceramic objects.
Take a walking tour and climb the narrow stairs to the Crown tower. From an almost 50-meters-high tower, you can enjoy an extraordinary view of Bratislava and the river Danube. You can also take a break from exploring art and have a drink in the café next door.
You can visit the Bratislava Museum of History from 10 am to 6 pm, with an entrance fee of 10 euros.
2. Discover How Glass Magic is Created in the Moser Museum (Karlovy Vary, Czech Republic)
Have you had the opportunity to watch in person how glass objects are made? If you haven't, you'll be thrilled by the unique experience provided by the glassworks tour at the Moser Glass Museum.
The museum is in the famous spa resort of Karlovy Vary, only 2 hours away from Prague, the Czech capital. They have been engaged in manual glass production for 160 years! You can see more than 1,000 exhibits, such as wine and champagne glasses, vases, bowls, and many other items.
Documentary films and audio guides are also included in the presentation. However, watching the process of hand-making glass objects is a special experience. Glassmakers can also show you the techniques, materials, and tools they use to create these original works of art made of glass.
You can visit the Moser Glass Museum on weekdays from 9 am to 2 pm, and the ticket costs 12 euros per person.
Find a full-day tour of Karlovy Vary here.
3. Taste the Excellent Wines in Old Wine House (Maribor, Slovenia)
Did you know that the oldest vine in the world is grown in Maribor? "Stara trta" celebrated the region of Styria in the world of winemaking, so the Old Wine House is an important stay on the wine route of Central Europe.
This medieval house is in the old town, next to the river Drava. Today, it houses a museum dedicated to wine production. With guided wine tours, you can learn more about viticulture in Slovenia, try local wines, and buy a bottle of wine or handmade chocolate pralines.
Every June, an important wine festival is held in Maribor, so that is the time of year when it is best to visit. The working hours of the Old Wine House are from 10 am to 6 pm, and guided tours cost around 15 euro for a group of several people.
Take a tour of Maribor, Ptuj and the heart of the vineyards here.
4. A Reminder of the Horrific Crimes in the House of Terror (Budapest, Hungary)
Behind the Renaissance facade of a building on the beautiful Andrassy Avenue in Budapest, the terrible consequences of the Nazi and Communist regimes during the 1940s and 1950s are hidden.
The former seat of the secret police, since it was turned into a museum in 2002, has been visited by about 300,000 a year.
Inside this building, you can see shocking scenes, photos of the victims, rooms where the Jewish and numerous political dissidents were beaten and tortured. Their clothes and personal belongings are a strong reminder of the dark period of Hungarian history.
You can visit the House of Terror Museum in Budapest every day except Mondays, from 10 am to 6 pm. The ticket costs about 8 euros per person.
Book a guided tour of the House of Terror here.
5. Experience Amazing Natural Phenomena at the Technorama Science Center (Winterthur, Switzerland)
The Swiss Science Center Technorama provides endless opportunities to learn about science in a fun way. It is in the north of Switzerland, in the city of Winterthur, near Zurich.
Technorama is a popular place for school excursions, not only from Switzerland but also from other European countries. You can enjoy hundreds of experiments, natural phenomena, and outside park areas. The best of all is that exhibits are available in several languages.
In addition to the museum, there are two escape rooms, a restaurant, and seminar rooms. The working hours of the museum are every day from 10 am to 5 pm.
We recommend that you arrive as early as possible so that you have enough time to explore all that Technorama has to offer. The ticket costs 30 euros for adults and 20 euros for children over 6 years.
Tour the city of Zurich by ferry, cable car and coach to see all that you can here.
6. Admire the Beautiful Art Collections (Vienna, Austria)
One of the most important art museums in the world is located in the magnificent Renaissance palace in Vienna. The Kunsthistorisches Museum, or the Museum of Art History in English, features exceptional collections of paintings. You can admire works of art by great Italian painters such as Raphael, Titian, and Caravaggio.
We also recommend seeing the Egyptian and Near Eastern Collection, as well as the collection of Greek and Roman Antiquities. You can visit this art gallery every day from 10 am to 6 pm, with a ticket that costs 16 euros per person.
Since you are already in Vienna, across the park is another great selection from the museum tours in Europe worth visiting. It is a Natural History Museum, housed in a 19th-century building. Entrance to this museum costs only 12 euros per person.
Reserve your tickets for the Kunsthistorisches Museum ahead here.
7. Best Works of Contemporary Art Housed in a Unique Building (Graz, Austria)
Graz is a university center and the city where the famous actor Arnold Schwarzenegger grew up. Due to the historic core of the city, Graz has been declared a UNESCO World Heritage Site.
From the multitude of similar buildings, a futuristic building in the shape of a blue bubble stands out. That is where the Kunsthaus – Graz Art Museum is located. Its facade is used to display animations and films, and inside there are galleries where you can see works of modern art.
This museum does not have a permanent exhibition, so every time you come to Graz, you will be greeted by a new show. The working hours of the museum are from 10 am to 6 pm, and the ticket price is 10 euro per person.
If you have time, visit the baroque castle Schloss Eggenberg from the 17th Century. It is not far from Kunsthaus, and you can also enjoy a rich work of art collection.
See the most interesting sights in Graz on the Old Town Highlights Private Walking Tour. Book this tour here.
8. Miniature World – Great Fun for the Whole Family (Hamburg, Germany)
The world of imagination, as we all imagined as kids, really exists! Miniatur Wunderland is the largest model railroad in the world, and it is located in Hamburg.
It has 1,300 trains, thousands of vehicles, human figurines, and lights. Every 15 minutes, the automatic lighting control system turns the light on and off, simulating day and night. Fantastic!
You can see trains passing through replicas of Hamburg, Venice, Las Vegas, the Austrian Alps, then landscapes in Switzerland, Italy, France, the USA, and Scandinavia. Airplane enthusiasts will be delighted by the replica of Hamburg Airport.
One million visitors a year prove that the Miniatur Wunderland is one of the biggest attractions in all of Germany and one of the most exciting museum tours in Europe. The working hours of this museum are from 9.30 am to 6 pm, and the ticket price is 20 euros for adults and 12 euros for kids.
Note: Although Hamburg Airport is well connected by air with other countries, the airport in Berlin is also close. From Berlin, you can reach Hamburg by train in just 2 hours.
As this is a very popular attraction, you'll want to get your priority entrance tickets ahead of time here.
9. Visit the Sweetest Museum in the World (Cologne, Germany)
I know, it's not easy to resist a chocolate fountain, with 200 kilograms of liquid chocolate. When you stand next to the fountain, you will probably think "Mmm …". But refrain, people and museum staff will be watching you.
The sweetest of the top museum tours in Europe. The Chocolate Museum in Cologne's Old Town is visited by 600,000 people a year. You can see an exhibition that shows the whole way from harvesting cocoa to making the most beautiful sweets. 
You can learn more about the process of chocolate production, try delicious chocolate specialties in Chocolat Grand Cafe and buy freshly made chocolate souvenirs to remind you of this wonderful place and one of the best museums in Germany.
The working hours of the chocolate museum are from 10 am to 6 pm, and the ticket price is 12 euros for adults and 7 euros for children.
Grab your ticket to the Chocolate Museum in advance here.
10. Heaven for Car Lovers (Stuttgart, Germany)
The German car industry is highly valued in the world of motoring. Among the popular brands, Mercedes-Benz and Porsche stand out. Both companies are based in Stuttgart, so, naturally, their museums are located there.
On the nine floors of the modern Mercedes-Benz Museum, you can see some of the oldest cars in the world. You can learn more about the history of the company and the development of top cars.
Within the "Collections" and "Legends room" tours you can see 160 vehicles. The ticket for this museum costs 10 euros, and the working hours are from Tuesday to Sunday from 9 am to 6 pm.
Did you know that more steel was used to build the Porsche Museum than the Eiffel Tower in Paris? The huge car collection contains 100 models, among which are the famous models 911 and 917. The famous sports car manufacturer also has a special program adapted to kids who are visiting the museum.
If you are a Porsche fan, you can buy various souvenirs, car models, and toys in the Porsche Museum Shop. The working hours of the museum are from Tuesday to Sunday from 9 am to 6 pm, and the ticket price is 10 euro for adults and 5 euro for children.
Have space for shopping and gifts with the modern compact technology of the AWAY expandable carry-on. Check out their selection of top travel bags here.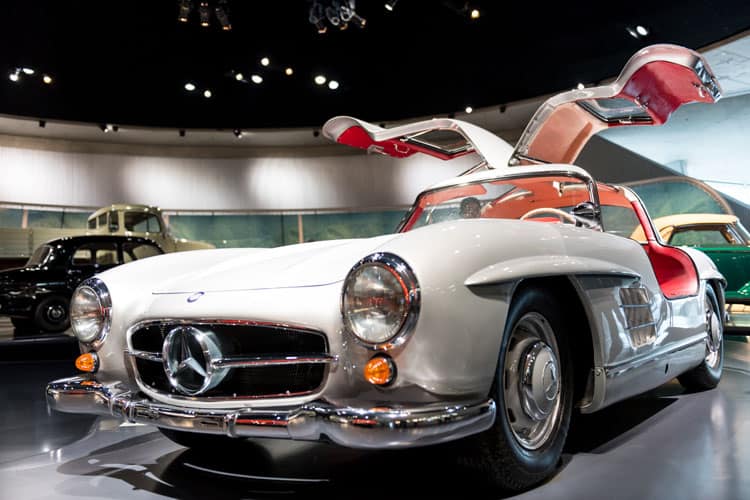 11. Enjoy the Collection of Top Works of Art (Warsaw, Poland)
The National Museum in Warsaw is one of the oldest and largest of the top museum tours in central Europe. It was established in the middle of the 19th century and is home to 800,000 exhibits, including paintings, drawings, sculptures, engravings, and coins. 
In addition to a huge collection of works by Polish painters since the 16th Century, you can also see works by Dutch, French, and other European painters, like Rembrandt and Botticelli.
This museum also exhibits a vast numismatic collection, including works from Roman, Greek, and Egyptian ancient art as well as a large collection of Chinese art.
The National Museum in Warsaw welcomes visitors from Tuesday to Sunday, from 10 am to 6 pm. The ticket price is only 5 euro per person.
See the rest of Warsaw on your own schedule on the on-and-off city tour. Book these tickets here.
12. "Salt" Your Trip to Central Europe (Wieliczka, Poland)
You'll descend 378 wooden steps to a depth of 64 meters. From there, you will embark on a tour of the amazing Wieliczka salt mine, in the eponymous town in southern Poland, near Krakow.
The temperature in the mine is constantly around 15 degrees Celsius. During 700 years of excavation, from the 13th century to the end of the 20th century, the corridors reached a length of over 300 kilometers! A little more than 3 kilometers of tunnels are available for sightseeing.
The main attraction is the beautiful Saint Kinga's Chapel, built in the 19th century. During the two-hour guided tour, you can see numerous sculptures, altars, the Wieliczka mine museum, and even an underground salt lake.
Tickets for this marvelous mine museum cost 20 euros, and visits are from 8.30 am to 5 pm.
Get an expert-guided tour with pick-up from your hotel on this half-day Wieliczka salt mine tour. Reserve this popular tour here.
Travel Resources for the Top Museum Tours in Europe
See all of the best museum tours in Europe or just start in one country by planning a trip to Europe. To prepare for your trip, you'll want to find VRBO or hotel reservations, local restaurant reviews, insider tips on how to get around each country and more through TripAdvisor and Travelocity.
Then, when you are ready to plan your transportation to Europe, visit OMIO Travel Partner for the best plane, train and car rental reservation options.
Make the most out of your trip to Europe with expert-guided tours, unique local activities and skip-the-line tickets to each museum with GetYourGuide. Check out their trusted tour options and book your tickets in advance here.
Protect your adventure from flight cancellations, lost luggage and unexpected sickness at the best rate for your needs with Squaremouth. Check out their single trip coverage and annual travel protection plans here.
Author Bio: Based in Serbia in Europe, Marija Stojanovic Petkovski worked as a journalist but realized writing about the most beautiful places in the world is something that inspires her. She is sure that a pint of good craft beer perfectly accompanies a tasty home-made lasagne. In her spare time, she enjoys playing with her children and spending time outdoors with her family.