"Their resources were limited and their hospitality boundless." Stanley Stewart, In the Empire of Genghis Khan
"Ah, the vast expanse," I would whisper to myself in wonderment roughly every hour with my brow developing a permanent indention against the passenger side window. The lasting imprint, however, would come from what my eyes would stay transfixed on far beyond the glass.
Desolation – seemingly faultless. Hypnotizing. An earth-tone empty canvas not meant to ever be filled. The dry season hills seemed to undulate in the wind like waves. Livestock, herded by motorbike, would occasionally soften the horizon with a distant dome tent as the only logical, yet seemingly illogical, home base.
How does the worry of emergency not seem to exist in this place? How do these people get so much from so little?
While the nights could never be darker, the nomads of Mongolia could not be brighter. This is part of what my wife and I learned on our week-long trip through the national parks of the country's central provinces. Our lives would be forever transformed by these lessons taught to us in one of the least densely populated countries on the planet.
Read More: A Visit to Bhaktapur, Nepal: A Journey of 1,000 Year Begins With a Single Step
The Plan for a Honeymoon in Mongolia
Like many couples that were wed in the era of the coronavirus pandemic, our honeymoon had to take a backseat. "When we can, we'll make it special," we would say. As long-term expats in Japan, we weren't completely without unique and beautiful surroundings.
As years went on with COVID-19 entry requirements only easing at a snail's pace, the idea of choosing a place relaxing and, in inevitable agedness, forgettable began to leave the list. Our attention shifted from the "vacation" subcategory to the "adventure" one, and little-explored Mongolia was right at the top.
Best Tips & Tools to Plan Your Trip
"A honeymoon in Mongolia? Are you sure?" My friends, my family, and my bank
Absolutely. With so few resources to pull from, we thought it would be the perfect place to genuinely explore. Somewhere fascinating that would also take a bit of courage to conquer.
No coronavirus restrictions? Inexpensive? Visa-free? I had to confirm with my bank multiple times that it was truly me buying those tickets, but, after a bit of back and forth… "payment confirmed."
Now Boarding for Ulaanbaatar
A scene I never thought I would see. The view of the Gobi Desert from the plane was staggering. As far as was visible, a seemingly scorched earth continuously rolled out over the horizon like a scroll. The tones of the land were as if they themselves had been buried for millennia and only recently unearthed to display.
Book a 5-Day Mongolian Tour Here
Mongolia's dry season shows no mercy on the country's vegetation and often leaves a spring season of dust and decay. Emerald hills only arrived in the summer. Our early May journey would have us roaming the vernal deserts around the permanent ones. However, the bare beige landscapes would make, for us, a notably unique trip (as if being in Mongolia wasn't eccentric enough).
Having booked a few custom tours and airport pickup with Dream Mongolia Tours, we met our local driver, Tulga, for a nighttime transfer to our hotel. Little did we know that we wouldn't see another light until the capital city, Ulaanbaatar, appeared from the black night. The next morning would have us giggling from our window at the first daylight sightings of our post-communist surroundings.
Exploring the Capital of Mongolia
With a full day free to roam U.B. (what the locals refer to Ulaanbaatar as), we were ready to spend some fresh Tugrik notes and give our UBCab app a try.
We paid tribute to the former Mongol leaders at Sukhbaatar Square in front of the parliament building, perused the numerous floors of the State Department Store to purchase absurdly cheap SIM cards, marveled at the massive Gandan Monastery and its numerous complexes and countless prayer wheels, and eventually found ourselves at the winter palace of the last king of Mongolia, Bogd Khaan.
Then, we found easy yet mildly authentic tastes at a Modern Nomads restaurant in the city. We stopped, for the first time, to recount our adventure thus far. One of our several taxi drivers throughout the day addressed that we were visiting his country in "the wrong season," implying that tourists rarely ever come before the blooming months.
That statement brought a surprising thrill to my being. To dedicate a week of travel in celebration of our union to genuinely experiencing what typically only the locals experience reminded me of the summit I'd been standing on all day. The awareness of where I was and what I was doing was enthralling, and I hadn't even seen the world outside of the city yet.
I could have ridden the wave of just having the opportunity to wander the capital city of Mongolia. What we would experience in the days to come would break down our barriers for every subsequent travel experience.
Read More: A First-Timer's Hike to Mount Everest Base Camp
Into the Wide-Open World
Even from the edge of the capital, the views are otherworldly.
Hills turn to mountains; mountains turn to valleys. Cloud shadows paint the landscape coating it in caramel. The scenery is without edges. Rolling, unspoiled curves. Truly serene.
From this day, our driver was joined by our guide, Dashka. Full of knowledge about his home country, he led us first to the Chinggis Khaan Statue. This largest equestrian statue in the world, to learn about the lineage of the former Mongol empire and its accomplishments. It also provides a particularly mesmerizing view of the surrounding valley from atop the horse's head.
Just north of that stop is the Terelj National Park, there is an open park of valleys, mountains, and forests north of the Tuul River in the Tov province that borders Ulaanbaatar. It's also an ideal area for nomadic families as some areas of the park are still connected to the capital's electrical grid.
Lunch with a Mongolian Family
We had a chance to meet and have lunch with one ourselves. A family of three, a mother, her teen son, and toddler-aged daughter, welcomed us into their ger home – a dome tent insulated with rugs and bedding and held up by an inner skeleton of wooden beams with a central heating stove. This family herded horses and had an exceptional number of riding awards on display.
After our lunch of steaming hot milk tea, dried milk curds, and huushuur (fried meat pies), the boy guided us through their large park property on horseback – leading us through the trees and, laughingly, unimpressed with my riding skills.
They told us of their harsh winter and how it weakened their livestock but were grateful for their semi-permanent seasonal home near the rocky hills. It was difficult not to be tremendously impressed by their resilient and self-sufficient lifestyle in the national park.
We reflected on this at the Aryapala Meditation Temple nearby as we observed prairie dogs scurrying from bush to bush and took in the views of the valley from the steps. Little did we know what would come from our sleeping in the desert, much further from the capital, in the days to come.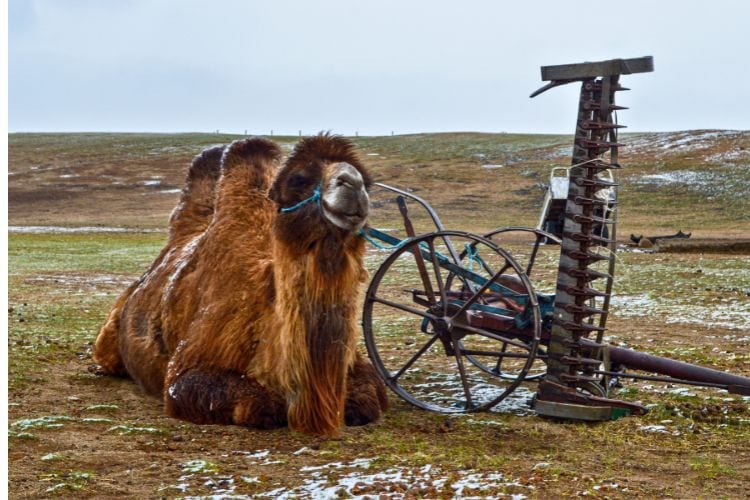 An Incomparable Middle of Nowhere
Leave it to goats to cause a traffic jam with barely any other automobiles on the road.
An early morning commute to the far west in the southern Bulgan province led to numerous inconveniences along the way with livestock impatiently crossing the highway at several points. My wife and I met this with a tourist's level of delight, of course.
After several hours of a westward trajectory, the sudden offroad launch towards the rocky Khogno Khan Mountains began. From here, my wife and I began to feel the potential of being lost and never found again. Thrilling, no doubt, but it was rare for us to be so far from… anything.
Camels, horses, sheep, cattle, and an entire family tree of goats, this nomadic family raised all the meats of Mongolia. They did so all with the hospitality of angels. Welcomed into our own private ger, we were instructed on how to keep the central stove going throughout the night with cow dung and how to string up the tent lamp using a car battery.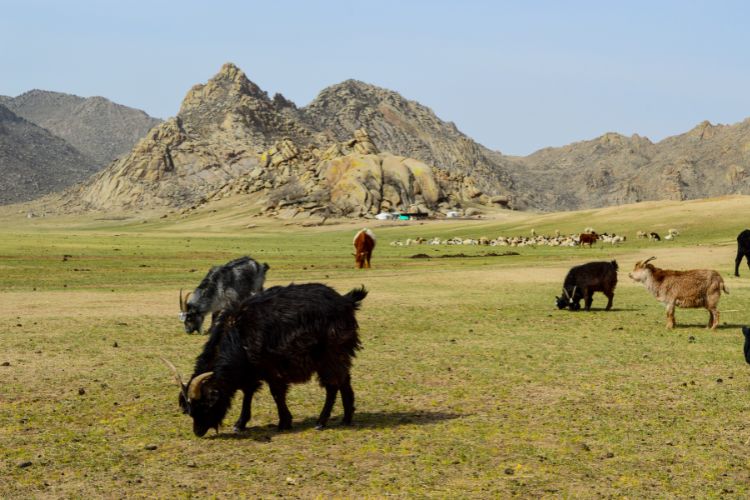 Endless Livestock in Mongolia
Exiting our ger was like a fairytale. Baby goats littered the landscape with the national park's mountain range behind. The mountains protected the family from harsh winds and the influence of wolves. Two enormous Mongolian mastiffs would keep close eyes on them throughout the night.
We perused the desert plains from the vantage of a monastery, Erdene Khamba, toppled by a Soviet tank decades prior. Then, we were greeted by the family elder at breakfast the next morning with an offer from his bottle of handmade tobacco oil – a common gesture among traveling Mongolians to sit and share news from other parts of the country. We rode Bactrian camels around the grounds during a shock snowstorm and did so with smiles on our faces wider than the endless blue sky that the country is typically famous for.
Book Your Hotels in Mongolia Here
We did all of this with permanently broadened hearts and open minds that would fuel our wanderlust in ways it could never have been influenced otherwise. As travelers, this was an incomparable top trip – an unbeatable adventure. The kindness of strangers is real in Mongolia, and, in many cases, it can mean life or death. Daily, they choose kindness, and it's a lesson that stays with you.
Author Bio: Richie Henry is a southern Mississippi native living and working in Japan as a teacher and travel writer. His passions are music, literature, photography, hiking, and experiencing as much of the world as he can. He can also be found at unfilteredasia.webnode.com
Read More: