Editor's Note: Though none of us can travel far from home right now, we can bring beautiful destinations around the world to you. Here is a virtual trip to Cambodia, a place we hope you'll be able to visit soon.
Our English-speaking guide, 28-year-old Hang Hak, bowed reverently in Buddhist tradition to his elders, my husband Ernie and me. Along with our tuk-tuk driver, Yang Chan, we set-off on our private, two-day exploration of ancient Buddhist and Hindu temples that dot the landscape of Siem Reap, Cambodia.
The primeval site of Angkor Wat, the seventh Wonder of the World, had been on our bucket list for decades. Excitement spilled from our open-air, fringed roof cart, hitched to the back of Chan's motorbike.
Angkor Archeological Park
We made the required stop at the Angkor Conservation Area, 4 kilometers (2.4 miles) from city center, the only venue to offer valid government-issued tickets for the Angkor Wat Archaeological Zone, which covers 400 sq. kilometers (about 99,000 acres) and 1,000 temples. Local scam travel agencies sell reduced price vouchers, but officials confiscate these illicit tickets at the first entrance point.
Pass Pricing at Angkor Wat
Tourists filled the legitimate reception hall to obtain non-transferrable entry permits, with web-cam I.D. photos attached. The $37 one-day pass limits exploration, but a $62 three-day pass, valid for one week, or the economical $72 seven-day pass, valid for one month, help to avoid "temple fatigue."
Our weary bones and overloaded brains would soon understand that term, as time constraints required us to climb temples for two consecutive days.
Regular I.D. scrutiny to enter every temple made these flimsy paper stubs our most valuable possessions. They needed protection from the humidity and sweat dripping from our faces and a convenient enough place to produce them at every turn.
I tucked them into a small compartment of my day pack. Hak cautioned, "You don't want to know what happens if you lose your ticket."
To ease gushes of anticipation, we shared snippets of our lives in route to Angkor Wat. I explained that I teach English to Mexican adults, and Hak bowed even lower with palms together than he had before.
Buddhist tradition provides five levels of bowing, and the gesture when meeting a teacher ranks second behind bowing to Buddha. I felt honored by his respect.
English-Speaking Tour Guide Becomes Family
His mother, 66, and his father, 69, live hours from Siem Reap, and still work their small rice field in rural Cambodia. Hak looked off in the distance, as if reliving the joy of visits to them in between his tour guide duties.
When he learned that his father and my husband were the same age, a broad, comforted smile spread across his gentle, olive-skinned face. "Well, you could be my Papa for two days," he beamed, "and I'll have a Mama teacher. I will be so happy."
From that moment on, Hak called Ernie Papa. It rang with sweet tenderness, and I smiled every time the reference spilled from his lips. I watched as son and father walked side by side, Hak revealing his wealth of knowledge and Ernie soaking up the history. I felt endeared to this young man, so eager to please, so protective, so excited to share ancient secrets of his country.
Hak and his adopted parents alighted from the tuk-tuk and followed the throngs on the dirt road parallel to the wide moat that protected the ancient religious site from early invaders. A single-file orange string of
Buddhist monks, wrapped in their swaddling bright saffron meditation cloths, shaved heads and flip-flops, sprinted by on their pilgrimage to the temple.
Angkor Wat
Then I saw it. The reflection of five carved lotus-flower towers in the clear moat waters caught me unprepared. This colossal structure, that had only been a photograph, a dream for decades, stood ready to astound. Wonderment and awe stirred within me.
As we maneuvered the 350-meter (1,150-foot) processional walkway, Hak explained that most tourists mistakenly believe Angkor Wat refers only to this massive three-tiered pyramid crowned by lotus bud- like towers, whose image appears on the Cambodian flag.
"Actually," he said, "Angkor Wat means City of Temples and encompasses hundreds of structures.
The main temple within that collection, the one that adventurers worldwide seek, was named Angkor Wat Temple." The Cambodian constitution prohibits construction of any building taller than the highest 65 meter (213 foot) tower of this 900-year-old architectural masterpiece.
The Main Angkor Wat Temple
Originally built by Khmer King Suryavarman II in 1150 as a Hindu temple, it was converted to a Buddhist site at the end of the 12th century. Considered the largest religious monument in the world, Angkor Wat Temple was never abandoned as a religious center.
In 1898, France reclaimed the buildings from the invasive jungle and in 1992 Angkor Wat City received recognition as a UNESCO Heritage Site. More than five million visitors invade the Angkor Wat Archaeological Park every year.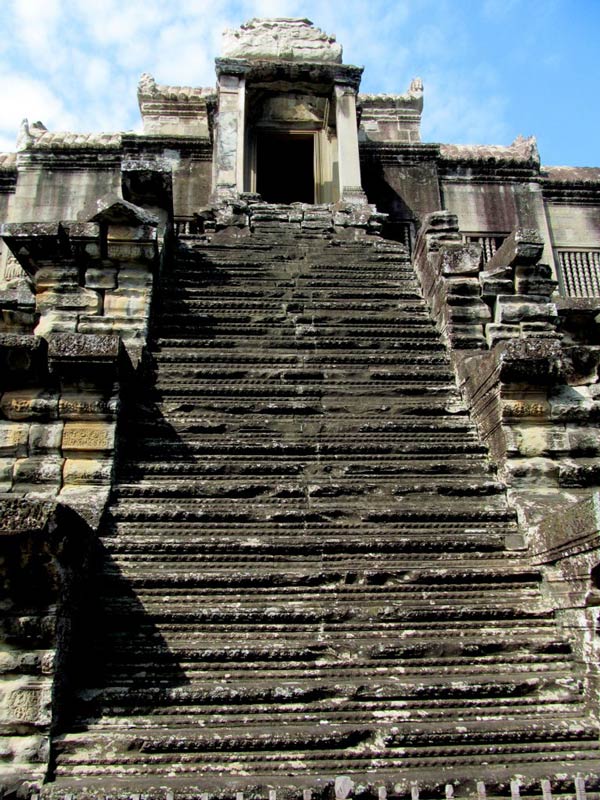 As we entered the sacred grounds, Hak advised that we should stay on marked paths. "Most of the landmines laid by the Khmer Rouge Pol Pot regime between 1975 and 1979 have been removed," he said, "but you never know."
We had seen many Cambodians missing arms or legs on our stroll through Siem Reap center the night before, and these images flashed through my mind. These reverent, respectful and gentle people have been victims of such atrocities. I cringed at the thought of U.S. bombings of this country from 1969 to 1973.
We struggled for nimble legs as the task of temple exploration began. We moved cautiously through uneven passage ways on which intricate carvings depicting ancestral daily life had been etched into the stone: Fighting warriors, kings riding elephants, multi-headed dancing nymphs called asparas, carvings of the female celestial being, DeVata, and the seven-headed, fan-like cobra, Naga, which protected Buddha from the rains.
Every inch of this massive temple had been carved in bas-relief and Hak explained each scene in excruciating detail. I felt brain overload already.
The narrow, steep, slippery, loose, uneven stones of the temple's ceremonial stairs to the second and third levels waited to be scaled. I had to dig deep for balance, courage and focus on each step.
The scary ascent didn't compare to the terrifying descent. Several staircases around the temple's base had been closed off because of accidents. I prayed to Buddha all the way down.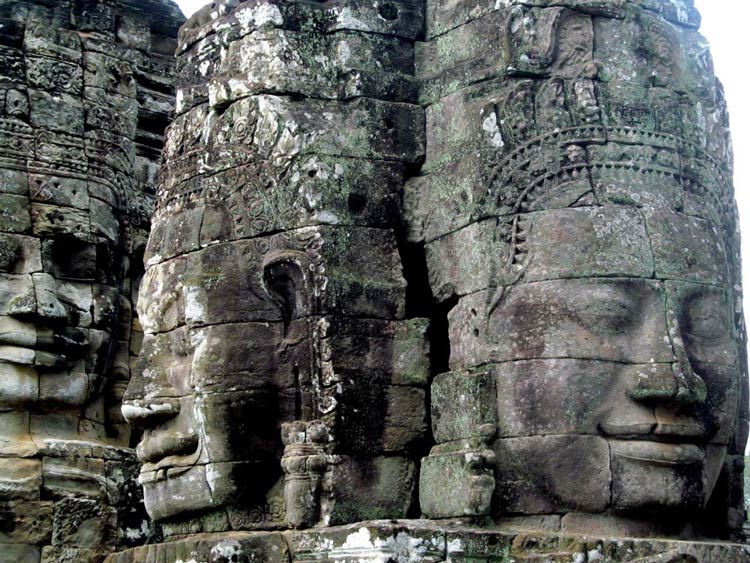 Bayon Temple
Other temples beckoned. Chan drove us to adjoining Angkor Thom, the 105 sq. kilometer (25,946 acre), 12th century capital city of the Khmer Empire. Bayon Temple, a massive structure of 54 stone towers, emerged through the jungle.
Mysterious, 3 meter (9.8 foot) faces carved into the four sides of each tower gave the eerie sensation of 216 pairs of eyes watching me at every turn. I never even heard of Bayon and yet this mystifying architectural style appeared more magnificent than Angkor Wat Temple. It seemed a betrayal to even think this.
This structure dedicated to Khmer's most prolific builder, Jayavarman VII, presented more climbing challenges to the central, circular third-level tower. And so it went, temple after temple. With 1,000 structures, exploration never ends.
The oppressive humidity and late-afternoon heat zapped our earlier excitement. Although each temple had its own individual significance, our brains could no longer decipher the differences.
Who could remember the complicated names of these kings, and by now who cared? We suffered a severe case of "Temple Fatigue." We dragged along, legs screaming, and clothes wringing wet. Ernie approached Hak and pleaded, "Hak, we've had enough for one day."
Our "boy" looked dismayed, like he would be deprived of his greatest revelation. "Just one more temple, Papa; just one more and I promise, Papa, you will thank me for it," Hak put his arm around Ernie's shoulders to soften his request.
"OK, one more," Ernie relented, "but it better be incredible." Hak beamed.
The Best Yet – Ta Prohm, Deep in the Jungle
Chan dropped us off at the entrance to Ta Prohm. The long walk deep into the jungle magically transformed cranky elders into eager children. The late-afternoon shadows and the thick tangled forest lowered the temperature to bearable.
Tourists not needing to cram 100 temples into two days were back at their hotels, relaxing by the pool. Sharing the space with only a few others, we cherished the sound of the jungle, birds and monkeys chattering, rather than the shouts and squeals from busloads of tourists. Ta Prohm unveiled itself as the best yet.
Intentionally left to the jungle – no reclaiming or restoring of this temple – we walked into an Indiana Jones movie set, with the roots of century old banyan trees and silk cottonwoods encompassing entire structures.
Entering the site through a narrow slit in the roots, we observed a 100-foot tree that secured the stones of the temple wall with its constricting tentacles.
Hak couldn't wait to reveal his surprise. "Scenes from the movie 'Lara Croft and the Tomb Raider,' starring Angelina Joilie, were shot right here," he said with pride that his country's treasures back-dropped an American film.
I could see the action, through the truth of the jungle and actual ancient ruins. The entire site, stone blocks tumbling, buildings crumbling, leaning, deteriorating, all held in suspension by virtual miles of thick roots. The jungle trees encased every structure, every passageway, every corner and crevice of this Buddhist temple built for the mother of Jayavarma VII.
Nature preserved this site with natural strength. I loved every inch of Ta Prohm, more than Bayon, more than Angkor Wat.
Hak wanted to end our first day of temple exploration at this awesome site. The next morning we would do it all over again and hear the same refrain, "Just one more temple, Papa."
Day Two in Siem Reap, Cambodia
Hak, our guide, and Chan, our tuk-tuk driver, were waiting in the lobby, fresh as morning lotus flowers, as we descended the hotel steps.
"Did you have a good rest, Papa and Mama? Are you ready to see more temples? Our first stop, Banteay Srei, is 30 kilometers (about 19 miles) away, so we should get started," Hak advised with his pervasive cheerfulness.
Although eager to experience more of Cambodia's secrets, Ernie and I had misjudged the lingering effects of our romp through the streets of Siem Reap the night before. I recounted our "city adventure" to Hak while we drove.
Upon yesterday's return, I headed to the hotel's spa for a one-hour foot reflexology massage. The unbelievable price of $12 rejuvenated me to an even higher state of relaxation.
The beautiful, young masseuse erased muscle aches that had flared going up and down ancient staircases, and her skillful hands relieved my "temple fatigue."
Invigorated and refreshed, I coaxed Ernie. "Let's see what Siem Reap has to offer at night." Our hotel's location two blocks from center city provided the opportunity for a leisure walk to town. We found that "leisure" might be a stretch.
The lower humidity that came with evening shadows greeted us as we headed out. We picked our way along the uneven and broken sidewalk, which soon disappeared. We found ourselves walking in the same space designated for scooters, cars, tuk-tuks and pedestrians.
The roadside, littered with cans, bottles and paper wrappings, required precise attention to every step. Exposed cables and pipes waited to trip the unprepared tourist.
A Night Out in Siem Reap, Cambodia
We needed to cross the traffic-clogged street, but I sensed something different from this scene to one similar in Hanoi. There, a surge of motorbikes raced through every thoroughfare, and walking from one side to the other played like a near-death experience.
Siem Reap motorists pressed the gas pedal with a lighter foot, displayed less frenzy and allowed us to cross over without fear for our lives.
Onward to the Old French Quarter, we trudged over the bridge that spans the polluted, foul-smelling city river. Four metal arches trimmed in bright star-shaped lights, in between lamp posts with curved necks and lily-pad flower shades, brightened the way.
At the river's edge, locals swarmed The Old Market, Phsar Chas, making last-minute purchases of meat, vegetables and rice before vendors closed for the night. Without refrigeration in their homes, food shopping remains a daily chore.
As we drifted through the aisles, strings of pork sausages and dried fish hung from the rafters. I wondered how hundreds of merchants could make a living, since most stands sold the same products. The outer stalls dedicated to souvenirs, textiles, silk and T-shirts, remained open to lure tourists who had been temple climbing all day.
Thousands of visitors filled the city's center. Drivers of idle tuk-tuks approached every passer-by offering rides. Signs in English promoted Angkor Draft Beer for $1, all-night happy-hour cocktails for $2 and body massages for up to $7. A good time would come at a cheap price, and overindulgence seemed inevitable.
Fish Pedicures in Siem Reap
On our way to Pub Street, where Cambodian delicacies sizzled in chic, two-story, open-air restaurants, fish pedicures grabbed our attention. Rows of long, clear tanks, teeming with toothless, red garra (doctor fish), advertised "Feed our hungry fish with your dead skin.
No piranhas!" For $3 takers got a cold beer or Coke, plus 20 minutes of feisty fish munching the dead skin off the bare feet that dangled in the tank. I just couldn't do it.
After carousing up and down "restaurant row," we settled on Khmer barbecue for the Cambodian dining experience called "fire mountain." A portable, dome-shaped, steno-lighted cooker was placed centrally on our table. Servers brought bowls of cabbage, leeks, fresh generic greens and a plate of raw beef, chicken, crocodile and shrimp pieces.
The vegetables stewed in broth added to the trough around the dome, as we cooked our own meat and shrimp on top of the flame. What fun we had. Universal answer for exotic meats: yes, crocodile tasted like tough chicken.
We headed to the "night market," where local teenagers carried trays of fried tarantulas, scorpions and ugly-looking spiders, and encouraged us to try these tasty, Cambodian treats.
In Mexico, I live alongside of — and shriek at — scorpions, spiders and tarantulas. I wasn't about to eat them. I settled on something more palatable: fried ice cream, made with bananas, chocolate chips and cream scraped together until solid on a frozen pan.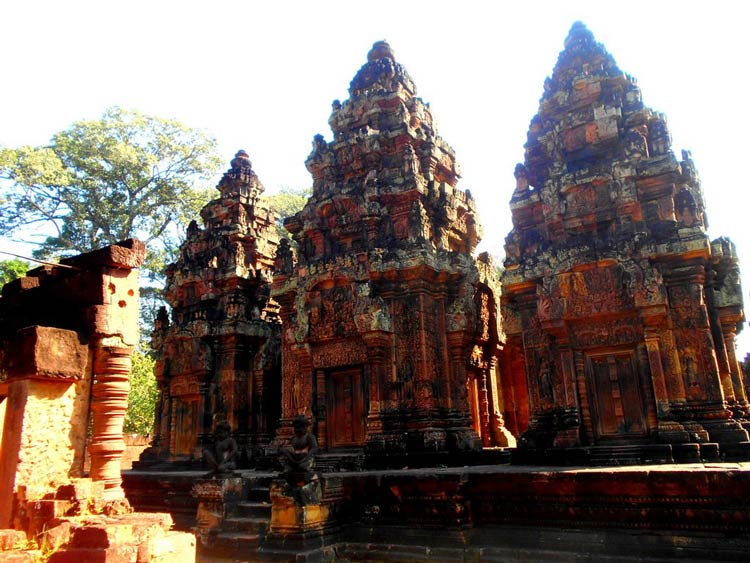 Banteay Srei, Ta Som and Preah Khan
Hak laughed at our Cambodian cultural escapade, but resumed his specialty, history, having arrived at our destination. Built in 967, Banteay Srei, called the Citadel of Women, ranks as the oldest and most remote temple in the Archaeological Zone.
Pink hues radiated from red sandstone block walls, and intricate carvings, considered the finest and best preserved of all Angkor Wat monuments, dazzled onlookers. Although no evidence exists that women actually lived here, it is thought that Banteay Srei was built by female laborers. Originally dedicated to Hindu Gods Vishnu and Shiva, Buddhists worshipped here later.
On our way back to Siem Reap, we stopped at two jewels, Ta Som and Preah Khan, both revealing exotic jungle atmospheres, both with leaning structures encased by banyan tree roots, and both largely ignored by tourists.
No hordes or busloads at Ta Som, just the three of us. The early-morning calls of jungle birds, the audible snaps of crackling twigs underfoot, and towering trees sheltering us from the sun's harsh rays left me speechless.
Without crowd distraction, I could envision these as spots to come and pray. Preah Khan Temple, built in honor of Jayavarman VII's father in 1191, supported more than 100,000 commonplace people who lived there and serviced an early hospital on site.
When I headed for the tuk-tuk, a young Cambodian boy raced after me with trinkets for sale. We had been advised not to buy anything from children, as the Cambodian Mafia extorted street urchins to harass tourists to buy souvenirs.
Responding to these kids only perpetuated the problem. As I paid more attention to discouraging him and less attention to getting into the cart, a rusty bolt jutting out from underneath the tuk-tuk stabbed into my shin bone.
Blood spurted down my leg. Ernie quickly removed his sweaty bandana from around his neck and tied it above the wound as a tourniquet. Chan turned pale and Hak cried out, "Oh, no, Mama."
Chan lifted the cart's seat and removed a dusty roll of gauze that must have waited there for years to come to the rescue. He attended to my leg with such tenderness that the pain eased with each wrap-around of the dirty bandage.
Between the sweaty neckerchief and grey-looking gauze, the bleeding slowed. I worried "Has it been 10 or 20 years since my last tetanus shot?"
With my leg begging for less activity, we made a deal with Hak. No more temples. We had seen the largest, earliest, most visited and most ignored; ones reclaimed from the jungle, and thankfully, ones entangled in vines and vegetation.
We wanted to fill the remainder of the day with a boat ride on Tonle Sap Lake, known for clusters of floating villages, where people live in ramshackle structures afloat or built on top of long stilts anchored in the water.
We could not leave Cambodia without observing how thousands of people, completely dependent on the ecosystem of the largest freshwater lake in Southeast Asia, survive.
Hak agreed but cautioned that we didn't have time to make the two-hour drive to Kampong Khleang, the lake's most authentic village. Instead, we could drive 15 kilometers (9.3 miles) to Chong Khneas, but snares existed.
This area receives the most tourists, but widespread pollution, overharvesting fish and depletion of important mangrove swamps present major issues. "Privately-owned tourist boat companies do not share profits with the floating villagers, so expect tourist traps by the lake residents," Hak advised. "But you can witness their daily lives."
Tonle Sap Lake
After considering the drawbacks, we still wanted a glimpse. Hak supplied data en route. Tonle Sap Lake, which connects to the complex Mekong River system, measures 250 km (155 miles) long and 100 km (62 miles) wide.
In the rainy season from June to October, the lake's water volume increases five-fold, and the flow reverses with the flood waters backing up from the Mekong. The world's most productive ecosystem, the lower Mekong Basin remains central to Cambodia's food supply and had been essential for the ancient Angkorean civilizations.
Chong Khneas, a Tourist Mecca` Once Hak procured our boat and driver, the sights, sounds and smells of Chong Khneas captured the moment. The muddy-colored lake, with plastic trash bobbing on top, looked uninviting. Two naked children in a dug-out canoe near their floating barge-home jumped happily into the water, oblivious to its pollution. This had always been their "normal."
As we sped along, an entire village unfolded on opposite banks: Make-shift residences, schools, churches, grocery stores, a basketball court, and even a crocodile farm and museum, all rocked back and forth from tourist motorboat waves that lapped into the mangrove swamps.
Each floating structure had dilapidated rubber tires attached to its perimeter at water's level. The lake's residents paddled their way to do daily errands. A young boy guided his small boat to the school's wharf; a group of head-scarfed, chatty women rowed up alongside the church; an old woman worked her traveling restaurant up and down the lake, her dug-out filled with huge caldrons of steaming rice and fried fish.
She hollered out her message like hucksters who delivered fish, eggs and vegetables to my grandmother's house.
Huge nets filled with crushed aluminum cans and plastic bottles hung from the sides of homes whose residents respected the fragile ecosystem, while others threw trash directly into their liquid garbage dump.
Hak reminded us that the fish from this lake provide the largest portion of Cambodia's food supply. I made a mental note to never order fresh fish from any local menu. A meshed, submerged pen waited next to every bungalow to catch fish for the family's daily consumption.
People bathed, washed clothes and played in this water. What about the "unseen," I thought. What about human waste disposal? What about disease and illnesses brought by lack of sanitation? What about the monsoons, when people live in the middle of flood waters?
Our boat driver slowed and moored alongside a huge wharf. Hak gave us his sly look which we had come to know. "Tourist trap city," he quipped. We jumped from the boat to the wooden barge and onto the visitor mecca of Chong Khneas.
It looked like one of the trinket shops in Siem Reap, except for a huge hole off to the right, where a dozen 8-12-foot crocodiles lazed one on top of the other. Their shallow "bathtub" of dirt, garbage and twigs made reptilian life less than desirable.
As soon as we boarded, we watched a dug-out with a woman at its helm, skimming across the water toward her "gold-mine foreigners." Her young son stood naked in the canoe center, a python double the size and weight of the child hanging around the boy's neck, and the remainder of the snake coiled in the boat's flat bottom.
Hak whispered, "She's Vietnamese people. They come up the Mekong and settle here illegally. I think the python must be tame." From Hak's tone of voice, it seemed that Cambodians also struggle with illegal immigration problems. Every country with a border has its own movement issues, even if that border is a river.
I wondered how a "tame" python acts and who makes the decision when to drape one around a child. The mother shook her fist at tourists, who took photos of "son and snake" without throwing money into the canoe. Exploitation of children saddens me whenever I see it. Time to leave, I motioned to Hak.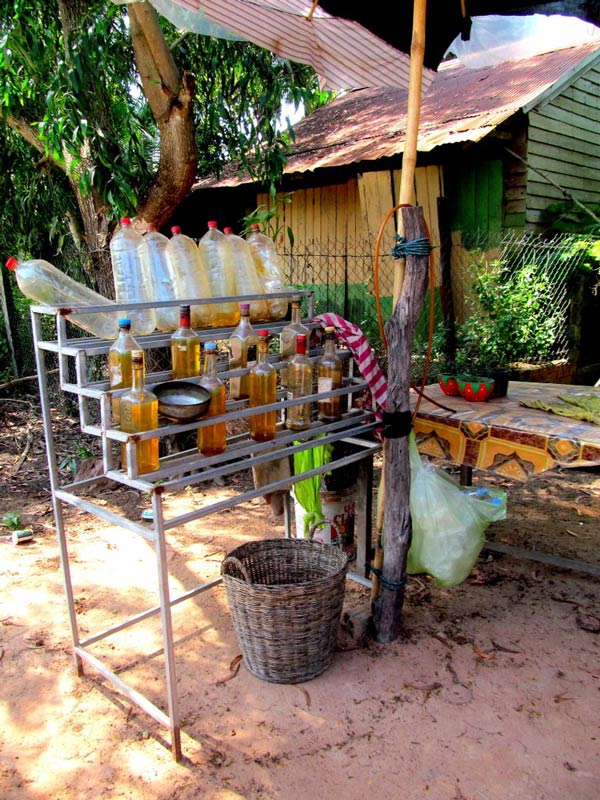 Despite my negative reaction to Tonle Sap Lake, I was enamored with Cambodia. I loved the gentleness of the people, their dedication to their religion and their insight into preserving the past for the benefit of the future. But I will never forget the sound of Hak calling Ernie Papa.
Author's Bio: After a life-long profession of treating the mentally ill at a PA psychiatric hospital for 33 years and also serving as its Director of Admissions, Carol retired to Lake Chapala, Mexico in 2006 with her husband, to pursue more positive passions. Her family thought that she, too, had 'gone mad.' She's been teaching English to Mexican adults for ten years, in a program operated by volunteer expatriates and writing for local on-line and print publications. Using her adventures experienced during visits to over 80 countries to capture a niche in travel writing, Carol also dabbles in 'memoir.' A frequent contributor to Lake Chapala English magazine, "El Ojo del Lago," she's won several literary awards from that publication, including Best Feature in 2010 and Best Fiction in 2014. She also netted a story regarding her psychiatric field work in the published anthology, "Tales from the Couch."