Editor's Note: We only cover places we recommend. We may earn a commission if you purchase from any of the below links.
The Stanley Hotel in Estes Park
With its stately architecture, famous ghost stories and location just six miles from Rocky Mountain National Park, the historic Stanley Hotel is a popular draw for anyone who visits the tiny town of Estes Park, Colorado. The Stanley Hotel opened in 1909, and has been restored to its original grandeur. Listed on America's National Register of Historic Places, The Stanley Hotel was the inspiration for Steven King's spine-chilling novel, "The Shining."
The Stanley Hotel has been described as one of America's most "haunted" hotels. Employees and guests have numerous stories that contribute to this legacy.
As part of our ongoing "5 Questions" series, one of our readers sent in five questions about The Stanley Hotel. We consulted the experts at The Stanley Hotel, and here's what they had to say.
Q: Is it true that The Shining was inspired by The Stanley Hotel?
A: Yes; Stephen King was staying in room 217 when he came up with the idea for the book.
Q: Do you have any fun ghost stories to tell?
A: Two of the many spirits that are said to haunt The Stanley Hotel include F.O. Stanley and his wife Flora. Reports of Stanley occur mainly in the lobby, Billiard Room and the bar. According to reports, Stanley's wife Flora plays the piano in the ballroom. Guests and employees claim to have heard faint music coming from the ballroom and have witnessed the piano keys moving. Some witnesses have seen a woman sitting at the piano bench.
Certain guest rooms have a history of frequent supernatural activity. Room 418, in particular, has been an area frequented by several child ghosts that have been heard laughing and playing, most frequently just outside of the door. Guests have complained of children playing in the hallway late at night while others have reported impressions on the bed and noises in the room.
Room 407 is allegedly home to another ghost who likes to turn the lights on and off, sometimes turning them back on at the request of the person staying in the room. A face is sometimes seen in the window of this room, viewable from the outside. Although the fourth floor seems to be the most active area, footsteps are heard all throughout the building and sightings of various apparitions have been witnessed in many other areas.
Haunted Rooms at the Stanley Hotel
Q: Which rooms are the "haunted rooms" at The Stanley Hotel?

A: The most famous haunted room is 217. Other areas rumored to be haunted include room 401; reports of children running up and down the fourth floor hallway; the concert hall, haunted by a ghost named Lucy; the billiards room, one of Mr. Stanley's favorite hang outs; and the music room, favored by Mrs. Stanley.
Q: What other activities are there to do near The Stanley Hotel?
A: Tons! You'll find many outdoor recreational activities in Roosevelt National Forest and Rocky Mountain National Park (hiking, trail running, fly fishing, photography safaris, stargazing at the observatory, etc.).
New Spirits: Estes Park has seen a rapid increase in its spirits scene; the beverage kind. Thanks to a change in liquor laws, several new breweries and distilleries are making Estes Park home.
Fall Activities in Estes Park
Elktober: Located just 90 minutes from Denver and surrounded on three sides by Rocky Mountain National Park (celebrating its centennial this year and NPS's in 2016), Estes Park is home to one of the country's largest wild elk concentrations. Every October, the town of 5,000 experiences a population boom unlike any other when its 3,000 elk "residents" partake in their fall…tradition (i.e. mating season). "The Rut," as it's called, has inspired the town to officially rename October (the peak of the season & time when guests have the best chance of seeing elk) to 'Elktober' and host an annual Elk Festival, among other elk-themed activities.
The Elk Fest is held each October. To celebrate the annual elk rut and learn about the "wapiti," the Native American name for elk, Estes Park, Colorado hosts the 17th Annual Elk Fest in Bond Park and the surrounding area. The festival features bugling contests, elk-viewing bus tours, educational areas, exhibits, and elk seminars, a Mountain Man Rendezvous as well as Native American music, dancing and storytelling.
Ultimate "Tail-gating" Experience – Grunts, groans and displays of overt masculinity are the cornerstones of every fall. But this year, forget the gridiron greats and grill masters for a real twist on fall's football season – think 'Tailgating' in Estes Park, Colorado where male elk strut their stuff to impress potential mates. For those who want to get their "game" on in the form of a meal, there are great places in Estes Park with elk on the menu – from a grilled elk salad to Colorado meatloaf. And, what's tailgating without an adult beverage? Estes Park will soon be home to two NEW distilleries, two NEW breweries and a winery.
Elk Expeditions from Rocky Mountain Conservancy – Take a guided tour of popular rut locations with Rocky Mountain Conservancy, while learning from a professional educational guide about elk ecology.
Stanley Hotel History
Q: What are a few things most people don't know about The Stanley?
A: The hotel was originally home to F.O. Stanley, the man behind the Stanley Steamer.
The Stanley Hotel has an on-staff paranormal investigator who conducts year-round, five-hour ghost hunting lessons using authentic tools.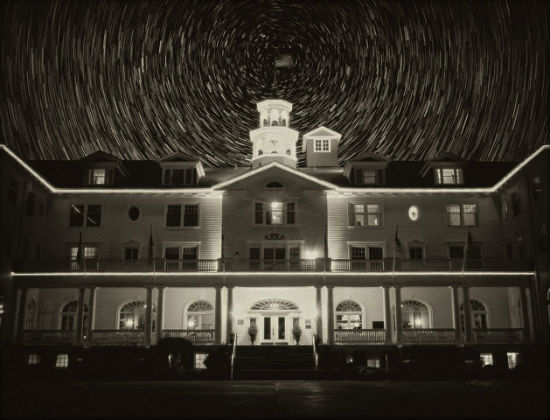 The historic hotel is home to Colorado's largest antique whiskey bar, which is celebrating its 1,000th label this year.
The hotel's bar was a filming location for a scene in "Dumb and Dumber." Actor Jim Carey reportedly checked out in the middle of the night for reasons he wouldn't disclose.
If You Go

Book a stay at the Stanley Hotel
Visit Estes Park
visitestespark.com
Do you have 5 Questions?
In our "5 Questions" series, Go World Travel readers can ask five questions about any destination, place, hotel or attraction in the world. We'll go to the experts for answers and then report back to our readers. Do you have "5 Questions" on someplace in the world? Let us know!