Many couples dream of a honeymoon in the Caribbean for good reason. The magical Caribbean Islands offer everything you need for a romantic vacation. You can stay in luxury hotels, walk hand-in-hand along pristine white sand beaches, sip tropical cocktails under the stars and enjoy delicious food in the sun or by candlelight.
Whichever Caribbean destination you choose you'll be sure to spend many unforgettable moments in the tropical island of your dreams.
Best Caribbean Honeymoon Destinations
Aruba
Aruba promises to be one of the most picturesque places for honeymooners. The beaches and hotels found on this striking island are amazing. In fact, TripAdvisor placed Aruba as the third best place in the world to go for a honeymoon.
The people living in Aruba are known for their friendliness and hospitality. Everywhere you go on the island you will find locals referring to Aruba as one happy country to live in.
Along with the beautiful beaches and hotels, Aruba also has incredible dive sites and is a safe, English-speaking destination. All this makes Aruba a great Caribbean honeymoon destination for romance and fun in the sun.
Where to Stay in Aruba
Some of the best places in Aruba for honeymooners are Manchebo Beach Resort and Spa, Aruba Ocean Village, Hyatt Regency Aruba Resort Spa and Casino as well as Oceanz Boutique Hotel Aruba.
Jamaica
As a Caribbean honeymoon destination, Jamaica may be one of the best-kept secrets. Spending time on this gorgeous island will make you want to spend the rest of your life there. The beaches are so breathtaking they will likely exceed your expectations.
The cuisine in Jamaica will definitely leave you craving for more. Some outstanding foods that Jamaica boasts are curry chicken, run-down, stew peas and their national dish known as ackee and saltfish. Taking a bite of Jamaican foods will leave your taste buds dancing.
Where to Stay in Jamaica
Top honeymoon hotels where you can spend quality time with your life partner are Ocean Coral Spring, Royalton Negril Resort and Spa, S Hotel Jamaica, Jamaica Inn, Royalton Blue Waters and Jewel Grande Montego Bay Resort and Spa.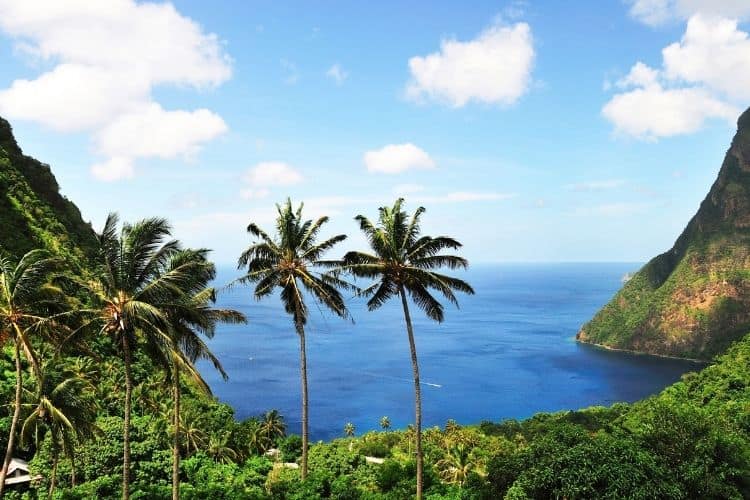 St. Lucia
A top tourist destination in the Caribbean, the island of St. Lucia aims to cater to the needs of newlyweds. As a savvy traveler seeking adventure, you and your partner can enjoy the time of your life in this little paradise St. Lucians call home. Very quickly this delightful island will feel like your home away from home.
Some top places to visit in St. Lucia are Anse Chastanet Marine National Park for a day of snorkeling, Tet Paul Nature Trail for hiking and Diamond Falls Botanical Garden for a relaxing mineral bath.
Other activities include viewing exotic birds found in the rainforest at Quilesse Forest Reserve, enjoying hot chocolate made by the renowned Cocoa Farm, or walking in the surf at Jalousie Beach.
Where to Stay in St. Lucia
Some of the best places on the island for newlyweds to stay are Ladera Resort, Jade Mountain Resort, Sugar Beach Viceroy Resort, East Winds, Ti Kaye Resort and Spa and Villa Beach Cottages.
Grenada
The island of Grenada is one of the top Caribbean destinations to enjoy with your love. Grenada has plenty of sights and activities that make for an unforgettable Caribbean honeymoon. Furthermore, as you enter Grenada you will be welcomed by the warm climate and smiling faces of the locals.
This Caribbean island has plenty of outdoor activities such as wonderful beaches, majestic waterfalls, golf and Friday night bonfire. If you enjoy the water, you can take a dive into the ocean and check out the marine life. Another option is to explore the underwater sculptor park that captures the attention of visitors to the island.
Grenada is known as one of the top producers of spices but lesser known is that it's also a great cocoa producer. Therefore, while you are there, you may want to taste its deliciously brewed cocoa.
Where to Stay in Grenada
Hot Grenadian resorts and hotels that cater to honeymooners starting their new life are Kalinago Beach Resort, Coyaba Beach Resort, La Heliconia Hotel and Laluna Boutique Beach Hotels and Vilas.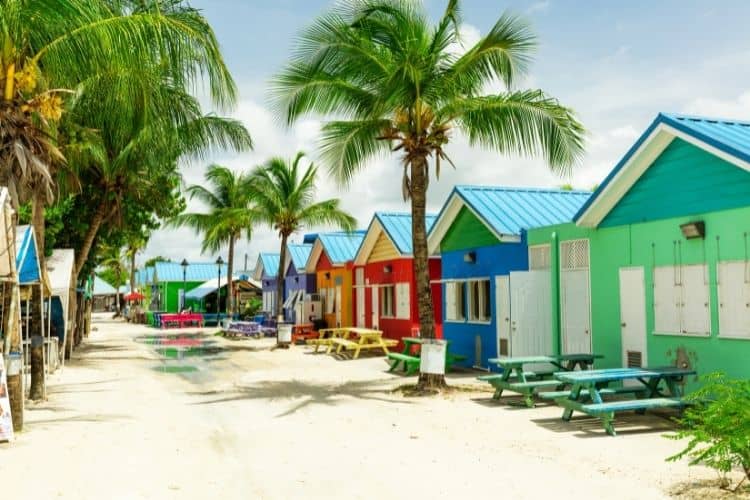 Barbados
The island of Barbados is another beautiful place for a Caribbean honeymoon. Activities include duty-free shopping, playing golf, attending a cricket match, dancing and of course visiting one of the lovely beaches found on the island for some fun in the sun.
This glamorous island paradise also has some lovely architecture to admire as you stroll hand in hand on the street with the one you love.
Barbados has an outstanding reputation for being a top-notch exciting country perfect for couples. Plus the weather is great any time of the year. Once a British colony, the locals still hold to certain English traditions such as having tea-time.
Therefore, if you should choose Barbados as your honeymoon destination, you should be prepared to enjoy midday hot tea with some of the friendly locals.
Where to Stay in Barbados
Honeymoon hotels and resorts where you can stay are Coconut Court Beach Hotel, Radisson Aquatic Resort Barbados, Best Western Plus Condado Palm Inn, San Juan Marriot Resort and Stellaris Casino, Barcelo Bavaro Palace All Inclusive and Embassy Suites by Hilton San Juan – Hotel and Casino.
St. Kitts and Nevis
The twin islands of St. Kitts and Nevis are breathtakingly beautiful. Their picturesque landscapes will make you want to overstay your time. Both islands consist of great hotels, restaurants and bars to keep you comfortable and satiated. In addition, you can check out their annual music festival and carnival.
Not surprisingly, the beaches on these Caribbean islands beckon visitors to spend days relaxing in the sun with a good book. For a more active day, you and your spouse can play a round at the Royal St. Kitts Golf Club. Other fun things to do together are sightseeing trips, checking out the wildlife and viewing magnificent architectural buildings.
Where to Stay in St. Kitts and Nevis
Places on the twin islands of St. Kitts and Nevis that cater to honeymoon couples are Oualie Beach Resort, Four Seasons Resort Nevis, St Kitts Marriott Resort, Belle Mont Farm, as well as Bird Rock Beach Hotel.
The Caribbean boasts many spectacular places where you can spend your honeymoon with that special someone. With stunning scenery, friendly people, fun activities and romantic starry nights there is no doubt that a Caribbean honeymoon is a great choice.
Take your love life to the next level and experience some of the best things that the Caribbean has to offer newlyweds.  
Book This Trip
You can't go wrong picking any of these Caribbean islands for your paradise vacation. Plan your trip with local restaurant reviews, tips on how to get around, the best local shops and more through TripAdvisor and Travelocity.
Make the most out of you trip by booking some fun Caribbean activities with GetYourGuide. Find and book ocean adventures, expert-led tours, skip-the-line tickets and more here.
Author Bio: Lancelot Tucker is a book author and freelance writer living in Jamaica