Go World Travel is reader-supported and may earn a commission from purchases made through links in this piece.
Since the onset of the pandemic, the desires of travelers have changed. Gone are the days when people wanted to be shoulder to shoulder, vying for the best sunset view or taking gravity-defying pictures for social media.
Holiday travelers want privacy, safety, peace of mind and convenience. They want to rejuvenate, unwind and try to relieve the stress of the past two years.
Husband and wife duo Nim and Fabiola Hirschhorn, are owners and operators of Sail LUNA, a luxury sailing charter yacht based out of the United States Virgin Islands in the Caribbean.
The pair shared how a charter yacht vacation can check all the boxes when searching for the perfect post-pandemic getaway and what to look for when booking your next big holiday.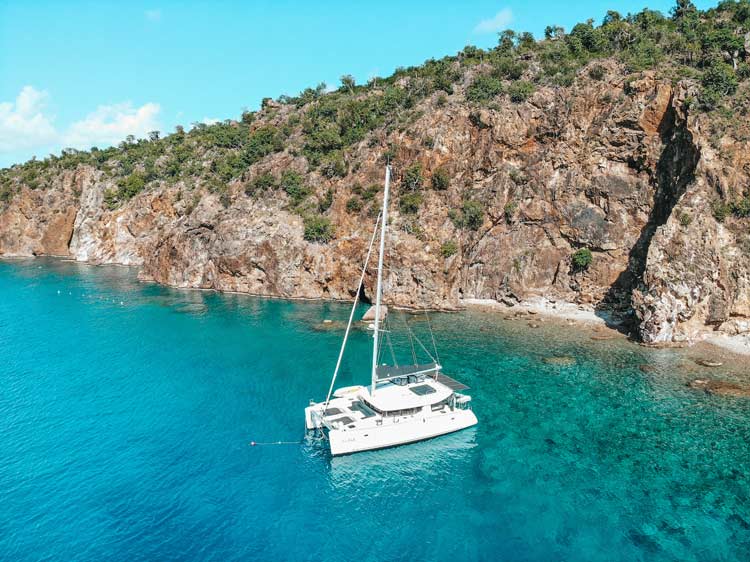 There's Yacht and Then There are YACHTS!
Charter yachts vary wildly in size, cost and location, so this article covers owner/operated yachts typically in the 40–50-foot size range based out of the Caribbean.
A quick Google search will bring up hundreds of options. However, you may want to book through a broker who will help you narrow down your search.
Most charter yachts will boast an overall design that is well-considered and effortlessly combines style and comfort. There will be well-appointed guest staterooms, high-end details such as sustainable teak floors, full showers, vanity and toilet facilities and open space to relax and unwind.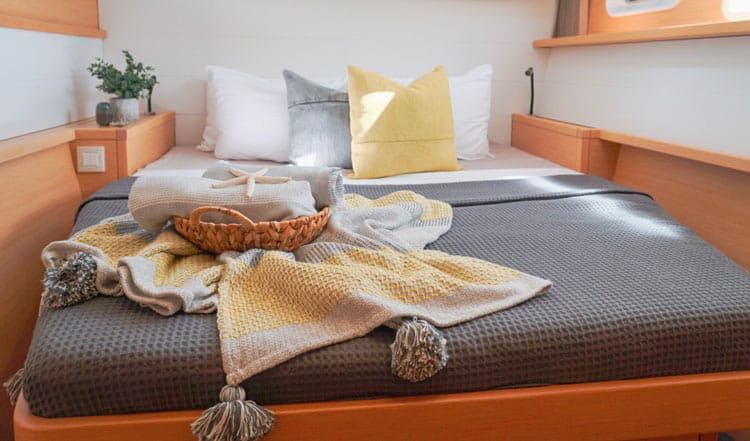 An experienced crew will offer guests service and attention to detail that is unmatched in typical pre-packaged style vacations.
From private beachside barbecues with grilled fish and lobster to snorkeling lessons or stand-up paddleboarding instruction through aquarium-like waters, it's the personalized touches that make chartering a private yacht memorable.
Sail LUNA apart is their love of fresh, flavorsome and culturally inspired food and cocktails infused with local ingredients.
Both Nim and Fabi are award-winning chefs and mixologists, so if food and beverage are an essential part of your dream vacation, be sure to enquire about your host's experience and credentials before setting sail.
Charter a Private Yacht to Set Your Own Sails
One of the most appealing aspects of chartering a private yacht for your next vacation is the ability to travel at your own pace. Forget lining up for the dessert bar or tour bus excursions with a boatload of your shipmates.
The itinerary of a private charter is created with your input to ensure your vacation is not only perfectly tailored to you and your guests but will be THE vacation of a lifetime.
Visit deserted beaches, snorkel in the clear waters or sip rum punch at a picture-perfect beachside bar. Fancy a little more adventure? That's the beauty of a chartered vacation aboard a yacht. The itinerary is in your hands.
Perhaps you'd like to hike a volcano, swim with turtles, or travel to bustling harbor towns and discover local eateries, casual bars, and colorful markets. The choice is yours.
After a long day of exploration or relaxation, you can sit back and relax in privacy while sipping artisan cocktails in the cockpit. At the same time, your chef prepares your favorite meal in the galley and the sun sets over what was a perfect day in paradise.
Personal Preferences When You Charter a Private Yacht
Even before you set sail, your first mate will do all they can to understand your desires for your upcoming vacation. Owner-operated charter companies are run by married teams who have painstakingly studied your preference sheets to deliver a personalized vacation experience.
From your favorite aperitif to dietary requirements, bucket list desires and dream experiences, your crew will do all they can to ensure your yachting journey is based entirely on your specifications (weather and sea conditions permitting), and it will be as active or relaxed as you wish.
Each morning your captain will invite you to help map your day's journey. Being aboard a private yacht means that you are free of timetables and restrictions; if you stumble across a hidden gem of a cove and don't want to leave, you don't have to.
Personal Crew
While your Captain and First Mate will always be available to ensure you have everything you need, be it a friendly chat, a freshly made cocktail, a fishing pole, or even a sailing lesson, they are also acutely aware of your need for privacy.
The charter crews are adept at making themselves scarce at just the right time. Being discreet and reading the room is their specialty.
That's why charters are also the perfect option for honeymoons and even micro-weddings. Think of your yacht as a floating island, complete with everything you need, including crew members whose motto should be "Just ask."
Privacy and Discretion
Vacationing aboard a yacht gives you complete privacy from the outside world, and in today's climate, that is important to many of us.
Not only is the service provided on a charter yacht unsurpassed by any hotel or cruise ship, but the fact that you don't have to share your space with other guests almost makes busy resorts and hotels a thing of the past.
Not to mention the fact that you can simply pick up anchor and move should your anchorage feel a little too crowded.
Vacationing on a charter yacht means that your Captain can anchor by an uninhabited island, within a private lagoon or by a palm tree fringed white sandy beach. Nothing is too much trouble.
Healthy and Safe When You Charter a Private Yacht
Chartering your own yacht means that you are away from shore or cruise-based crowds and the threat of the pandemic. At sea, there are no masks, no PCR tests and no temperature checks – just pure, unadulterated luxury.