Editor's Note: We're all dreaming of travel ahead. Here's some inspiration for future adventures. We share places, products and activities we recommend. If you make a purchase using a link on our site, we may earn a commission.
Everyone could be an Olympic superstar if you ask Billy Kidd.
"Just place your ski poles correctly," he grins encouragingly, "and that medal is almost yours."
An admiring crowd has gathered around the ex–alpine ski racer, eyeing their poles in disbelief. But the man with the broad-brimmed cowboy hat should know.
After all, William "Billy" Kidd won silver during the 1964 Winter Olympics in Innsbruck, Austria, becoming the first American (together with teammate Jimmie Heuga, who won bronze in the same race) to take home a medal in the alpine skiing discipline.
Today, the larger-than-life skiing legend himself stands on top of Steamboat Springs' Silver Bullet Gondola, his knees bent, posterior slightly protruding and left shoulder pushed forward, while thrusting the respective ski pole forward. Pole positioning in slow motion looks funny.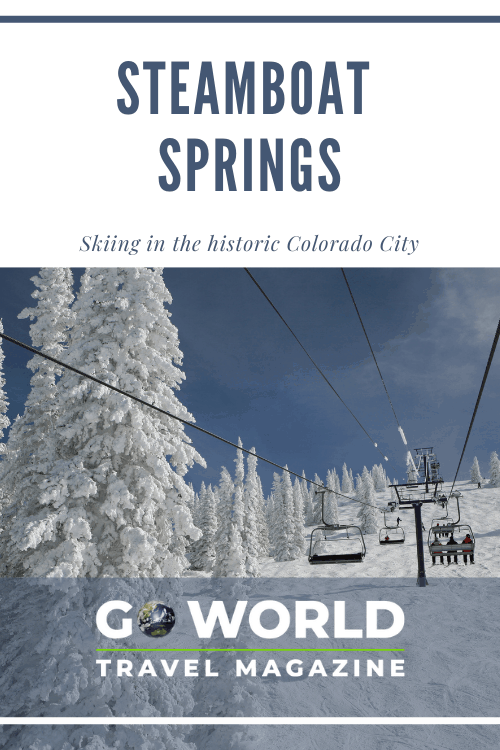 Ski the Champagne Powder Four Hours from Denver
Snow crystals glisten on the sunny slopes. Supposedly, the snow here is much finer than at other ski resorts. Steamboat Springs is located about four hours by car northwest of Colorado's capital, Denver, beyond Rabbit Ears Pass, in the sleepy Yampa Valley.
Due to its semi-arid microclimate, snowflakes are purportedly extra light, fluffy and dry —like champagne. Thus rancher John McElroy coined the term "champagne powder" during the '50s. Much quoted by the area's ski industry ever since it's actually a registered trademark of Steamboat Springs. With close to 3,000 skiable acres (12 km²), the resort is one of the largest ski areas in Colorado.
Windswept juniper trees and slender aspen grace even the top of Mount Werner, the resort's highest summit, at 10,321 feet (3,042 m), growing at perfect slalom distance from one another.
As I have skied mostly in Europe before, it strikes me as unusual to see deciduous trees at this high altitude. Geologically speaking, the Alps are only teenagers, sporting sharp cliffs and pointy peaks like a spiky Mohawk hairdo.
The Rocky Mountain range could be their gentle grandfather, mellowed by time and erosion, and almost reminding me of picture-perfect toy train scenery. But don't be fooled by the seemingly lovely terrain, as only 13 percent of Steamboat's trails are classified as easy runs, more than half (56 percent) are considered intermediate, and a third (31 percent) are advanced.
Serviced by 20 lifts, Steamboat has 164 trails to pick from, boasting Western names like High Noon, Tomahawk and Rough Rider. Perhaps that's one of the reasons locals like to ski here.
Chances are you will see more cowboy hats than bobble hats on the slopes — especially during the annual Cowboy Downhill event. Professional rodeo cowboys will trade bucking broncos for a pair of skis or a snowboard — many of them for the first time — to race down the Headwall run.
The spirit of the Old West is alive and well in Steamboat Springs, population 9,815. Its main street, Lincoln Avenue, is lined with saloons and Western-wear shops such as F.M. Light & Sons, where even this writer — beware, the atmosphere is contagious — purchased a "genuine" cowboy hat for five dollars.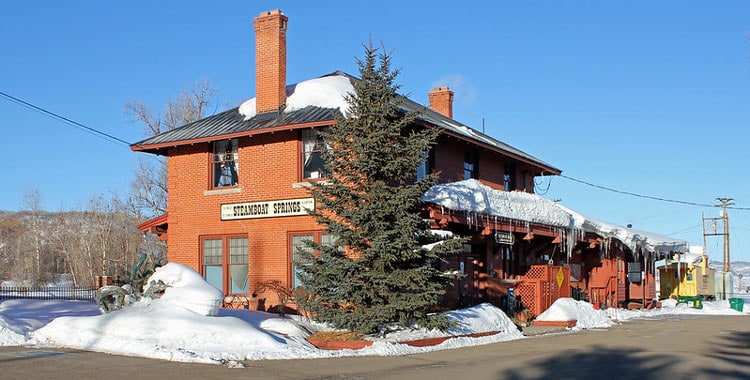 The History of Ranchers and Skiiers in Steamboat Springs
In contrast to the Colorado competition — Aspen, Keystone or Vail — Steamboat Springs did not start out as a mining town. It has always been a ranching community.
Fur trappers who paddled down the Yampa River around 1865 were convinced that they could hear a chugging steamship right around the next bend, hence the unusual name. The noise actually came from a snorting geyser.
During the construction of the railroad in 1903, the geothermal conditions of the Steamboat geyser were altered. It still exists at the west end of town, but its trademark huffing and puffing is no longer audible. However, there are more than 150 other hot springs bubbling up all over town, renowned for centuries for their healing powers by local Ute Indians.
Not much longer than a century ago, large herds of buffalo still roamed about this lush mountain valley. Today, cattle trudge through the deep snow. Where there are cattle, cowboys like Ray Heid are never far.
The jaunty horse breeder likes to wear a full-length elk leather coat with a fluffy beaver-fur collar over his violet-blue ski overalls. Trendsetter Ray combines his cowboy hat with racy cat's-eye-style sunglasses. This is après chic à la Steamboat Springs.
Ray's family has owned Del's Triangle 3 Ranch for generations. With the area's average annual snowfall of 331 inches (840 cm), every smart cowboy in town has owned a pair of skis as a means of transportation from as early as the late 19th century, explains Ray.
In 1913, ski jumper Carl Howelsen moved to town, where he built a ski-jump platform out of wood, began to teach ski jumping to the locals, and founded the Steamboat Springs Winter Sports Club. The same year, Howelsen organized the first Winter Carnival, with parades on skis, racing and jumping competitions.
Legend has it that some participants flew off the platform and landed in a herd of surprised elk grazing peacefully nearby. Steamboat was officially infected with ski fever. From then on, everyone who was done cattle herding strapped on skis for fun.
The little mountain with the ski jump was named in honor of the "crazy Norwegian," and is considered to be the oldest ski area in continuous use in Colorado today. By 1943, skiing had become so popular that it was taught as part of the regular curriculum at Steamboat's schools.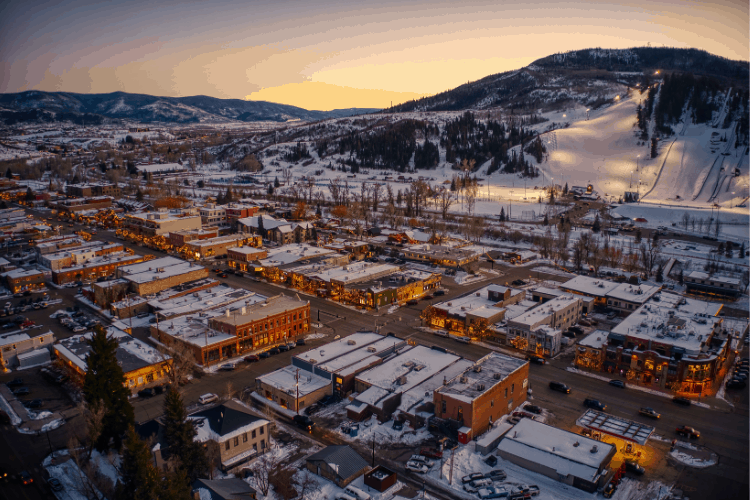 Steamboat Springs, the Olympian Producer
No wonder Steamboat Springs has produced more winter Olympians (95) than any other place in the United States. Howelsen Hill has been the training ground for, among others, Johnny Spillane, Travis Mayer, Caroline Lalive and Ray Heid, members of the 1960 U.S. Olympic Ski Jumping Team.
Billy Kidd is not even taken into account, because he moved there after his medal victory to become the resort's director of skiing. Local ski stars happily share their Olympics' stories and skiing advice with visitors.
Freestyle skier Nelson Carmichael, who won a bronze medal in 1992 in Albertville, Canada, hosts a mogul clinic on Nelson on Nelson's on select Sundays through the season.
At the same time nearly every day, Billy teaches proper pole placement on a run down Heavenly Daze with aspiring medalists — and teaches them how not to lose their newly acquired cowboy hats while racing down the slopes: The secret lies in the right wind angle, off the brim.
Book This Trip
Ready to explore the olympic terrain of Steamboat Springs? Start planning your trip here with up to 80% off on flights through JustFly.com. Next you can find hotel or VRBO options, local restaurants, insider knowledge on the best trails and more through Travelocity and TripAdvisor.
More Helpful Links