The road to Steamboat hasn't changed since we first drove it in January of 1969. Languid cows lazing in snowy pastures and tidy ranch houses with wood corrals still dot the landscape. Bright yellow F.M. Light & Sons signs continue to beckon us to the 100-year-old western general store. A teetering hay wagon dawdles down Highway 40, and the old red schoolhouse still sits at the base of Rabbit Ears Pass—familiar bucolic scenes of the 145-year-old ranching community. And the iconic barn still stands untouched by development.
Suddenly, enormous hot air balloons rise from the pavement directly in front of us, colorfully penetrating the morning haze. To the right buildings spread like a rash where there used to be hillside. Roads wind everywhere and nowhere. Parking lot patches come alive with moving vehicles. Our Steamboat, like my adult children in the car, has grown up.
First Winter at Steamboat
That first winter when the fledgling ski area was as old as my first born, we packed our four children into our '66 Ford station wagon bound for Steamboat Springs. Susan was 6 ½, David, almost 5; Michael, barely 3; and Kathleen, a babe in arms. Nick, now 42, wasn't even a thought. We had just bought a condo for $13,000 in the Storm Meadows complex being built at the base of Storm Mountain, now called Mt. Werner in honor of hometown Olympic hero Buddy Werner who was killed in an avalanche in Europe in 1964.
At that time the base area consisted of The Thunderhead Inn, Mt. Werner Lodge, an A-frame warming house, and an octagon building housing ski school and a ski shop operated by Skeeter and Loris Werner, sister and brother of Buddy and also former Olympic skiers. Slopeside, the four five-story buildings of Storm Meadows were under construction. The rest was blaring white snow and lots of it!
Lifts at Steamboat
The Christie double chair and a short Poma were the only lifts at the bottom. Thunderhead lift accessed the upper portion and Four Points lift carried skiers to the highest skiing terrain midway up Storm Peak. (We always thought Four Points got its name because of the four runs that met at its base. I learned later it was named for a four-point buck spotted there!) This photo shows the Christie lift to which we could ski right from our condo and the sign for Cub Claw parking.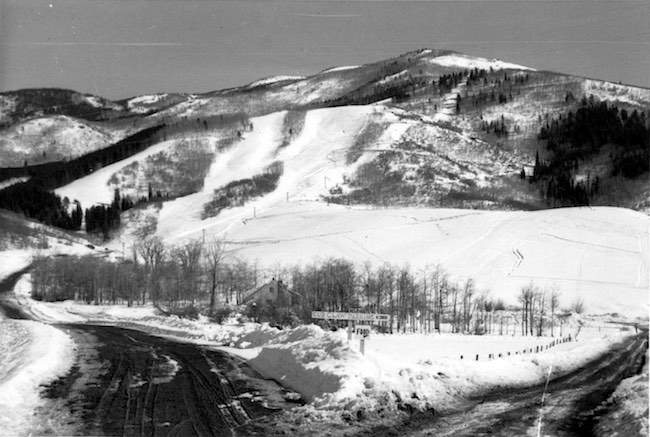 At the top of Four Points, we noted the frosted trees on Storm Peak and wished there were a lift to take us to the unblemished white face begging to be caressed by skis. Soon the Summit Poma was built and opened up not only the face but also Buddy's Run, a gentle intermediate slope that became a favorite family run. Later the four-person Storm Peak Express replaced the Poma with loading just below Four Points.
First Day at Steamboat
Our first day was a whiteout. But that didn't dampen spirits. The excitement of something great in the making was catching, and the snowstorm simply reaffirmed this. Developers were locals and world class skiers—the Werners, Marv Crawford, Gordie Wren—who returned to create a ski mountain on the outskirts of their town. They knew it was a good thing.
We were enchanted with the idea, too. At first, we bought the condo sight unseen as an investment with no intention of ever using it. But when we saw our children take to the snow like ducks to water, we knew right then this was our home away from home.
Happy Times in Steamboat
In the ensuing years, long weekends and holidays found our station wagon stuffed like an olive jar with four kids, three Labs, two adults, food, luggage and ski equipment time six trekking up Highway 40. A snowstorm often make the normal three-hour and 15-minute drive last deep into the night.
As the area developed, the kids' skiing developed right along with it. When they were finally tall enough to ride the chairlift, they spent hours on Giggle Gulch, Swinger and the long gently curving road Why Not. Long before Bashor was made a race area, the boys would tuck it from the top, creating their own downhill course.
Even after the Bell Gondola was installed (replaced in 1986 by the "Silver Bullet" gondola), we preferred the convenience of skiing out our front door and taking the old route—Christie to Thunderhead to Four Points. It was equally as easy to ski down Right-O-Way back to the condo for lunch.
It wasn't long before the boys could handle the black diamond storm runs of Storm Peak—Hurricane, Twister, Tornado and Cyclone. As their little legs rode the hugs moguls, we watched the balls on their knit hats disappear into the troughs and pop up again in a David-and-Goliath relationship with the mountain.
Memorable Weekend in Steamboat
Susan loved to take hot chocolate breaks in the A-frame and watch ski patrol bring down the day's catch. She was surprised one afternoon to see her mother slide by in a sled, right leg in a splint. Severe fracture of the tibia. Ouch! Off to the Steamboat Springs hospital. In addition, the day before the kids and four cousins had to be evacuated with ropes from the Christie when it broke down in a snowstorm. That was a memorable weekend!
Surprisingly, children's centers were unheard of in those days. There was a nursery for toddlers and group lessons for older kids, but we had to bail them out for lunch. Also, good, warm ski clothes for children were hard to find in the 70s. Hot Gear was the first decent brand, and I found it only in Steamboat Springs, where kids literally grew up skiing on Howelsen Hill right in town. It's still operating.
Steamboat Today
Today, Steamboat is an international ski resort owned by Alterra Mountain Company. In a way, it's heartbreaking to see the condos, private and rental homes, hotels and commercial buildings that have sprouted like saplings from an Aspen tree all over the base area and even up the bottom runs. Our favorite little mall, Ski Times Square, home of The Butcher Shop, Tugboat, Dos Amigos and Mother's Deli is gone. Somewhere between the movie house and the popcorn wagon was the creamery where slurping the world's best cinnamon ice cream was our Saturday night ritual. All gone. The gigantic Sheraton Hotel and Torian Plum form a skyline foreign to us.
The Way We Were
We can't leave Steamboat without seeing the old condo. We enter from the fifth-floor bridge (from where the boys would kamikaze jump into fluffy piles of snow). We sneak down the hall.
It's all wrong. The once brown rustic wood trim is painted mint green and the walls are wallpapered in mauve. Deep male voices emit from unit 530, not the sounds of children's laughter. The door is ajar. We could knock. What if it's different inside too?
Not wanting to supplant memories of the way we were, we turn back and leave behind the very place that has swirled around the corners of our minds since we left it 42 years ago.
Steamboat will never be mint green.
For more information on Storm Meadows, visit www.stormmeadows.com; on Steamboat, visit www.steamboat.com.
Claudia Carbone is an award-winning travel writer based in Denver. Read about other hotels she's visited in Sleepin' Around.