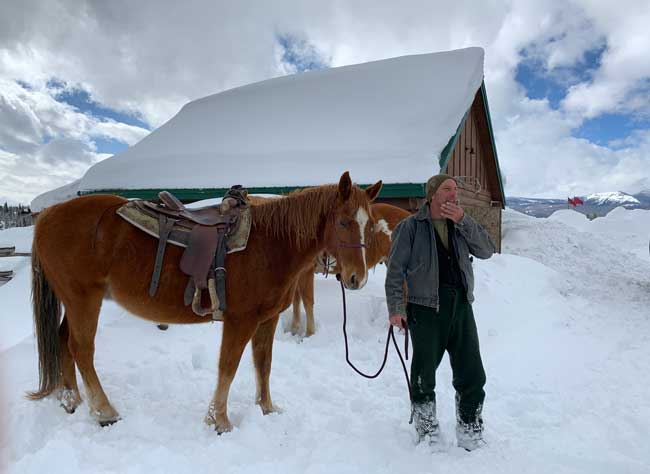 The sun is just peeking out from the clouds as my husband and I ride our horses toward Hahn's Peak outside Steamboat Springs, Colorado. It's been a good winter here in the Rockies. Ranchers here measure snowfall by the number of wires it covers on a barbed-wire fence. This looks like a three-wire winter.
The good thing about snow in the Colorado Rockies, though, is that it's usually light and airy. I barely hear the crunch of my horse's footsteps as we ride. Though Tonka's feet sink about eight inches into the snow with each step, it doesn't faze my trusty horse.
Jim, our riding guide from Hahn's Peak Roadhouse, shares stories of miners who came here in search of gold. Some underestimated the intense snow that can blanket this region in winter and paid with their lives.
The miners were eventually replaced by families looking to settle the land. This is prime ranching country and has been for more than a hundred years. Many ranching families go back four generations, and it's not uncommon to see cowboy boots and cowboy hats in town.
Perhaps that's why I've always loved Steamboat. It feels like authentic Colorado to me. As a kid growing up near Denver, Steamboat (as Coloradans call it), was a favorite weekend getaway. This town of 13,000 is in a wide valley some 157 miles west of Denver.
My family usually came in the summertime, when the wild flowers were blooming. We'd watch the rodeo, go hiking and soak in the hot springs.
Not much has changed. These days, I bring my own kids each summer to tube down the Yampa River (it's warm due to the hot springs), watch the rodeo, go hiking or to events like the Hot Air Balloon Rodeo and Art in the Park each July
This time, though, we're here in the winter – and it's a different kind of beautiful. With an average of more than 300 inches of snow a year, Steamboat takes winter to a whole new level.
Skiing takes center stage well into early spring, and most kids here grow up on skis. Steamboat has produced 98 Olympians and counting. With numbers like that, you're likely to share the gondola or stand in line at the grocery store with an Olympian during your visit.
Steamboat is known for Champagne Powder. Fresh snow is so revered here that many companies have a powder clause. If there are more than six inches of fresh powder on a given day, you can take a few hours off to ski. Often, you'll see signs on shop doors that say, "Gone skiing."
The snow is fantastic when Ben and I head up to Steamboat Ski Resort that next day. We hardly have to wait in any lift lines, and spend the day zipping up and down the mountain. The powder is so deep that I have a harder time with my turns. No matter. It's a great ski day none the less.
Steamboat Springs Vacation Rentals
Steamboat has many inns and hotels, but we often book a vacation home when we visit. We like being able to cook our own meals and relax together in the main rooms.
This year, we're staying at a luxury mountain home called Sun Ridge Lodge. Part of the Moving Mountains portfolio of vacation homes in Steamboat, Sun Ridge Lodge can hold up to 14 people. This 5-bedroom, 5-bath home has a well-appointed kitchen, a hot tub, heated outdoor patio, pool room and even an elevator.
One evening, we have a private dinner prepared at the home by Chef Juan, one of the skilled chefs at Moving Mountains. This add-on service is popular with Moving Mountain's guests – and it's easy to see why. The dishes are beautifully presented and taste even better. Dining in our own vacation home, watching a light snow fall outside, is just about perfect.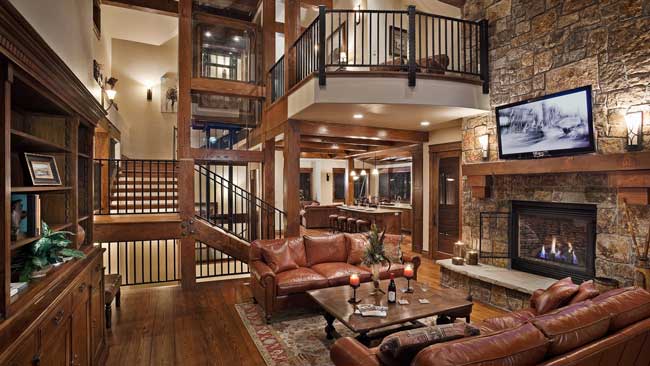 Catered Ski Chalet

This private chef's dinner is just a small taste of the company's Catered Chalet service. Moving Mountains is a pioneer offering European-style catered ski chalets in the US. While the concept has been popular in Europe for years, many here are unfamiliar with it. It simply means a full-service vacation experience at a luxury home.
One of Moving Mountain's skilled chefs cooks breakfast and dinner for your group each day, catering to exact needs and requests. They provide private car service to pick you up from the Steamboat Springs airport, shuttle your group to the ski resort or take you into town. They will also ensure you get lift tickets, ski rentals (delivered right to your home), dinner reservations or activities bookings.
Moving Mountains was created by Robin Craigen and his wife, Heather. They came up with the concept while working on a luxury yacht in the British Virgin Islands. They were experienced in providing excellent service to their guests, and were looking for ways they could do that, but also settle down and start a family.
When several guests from Colorado sailed on their yacht, they suggested that Robin and Heather start a business in Steamboat Springs.
"They were basically a walking commercial for Steamboat," laughs Robin. "They said no one had ever tried a European ski chalet concept in Colorado, and they encouraged us to consider Steamboat Springs."
Three years later, Robin and Heather headed to Steamboat. They liked what they saw and returned six months later. This time, they bought their first vacation property and eventually started Moving Mountains from their home.
Today, the company manages 85 luxury vacation properties in Steamboat Springs and has just opened an office in Vail. From home vacation rentals to full-service catered chalets, all Moving Mountain vacation rentals come with top service, from stocking your kitchen with groceries before you arrive to booking activities.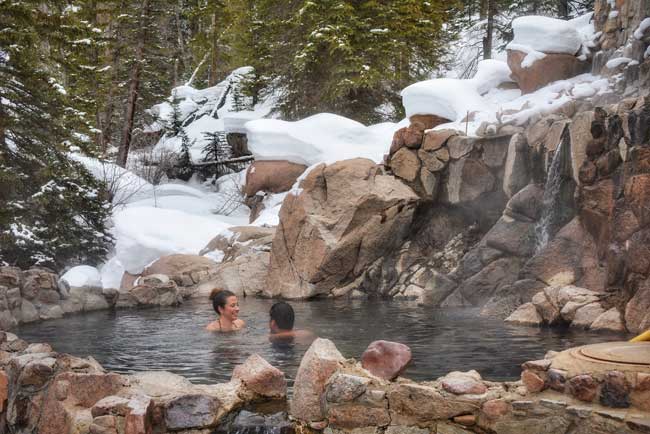 Hot Springs in Steamboat Springs

As its name suggests, Steamboat Springs is famous for geothermal hot springs, and there are many in town. In fact, the city was named after Steamboat Spring, a spring located near the old train depot. Early settlers thought its bubbling gurgles sounded like a steamboat.
In the summer, locals soak in the natural hot springs pools along the river, and the Old Town Hot Springs, which has multiple pools and slides, is popular year round.
Just outside of town and up the mountain is Strawberry Park Hot Springs, which has multiple hot springs in natural rock formations. I like going from pool to pool, trying out the different temperatures. When you get hot, you can jump into the nearby icy river for a hot/cold Nordic experience.
Two things to note: in the winter, the drive up to the hot springs can be difficult, so make sure you have a four-wheel drive or take a local shuttle. And after dark, Strawberry Hot Spring is known as "clothing optional". Don't worry, you won't see much, as lighting is minimal. Take a flashlight to light the path back to your car.
Winter in Steamboat Springs is refreshing, allowing you to experience nature's bounty in a western community that is authentic to its roots.
If You Go
If you visit in the winter, make sure you rent or drive a four-wheel drive. Coming over Rabbit Ears Pass during a snow storm is no small feat, so it pays to be prepared.
Moving Mountains
https://www.movingmountains.com/
Hahn's Peak Roadhouse
https://hahnspeakroadhouse.com/
Strawberry Park Hot Springs
Adults (18+) – $15
Youth (3-17) – $8 (No youth under 18 allowed after dark)
Children under 3 yrs are free
Holidays & Holiday weekends:
Adults – $20
Youth – $10
*Cash or check only. No credit cards.
Note: Take cash or check; no credit cards are accepted. If you're driving up, remember that 4-wheel-drive with snow tires are required from Nov 1 – May 1
How to Get to Steamboat Springs

The nearest international airport is Denver. Steamboat Springs also has its own regional airport. If you're driving from Denver, take I-70 west through Eisenhower Tunnel to the Silverthorne exit; go north on Colorado Highway 9 to Kremmling, then west on U.S. Highway 40 to Steamboat Springs.
Elevation:
Town: 6,695′
Steamboat Ski Area: Base: 6,900′ Summit/Mt. Werner: 10,568′
Tip: Drink a lot of water and take it easy the first day as you acclimate to higher elevations.