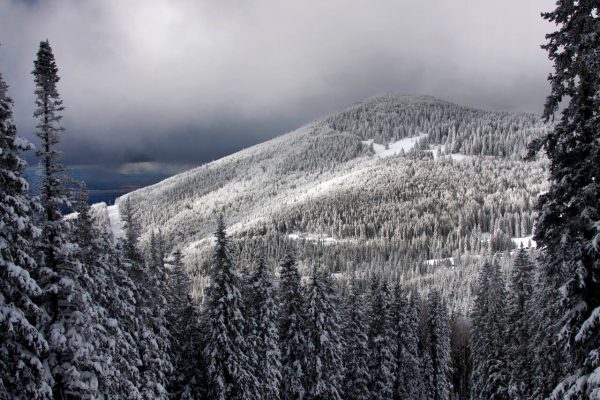 Most people know Santa Fe for its art galleries, eclectic shops, distinctive restaurants, adobe architecture and fascinating 400-year history. But few know about its other treasure – skiing. Ski Santa Fe is an adventure worth experiencing.
Just 16 miles from Santa Fe's historic plaza, Ski Santa Fe offers some of the best skiing in the west among the snow-capped peaks that dominate the skyline northeast of the city in northern New Mexico.
One of the oldest and highest ski areas in the U.S., Ski Santa Fe begins at 10,350 feet in the gorgeous Sangre de Cristo Mountain Range. It tops out at 12,075 where the views of the valley floor and surrounding mountain ranges are stunning. With that altitude combined with New Mexico's dry air, the snow falls as fluffy as cotton candy and is just as pretty as it hugs the branches of old-growth spruce and pine trees. It's one of the most beautiful ski areas I've skied in the west.
Ski Santa Fe: Family History
Like most of New Mexico's eight alpine areas, Ski Santa Fe is family-owned, which is why it retains that intimate, homey feel. So homey, in fact, that the owner, standing behind me in the cafe's beverage line, helps me find the hot water button on the drink dispenser. Thanking him as I turn around, and not knowing who he is, I ask, "Do you work here?" He smiles and pulls aside his vest to reveal a shiny gold badge that reads simply "Benny."
Benny Abruzzo, his brother, Louis, and son, Ben, are carrying on the tradition started by his father Ben who co-founded Sandia Peak ski area in Albuquerque in the early 50s. He later bought Santa Fe Ski Basin in 1984 from Kingsbury Pitcher, who went on to buy Colorado's Wolf Creek Ski Area. (Tragically, the senior Abruzzo and Benny's mother were killed in a plane crash one year later. Then Benny's brother Richard, a famous balloonist like his father, died when his balloon fell into the ocean off the coast of Italy in 2010. He was 47.) Despite the family's tragedy, the Abruzzos carry on.
To my surprise, the original ski area above Santa Fe began in the 1930s, and the army's 10th Mountain Division, headquartered at Colorado's Ski Cooper, trained there as well. Ernie Blake, founder of Taos Ski Valley, served as mountain manager in the early days. The area is steeped in ski history and legends.
The Abruzzos are striving to make the ski area where they literally grew up an ideal place for families. They work at it constantly with ski and snowboard lessons for all ages, a super friendly staff and mountain upgrades.
Continued on next page