Editor's Note: We're all dreaming of travel ahead. Here's some inspiration for future adventures. We share places, products and activities we recommend. If you make a purchase using a link on our site, we may earn a commission. Visit santafe.org for a complete list of things to do for future travels and travel options. Visit skisantafe.com to check mountain openings and purchase ski passes in advance online as they are currently not sold at the mountain.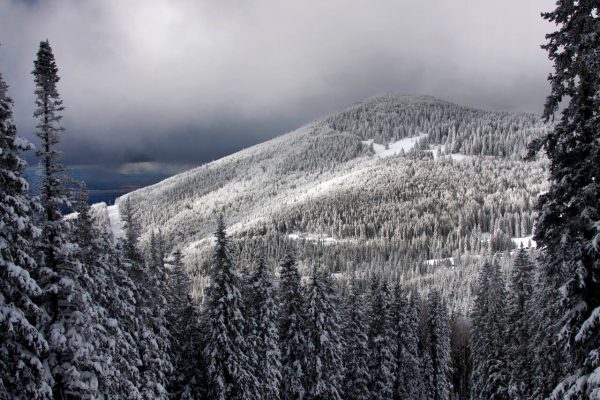 Skiing in Santa Fe
Most people know Santa Fe for its art galleries, eclectic shops, distinctive restaurants, adobe architecture and fascinating 400-year history. But few know about its other treasure – skiing. Ski Santa Fe is an adventure worth experiencing.
Just 16 miles from Santa Fe's historic plaza, Ski Santa Fe offers some of the best skiing in the west among the snow-capped peaks that dominate the skyline northeast of the city in northern New Mexico.
One of the oldest and highest ski areas in the U.S., Ski Santa Fe begins at 10,350 feet in the gorgeous Sangre de Cristo Mountain Range.
It tops out at 12,075 where the views of the valley floor and surrounding mountain ranges are stunning. With that altitude combined with New Mexico's dry air, the snow falls as fluffy as cotton candy. It is just as pretty as it hugs the branches of old-growth spruce and pine trees. It's one of the most beautiful ski areas I've skied in the west.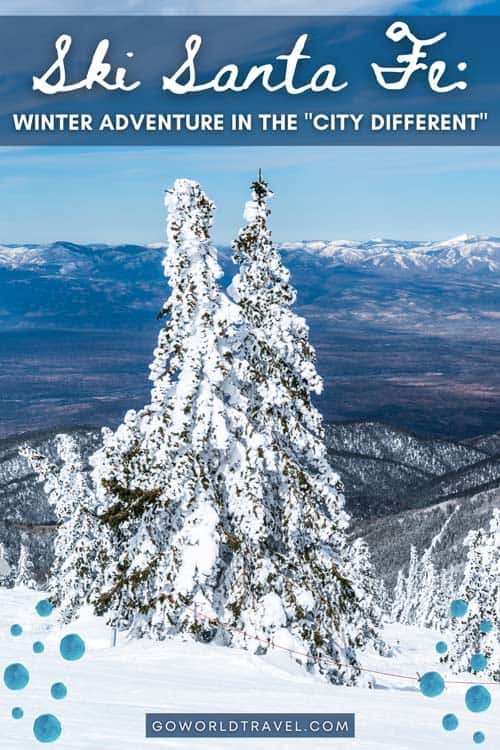 Find a hotel or an airbnb in Santa Fe
Ski Santa Fe: Family History
Like most of New Mexico's eight alpine areas, Ski Santa Fe is family-owned, which is why it retains that intimate, homey feel.
So homey, in fact, that the owner, standing behind me in the cafe's beverage line, helps me find the hot water button on the drink dispenser. Thanking him as I turn around, and not knowing who he is, I ask, "Do you work here?"
He smiles and pulls aside his vest to reveal a shiny gold badge that reads simply "Benny." Benny Abruzzo, his brother, Louis, and son, Ben, are carrying on the tradition started by his father Ben who co-founded Sandia Peak ski area in Albuquerque in the early 50s.
He later bought Santa Fe Ski Basin in 1984 from Kingsbury Pitcher, who went on to buy Colorado's Wolf Creek Ski Area. (Tragically, the senior Abruzzo and Benny's mother were killed in a plane crash one year later. Then Benny's brother Richard, a famous balloonist like his father, died when his balloon fell into the ocean off the coast of Italy in 2010. He was 47.) Despite the family's tragedy, the Abruzzos carry on.
The Original Ski Area
To my surprise, the original ski area above Santa Fe began in the 1930s, and the army's 10th Mountain Division, headquartered at Colorado's Ski Cooper, trained there as well. Ernie Blake, the founder of Taos Ski Valley, served as mountain manager in the early days. The area is steeped in ski history and legends.
The Abruzzos are striving to make the ski area where they literally grew up an ideal place for families. They work at it constantly with ski and snowboard lessons for all ages, super friendly staff and mountain upgrades.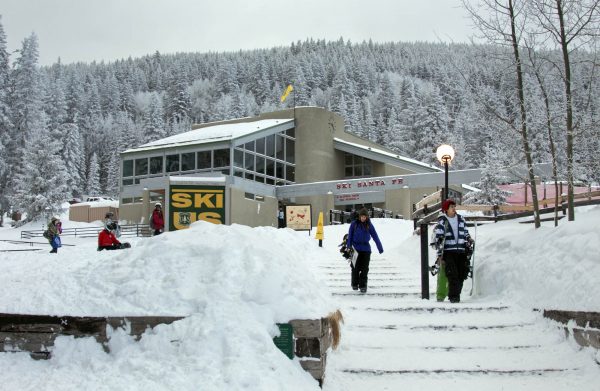 A few seasons ago they unveiled a huge addition to the beautiful La Casa base lodge, doubling seating capacity in the sunny cafe. It's open for breakfast and lunch, serving better-than-average ski-cafeteria food. Ski Santa Fe tripled the size of the rental shop that operates a state-of-the-art paperless rental system. Sometime within the next decade, they will develop Raven's Ridge on the north border, Benny says, into a "neat little family ski area." The other borders are protected wilderness.
Then there are the signature glades—the area's "piste" de rèsistance—where the trees are spaced just perfectly for making turns in the best fresh snow on the mountain. Every summer Benny and Ben fell select trees with their own hands to make the glades even more skiable.
"We are the fellers," Benny says with a grin. "We'll take about 25 percent out of the glades, leaving the natural environment as is."
How does he know where to cut? "I cut 'em like I like to ski 'em!" Another grin. They sell the timber for firewood and donate the proceeds to charity. With some of the country's best hotels and inns down in the city, there's no need for lodging at the ski area.
Instead, you must drive 30 minutes up the winding road from Santa Fe that starts at Otero and Artist Road, which, to be honest, can get dicey in winter. Or, take the Blue Bus that now operates between town and Ski Santa Fe with three round trips per day on weekdays and seven on weekends and holidays. It makes quite a few stops along the way. One is at Ten Thousand Waves, the famous spa where you can present your bus transfer token for a $5 discount on treatment or food.
Where to Stay in Santa Fe
Santa Fe turns into a beautiful painting in winter, with snow blanketing the adobes and Kiva fireplaces crackling inside. When the winter sun comes out, it's pleasant enough to stroll the galleries, shops and museums. It's a wonderful time to visit the City Different. Prices are usually lower during winter (low season), and Santa Fe Restaurant Week is in early March.
Both these iconic hotels reflect Santa Fe's style and spirit. Staying at either is an extraordinary experience.
La Fonda on the Plaza—The art and architecture of this historic hotel, as well as it's signature restaurant La Plazuela, are among Santa Fe's treasures. The spa offers a full menu of treatments. Bed and Breakfast packages for two are offered.
lafondasantafe.com
Inn and Spa at Loretto—In the heart of Santa Fe, this luxury boutique hotel has a full-service spa and one of the city's finest restaurants, Luminaria. A Winter Ski Escape package includes two lift tickets and daily breakfast for two.
innatloretto.com
If You Go
Ski Santa Fe has 660 acres of skiable terrain with 7 lifts, 79 trails (20 percent beginner, 40 percent intermediate, 40 percent expert) with 36 groomed daily. It has a vertical of 1725 and averages 225 inches of snow each year. For more information on pricing, programs, mountain layout and more, visit skisantafe.com. For information on the other alpine ski areas of New Mexico, visit skinewmexico.com.
Find the best ski gear before you go and be prepared for anything with MountainWarehouse. Check out their selection of ski jackets, boots, under layers or just some extra hiking gear here.
Ten Thousand Waves—tenthousandwaves.com
Blue Bus—RidetheBlueBus.com
Visit santafe.org for a complete list of things to do, current safety protocol and check openings. Visit skisantafe.com to check mountain openings and purchase ski passes in advance online as they are currently not sold at the mountain.
Author's Bio: An award-winning journalist for 32 years, Claudia Carbone is a native of Denver where she still lives. Follow her Go World blog at Sleepin' Around: A Hotel and Travel Blog