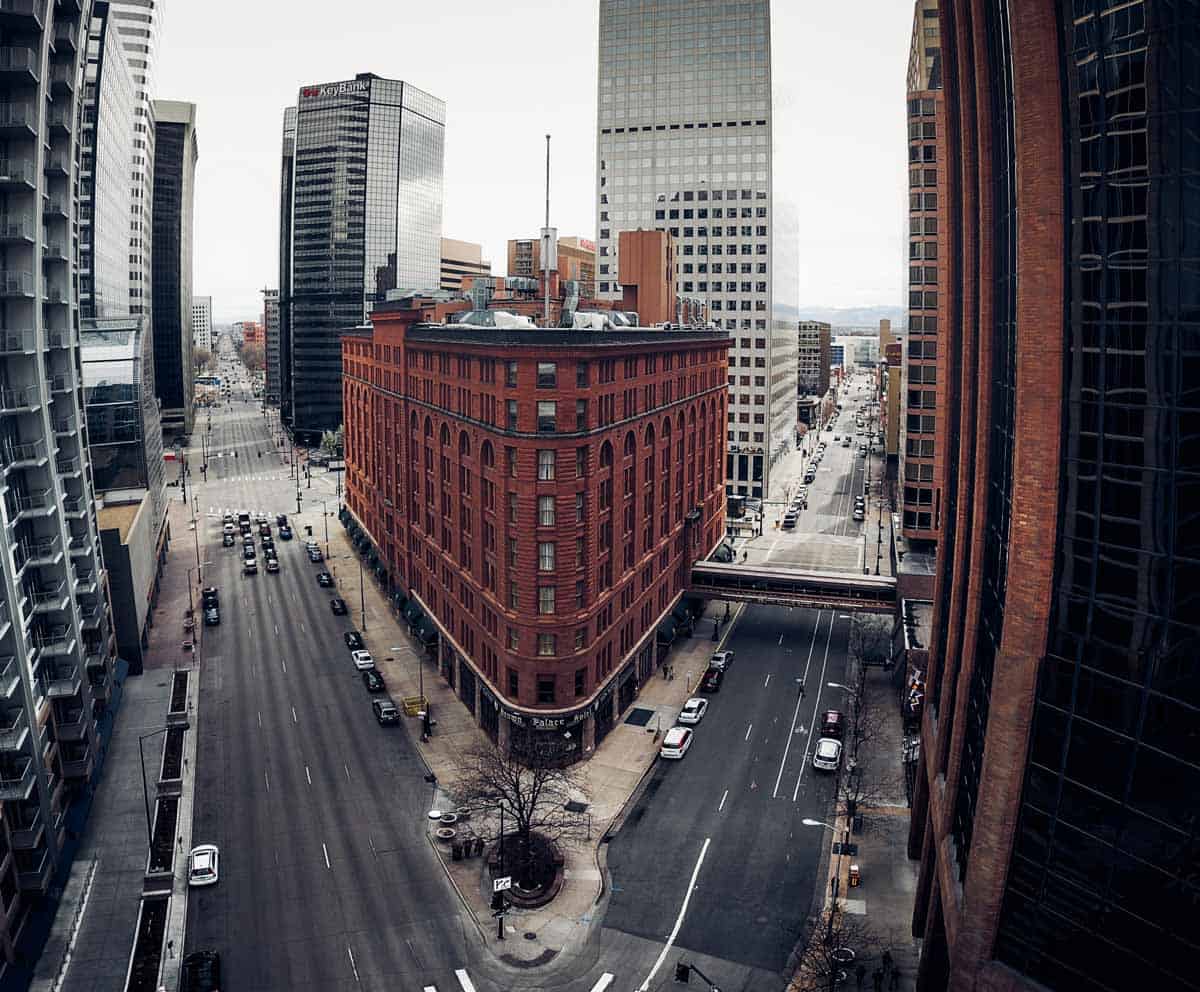 If you share a mutual fondness for historic hotels and enjoy a little company with new friends, then a stay at a haunted hotel might be right for you.
Not all of those encountered, however, will embrace the gift of gab and would much rather play with your electronic devices, hide your belongings, break things, and photo-bomb your best pictures, often manifesting as fuzzy spots that convince you there's something wrong with your camera.
Not to worry. You're simply being visited by former guests who either never checked out or who enjoyed the ambiance so much that it became, literally, their favorite haunted building.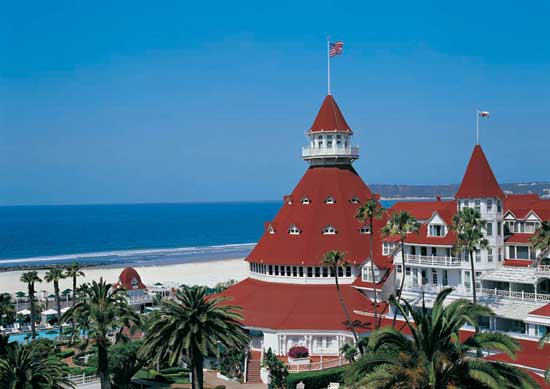 America's Top Haunted Hotels
America has no shortage of spooky accommodations – Hollywood's Hotel Roosevelt, Santa Fe's La Fonda on the Plaza, New Orleans' Hotel Provincial, New York's Hotel Chelsea, and The Stanley Hotel (the inspiration for The Shining) in Estes Park, Colorado.
While my husband and I have never purposely sought out supernatural scenarios, two recent vacations apparently put us on the radar of some restless souls who clearly wanted a little attention. What better season than Halloween to boo(st) their egos?
The Brown Palace sits like a multi-layered wedge of chocolate cake in the heart of downtown Denver. An iconic landmark since its opening in 1892, it was one of the first to utilize an atrium- style design at its center, and boasts an archival guest list that has included Molly Brown (no relation), U.S. presidents, The Beatles, and even some notorious criminals.
Life in the past lane takes centerstage in the time-honored tradition of afternoon tea (daily from 12 to 4) and themed tours focused on the hotel's architecture, ghosts and scandalous romances.
The front desk also keeps a judicious log of any unusual "sightings" reported by guests or staff. My favorite of these was the concierge who discovered a group of musicians in period dress playing loudly after midnight in the ballroom.
The gentlemen politely responded to his request to dial it down a bit. His assumption was that they were simply rehearsing for a reception the next day…yet nothing was scheduled. When he returned to the ballroom, it was completely empty.
Our own supernatural experience in Colorado involved the laptop, radio and television coming on throughout the wee hours. I also discovered a Ricola bag I had crumpled and thrown away in the bedroom wastebasket subsequently smoothed out and tucked between folded towels in the bathroom.
Since no one had access to our room, my husband determined we were dealing with some juvenile ghosts who just wanted to have fun. When he spoke respectfully but firmly to them, the shenanigans promptly stopped.
The other encounter was a bit more startling. As we were returning from dinner one evening and walking down the wide hallway, my right side was suddenly slammed into with such force that my purse flew off my shoulder.
I turned quickly, catching a fleeting, transparent glimpse of a man in dark clothes hurrying in the opposite direction. Since my husband didn't see him, we can only conclude there was a window of time in which I collided with someone from an earlier era who didn't see me, either.
If You Stay at This Haunted Hotel:
For fine dining at The Palace Arms (Tuesday-Saturday), reservations are recommended. Check out Ellyington's for breakfast, Churchill Bar for lunch/dinner, and Ship's Tavern (which truly has desserts to die for).
For family-friendly daytime attractions, there's Downtown Aquarium, Denver Zoo, Lower Downtown Historic District, and the State Capitol. For more information, see VisitDenver.com and Colorado Tourism.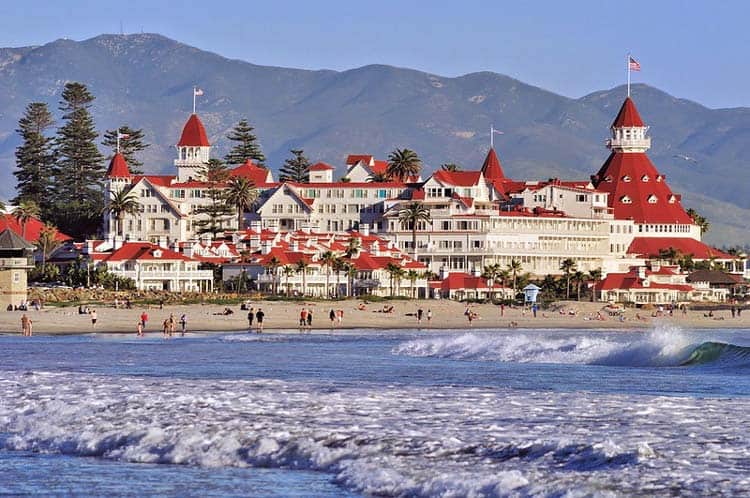 Diehard romantics who love Somewhere in Time will be the first to tell you that the 1975 novel on which it was based – Richard's Matheson's Bid Time Return – was actually set at The Del. Its employees, in fact, still get ruffled decades later by Mackinac Island's Grand Hotel stealing the cinema spotlight.
Like Brown Palace, The Del is another vestige of late 19th century luxury and opened in 1888 to an elite clientele seeking blissful escape from the harsh winters of home.
In addition to a plethora of posh amenities like indoor/outdoor recreational activities, steam-powered hydraulic elevators, and full bathrooms, three meals a day were included in a starting room rate of $2.50. For ladies, you could even summon a bellboy to come dry your hair after washing.
A few days before Thanksgiving 1892, an attractive young woman – accompanied by neither a husband nor any luggage – checked into The Del near San Diego with a story that her brother would be arriving on a later train.
Five days later, the reclusive guest was found dead on an exterior staircase leading to the beach. A single gunshot wound to the head was ruled "self-inflicted" by the coroner.
An autopsy was never performed, however, despite the fact the pistol found by her body (and which she herself had purchased upon arrival) was a different caliber than the bullet extracted. Over a century later, the mystery of Kate Morgan's death remains unsolved, fueling the belief that her spirit can't rest.
In addition to paranormal activity and fluctuating temperatures in Kate's old room – 3327 – she's a frequent presence at the vintage gift shop, Est. 1888, and delights in toppling books, merchandise, and Marilyn Monroe photos. "She's jealous," the shopkeeper told us. She's also fond of breaking things.
On our last morning, a heavy water glass didn't just fall off a shelf and into the pedestal sink; it was hurled with such force as to crack the entire marble basin. When we reported this to the front desk, the staffer simply laughed, well accustomed to Kate's temper tantrums.
If You Stay at This Haunted Hotel:
Sunday brunch (reservations only) is a must in the palatial Crown Room. Enjoy libations at the Babcock & Story Bar or soak up some rays at the Sun Deck Grill. Fine dining with a beachfront view is yours at 1500 Ocean.
Spoil your inner child with a sundae or waffle cone at the MooTime Creamery. For shopaholics, the island offers boutiques, bookstores and galleries as well as community art walks and a summer concert series.
And if you should happen to see a shadowy female image reflected in a shop mirror or notice dime-sized, transparent spots on your photos, your eyes aren't playing tricks. It's just Kate Morgan passing through.
Author Bio: Former actress and theater director Christina Hamlett is an award-winning author whose credits to date include 30 books, 156 plays, 5 optioned feature films, and hundreds of articles and interviews. She is also a script consultant for the film business (which means she stops a lot of really bad movies from coming to theaters near you) and a professional ghostwriter (which does not mean she talks to dead people). https://www.authorhamlett.com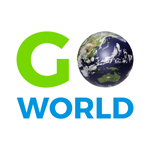 Latest posts by Go World Travel Magazine
(see all)