San Diego is known for its sunshine and temperate climate – and that means you'll have plenty of time to spend outdoors during your visit. The region's beautiful setting along the Southern California Coast is a virtual playground for those who want to enjoy Mother Nature at her best. We were inspired by a recent feature by Expedia.com on SoCal's best outdoor attractions so we teamed up with them to bring you seven ways to enjoy the great outdoors in San Diego.
Go Whale Watching
This popular bucket list activity can be checked off in San Diego. Blue whales, the largest animals on earth, migrate along the coast of San Diego from mid-June to September. Blue whales tend to go farther out to sea, so it's best to book a trip on a boat specializing in whale watching. Grey whales often come closer to the coast and can even be seen from the shore wherever there is a good view of the Pacific, such as Torrey Pines State Reserve or the Cabrillo National Monument. There's nothing quite like seeing one of these giant creatures shoot a 40-foot column of water into the air.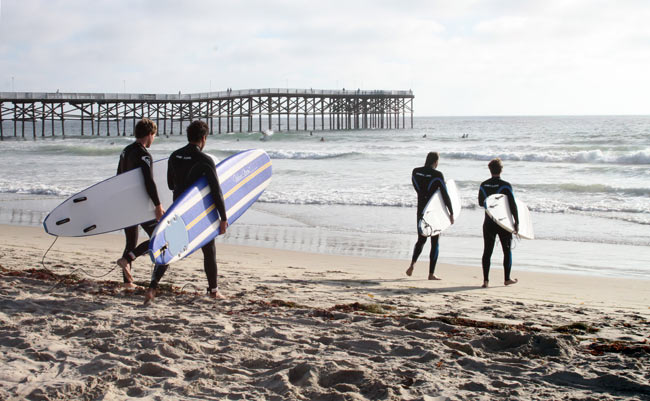 Take a Surfing Lesson
Surfing is a way of life for many who call San Diego home, and is as normal as a morning run. While the sport can be demanding, San Diego has areas with relatively gentle waves and plenty of opportunity to learn. Oceanside, for examples, has miles of gentle surf, and is less competitive than Trestles, which is usually filled with experiences surfers. La Jolla Shores is another good spot to learn to surf or to just enjoy practicing what you already know. Learning to surf takes practice, but you can get a good start by taking a surfing lesson. You'll find many local outfitters in the area who offer affordable surfing classes.
Stroll through Balboa Park

If you're looking for something close to the airport, Balboa Park is an enticing option, but be sure to give yourself plenty of time to enjoy all it has to offer. (And to make sure you have time if you get lost!) Balboa Park has 15 museums, multiple performing venues and gardens in its 1,200 acres, making it the largest urban cultural park in the nation. Start at the visitor's center to plan your day. If you have kids, take miniature railroad tour of the park. You can also ride the carousel, walk through the award-winning rose garden or just enjoy the architecture and sunshine.
Continued on next page