San Diego is known for its sunshine and temperate climate – and that means you'll have plenty of time to spend outdoors during your visit.
The region's beautiful setting along the Southern California Coast is a virtual playground for those who want to enjoy Mother Nature at her best.
We were inspired by a recent feature by Expedia.com on SoCal's best outdoor attractions so we teamed up with them to bring you seven ways to enjoy the great outdoors in San Diego.
Go Whale Watching
This popular bucket list activity can be checked off in San Diego. Blue whales, the largest animals on earth, migrate along the coast of San Diego from mid-June to September.
Blue whales tend to go farther out to sea, so it's best to book a trip on a boat specializing in whale watching.
Grey whales often come closer to the coast and can even be seen from the shore wherever there is a good view of the Pacific, such as Torrey Pines State Reserve or the Cabrillo National Monument.
There's nothing quite like seeing one of these giant creatures shoot a 40-foot column of water into the air.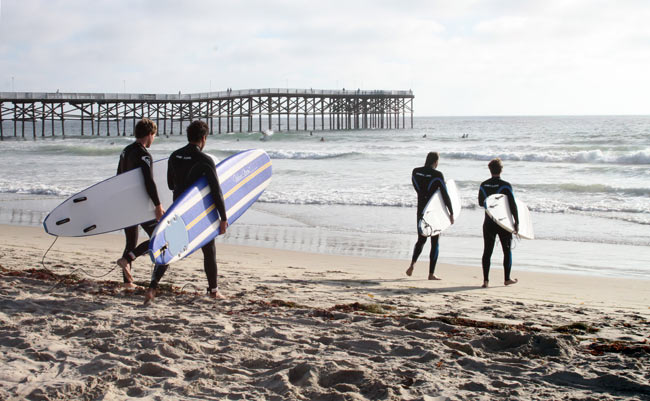 Take a Surfing Lesson
Surfing is a way of life for many who call San Diego home, and is as normal as a morning run. While the sport can be demanding, San Diego has areas with relatively gentle waves and plenty of opportunity to learn.
Oceanside, for examples, has miles of gentle surf, and is less competitive than Trestles, which is usually filled with experiences surfers. La Jolla Shores is another good spot to learn to surf or to just enjoy practicing what you already know.
Learning to surf takes practice, but you can get a good start by taking a surfing lesson. You'll find many local outfitters in the area who offer affordable surfing classes.
Stroll through Balboa Park

If you're looking for something close to the airport, Balboa Park is an enticing option, but be sure to give yourself plenty of time to enjoy all it has to offer.
(And to make sure you have time if you get lost!) Balboa Park has 15 museums, multiple performing venues and gardens in its 1,200 acres, making it the largest urban cultural park in the nation. Start at the visitor's center to plan your day.
If you have kids, take miniature railroad tour of the park. You can also ride the carousel, walk through the award-winning rose garden or just enjoy the architecture and sunshine.
Go Wild at the San Diego Zoo
At the San Diego Zoo, it's time to party. This year marks the popular zoo's 100-year anniversary, and there are special activities to celebrate the occasion.
The summer will be filled with centennial-themed events, and the San Diego Zoo will keep its Nighttime Zoo hours again this year, allowing guests to stay in the park after dark.
The San Diego Zoo is home 3,700 rare and endangered animals, and a botanical collection with more than 700,000 exotic plants.
Hit the Beach on Coronado Island
The beaches on Coronado Island have been rated some of the best in the country. You can reach the island by driving over the San Diego-Coronado Bridge.
The bridge can get congested at times, and taking a ferry is more enjoyable. Ferries run every half hour from 9:30 am from Seaport Village to the island. Like the bridge, the Hotel del Coronado is an architectural delight.
It has a wild past, full of ghost stories, scandals and celebrities. Marilyn Monroe starred in "Some Like It Hot," which was filmed at the hotel. The hotel is a rich backdrop to the soft sandy beaches and easy waves.
Coronado Central Beach runs along Ocean Boulevard with a backdrop of colorful mansions and the Hotel del Coronado. The water is shallow and the sand is smooth, making it the perfect place to enjoy the sun.
Ferry Landing Marketplace has a sandy beach area adjacent to the ferry pier where the boats drop passengers off. The marketplace has more than 25 shops, restaurants and art galleries.
There is also a large grassy area, where you can take a break and soak in the view of Downtown San Diego. The water here is tranquil and perfect to cool off in between shopping and dining.
Dine Outdoors in Seaport Village
There's always something happening at this little waterfront destination. From buskers, Greek music, palm readings and shopping, it's really hard to get bored.
You can stroll the piers looking at art and shopping, and if you're a foodie, you'll find a large variety of restaurants. Margarita's Kitchen & Cantina is mouthwatering if you're in the mood for Mexican food.
They offer dishes from Mexico's Oaxaca and Michoacán regions. If you're not in the mood for Mexican food, just walk a few minutes and you'll find Greek food, gourmet cupcakes, burgers and more.
Most places have outside dining, or you can grab your food and eat while you take a walk around the village. Kids love the historic carousel, and there are face painters, balloon animal artists and more along the pier.
You can get a caricature done or even hold exotic birds. Check out their calendar of free outdoor concerts, which happen frequently in Seaport. At night, Seaport Village is a colorful assortment of lights on the water.
Find Your Inner Maverick at the USS Midway Museum
You'll do a lot of walking when you tour the USS Midway. This aircraft carrier, the longest-serving U.S. Navy aircraft carrier of the 20th century, is no small vessel, and you can easily spend the whole day exploring its decks and rooms.
Complete with an audio tour, you can imagine what it was like to live and work aboard the USS Midway. While exploring, you can interact with climb-aboard aircraft and cockpits, videos and flight simulators to unleash your inner Maverick.
Afterwards, head to Kansas City Barbeque, a nearby restaurant where two scenes from Top Gun were filmed.
If You Go to San Diego
Author Bio: Kelsey Nelson is an assistant editor at Go World Travel. She has a passion for travel, reading and editing anything she can get her hands on.