Located in an area of outstanding natural beauty, Golden sits in Clear Creek valley, surrounded by high rocky buttes to the east, and the first range of foothills to the west. Although it is only 12 miles from downtown Denver, the historic town has a completely different atmosphere.
Expect to see bikers pedaling up Lookout Mountain, while others hang glide down. There is world-class rock climbing, kayaking in the center of town, an Old West main street lined with one-of-a-kind shops, and for a small town, a large array of dining choices. Oh, and did we mention, Golden brews more beer than any other place on earth?
Here are some top things to do in Golden, Colorado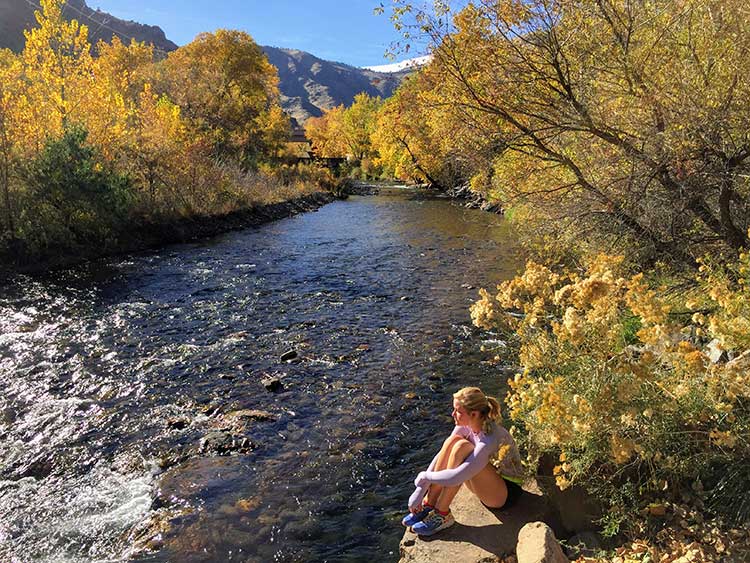 Walk or Bike Clear Creek in Golden
The people of Golden live outdoors, and you'll want to be outside too. The most popular trail in Golden is a paved hiking and biking path that stretches from the beginnings of Clear Creek Canyon in the Foothills of the Rocky Mountains, all the way down to the South Platte River in Denver, 19 miles away.
Bridges cross the creek, offering wonderful views as you stroll along a tree-lined trail meandering beside Clear Creek. The local newspaper Westword calls it the prettiest trail in metro Denver. And one of the most historic. Clear Creek Canyon was the route the railroad and stagecoaches took to the gold strikes in Central City and Black Hawk.
Even today, on weekends, you can expect to see a dozen people panning for gold, which washes down the river today just as it did 150 years ago. Others just go fly fishing. Right in the heart of downtown Golden are the Clear Creek History Park, a complete farm from the 1800s with a barn, blacksmith, historic schoolhouse and a chicken coop where if you bring some quarters, you can feed the chicks.
Eventually, an off-road trail will run from Golden to Idaho Springs 25 miles away.  Right now, you can drive up Clear Creek Canyon 12 miles on Hwy. 6 to Mayhem Gulch Trailhead, and hike four miles on a paved path surrounded by cliffs and rock climbers.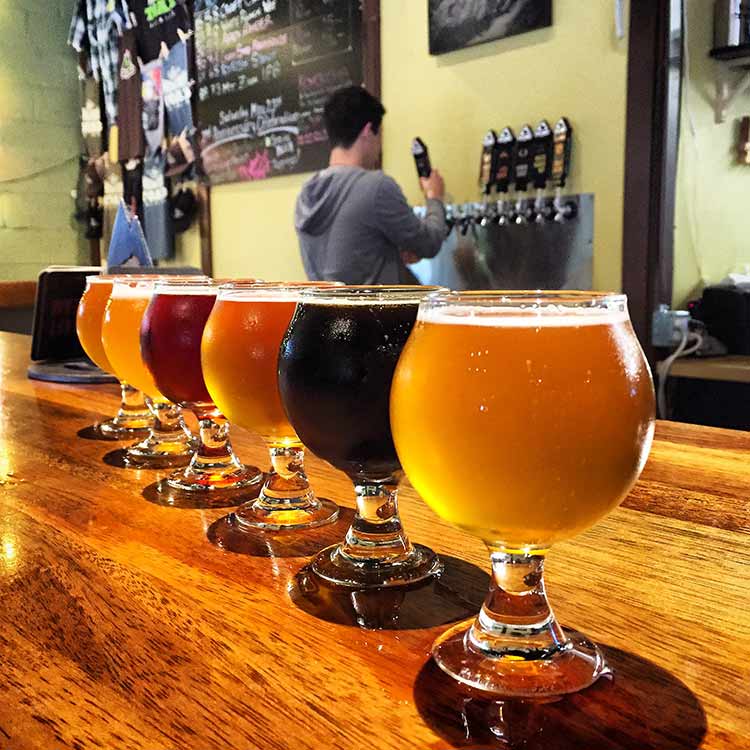 Sip Craft Beer in an Outdoor Beer Garden in Golden
All of Golden's eight craft breweries have outdoor patios. And they all welcome dogs! At Golden City Brewery, this small brewery is actually located at the brewer's house and the beer garden is literally his backyard.
Barrels & Bottles has a wonderful mixture of 24 craft beers and 24 crafts wines all on tap, as well as a dog-friendly patio out front, where the owner's dogs frequently hang out.
Often there are as many dogs as patrons at Mountain Toad Brewery in their big outdoor beer garden with a dirt floor and picnic tables. There's always a food truck handy for snacks.
The award-winning Cannonball Creek Brewery has a large outdoor dog-friendly patio overlooking Mount Zion, while New Terrain's dog-loving patio has views up spectacular Clear Creek Valley – and it's very own trail that leads from the patio up North Table Mountain.
Holidaily Brewing Company is the only gluten-free brewery in Colorado. They use the finest locally sourced, malted, gluten-free grains as the base for their beers and almost all their beers are also dairy-free and vegan.
Coda Brewery on the edge of Golden was founded by Luke Smith. As a former yeast microbiologist and translational research scientist, Luke's passion is designing each individual beer with a unique water profile and a unique yeast strain. He hosts the title "Fermentation Scientist" and his range includes fruit beers, sours, saisons and IPAs.
Sleepyhead Passionfruit Imperial Kolsch took home a silver medal at the 2014 Great American Beer Fest. Over Yonder Brewery is the newest kid on the block, located near Red Rocks Amphitheatre making it the perfect place for a pre-concert brew.
Whatever brewery you go to in Golden, you'll find the names of the craft beers reflect the trails, mountains, rivers and scenery to be found here. And of course, the beers will all taste better when sipped outside looking at the big sky views that hover over this pretty mountain town.
And everyone has to tour Coors! This is the largest single-site brewery on the planet making 13 million barrels of beer a year, which translates into 4.3 billion bottles and cans – or about 221,000 bottles of beer for every resident in Golden.
The tour shows you how Coors invented the aluminum can and how they still make their beer with water from 21 natural springs in Golden. Tours are just $5 for Colorado residents and $10 for out-of-state fans and include three free beers and a souvenir glass.
Meet Buffalo Bill in Golden
Buffalo Bill Cody was the world's first superstar—a 19th century Elvis. In the early days of the West, he was a buffalo hunter, Pony Express rider, and scout for the U.S. Army. Beginning in 1883, he put the West under a tent with his Buffalo Bill's Wild West show, which performed in more than a thousand cities in 12 different countries.
Bill brought along 640 cowboys, Indians, Vaqueros, ropers, trick riders, and sharpshooters, making his show more than 10 times the size of Beyonce's recent World Tour.
Sadly, Buffalo Bill was visiting his sister in Denver in 1917 when he died. His funeral on top of Lookout Mountain was the largest in Colorado history. Today, Buffalo Bill's Grave & Museum brings his incredible story back to life with costumes, guns and posters and pictures from the show. There are spectacular views from the grave of the mountains and plains that Buffalo Bill loved so much.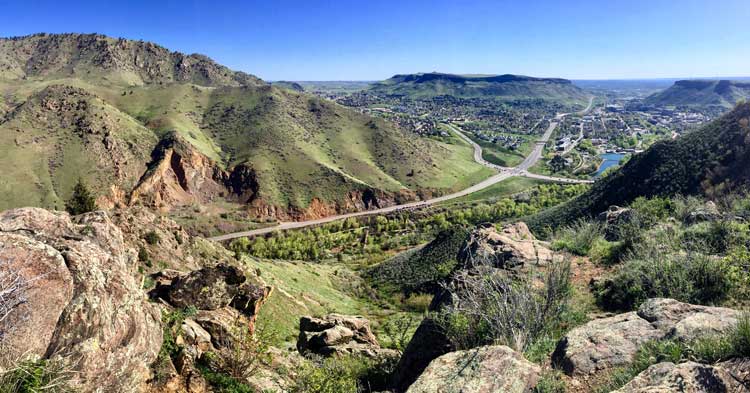 Drive the Lariat Loop Trail in Golden
The best way to Buffalo Bill's Grave is to drive the Lariat Loop. From downtown Golden to the top of Lookout Mountain is pure Colorado – hairpin turns, deadly-looking drop-offs, cliffs, and a disturbing absence of guardrails.  Ah, but the views!
It's no wonder this road, that gains 1,300-feet in just 4.3 miles, is one of the classic bike rides in the state, featured twice in the US Pro Challenge with the world's top cyclists. It's also one of the state's best scenic drives, climaxed at the 7,379-foot summit of Lookout Mountain with 360-degree views. The giant Buffalo Bill's Grave gift shop is one of the best places for true Colorado souvenirs.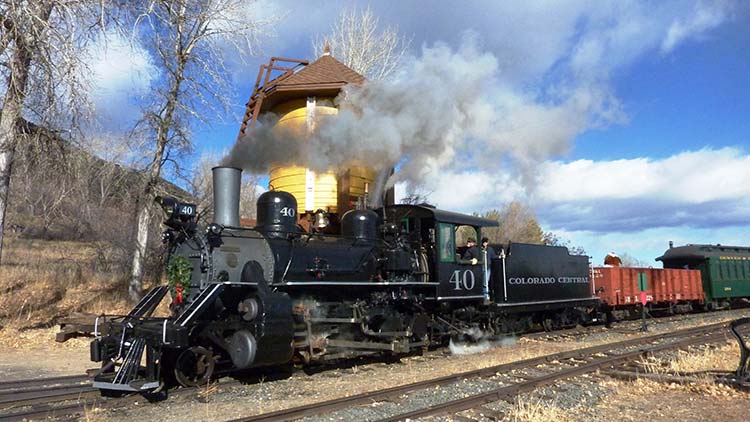 Colorado Railroad Museum
It was the railroads that "won the West," and the largest collection of narrow gauge steam locomotives and cars in Colorado is located in Golden at the Colorado Railroad Museum.
Most fun of all, the museum has a half-mile circle of track and throughout the year, they fire up one of their many operating steam locomotives and pull passengers around this giant toy train set, steam whistles blowing and bells clanging. On the other weekends, they have a Galloping Goose – an old Pierce Arrow limousine that was put on wheels with a bus welded on the back that used to run over the Rocky Mountains near Telluride.
The museum has indoor and outdoor model train displays – put a quarter in and watch a pint-sized locomotive circle around a giant layout, complete with a circus and a city. There are dozens of locomotives and cars for kids to climb on.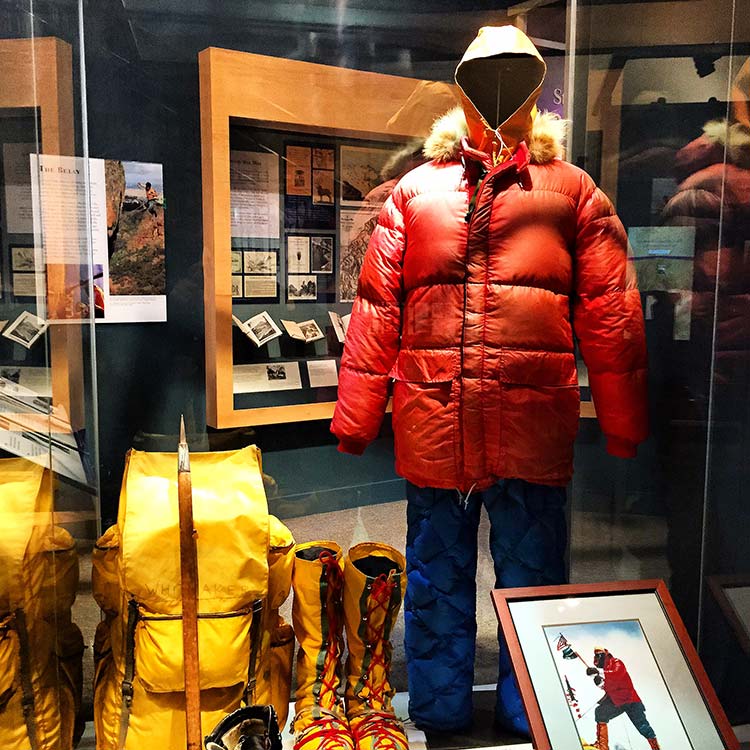 American Mountaineering Museum
The American Mountaineering Museum in downtown Golden is the only museum devoted to the history and spirit of mountain climbing. Here you can see the actual clothes worn by the first Americans to summit Mount Everest, which was designed by a then little-known mountaineer named Eddie Bauer.
Among the treasures in this museum is an ice ax that climber Pete Schoening used on K2 to single-handedly save six teammates from falling to their deaths. There's a huge scale model of Mount Everest showing all the different climbing routes.
You can also see historic items from the 10th Mountain Division, the brave WWII unit that trained in Colorado and fought in the mountains of Italy. There's a simulated crevasse where you can see if you would have the nerve to cross. If you intend to hike a 14er in Colorado, there are helpful exhibits on what to expect, from lightning to lack of oxygen.
If you actually want to climb a mountain, the trails to five mountain tops start in Golden. South Table Mountain and North Table Mountain are rocky buttes; Mount Zion is where the big "M" is for Colorado School of Mines; the Mount Zion trail continues to the summit of Lookout Mountain; or just a short drive away is pretty Galbraith Mountain with spectacular views down into Clear Creek Canyon.
See Miss Colorado's Crown and Other Precious Gems
The world's first dinosaur bones were discovered near Golden in 1877 by Arthur Lakes, a professor at Golden's Colorado School of Mines. He went on to create the school's Mine's Museum, which is free and open to the public seven days a week.
In addition to many exhibits on dinosaurs, the museum has an eclectic collection of all things gold and minerals. You can see and learn about the gems in Miss Colorado's crown, look at rare gold coins minted in Colorado in 1860, enter a simulated uranium mine, and examine rocks from the Moon and Mars.
Stop in the gift shop and you can even buy a small sliver of rock from the Moon for just $30! It's also a good place to stock up on gold panning supplies if you want to join those gold-panners searching for precious nuggets along the banks of Clear Creek.
See Dinosaur Footprints at Dinosaur Ridge
Another way to learn about dinosaurs is to take the Triceratops Trail, a 1.5-mile gravel path that winds around downtown Golden through vertical walls of sandstone. You'll see the fossilized tracks of dinosaurs, birds, mammals and insects from 68 million years ago.
Or you can play a round of golf at Golden's Fossil Trace Golf Course, where you can see real Triceratops footprints adjacent to the 12th green. Nearby at Dinosaur Ridge, there are hiking trails, a museum, and the opportunity to see real dinosaur bones still embedded in rocks.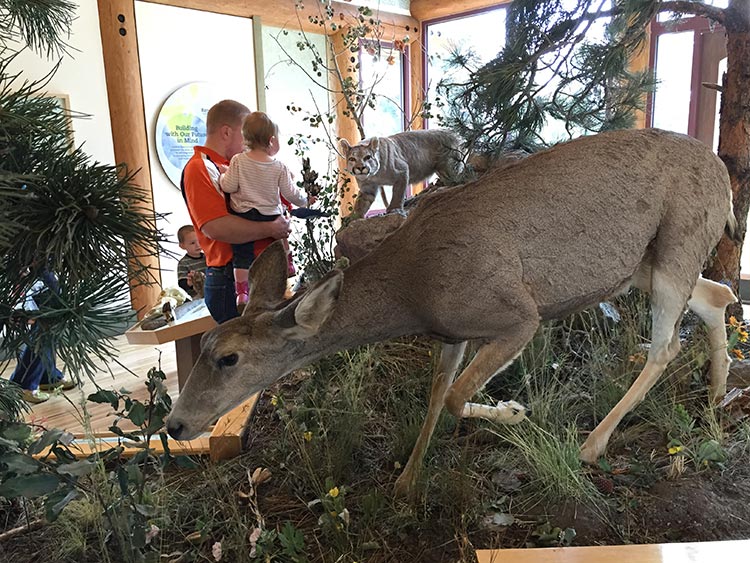 Watch Wildlife Videos at the Lookout Mountain Nature Center
Located on top of Lookout Mountain, the Lookout Mountain Nature Center is built around the gorgeous 1917 Boettcher Mansion. Once a summer home for the prominent Boettcher family, this beautiful log building has been turned into a museum and nature center.
The surrounding park has 1.4 miles of gentle trails that wind through ponderosa pine forests mixed with meadows of wildflowers. One trail leads to Buffalo Bill's Grave & Museum; another short hike takes you to one of the most beautiful views of Golden and the Front Range.
Exhibits in the center will tell you about the flora and fauna of Colorado, which are often visible through the huge picture windows and on the observation deck. Of particular interest, the nature center has a motion cam that runs all night, capturing whatever animals happen to be prowling out there.
You can watch videos of the black bears, mountain lions, bobcats, elk, and mule deer that have all been captured on the center's cameras, a good reminder that in Colorado, the wilderness starts at Golden's backdoor.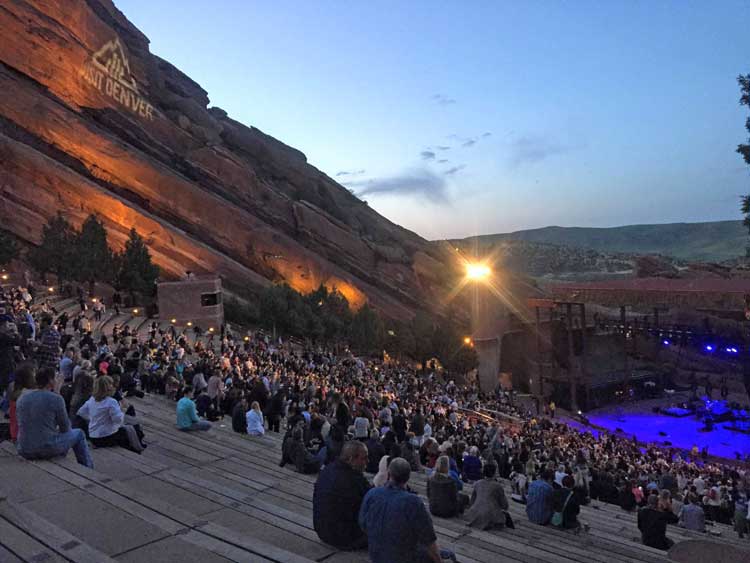 Red Rocks Amphitheatre
Even if you plan to go to a concert at Red Rocks Amphitheatre, it's worth a journey to see it in the daytime too. You can stand on the famous stage, visit the museum (which has historic videos from some of the top concerts like U2's "Under a Blood Red Sky") and there are hiking trails that wind around and in between the rocks.
Especially beautiful is the Geologic Overview Trail, which takes you up to a steep lookout point, where there are exhibits explaining the geologic history of the rocks. Keep your eyes peeled for deer and elk, and take in the spectacular view of downtown Denver in the distance.
Look along the horizon to the east and you can even see the big tent-like roof of Denver International Airport, more than 35 miles away. Downtown Golden is just a few minutes drive from Red Rocks.
If you visit Golden, see www.visitgolden.com