For more than a century, Hotel Boulderado has hosted world travelers as well as locals on the corner of 13th and Spruce Streets in downtown Boulder. Having undergone a recent renovation, it remains a centerpiece in the unconventional city at the foothills of the Rocky Mountains in northern Colorado that calls itself The People's Republic of Boulder. The college town has been home to the University of Colorado since 1876.
Hotel Boulderado History
By 1905, besides having the college and mountains as assets, Boulder had become a railroad hub and needed a large hotel to handle tourist and commercial trades, especially after the earthquake in San Francisco put a damper on its convention business. City Council hatched a plan to sell shares of stock to Boulder's most elite 500 citizens to raise funds to build their dream hotel, and by October, 1906, they amassed enough to start breaking ground. While they were unified in their goal, the naming of the hotel was more divided. Many suggested names honoring the men involved in bringing it to fruition. One of those men, William Rathvon, came up with Boulderado, a combination of the town and state names. He defended it by saying it would be the only hotel in the world with that name and instantly recognizable. Even though the editor of the Boulder Herald said, "The word is an offense against the English language and a rhetorical monstrosity," no one came up with a better one, and the name stuck to this day. On New Year's Day, 1909, Hotel Boulderado opened its doors and every year celebrates with a gala New Year's Eve party.
Hotel Boulderado Today
Architects of the five-story Italian Renaissance and Spanish Revival building followed the trend of the day by designing the hotel around a central courtyard, covering it with a stunning Italian stained glass ceiling. A cantilevered cherry staircase climbs from the basement to the fifth floor; its wide balcony overlooks the open mezzanine and glass canopy (damaged in 1959 and since replaced). The hotel is a fine example of early 20th century architecture, and I'm glad renovations over the years have kept most of the historic elements like marble columns, rich cherrywood and mosaic tile floors in tact. Even riding the elevator is a trip back in time. The original hand-cranked 1908 Otis is still in use. Clerks at the front desk operate it for guests as needed.
This is the original mosaic tile floor in the lobby.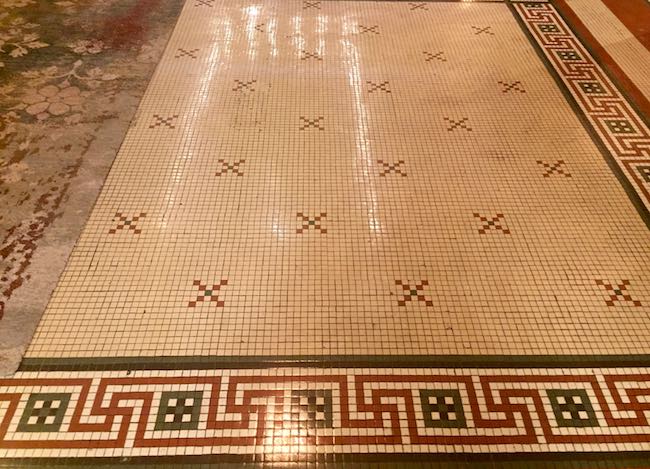 Original drinking fountain.
The former front desk has been turned into a computer bar, but the key boxes and old safe are still there. The check-in counter is in a smaller space that was the gift shop.
Antique pieces scattered throughout the hotel preserve its history.
Hotel Boulderado Rooms
There are 160 guest rooms and suites spread over two distinct wings. In the historic wing, 42 rooms are Victorian-style like this king room that likely is even more ornate than back in the day. I love the flowery wallpaper, wrought-iron beds and antique furniture honoring the era. A nice feature is a marble vanity with a sink, mirror, makeup mirror and coffee service tucked in an alcove in the bedroom, freeing up space in the smallish bathroom.
The North Wing has 118 rooms decorated in a comfortable classic style. Every room has a safe, iron/ironing board, bathrobes, desk, free Wifi, TV and lounge chairs or sofas.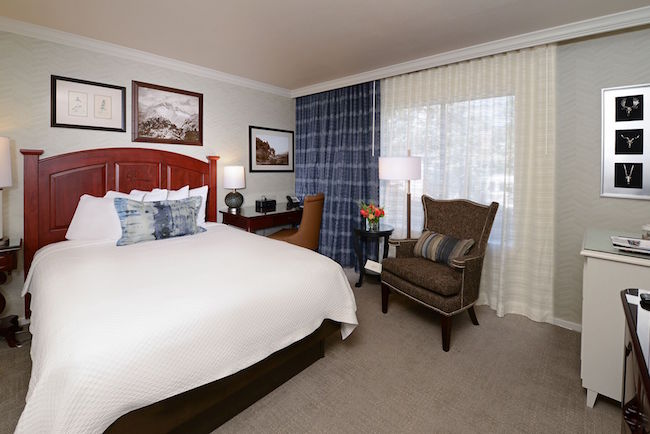 Hotel Boulderado Dining
Spruce Farm & Fish could also add "fresh" to its name. Fish is flown in daily from sustainable fisheries, and meat and produce come from local ranches and farms. All served in the original dining room.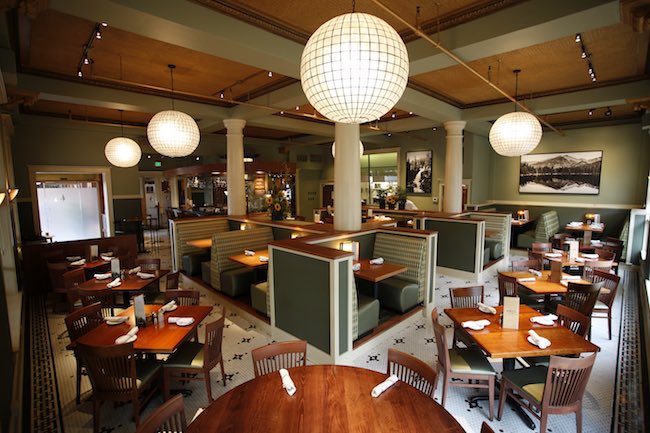 An enclosed porch added to the outside of the restaurant is delightful for brunch served every day until 3 p.m.
The Corner Bar is a favorite spot for locals with its wraparound patio on the corner of 13th and Spruce Streets. The casual eatery features small plates, salads, sandwiches and a few meat and fish meals. Check out the chandeliers made of glass bottles and the moose watching over the original wood bar. It's so Boulder!
The lobby bar features coffee, cocktails, snacks and places to plug in.
My favorite spot is License No. 1, a speakeasy-style bar that meanders from room to room throughout the darkish bowels of the building. It feels. . .exclusive, secretive and a little naughty. Maybe it's because it was the first Boulder establishment to obtain a liquor license after local prohibition ended in 1969, hence the name. Happy Hour runs daily from 5 to 7; live music and DJs Thursdays through Saturdays. There's also a billiard table, skee ball and an old-time photo booth. Remember those?
Hotel Boulderado Amenities and Services
Both wings offer plenty of space for business meetings and events with in-house event planners. Weddings are especially popular.
The hotel has dog-friendly rooms for an added $75 that include walking services.
Ride in style in a chauffeured Rolls Royce within a 10-mile radius.
Three electric car charging stations on-site. Valet parking is $20 per night.
A few things to do in Boulder
Pearl Street Mall — the hotel is just one block from this famous pedestrian mall with interesting boutiques, galleries, great restaurants and street performers. Best people watching around.
University of Colorado — the beautiful sandstone buildings with red-tile roofs on the campus offer a variety of attractions.
Chautauqua Park — a center for arts and entertainment, forums and family programs
Boulder Dushanbe Teahouse — an ornate building handcrafted in Tajikistan offering breakfast, lunch and dinner and elegant afternoon tea
Go for a hike — with more than 300 miles of hiking and biking trails and Rocky Mountain National Park in Boulder's backyard, outdoor activities are endless. Boulderites are known for their active lifestyle.
For more to see and do in and around Boulder, visit bouldercoloradousa.com.
Hotel Boulderado, 2115 13th Street, Boulder, Colorado 80302; 303-442-4344; www.boulderado.com
Claudia Carbone is an award-winning travel writer based in Denver. Read about other hotels she's visited in Sleepin' Around.