Editor's Note: We're all dreaming of travel ahead. Here's some inspiration for future adventures. We share places, products and activities we recommend. If you make a purchase using a link on our site, we may earn a commission.
Secret night meetings, underground railroads and painful battles that tore a young nation apart. Intrigue for your family.
For my kids, these stories were once relegated to the pages of history books. It can be hard to comprehend such tales when you live far from where the history took place.
Then we visited two different, but important American cities—Boston, Mass., and Charleston, S.C.—and America's history took on new meaning.
One hundred and fifty years ago, the residents of these two towns were arch-enemies—each with differing ideas, which fueled a conflict that divided our country.
The Civil War started in Charleston, S.C. when the Confederate artillery fired on Union soldiers at Fort Sumter. Seven southern states, including South Carolina, seceded from the Union.
Boston's mighty industrial strength fed the Union's war engine, and its abolitionist leaders fueled the flames of change.
Charleston: A Grand Southern Lady
I had never intended to fall under Charleston's spell. But several years ago, during a work assignment, I called a Charleston hotel room "home."
At the time, I knew little about Charleston except that it was involved with the Civil War and that its residents spoke with a southern lilt. I did know that it was the middle of July and that the roasting humidity was unforgiving. To boot, I had a 1-month-old, colicky baby.
After hours of pacing the halls with a crying child, soaring temperatures or not, I was getting out. Armed with a covered stroller, water bottle and sunglasses, my infant daughter and I ventured out into the open air.
The thick humidity hit like a wall, but the sweet smell of magnolias and orchids lured us into the brick-lined streets, where the salty scent of the sea greeted us with southern hospitality.
The aged avenues were more than welcoming, lined with colorful flower boxes, shapely trees and delicately crafted homes, pulling us deeper into the alleys and lanes that wound their way along centuries-old pathways.
Many of the town's grand homes were built of aged brick, thick timbers and large stones.
Many structures were even older than America itself, crafted by early British settlers who marveled at the bountiful land they had found. Here, in the heart of a city that shone brightest in the 1700 and 1800s.
It was easy to imagine grand women in hoop skirts, adventurous explorers and the men who would become America's leaders. The streets were neat and tidy, reflecting a sense of grace and sophistication. Charleston, it seemed to me, was a grand old colonial lady.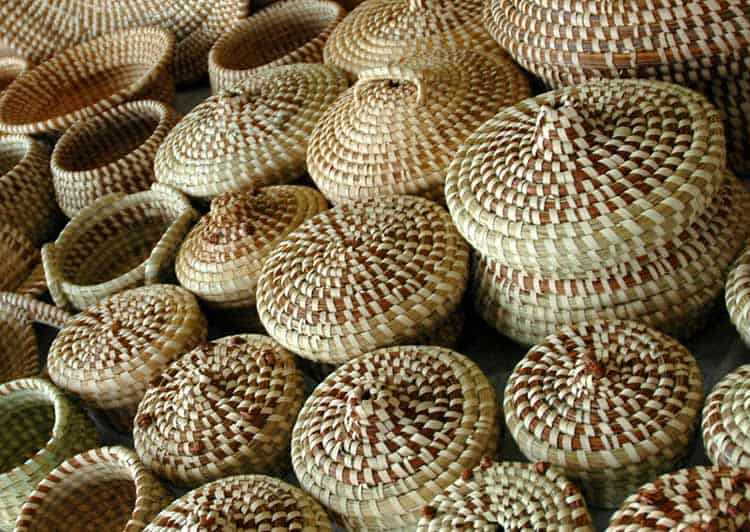 The Craftswomen of Charleston
Although she had aged a bit, she still held her head up high, clinging to her genteel manners and refined elegance. I began to look forward to my daily walks. My earlier reservations of Charleston slipped away as the stroller.
I turned down lane after lane, peeking into English-styled gardens and flower-covered piazzas, and stopping for cool glasses of sweet tea at small sidewalk cafés.
The streets led us to the Old Town Market, where we watched craftswomen weave magical sweet-grass baskets. At one of the booths, two women spoke in a form of English that I'd never heard before.
It was the distinctive dialect of the Gullah, a culture of freed African slaves whose traditions had been preserved over all these years. Seeking relief from the heat one afternoon, I pushed the stroller toward the sea. That was when I found the swings at the Waterfront Park. It soon became a daily ritual for my family.
It didn't matter that my touring companion, her fussiness now quieted, slept through most of our adventures. Charleston was an open book to discover, and I was completely drawn in.
Family Travel in Charleston
A few years later, I returned to Charleston, this time with three kids in tow. The town, I soon learned, was very family-friendly and had a variety of activities sure to please your children.
Popular attractions include Charles Towne Landing, a historic park on the S.S. Adventure. The reproduction 17th-century merchant vessel docked at the birthplace of the Carolina colony, and Middleton Place, a living history plantation with stable yards, blacksmiths and other re-enacted history scenes.
South Carolina is home to the country's fourth-largest port and has a large military presence. One of the highlights for us was visiting Fort Sumter National Monument.
Fort Sumter Tours offers a 35-minute boat ride to the historic island. Once on the island, visitors have an hour to explore this area where the Civil War began.
Another favorite stop was Patriots Point Naval and Maritime Museum, where we toured the USS Yorktown, a decommissioned WWII aircraft carrier that stands solemn watch over the harbor. Its flight deck is lined with vintage aircraft and the Congressional Medal of Honor Museum is located inside the cargo bay.
We soaked in more of Charleston's history at the Old Exchange and Provost Dungeon.
Built in 1781 as a British customs house, the building once entertained George Washington. "How strange to walk in the footsteps of America's very first president," said my oldest child.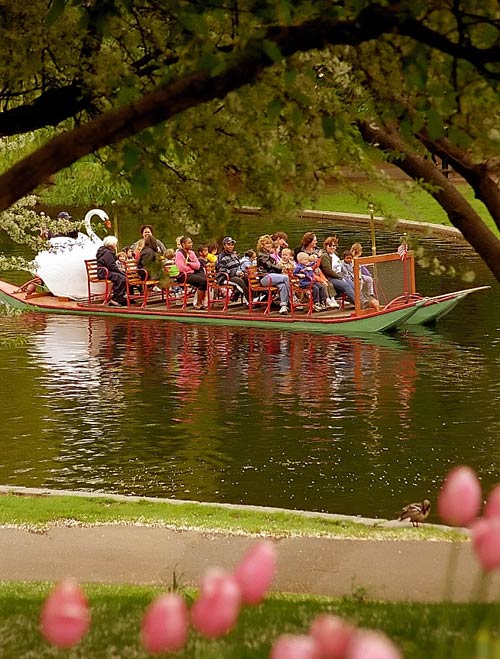 Family Travel in Boston
Like Charleston, Boston is also a beautiful harbor town and rich with American history. It is the place where America, or at least the idea of it, was conceived. Seeing these historic places in the flesh brought all that history to life, especially at some of the more popular attractions such as the Freedom Trail, the Old State House, and Bunker Hill.
Bostonians are very proud of their role in the path to Independence, but the city also had an important role during the Civil War.
In 1863, Robert Gould Shaw, a young white officer from Boston, volunteered to lead the 54th Regiment of Massachusetts—the first black regiment recruited by the North.
The 54th Regiment led an assault on Fort Wagner in an attempt to capture Charleston. Shaw and many of his soldiers were killed in the attempt. The Black Heritage Trail is a walking tour that can be educational for your family, it explores the history of Boston's 19th century African American community.
It begins at the Robert Gould Shaw Memorial on Beacon Street and ends at the Museum of African American History.
Several of the Boston Harbor Islands serving as training grounds and testing sites for the Union army. Fort Warren, on George's Island, served as both a training camp and a Confederate prisoner-of-war prison.
Now a National Historic Landmark, most of the fort is accessible, with barracks, dark passages and old prison cells to explore—perfect for the curious school-age kids in your family.
To commemorate its Civil War history, Boston Harbor Island has special events planned for all four years of the Civil War Commemoration.
Return to Charleston
Several years have passed since I first explored the streets of Charleston with an infant and pushed toddlers in a stroller through Boston. My family and I have gone back time after time to visit both classic cities. Each time, we've found age-appropriate activities that made for memorable family vacations.
This year, I'll return again to Charleston with my family. That once colicky little girl is now graduating and to celebrate, she and I will return to the city where our first travel adventures began.
This time, we'll explore as adults, dining on Lowcountry cuisine, shopping in the Old Town Market and visiting southern plantations.
But first, we'll head down to Waterfront Park to swing on the giant porch swings and take in the smell of the sea, just like we did long ago.
If you go
Whether you're visiting Charleston or Boston, here are some other great sights to see in each city:
Charleston
Sullivan's Island – a laid-back beach nestled at the mouth of Charleston Harbor. Just 3.3 miles long, the beachfront lands are owned by the town and carefully preserved.
Explore Charleston's coastal waterways. Kayak or ferry to Bull Island and Cape Romain National Wildlife Refuge, the longest protected coastal stretch on the eastern seaboard.
South Carolina Aquarium – If your family loves sea life, they will love this aquarium, home to stingrays, jellyfish, alligators and more is well worth the visit. Touch tanks, daily dive shows and interactive programs help to keep kids engaged.
Find more interesting activities, destinations and private tours around Charleston here.
Boston
Museum of Science – a must-see attraction filled with more than 500 interactive exhibits, with live presentations throughout the day that will be fun for the whole family.
The New England Aquarium – another must-visit attraction. View the fur seals, giant octopus, sea lions, penguins, sharks and more.
Swan Boats at Boston's Public Garden – operated by the Paget family for more than 100 years, this is obviously a favorite Boston pastime.
Boston Duck Tours – a better way to tour Boston than in a refurbished WWII amphibious landing vehicles. Sure, the boats may look a little silly, but the Duck Tour drivers are knowledgeable and funny—a good combination if you're 10 and being driven around to see historical sites that will, no doubt, someday show up on one of your history tests.
Find expert guides to see all the best sights in Boston through GetYourGuide. With their new flexible cancellation you can plan your future travels around the city here.