The wooden swing is weathered, but it holds fast as my daughter and I push it higher and higher, our toes reaching for the sky. I don't know whose idea it was to put porch swings under the covered pier at Charleston's Waterfront Park, but I like them. Our moving seat provides the perfect vantage point to soak in this southern city.
While the salt-filled breeze cools us with its caresses, we watch horse-drawn carriages amble past, their seats filled with tourists. Local children play in the nearby fountain, while below us, fishermen dot the shoreline, hoping to reel in a big one.
The scene is like watching an old friend, a friend that I haven't seen in years. We've come a long way, this city and I.
I was dragged to Charleston 12 years ago, kicking and screaming, never dreaming what lay in store. My family had received a short-term work assignment in this historic South Carolina town, but the news didn't exactly thrill me.
I knew little about Charleston except that it had once been in the middle of a Civil War and that its residents spoke with a southern lilt. But I DID know that it was the middle of July, and anyone who has ever endured a southern summer knows how the roasting humidity can suck the very life from you.
To boot, I had a one-month-old colicky baby. I imagined being cooped up inside our 15-by-20-foot hotel room with a cranky daughter, while Charleston loomed hot, sensual and foreboding outside the window.
But the city, it seemed, had a few tricks up its sleeve.
After hours of pacing the halls, dancing with a crying child and watching mindless TV shows, I had had it. Soaring temperatures or not, I was getting out. Armed with a covered stroller, water bottle and sunglasses, my infant daughter and I ventured out into the open air.
The thick humidity hit me like a wall, but I didn't lose courage. The sweet smell of magnolias and orchids lured us into the brick-lined streets, where the salty scent of the sea greeted us with southern hospitality.
The aged avenues were more than welcoming, lined with colorful flower boxes, shapely trees and delicately crafted homes, pulling us deeper into the alleys and lanes that wound their ways along centuries-old pathways.
Many of the town's grand homes were built of aged brick, thick timbers and large stones, cut by strong working hands when this country was an infant. Indeed, many structures were even older than America itself, crafted by early British settlers who marveled at the bountiful land they had found.
Here, in the heart of a city that shone brightest in the late 1700s, it was easy to imagine grand women in hoop skirts, adventurous explorers and the men who would become America's leaders.
The streets were neat and tidy, reflecting a sense of grace and sophistication. Charleston, it seemed to me, was a grand old colonial lady. Although she had aged a bit, she still held her head up high, clinging to her genteel manners and refined elegance. I was just beginning to appreciate her southern ways.
I began to look forward to my daily walks into Charleston. My earlier reservations slipped away as the stroller and I turned down lane after lane, peeking into English-styled gardens and flower-covered piazzas, and stopping for cool glasses of sweet ice-tea at small sidewalk cafés.
The streets led us to the Old Town Market, where I cradled my daughter in my arms and watched craftswomen weave magical sweet-grass baskets.
At one of the booths, two women spoke in a form of English that I'd never heard before. It was the distinctive dialect of the Gullah, a culture of freed African slaves whose traditions had been preserved over all these years.
Seeking relief from the heat one afternoon, I pushed the stroller toward the sea. That was when I found the swings at the Waterfront. It soon became our daily ritual – swinging at the Waterfront and watching Charleston pass through its day.
It didn't matter that my touring companion, her fussiness now quieted, slept through most of our adventures. Charleston was an open book to discover, and I was completely drawn in.
Fast forward 12 years later. The fussy daughter is now old enough to help her younger brother and sister as we eagerly board the DASH trolley at Charleston's Visitor Center. The town's small size means that it's easily seen by foot, but the free DASH trolleys make it even easier.
I point out all the sites I remember – the dignified homes of Rainbow Row, a street lined with five and six-story mansions painted in brilliant pinks, yellows and whites; the basket-weavers in Old City Market; the narrow streets; and my favorite seafood restaurants.
We soak in Charleston's history at the Old Exchange and Provost Dungeon. Built in 1781 as a British customs house, the building once entertained George Washington. How strange, my oldest says, to walk in the footsteps of America's very first president.
Although it's hard for us to imagine the American states fighting each other, that history becomes all too real when we take a tour boat to Fort Sumter National Monument. This fort was in the middle of America's bloodiest war.
Slavery was a source of contention back in the 1860s, and South Carolina became the first state to succeed from the Union. When Confederate forces fired upon Union-occupied Fort Sumter in 1861, it kicked off an awful Civil War that would rage for years, robbing both North and South of their beloved young men.
Yet the southern rebel has become one of America's most ardent defenders. South Carolina is home to the country's fourth largest port and has a large military presence. We tour the WWII aircraft carrier, the USS YORKTOWN, which is permanently anchored at Patriots Point, along with the submarine CLAMAGORE, Coast Guard Cutter INGHAM and the Destroyer LAFFEY, marveling over their size and power.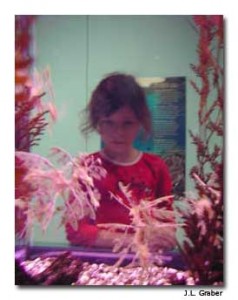 We leave the past behind later that week when we visit the South Carolina Aquarium. Situated on a wharf next to Charleston Harbor, the aquarium is known for its kid-friendly exhibits and huge collection of unique sea life. The kids ogle over leafy sea dragons, stare at baby stingrays and even touch horseshoe crabs in the touch tanks. The aquarium is a big hit.
So is our venture into Charleston's natural environment. Coastal Expeditions offers kayak trips, as well as ferry journeys, to Bull Island and Cape Romain National Wildlife Refuge, the longest protected coastal stretch on the eastern seaboard.
We opt for an afternoon of kayaking, and follow guide and founder Chris Crolley past a fleet of shrimp boats in Shem Creek, out into Charleston Harbor and over to Crab Bank Island, a bird nesting sanctuary.
The kids run all over the tiny island, picking up seashells and asking questions. Chris takes the time to explain the island's bounty, holding up shark teeth and other sea shells for display.
But soon enough, it's time to head back. Our arms are tired now, and the going is slower, but we're in no rush. We watch as pelicans swoop down for a catch and shrimpers clean out their boats, readying for another day out on the water.
But we haven't had enough of this town.
"Do we have to go home already?" one of my daughters whines as we paddle in to shore. "There is still a bunch here that we haven't seen!"
"We'll be back," I assure them, "and we can do more then."
And as the girls go on to eagerly plan our next visit, I have to smile, for I know exactly what has happened – like me, my family has fallen for this southern lady. They've fallen for Charleston's charms.
Where to Stay in Charleston
Embassy Suites Historic Charleston
Originally home to a 19th century Citadel Military College, this historic building has been lovingly restored into a comfortable place for families to overnight. Since every room is a suite, mom and dad have a little space, while the kids can enjoy the outdoor pool and free breakfasts.
www.charleston-hotels.net
Hilton Charleston Harbor Resort & Marina
This well-appointed hotel enjoys a gorgeous waterside location, offering panoramic views of the City of Charleston and the harbor.
Things to Do in Charleston
South Carolina Aquarium
Corner of Calhoun and Concord
www.scaquarium.org
Coastal Expeditions
Kayak expeditions and ferry to Cape Romain National Wildlife Refuge
Shem Creek Maritime Center
www.coastalexpeditions.com
Fort Sumter National Monument
1214 Middle Street
Sullivan's Island
https://www.nps.gov/fosu/index.htm
Old Exchange and Provost Dungeon
122 East Bay Street
https://www.OldExchange.com
Old South Carriage Company
Located by the Old City Market
https://www.oldsouthcarriagetours.com/
Patriots Point Naval & Maritime Museum
Home to WWII aircraft carrier, the USS YORKTOWN, the submarine CLAMAGORE, Coast Guard Cutter INGHAM and the Destroyer LAFFEY.
40 Patriots Point Road
https://www.patriotspoint.org/
Where to Eat in Charleston
Hyman's Seafood
Admittedly, Hyman's caters to the tourists, but there's a reason that the place is crowded every night. Owned by brothers Aaron and Eli Hyman, whose family has owned the building since 1890, the food is excellent and affordable.
215 Meeting Street
www.hymansseafood.com
Aw Shucks
A local favorite since 1978, Aw Shucks serves up affordable and tasty seafood. Great for families.
70 State Street
https://a-w-shucks.com/
For More Information on Charleston
Charleston Area CVB
www.explorecharleston.com