If you have been to the South, and you haven't been to Charleston, South Carolina, then your southern experience is lacking. Here is a list of 10 top things to do in Charleston, emphasizing diversity and local color.
If your favorite place in Charleston isn't listed, it doesn't mean it's not worth visiting; it's simply hard to keep such a list down to 10.
Let's start first with our favorite Low Country foods that can make one salivate like Pavlov's dog.
1. Low Country Foods
Leave your restraint at the door. She crab soup, similar to bisque with Atlantic blue crab meat, is a regional specialty.
Also, try fried catfish and shrimp on grits. Pralines are a Southern tradition, and benne wafers – light cookies with sesame seeds – are a Charleston treat.
Three of the best-known and long-standing restaurants specializing in seafood are Magnolia's, R.B.'s and Hyman's.
If you tire of seafood, keep in mind that adjacent to Hyman's and owned by the same people is Aaron's Deli.
So, if you want a tasty pastrami and Swiss cheese on Rye, forget New York.
2. Charleston Plantations
The plantations of the antebellum South still stand. We visited Magnolia Plantation, where there are four specialty tours. One is "From Slavery to Freedom."
Another is the Nature Tram Ride. We settled on the Plantation House Tour and the Rice Field Boat Tour, which took us through the dark water of the canals and the Ashley River.
We drifted past cattail plants sitting where a 400-acre rice field once existed, a variety of waterfowl and some resting alligators. The plantation's biggest draw is the nearly 500 acres of gardens.
Expect to see an exotic bamboo garden and azaleas, magnolias, camellias and others depending on the season. magnoliaplantation.com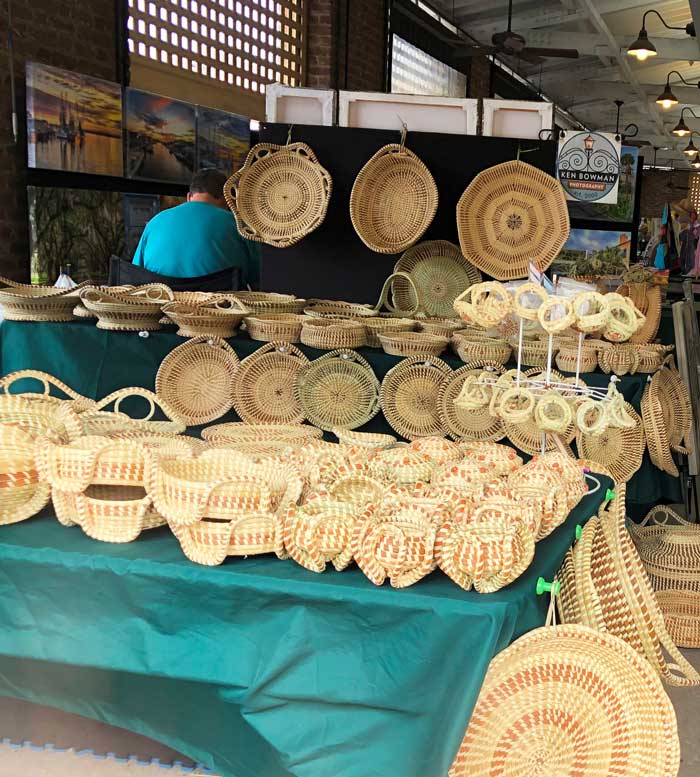 3. Charleston City Market
John Tyler was president when the sandstone and iron marketplace opened in 1841. You will find for sale Southern food mixes, jewelry, clothing, art, a few kitschy items and, of course, Charleston's famous sweetgrass baskets.
Sewn, not woven, they are a traditional Lowcountry handcraft with roots in the Rice Coast of west Africa. The baskets are sewn so tight you would think they could hold water.
Once used primarily for agricultural duties, they are now seen as folk art. Basket makers craft them here as you watch. thecharlestoncitymarket.com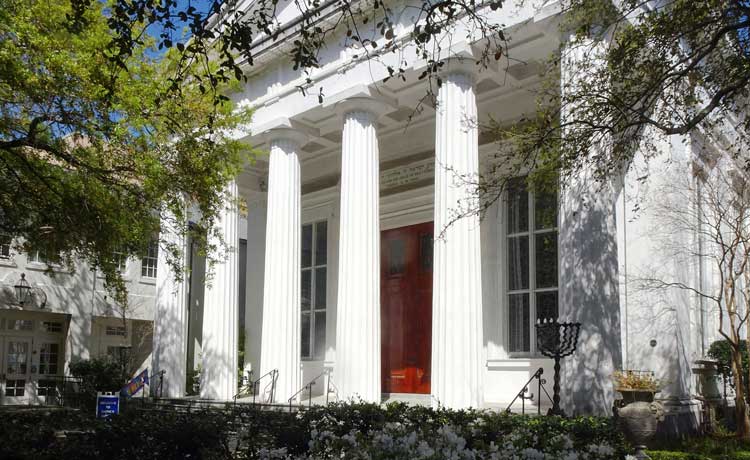 4. Kahal Kadosh Beth Elohim Synagogue
With its six whitewashed columns, this Greek revival edifice looks like it might be a government building, but Kahal Kadosh Beth Elohim is the nation's oldest synagogue in continuous use. Charleston has had Jewish residents since 1695, although the current structure was dedicated in 1841. The tour begins with an enlightening film and continues in the sanctuary where a docent describes everything from the architecture to KKBE's status as the birthplace of
Reform Judaism in the nation. A small museum includes prayer books dating to the mid-18th century and other relics. Kkbe.org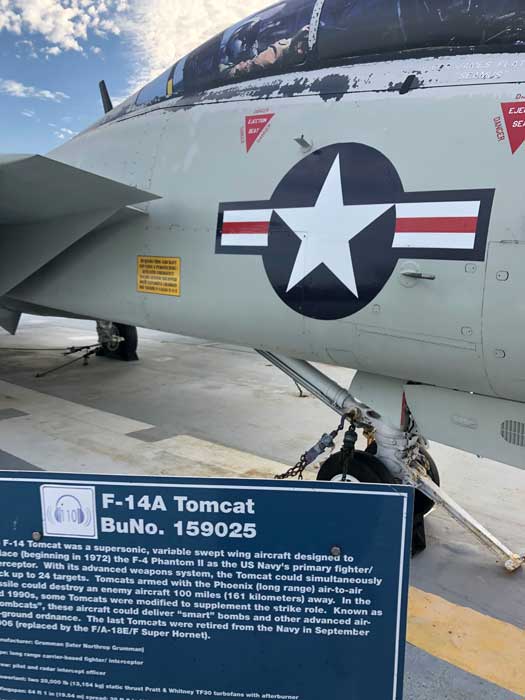 5. Patriots Point
The aircraft carrier USS Yorktown is three football fields long. And with its crew of over 3,400 men, it was essentially a small floating city. Its flight and hangar decks are home to 20-odd historic aircraft, while the bottom deck was the crew's living and working area, with the ship's chapel, laundry and bakery.
Get discounted tickets to take a guided tour of Patriots Point here.
Don't miss the displayed recipe for the Yorktown personnel's favorite chocolate chip cookies. There is also a destroyer at the complex, but we opted for the Vietnam Experience, a multi-sensory re-creation of a combat base at the Battle of Khe Sanh in 1968.
Walking through, you'll hear the sounds of gunfire and late-1960s rock music. Then step inside a barrack where a multiple-media presentation is shown and where modern technology allows you to feel the heat and humidity of the jungle. patriotspoint.org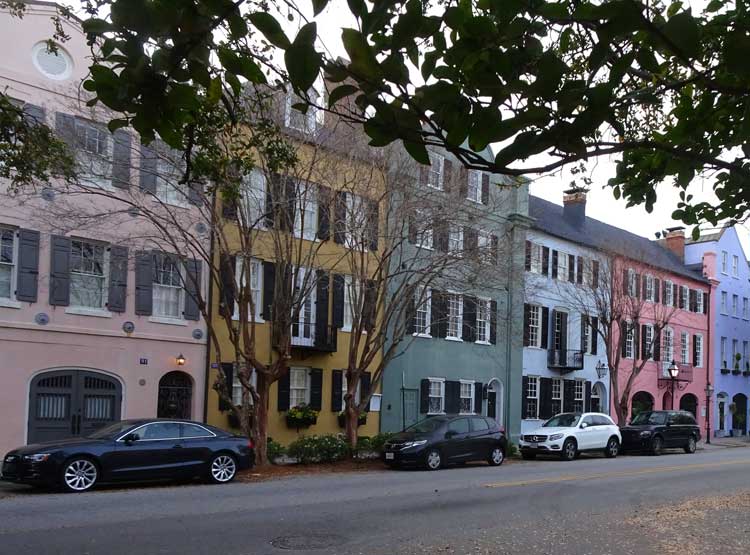 6. Rainbow Row
San Francisco has Alamo Square and Charleston has Rainbow Row, a block of historic buildings decked out in, well, a rainbow of pastel colors. Rainbow Row is a symbol of Charleston, and its image appears on posters, paintings and postcards. (Yes, some people still send postcards.)
The Rainbow Row neighborhood was rundown into the early-1900s. In the 1920s Susan Pringle Frost, founder of what is today the Preservation Society of Charleston, bought six structures with the intent of saving them from a wrestling match with a wrecking ball.
As Charlestonians moved in, they painted their homes in the style of colonial Caribbean design. The light coloring isn't just pretty; it keeps the buildings cool inside. rainbowrowcharlestonsc.com
7. The Gibbes Museum of Art
Don't enter this museum to see works by the world's masters. Enter to see art that tells stories of life in South Carolina Low Country. Birge Harrison's "Rosy Moon off Charleston Harbor" is a muted, mysterious-looking oil on Masonite, depicting two lonely craft at dusk.
The name of Henry Botkin might sound like your uncle's dentist. But Botkin was a modernist who had a famous cousin named George Gershwin. While Gershwin was in town composing "Porgy and Bess," he invited Henry down for a visit. Botkin's "No 'Count Boys" is a study of black life in the 1930s South.
The galleries transcend regional settings. Here as well are colonial portraits and miniature portraits, contemporary art and, of course, sweetgrass baskets. gibbesmuseum.org
8. The Angel Oak
The Angel Oak Tree is a southern live oak and, with its curved and twisted branches and boughs reaching everywhere, is a work of art itself. It's considered the oldest tree on the East Coast, between 400 to 500 years old. Looking at it, it is hard to believe that the oak's short, squatty trunk can support the multitude of hardwood resting atop it. Like Rainbow Row, the Angel Oak Tree has become a symbol of Charleston.
It stands 66.5 feet tall, and 28 feet in circumference; and its longest branch extends 187 feet from tip to tip; photo opportunities are endless. angeloaktree.com
9. Charleston Tea Plantation
The summer heat and humidity may make life uncomfortable for humans, but tea plants love it. The Charleston Tea Plantation is the only tea plantation in the country. There are three components to a visit.
One is a motorized tour of the grounds, and if you're lucky you might see a clunky, blue machine called a tea harvester plowing its way through the fields, lopping off excess vegetation to give the plants military haircuts.
A self-guided tour takes you on a catwalk overlooking the factory. Videos offer insight into the tea-making process and serve up some cool factoids, like it takes five pounds of fresh leaf to make one pound of finished tea. And, naturally, there is a tea tasting room. charlestonteaplantation.com
10. Friends of the USS Hunley
Civil War history meets the beginning of modern naval warcraft. The Confederate Hunley became the world's first successful combat submarine when it sank the Union's USS Housatonic in 1864. The hand-cranked vessel mysteriously disappeared shortly afterward and it wasn't until 2000 that it was discovered and ultimately raised.
Today the Hunley, in its rusty and banged-up glory, sits in a 75,000-gallon water tank at the Warren Lasch Conservation Center. Exhibits offer insight into how this primeval ancestor of today's subs worked. Incredibly, when the wreck of the Hunley was rescued, the remains of the crew were still at their positions. hunley.org
MORE: Another good way to tour Charleston is via a Harbor Tour. Get tickets here.
Author Bio: Award-winning travel writer Michael Schuman is the author of 46 books and his travel articles have been featured in 200 newspapers and over two dozen magazines. He has a bachelor's degree from Syracuse University and a master's of fine arts degree from the University of Southern California. His web site is www.michaelschuman.com