Ghostly piper? A child seeking a doll? The brutal murder of a confidant of Mary, Queen of Scots? Learn these stories and more with a walk down Edinburgh's Royal Mile.
Edinburgh, the charming capital of Scotland, has long been a tourist draw for its variety of museums, castles, connections to royalty, historic buildings and much more.
Planning a last-minute trip to Scotland?
Top Experiences and Tours in Scotland:
Where to stay in Scotland:
Find accommodation with Booking.com
Get a rail pass through Rail Europe
Find Bus, Train, and Flight tickets with one search through Omio
The Royal Mile
A walk down the Royal Mile, named so as it is the walk between Edinburgh Castle and the Palace at Holyrood House, offers spooky opportunities to learn more about both hauntings and history.
Edinburgh Castle
One of the oldest fortifications in Europe, Edinburgh Castle is a "must see" for many and its long history as a royal residence, prison, fortress, and military garrison fills it with rich stories. Today you can visit St. Margaret's Chapel (dating to 1130), the Honours of Scotland and museums within the grounds. If you listen quietly, you might hear the Castle Piper!
Staff and visitors have reported the ghostly sounds of an unseen piper, thought to be a child bagpiper who perished while exploring the vast tunnel system underneath Castle Rock (upon which the Castle sits). He played the bagpipes as he explored so others could follow his progress, then suddenly, the music stopped, and he was never seen again!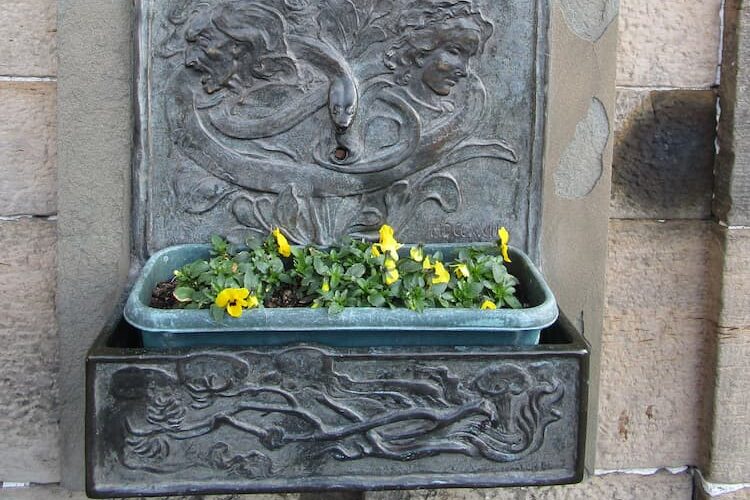 The Witches' Well: A Sad Memorial
On the edge of the Castle's esplanade, is a small memorial to a tragic and violent era.
The Witches' Well is a cast iron fountain that marks the spot where hundreds of alleged witches were burned at the stake. During the 15th and 18th centuries, more than 4,000 alleged witches were put to death across Scotland-mainly women and were given proper trials.
Today, this seemingly tranquil spot is often unnoticed by throngs of tourists heading to and from Edinburgh Castle.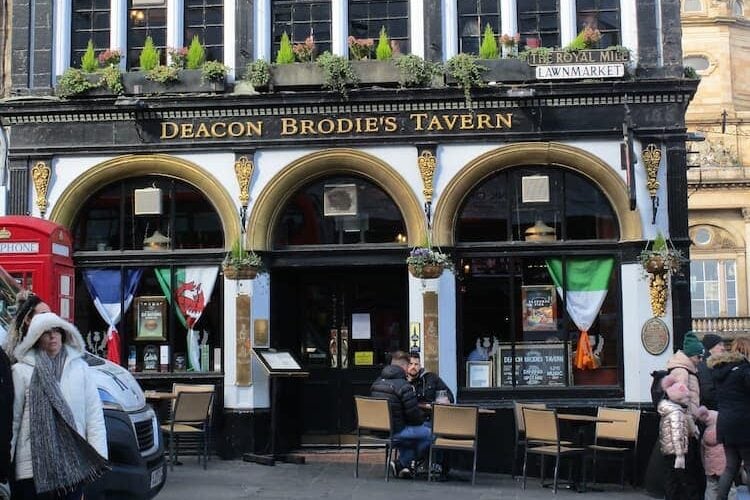 Deacon Brodies Tavern: Pub with a Story
The next stop will allow you to enjoy a pint and pub grub as you contemplate the history within the walls of Deacon Brodies Tavern. Built in 1806, the pub has many tales to tell! It is named after Deacon William Brodie, who was one of the inspirations behind Robert Louis Stevenson's Strange Case of Dr. Jekyll and Mr. Hyde.
Brodie, born in 1741, was a deacon by day and well-respected, but at night he gambled and drank. To pay off debts, he resorted to a life of crime! This double life is referenced throughout the tavern.
Greyfriars Kirkyard: Not for the Faint of Heart
Just off the Royal Mile is Greyfriars Kirkyard (founded 1620). The Kirkyard is open 24 hours a day, and some character names in the Harry Potter series were based on people buried here.
The sweet story of Greyfriars Bobby also draws crowds paying homage to the dedicated dog who stayed by his owner's grave for years.
More sinister tales arise from the hauntings that take place. The mausoleum of George "Bloody" Mackenzie is a scary stop indeed with many reporting getting bruises and scratches near his tomb. Mackenzie was a vicious persecutor of the those who revolted against King Charles II in 1638 and many were brutally tortured and perished.
Want to meet Mackenzie yourself? Tours are available or explore on your own. If you dare.
Go Down Under at Real Mary King's Close
Back on the Royal Mile, a guided tour will take you into The Real Mary King's Close. The Close is a series of underground streets, shops, and homes. In the 1600s, these were busy places and open to the skies, today, they are hidden underground.
Learn stories of its residents, tales of ghosts, and more. Along the way, you might feel cold spots, hear footsteps or scratching noises in the walls as you explore the dark rooms and winding tunnels.
The story of little Annie is sure to tug at your heart. In the 1990s, a psychic from Japan was visiting and encountered a small spirit named Annie near a fireplace. Annie was heartbroken from the loss of favorite doll and being very moved by her story, the psychic (Aiko Gibo) went to a nearby shop and bought young Annie a new doll.
In the years since, many a visitor have presented Annie with dolls and toys, and it continues today as a loving shrine to a child lost.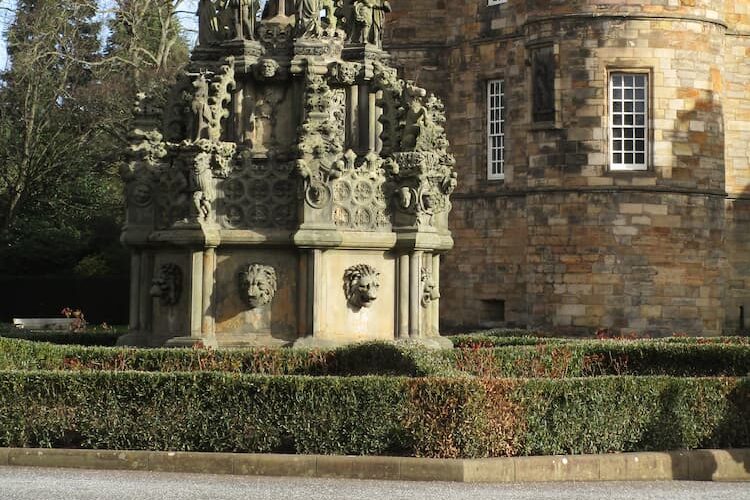 Tragedy at Holyrood House
The Palace at Holyrood House serves as the official Scottish residence of the monarch to this day. This glorious palace has lovely gardens, abbey ruins and The Queen's Gallery.
A popular tourist attraction, it also harbors a grizzly secret in stark contrast to its glorious façade.
David Rizzio (1533-1566) was an Italian courtier from a noble family and was the private secretary of Mary, Queen of Scots. Her husband, Lord Darnley, was deeply jealous of their close friendship and believed the rumors that Rizzio, not Darnley, was the father of the child the Queen was carrying.
On the night of March 9, 1566, Mary, Queen of Scots, Rizzio and several ladies-in-waiting were having dinner in her private chambers when Darnley and others burst in accusing the Queen of adultery!
Rizzio was brutally stabbed numerous times in an adjacent room.
For generations and still today, blood stains can be seen on the floor.
www.rct.uk/visit/palace-of-holyroodhouse
Around Edinburgh
Beyond the Royal Mile, other ghostly happenings occur.
Playful Spirit at the Playhouse
For an entertaining evening, take in a performance at the Edinburgh Playhouse (New Town). This impressive theatre, originally opened in 1929 as a cinema, today it is home to touring musicals, plays and more.
But who is ghostly figure of a man watching all the action? "Albert" appears on level six in a gray work suit. But who is he? A night watchman, stage door manager, a worker? There is a chill in the air when he is around and he's also prone to mischief.
Reports of hearing his keys jingle and taps on the back have also kept staff and visitors on edge. Perhaps he just wants you to take a seat.
Bootleggers and Boos at Edinburgh Vaults
Back underground, the Edinburgh Vaults (South Bridge Vaults) are a series of chambers that housed merchants and their storerooms located under an 18th century South Bridge.
This labyrinth of vaults, passageways and chambers were eventually abandoned, and shady characters moved in. Gamblers, body snatchers, thieves, bootleggers, and prostitutes were among the squatters. It is said that their restless souls remain. Maybe you want to meet them?
Enter the Blair Street Underground Vaults by taking a tour with Mercat Tours (one of several ghostly and historical tours they offer).
Laughter Loves Company on a Ghost Bus Tour
For a more lighthearted adventure, hop aboard The Ghost Bus Tours. This comedy-horror experience takes place in the evenings with varying start times. They take you on a journey alongside some of the top tourist attractions where you'll learn more about their haunted history. Including the Castle, New Town, Grassmarket and more.
Cemeteries: Where the Body Snatchers Roamed
There are multiple historic cemeteries around Edinburgh to explore and you are bound to notice towering guardhouses and mort safes (a cage over a grave) that were put into place to thwart the efforts of body snatchers (known as "resurrection men").
Edinburgh was a leading European center for anatomy studies in the early 19th century and the demand for fresh cadavers was high. Running out of legitimate ways to get bodies, some turned to body snatching to make a quick quid.
Cemeteries to visit include the Old Calton Burial Ground, New Calton Burial Ground, Canongate Kirk, and St. Cuthberts.
Burke and Hare: Murderers
You'll likely learn the story of Burke and Hare during your time in Edinburgh, running out of bodies to snatch, innkeepers William Burke and William Hare murdered their lodgers and sold the corpses to Robert Knox to use in his dissection and anatomy classes. Knox denied any knowledge of their deeds.
Hare, having confessed, was eventually released and his fate is unknown, but Burke was hanged and publicly dissected in 1829.
Later, his skeleton was given to the Anatomical Museum. His death mask and a book (bound with Burke's own skin) can be found at Edinburgh's Surgeon's Hall Museum.
The Surgeon's Museum also offers "Blood and Guts: The Twists and Turns of Edinburgh's Medical History" walking tours where you'll learn about Burke and Hare and the highs and lows of medical history.
To learn more about a visit to Edinburgh and exploring its history, the Visit Scotland website can help you plan a trip, haunted or not. www.visitscotland.com
Inspire your next adventure with our articles below:
Author Bio: Mary Casey-Sturk a writer and editor for Living Magazines based in Greater Cincinnati. Her work also appears in Smoky Mountain Living and other publications. Her book, "Eating Cheese Curds with Strangers: The Misadventures of a Travel Writer" is available on amazon.